Jen Ouellette-Schramm, Jen Vanek
We are pleased to bring you the 2019 Volume 35(1) Spring Issue of MinneTESOL Journal!
This issue carries forth conversations begun during the Fall 2018 MELEd conference, and brings in new voices focusing on English Language Learner (ELL) academic language and success.
Invited feature articles in this issue include MELEd keynote speaker Dr. Esther de Jong and doctoral student Jiameng Gao's article addressing English-only ideologies and advocating for supporting translanguaging in the classroom. They provide a continuum of strategies affirming ELL home language use in K-12 educational settings, including for monolingual teachers. In another collaborative piece, Dr. Sarah Henderson Lee and former master's students Ryosuke Aoyama, Charlotte Harris-Hoffstrom, Alejandro Maya, and Shyam Pandey advocate for and demonstrate critical reflection on English language teaching in diverse contexts including Japan, the United States, and Nepal.
A theme in this issue is supporting ELL academic language learning and success in U.S. K-12 contexts. Dr. Cynthia Lundgren and Dr. Stephanie D'Costa present a pilot study describing WIDA's Language Pathways resources in explicit, genre-based language teaching in K-12 settings. Dr. Caroline Maguire describes strategies to help ESL teachers integrate academic language into K-12 Content-Based Instruction (CBI). In her practitioner piece, veteran K-12 teacher Liz Hanson reflects on potential pitfalls with common teaching methods including graphic organizers, think-pair-shares, defining fiction and nonfiction, and summarizing strategies. She offers adjustments to these methodologies to increase their effectiveness with ELLs.
Please read, enjoy, and share the research and practice ideas in this issue of MinneTESOL Journal!
Ester de Jong, Jiameng Gao
Even if they are monolingual, mainstream K-12 teachers need to take a multilingual stance toward their English language learners and engage in bi/multilingual practices. Their actions can be viewed along a continuum from no home language use to sustained multilingual practices.
Key words: teacher preparation, English language learners, multilingualism, multilingual stance
Despite the growing number of bi/multilingual students in U.S. schools, an "English-only" ideology still prevails in mainstream classrooms. Reinforced by English-only materials and assessments and an English-medium curriculum designed for fluent English speakers, it is not surprising that mainstream teachers purposefully or implicitly default to monolingual English practices in their classrooms (Catalano & Hamann, 2016; de Jong, 2013). However, the cognitive, cultural, economic, educational, and political benefits of bilingualism or multilingualism have historically been noted by various scholars in the field (Baker & Wright, 2017; de Jong, 2011).
Building on students' cultural experiences and extending their home languages and literacies are indispensable scaffolds for learning and for success in school (e.g., de Jong, 2011; González, Moll, & Amanti, 2005). Although the use of students' home languages has long been delegated as the sole responsibility of bilingual education teachers, effective English as a Second Language (ESL) teachers also strategically draw on students' home languages for teaching and learning (Gersten & Baker, 2000; Lucas & Katz, 1994; Manyak, 2004). Some might argue that bilingual and ESL teachers engage in such bilingual practices not only because they understand their importance, but also because they can tap into their own bilingual repertoires when teaching English language learners (ELLs). It is often concluded that mainstream teachers, who often self-identify as monolingual English speakers, are unable to approach their teaching through a multilingual lens (Schwarzer, Haywood, & Lorenzen, 2003).
In this article we argue that if linguistically and culturally diverse students' home languages play a key role in their learning English as an additional language and in affirming their identities as bilingual and bicultural individuals, then this principle would hold true regardless of the setting in which these students find themselves (de Jong, 2011, 2013). Even though mainstream classrooms may be English dominant classrooms, this should not imply that they are also monolingual classrooms (de Jong, 2013). In other words, drawing on students' linguistic and cultural resources, or what we refer to here as taking a multilingual stance, should be integral to what all teachers do, regardless of whether they are mainstream, ESL, or bilingual teachers. In this article, we provide examples from studies that have examined bi/multilingual practices in mainstream elementary classrooms. We hope to show that bilingual skills are not a pre-condition for taking a multilingual stance, although teachers' own bilingual repertoires certainly play a role in their ability to engage in certain types of bi/multilingual practices more easily. After reviewing examples, we propose that these practices can be conceptualized along a continuum that ranges from more passive (permissive) to active (affirmative) bi/multilingual practices.
Multilingual Practices in Mainstream Classrooms
A review of the limited articles that document bi/multilingual practices shows a wide range of strategies that mainstream teachers can use. For the purpose of this paper, we focus on strategies observed in elementary classroom settings in North America and discuss them in terms of (a) making home languages visible; and (b) structuring the classroom for home language use. Although "emergent bilinguals" (EBs) is increasingly used to describe students still learning English as an additional language when they come to school, we will use the term used in most formal policies, ELL.
Making ELLs' Home Languages Visible
Teachers can bring home language resources into the classroom in ways that represent languages other than English in the environment and allow students to use resources in their home languages. For example, teachers can create a multilingual print environment that includes multilingual signs and posters (Freeman & Freeman, 1993; Herques, 2007; Schwarzer, et al., 2003; Schwarzer, 2007) and display the students' names in different languages and alphabets (Pandey, 2014; Schwarzer, et al., 2003). They can include words both in English and the ELLs' home languages in their word walls (Pappamihiel & Lynn, 2014).
Teachers can learn about their students' home languages through student or parent interviews or by inviting community members to speak about their languages and cultures (Freeman & Freeman, 1993; Schwarzer, et al., 2003; Schwarzer, 2007). Herques (2007) introduces a language tree activity as a way to document students' language use outside the classroom and relate their languages to the culture. This not only creates a platform for the ELLs to illustrate and inform diverse language backgrounds but also raises teachers' awareness about their own linguistic and cultural backgrounds (Schwarzer & Acosta, 2014).
Teachers can also provide access to learning resources in students' home languages through supplemental learning materials, books, and technology (Freeman & Freeman, 1993; Herques, 2007; Schwarzer, 2007). These materials can support ELLs' access to the content, connect to their background knowledge, and link prior learning to new learning in English as an additional language.
Structuring the Classroom to Affirm Home Language Use
Teachers can take steps to structure their classroom discourse in ways that encourage students' use of multiple languages. Grouping ELLs with other bilingual students who share their home language creates multiple affordances for learning (Pappamihiel & Lynn, 2014; Woodley & Brown, 2016). In these settings, ELLs can use their home languages to express meanings and discuss the task and content with peers to facilitate comprehension (Brooks & Karathanos, 2009; Kleyn & Yau, 2016) and group work completion (Cummins, 2006; Giambo & Szecsi, 2015).
Teachers can purposefully design and select activities that use their students' home languages to enhance instruction. When mainstream teachers build some competence in their ELLs' home languages and learn about those languages, this can have a positive impact on their attitudes towards language diversity (Herques, 2007; Hite & Evans, 2006; Schwarzer, 2007) and empathy for their students (Catalano & Hamann, 2016). With these richer language resources, teachers can use ELLs' home languages to enhance comprehension, clarify concepts, and scaffold new vocabulary and literacy learning (Woodley & Brown, 2016).
Three additional teacher-driven strategies are highlighted in the literature. First, the use of cognates has been identified as an effective strategy to help ELLs with reading comprehension and vocabulary development in English (Brooks & Karathanos, 2009; Delbridge & Helman, 2016; Giambo & Szecsi, 2015; Kleyn & Yau, 2016; Pappamihiel & Lynn, 2014; Szilágyi, Giambo, & Szesci, 2013). Second, teachers can use bilingual books to support bilingualism and biliteracy (Cummins, 2007; Ernst-Slavit & Mulhern, 2003; Giambo & Szecsi, 2015; Gordon, 2018; Roessingh, 2011). Ernst-Slavit & Mulhern (2003, p. 6) show twelve ways that bilingual books can be integrated into the classroom. These are:
introducing a new topic;
supporting transfer of reading in first language (L1) to second language (L2);
supporting independent reading;
using L1 version as preview;
using L1 as review;
reading two versions for self-assessment;
comparing and contrasting cognates;
improving home-school connections;
supporting family literacy programs;
raising all children's awareness of multiculturalism;
helping teachers learn another language; and
encouraging reading for pleasure.
A final, and related, strategy is collaboratively constructed, student-created bilingual books, or identity texts (Cummins, 2006; Giambo & Szecsi, 2015; Stille & Cummins, 2013). During the composing process, ELLs can be encouraged to use their home languages to plan and scaffold writing and to discuss the writing with peers. ELLs can compose their own bilingual texts using bilingual dictionaries and online translation tools (Cohen & Leoni, 2006; Cummins, 2006; Delbridge & Helman, 2016; Giambo & Szecsi, 2015; Woodley & Brown, 2016).
Towards a Continuum of Bi/Multilingual Practices
We propose that the activities identified in the literature can be viewed as part of a continuum of bi/multilingual practices. Schwarzer, et al. (2003) identify four different attitudes teachers may have to the use of the home language (forbid, allow, maintain, foster). We extend this framework and argue that teachers can engage in bi/multilingual practices that range from what we call "permissive" actions to "temporary compensatory" practices to taking an active "multilingual stance" that affirms multilingual practices as a norm (see Figure 1).
Permissive policies focus on allowing students to use their home languages in non-classroom settings (hallways, playground) and giving permission for students to use their home languages under specific conditions, if necessary. Next are what might be referred to as transitional practices where the students' home languages are more strategically used by the teacher in an effort to make students feel welcomed and encourage access to content for ELLs at the beginning stages of English language development. Scaffolding content through the use of the home language moves further along the continuum but still reflects a temporary practice as it is enacted primarily for beginner ELLs. To move further toward the right side of the continuum, teachers take a multilingual stance toward the entire classroom at all times. They foster some level of multilingual competencies for all students, regardless of their home languages or their proficiency levels in English. They are in a continuous process of learning and using their students' home languages and cultivating positive attitudes towards language diversity and the importance of bilingualism (Herques, 2007; Hite & Evans, 2006; Schwarzer, 2007). Collectively, these bi/multilingual practices make multilingualism the norm for all and allow for the development of multilingual skills, including metalinguistic and multilingual awareness. Figure 2 provides some examples of illustrative practices for each stage along the continuum.
Conclusion and Implications
As U.S. schools become more linguistically and culturally diverse, it is imperative that mainstream classrooms do not default to monolingual environments, even if the language of instruction is English. Mainstream teachers can draw on students' home languages, even if their own knowledge of those languages is still developing. They can take a multilingual stance as they make decisions about how multilingualism is represented and used in their classrooms as a resource for all learners. The need for all teachers to take a multilingual stance and build the knowledge and skills to enact this stance in their classrooms challenges teacher preparation programs to go beyond developing teacher candidates' knowledge of second language development and scaffolding English as an additional language instruction. In addition to this knowledge and skills, mainstream preservice teachers also need an understanding of bilingualism and to be provided with opportunities to engage with multilingual strategies.
References
Baker. C, & Wright, W. E. (2017). Foundations of bilingual education and bilingualism (6th ed.). Clevedon, UK: Multilingual Matters.
Brooks, K., & Karathanos, K. A. (2009). Building on the cultural and linguistic capital of English learner (EL) students. Multicultural Education, 16(4), 47-51.
Catalano, T., & Hamann, E. T. (2016). Multilingual pedagogies and pre-service teachers: Implementing "language as a resource" orientations in teacher education programs. Bilingual Research Journal, 39(3-4), 263-278.  doi:10.1080/15235882.2016.1229701
Cohen, S., & Leoni, L. (2006). Dual language literacy practices in the mainstream and ESL classroom. Retrieved from http://www.multiliteracies.ca/index.php/folio/viewDocument/8/4495
Cummins, J. (2006). Identity texts: The imaginative construction of self through multiliteracies pedagogy. In O. García, T. Skutnabb-Kangas, & M. E. Torres-Guzmán (Eds.), Imagining multilingual schools: Language in education and globalization (pp. 51-68). Clevendon, UK: Multilingual Matters.
Cummins, J. (2007). Promoting literacy in multilingual contexts. What Works? Research Into Practice. Retrieved from http://www.edu.gov.on.ca/eng/literacynumeracy/inspire/research/Cummins.pdf
de Jong, E. J. (2011). Foundations for multilingualism in education: From principles to practice. Philadelphia, PA: Caslon Inc.
de Jong, E. J. (2013). Preparing mainstream teachers for multilingual classrooms, Association of Mexican American Educators Journal, 7(2), 40-49.
Delbridge, A., & Helman, L. A. (2016). Evidence-based strategies for fostering biliteracy in any classroom. Early Childhood Education Journal, 44(4), 307-316.
Ernst-Slavit, G., & Mulhern, M. (2003). Bilingual books: Promoting literacy and biliteracy in the second-language and mainstream classroom. Reading Online, 7(2), 1-14.
Freeman, D. E., & Freeman, Y. S. (1993). Strategies for promoting the primary languages of all students. The Reading Teacher, 46(7), 552-558.
Gersten, R., & Baker, S. (2000). What we know about effective instructional practices for English-language learners. Exceptional Children, 6(4), 454-470.
Giambo, D. A., & Szecsi, T. (2015). Promoting and maintaining bilingualism and biliteracy: Cognitive and biliteracy benefits & strategies for monolingual teachers. The Open Communication Journal, 9(1), 56-60.
González, N., Moll, L.C., & Amanti, C. (2005). Funds of knowledge: Theorizing practices in households, communities, and classrooms. Mahwah, NJ: Lawrence Erlbaum Associates.
Gordon, D. (2018). Using dual language story books to foster biliteracy. EAL Journal. Retrieved from https://ealjournal.org/2018/11/12/using-dual-language-story-books-to-foster-biliteracy/
Herques, A. J. (2007). Exploring a monolingual English-speaking teacher's perceptions of classroom interventions to foster Hispanic English language learners' primary language (Unpublished doctoral dissertation). Retrieved from https://scholarworks.uno.edu/cgi/viewcontent.cgi?referer=https://scholar.google.com/&httpsredir=1&article=1609&context=td
Hite, C. E., & Evans, L. S. (2006). Mainstream first-grade teachers' understanding of strategies for accommodating the needs of English language learners. Teacher Education Quarterly, 33(2), 89-110.
Kleyn, T., & Yau, H. (2016). The grupito flexes their listening and learning muscles. In O. García & T. Kleyn (Eds.), Translanguaging with multilingual students: Learning from classroom moments (pp. 100-117). New York: Routledge.
Lucas, T., & Katz, A. (1994). Reframing the debate: The roles of native languages in English-only programs for language minority students. TESOL Quarterly, 28(3), 537-561. https://doi.org/10.2307/3587307
Manyak, P. (2004). "What did she say": Translation in a primary-grade English immersion class. Multicultural Perspectives 6(11), 12-18.
Pandey, A. (2014). Using mother tongues as building blocks in childhood education. Childhood Education, 90(1), 61-67. doi:10.1080/00094056.2014.872517
Pappamihiel, E., & Lynn, C. A. (2014). How can monolingual teachers take advantage of learners' native language in class? Childhood Education, 90(4), 291-297. doi:10.1080/00094056.2014.937258
Roessingh, H. (2011). Family treasures: A dual-language book project for negotiating language, literacy, culture, and identity. Canadian Modern Language Review, 67(1), 123-148. https://doi.org/10.3138/cmlr.67.1.123
Schwarzer, D. (2007). Monolingual teachers fostering students' native literacies. In Y. Goodman & P. Martens (Eds.), Critical issues in early literacy (pp. 111-122). Retrieved from https://www.researchgate.net/profile/David_Schwarzer2/publication/281973157_Monolingual_Teachers_Fostering_Students'_Native_Literacies/links/5600465e08aeafc8ac8c597d.pdf
Schwarzer, D., & Acosta, C. (2014). Two activities for multilingual students: Learning in monolingual classrooms. Journal of Multilingual Education Research, 5(1), 93-110.
Schwarzer, D., Haywood, A., & Lorenzen, C. (2003). Fostering multiliteracy in a linguistically diverse classroom. Language Arts, 80(6), 453-460.
Stille, S., & Cummins, J. (2013). Foundation for learning: Engaging plurilingual students' linguistic repertoires in the elementary classroom. TESOL Quarterly, 47(3), 630-638. https://doi.org/10.1002/tesq.116
Szilágyi, J., Giambo, D., & Szecsi, T. (2013). Teaching strategies: "What if I don't speak it?" Classroom strategies to nurture students' heritage languages. Childhood Education, 89(2), 117-121.
Woodley, H., & Brown, A. (2016). Balancing windows and mirrors: Translanguaging in a linguistically diverse classroom. In O. García & T. Kleyn (Eds.), Translanguaging with multilingual students: Learning from classroom moments (pp. 83-99). New York: Routledge.
Sarah Henderson Lee, Ryosuke Aoyama, Charlotte Harris-Hoffstrom, Alejandro Maya, Shyam B. Pandey
Reflection plays an important role in teachers' professional development. In this paper, Dr. Henderson Lee and four of her former graduate TESOL advisees share their critical friendship, highlighting the connection between reflective language teaching and the development of L2 literacy teacher-scholars.
Key words: reflective language teaching, L2 literacy, critical friendship, teacher-scholars, global contexts
This short paper highlights the voices of four recent MA graduates as emerging second language (L2) literacy teacher-scholars. In my Fall 2015 graduate seminar, Second Language Literacy, the teacher-scholars, who are co-authors here (Ryosuke, Charlotte, Alejandro, and Shyam), developed as language teachers who understand literacy as situated social practice, which is informed by users' socially and historically constructed identities (Gee, 2015), and who consciously and systematically reflected on their L2 literacy teaching for positive change (Farrell, 2007). In this graduate classroom context, they explored critical readings, interactive discussions, content applications, and individual reflections. Now, as doctoral students and full-time teachers, they continue to engage in L2 literacy reflection with each other and their former adviser (Sarah) through a critical friendship, or teacher collaboration "which encourages talking with, questioning, and even confronting, the trusted other, in order to examine planning for teaching, implementation, and its evaluation" (Hatton & Smith, 1995, p. 41). The reflective snapshots shared in this paper stem from the teacher-scholars' collaborative exploration of L2 literacy as social practice across four unique teaching contexts.  
Reflective Language Teaching
To better understand the role of reflection in language teacher education, areas of teacher reflection and tools for teachers to reflect, as well as the construct of reflexivity, have been emphasized in the literature (De Costa, 2015; Edge, 2011; Farrell, 2007, 2012; Kumaravadivelu, 2001; Mann & Walsh, 2017). Farrell (2007), for example, defines reflective language teaching as "a bottom-up approach to teacher professional development that is based on the belief that experienced and novice language teachers can improve their understanding of their own teaching by consciously and systematically reflecting on their teaching experiences" (p. 9). To achieve such reflection, Farrell (2007) outlines several areas of reflection, including self-reflection, teachers' beliefs and practices, teachers' language proficiency, and classroom communication, and details a number of tools through which teachers and teacher educators can reflect, such as action research, teacher journals, classroom observations, and critical friendships. Building on this foundation of reflective language teaching, Edge (2011) presents reflexivity, or the interdependent interaction between practitioner and context, as both located in and distinguished from reflective practice. The discursive construction of reflexivity, moreover, "advocates social justice and examines the power imbalances that occur in language teaching as well as the ethical concerns surrounding it" (De Costa, 2015, p. 136).    
In teaching a graduate seminar on L2 literacy and advising L2 literacy-related MA theses and capstone projects, I (Sarah) turn to the above reflective language teaching framework to further develop my students and advisees as L2 literacy teacher-scholars. By focusing their reflection on the intersection of sociocultural perspectives of L2 literacy and their own practice, graduate TESOL students begin to see themselves as both consumers and producers of theory (Kumaravadivelu, 2001), and, in turn, feel empowered to make meaningful positive change in their unique L2 literacy teaching contexts.
Our Reflective Process
In addition to being students in my L2 literacy seminar, Ryosuke, Charlotte, Alejandro, and Shyam were also my advisees. This allowed us to extend conversations we started in the graduate classroom about socially situated literacy in regard to the students' unique teaching contexts, leading to the development of thesis and capstone project ideas and a collaborative presentation at MIDTESOL 2016 from which this paper stems. To prepare for that presentation, I asked the four graduate students to return to the context-focused research question they proposed for a literature review assignment in the L2 literacy seminar and reflect on how that work impacted their current practice and what new related questions or challenges had surfaced. Aligned with Farrell's (2007) bottom-up approach to reflective language teaching, this request positioned students within their own context-specific experiences and emphasized the cyclical power of reflection. A shared online writing space was used to read and respond to each other's reflections, which prompted further reflection and revision. Additionally, the group met twice in Fall 2016 for face-to-face dialogue, deepening our co-construction of L2 literacy knowledge and allowing new and more localized understandings to emerge.
Two years later, with group members in Minnesota, Indiana, and Japan, I asked Ryosuke, Charlotte, Alejandro, and Shyam to return to the shared, online writing space and to their previous L2 literacy reflections. More specifically, I asked that they expand on their initial reflection given their more recent experiences in the field, and I provided the following guiding questions:   
What new related question or challenge has emerged and why?
What L2 literacy scholarship has helped you answer this question or unpack this challenge and how?
What action plan have you established based on this reflection and how does (might) it address the identified question or challenge?
Similar to our initial reflection process, group members read and responded to each other's reflections, offering guiding comments and questions. Below are reflective snapshots of Ryosuke, Charlotte, Alejandro, and Shyam's context-led, L2 literacy inquiry, which represent (re)constructed knowledge through content- and context-specific reflection.
Ryosuke's Reflective Snapshot: L2 Writing Feedback in the Japanese Secondary Context
In English as a Foreign Language (EFL) contexts in particular, factors related to teaching contexts often present challenges for L2 writing teachers. For example, over-allocation of duties and large class sizes make it difficult for teachers to provide effective written feedback on student writing. As an English teacher in a public high school in Japan, I currently find it challenging to teach and prepare for 15 credit hours (one credit hour is equivalent to 50 minutes of classroom instruction) over five different subjects each week while also having to manage administrative tasks and supervise students' extracurricular activities. These working conditions and practices are not unique to my high school but can be observed in public junior high and high schools in Japan (Aoyama, 2017; O'Donnell, 2005). Since all the subjects I teach include essay writing, "working smarter, not working harder" (Lee, 2011, p. 377) is essential in effectively responding to my students' writing, considering the workload I have been assigned.
One of the strategies Lee (2011) suggests is multiple drafting. As she points out, single drafting or one-shot writing is problematic because students do not have to respond to the teacher's feedback no matter how detailed it is. By working on process writing that requires multiple drafts, teachers can provide quality feedback that students can incorporate into their drafts for gradual improvement. By reflecting on her work with my own classroom in mind, I knew I would need to further familiarize my students with the nature and process of writing to successfully employ multiple drafting. This was especially important given the fact that my students' expectation was that I would mark the grammatical errors in their essays so that they could correct them. This sole focus on grammar carried over to my students' initial participation in peer review, even though I provided them with a rubric that also highlighted content and organization components.
To help my students understand grammar as just one of several important writing areas, I returned to the work of Ferris and Hedgcock (2014) who suggest the prioritization of language errors that impede comprehension and the incorporation of mini language lessons in writing instruction. Accordingly, instead of responding to every single error when grading students' writing, I now selectively point out sentences which are difficult to understand and common mistakes which reoccur throughout the paper. This is usually followed by in-class instruction to address the most prominent errors of the class in the form of a mini grammar-based lesson, which is balanced with other lesson components that target writing content and organization. Reconceptualizing the role of grammar in my writing instruction and feedback has not only made me a more effective and efficient teacher, it has also greatly benefited my students who are now less overwhelmed and more invested in the multiple drafting of process writing.
As a full-time high school English teacher in Japan, it is not always easy to be confident about everyday pedagogical decisions I make due to the context-sensitive challenges. However, by engaging in Farrell's (2007) bottom-up approach to reflective teaching, particularly as it relates to L2 literacy as a sociocultural practice, I was able to use challenges in my lived teaching experiences as catalysts for more meaningful pedagogical change. Drawing on Lee's (2011) multiple drafting suggestion and Ferris and Hedgcock's (2014) prioritization of errors that impede writing helped improve my teaching of L2 writing and, in turn, empowered me as a teacher-scholar.
Charlotte's Reflective Snapshot: Genre Analysis in the U.S. First-Year Composition Context
As an instructor of a college-level introductory writing course for multilingual and multinational students, my initial reflection and challenge question during my graduate seminar with Dr. Henderson Lee became how to incorporate reading as a tool to improve academic writing. Since most of the students in my composition course arrive from EFL contexts and are new to genres required in the U.S. university context, genre analysis improves their ability to recognize textual features and genre-specific discourse elements as well as compose expected academic discourse. An integral part of my curriculum now includes mindful incorporation of genre analysis using authentic texts and weekly student self-reflections to link existing knowledge with new learning.
Second language literacy research supports the use of genre analysis in composition. By understanding reading as composing (Hirvela, 2004), students become proficient in both recognizing specific textual elements over time and constructing their own discourses. Learners are better able to internalize writing rules and conventions, organizational practices, and rhetorical features through reading materials and activities that allow for meaningful exposure to writing in the target language (Hirvela, 2004). Students are also able to develop improved writing abilities in English by noting rhetorical constructions that may be different from their own production of English (Hedgcock, 2005).
After reflecting on literature related to genre analysis (e.g., Hirvela, 2004; Hedgcock, 2005), an important action plan for my own practice became the regular incorporation of authentic texts and weekly reflections on learning. Students now read and analyze both professional and students text examples for each unit. They also write a weekly reflection based on their readings of these sample texts and the related class work, including discussion- and presentation-based activities. In these reflections, students explore their related learning process through the following prompts:
Which genre features from this week's reading(s) are familiar to you and how do they connect to your previous writing experiences?
What new genre information did you learn this week and how might it support your writing of the current essay?
Critical analysis activities, including reflections on learning, help improve students' engagement with the composition process, per student self-reporting in my action research capstone project that I completed in spring 2017. Through reflective language teaching and personally seeing the benefits of genre analysis, I also changed my curriculum to include a critical analysis essay assignment during my second year of teaching composition. This unit focuses on explicitly teaching new international undergraduates how to analyze texts and improves their composition quality in following units. Students learn how to critically analyze both the content and the discourse mechanisms of several types of texts before venturing to complete their own analysis essay of a self-chosen text. For students from countries with differing educational expectations, learning the specific academic and cultural conventions of the U.S. university system is an important part of learning the composition process.
In this process I used Farrell's (2007) bottom-up approach to reflective practice, including conscious observations of my students' needs, and the particularities of my context, including genre expectations in my university, which drove improvements to my practice. The prioritization of genre analysis in my L2 composition class, particularly the incorporation of authentic texts and self-reflections, is one example of how I have successfully bridged the gap between institutional expectations and language learners' backgrounds.
Alejandro's Reflective Snapshot: The Role of L1 in L2 Writing in the U.S. Community College Context
The development of academic writing skills at the post-secondary level proves to be a demanding endeavor for any student. The rising number of Generation 1.5 students in higher education, or learners who were primarily educated in the U.S. but who were born outside of the country or arrived at a young age (Harklau, Siegel, & Losey, 1999), presents a challenge towards the traditional academic writing placement categories of mainstream and ESL and/or developmental, given the intricate complexities of the students' literacy practices in both their first languages (L1s) and L2s. Generation 1.5 students are frequently enrolled in developmental academic writing classes designed for native English speakers based solely on test placement scores, indicating lower language proficiency in reading and writing, and without consideration of their multilingual writing abilities. In addition, Generation 1.5 students are mostly first-generation college students straddling multiple identities: "culturally" American while maintaining affiliations with their parents' cultures (Harklau, Siegel, & Losey, 1999). The challenge for both administrators and educators resides in identifying appropriate academic spaces to allow for the development of vital English academic writing skills in their collegiate careers while also recognizing the importance of encouraging Generation 1.5 students' L1 literacy skills.
In a recent research project I conducted among Generation 1.5 students at an urban community college, Generation 1.5 students reflected on their experiences taking courses in English composition and other disciplines, which pointed towards several interesting findings:
a disconnect between the course material and their lived experiences;
unclear instructor expectations as to what constitutes writing proficiently in each discipline; and
limited access to tutors and other support staff skilled in answering their queries (Maya, 2017).
As a language scholar, I used the insights provided from this study to contemplate how our current pedagogical practices contribute to a perceived disconnect with students and their immediate realities, as evinced by the participants' difficulties in ascertaining what academic skills are needed to be successful and finding themselves culturally absent from the content and curriculum in their studies.  
The insights from my research present some opportunities for community college educators to consider in designing their classes and assignments to promote student success for multilingual writers. Similar to Canagarajah's (2013) and Bazerman's (2013) leads on finding a balance between students using their authentic voices, codes, and translanguaging practices in the classroom while recognizing the conventions of disciplinary writing, Generation 1.5 students also frequently experience a disconnect between the subject material studied and the realities of their own personas and communities (Maya, 2017). Furthermore, educators should be active co-participants in the empowering effect that higher education studies can have on multilingual students' lives.
As I develop course writing assignments, I now prioritize opportunities for students to make meaningful connections beyond our immediate classroom context and to use writing as a vehicle to insert themselves into dialogues of social relevance in their lives. For example, my students use multimodal approaches, including oral histories and audiovisual narratives, to share issues of importance in their local communities, which encourages them to see themselves as authoritative figures and possessors of knowledge. Providing a public forum such as a student symposium allows for audiences beyond the classroom, including members from students' home communities, to support and engage in the meaningful academic work of these students. Establishing such a connection with students' communities through projects that seek to invite members of their inner circles to campus as resources of knowledge fortifies the notion of "community" in our two-year institutions, helping to break down barriers which often cause Generation 1.5 students to feel isolated and marginalized within our academic institutions. By participating in bottom-up reflective practice (Farrell, 2007) through classroom research and a refined, more culturally relevant pedagogical approach about socially-situated L2 literacy with my peers and professor, I have been able to strengthen these connections between classroom and community.
Shyam's Reflective Snapshot: The Relationship Between Oracy and Literacy in the Nepalese Language Teacher Training Context
Working with diverse student populations in Nepal as a high school and college-level teacher, and also through my work with the Nepal English Language Teachers' Association (NELTA), I have realized that Nepal presents a myriad of contextual challenges that are specific to the teaching of L2 literacy, including large class sizes, low language proficiency of teachers, high teaching loads, and little attention to the connection between oracy and literacy. As a writing teacher, I want to focus my current reflection on the last challenge because I have come to understand literacy as situated social practice (Gee, 2015) and, thus, so much more than reading and writing as isolated language domains. Despite some constraints, the Ministry of Education (MOE) in Nepal along with other professional organizations for teachers like NELTA are actively engaged in improving the quality of English language instruction in the country through a variety of short- and long-term programs. As the former country coordinator of the English Access Microscholarship Program, I was active in NELTA's program planning, which did not include any teacher training directly related to the oracy-literacy connection. This lack of prioritization mirrors the fact that language domains are still taught separately in Nepal. As of now, English teachers in this context are not adequately trained to support the relationship between their learners' spoken and written language.
Stressing the interconnectedness of oracy and literacy, Hornberger (1994) proposes an oral-literate continuum. As societies further diversify, she notes, learners must develop skills to move effectively between literacy and oracy in communicative contexts. With an increased focus on communicative competence in the Nepalese educational context, teachers need to understand the relationship between oracy and literacy and be trained to develop lessons with this beneficial relationship in mind. Since Nepal is culturally, ethnically, and linguistically diverse, this means the role of learners' home languages and literacies in educational spaces should be considered. While in my experience, most school administrations still seem to have a pejorative view of the L1s students bring with them to class, focused teacher training and development could shift this view by preparing teachers to incorporate students' L1s in pre-writing activities, for example. Based on this reflection, I am communicating with colleagues in Nepal about possible future training events that would allow teachers to collaboratively explore the connection between oracy and literacy specifically through the role of L1 in L2 writing instruction.
Farrell's (2007) bottom-up approach to reflective practice which "starts with the internal rather than the external" (p. 9), allowed the local particularities of my context of Nepal, especially the gap between oracy and literacy, to provide meaningful guidance through L2 literacy literature (e.g., Hornberger, 1994; Fu & Matoush, 2015; Gee, 2015) during my graduate studies. This reflective snapshot, as a product of that process, highlights needs within EFL teacher education in my context, and motivates me to keep engaging in reflective practice. Doing so will not only facilitate positive change for the training and development of pre- and in-service English teachers in Nepal, it will help me to further adopt teacher-scholar as part of my professional identity.
Conclusion
The above context-focused snapshots represent the reflective inquiry practice of a critical friendship that started between teacher/advisor and students/advisees in a graduate TESOL program. Now as peers, we continue to explore being and becoming L2 literacy teacher-scholars in global contexts. This work answers Farrell's (2012) call to (re)conceptualize language teacher education through reflective practice by both providing reflective opportunities in required coursework and nurturing post-program relationships with emerging teacher-scholars and their unique language teaching contexts. Positioning their study of L2 literacy within the realities of their preferred teaching contexts, Ryosuke, Charlotte, Alejandro, and Shyam were able to engage in meaningful and collaborative bottom-up reflection that shaped their practice and expanded their knowledge base. By sharing the reflective process of our critical friendship and the voices of emerging teacher-scholars, we hope more language teacher educators and pre- and in-service teachers will co-create transformative spaces for localized reflection and new knowledge construction and, in turn, contextually-situated positive change.
References:
Aoyama, R. (2017). Exploring NNESTs' beliefs and identities: A case study of Japanese EFL high school teachers (Unpublished master's thesis). Retrievable from https://cornerstone.lib.mnsu.edu/etds/752/
Bazerman, C. (2013). Global and local communication networks and implications for literacy. In  A. S. Canagarajah (Ed.), Literacy as translingual practice: Between communities and  classrooms (pp. 13-25). New York: Routledge.
Canagarajah, A. S. (Ed.). (2013). Literacy as translingual practice: Between communities and classrooms. New York: Routledge.
De Costa, P. (2015). Tracing reflexivity through a narrative and identity lens. In Y. L. Cheung, S. B. Said, & K. Park (Eds.), Advances and current trends in language teacher identity research (pp. 135-147). New York: Routledge.
Edge, J. (2011). The reflexive teacher educator in TESOL: Roots and wings. New York: Routledge.
Farrell, T. S. C. (2007). Reflective language teaching: From research to practice. New York: Continuum.
Farrell, T. S. C. (2012). Novice-service language teacher development: Bridging the gap between preservice and in-service education and development. TESOL Quarterly, 46(3), 435-449. https://doi.org/10.1002/tesq.36
Ferris, D., & Hedgcock, J. (2014). Teaching L2 composition: Purpose, process, and practice (3rd ed.). New York: Routledge.
Fu, D., & Matoush, M. M. (2015). Focus on literacy. Oxford: Oxford University Press.
Gee, J. P. (2015). Social linguistics and literacies: Ideology in discourses (5th ed.). New York: Routledge.
Harklau, L., Siegal, M., & Losey, K. M. (1999). Linguistically diverse students and college writing: What is equitable and appropriate? In L. Harklau, K. M. Losey, & M. Siegal (Eds.), Generation 1.5 meets college composition: Issues in the teaching of writing to U.S.-educated learners of ESL (pp. 1-14). New York: Routledge.
Hatton, N., & Smith, D. (1995). Reflection in teacher education: Towards definition and implementation. Teaching and Teacher Education, 11(1), 33-49. https://doi.org/10.1016/0742-051X(94)00012-U
Hedgcock, J. S. (2005). Taking stock of research and pedagogy in L2 writing. In E. Hinkel (Ed.), Handbook of research in second language teaching and learning (pp. 597-614). Mahwah, NJ: Lawrence Erlbaum Associates.
Hirvela, A. (2004). Connecting reading and writing in second language writing instruction. Ann Arbor, MI: University of Michigan Press.
Hornberger, N. H. (1994). Continua of biliteracy. In B. M. Ferdman, R. Weber, & A. G. Ramirez (Eds.), Literacy across languages and cultures (pp. 103-139). Albany, NY: State University of New York Press.
Kumaravadivelu, B. (2001). Toward a postmethod pedagogy. TESOL Quarterly, 35(4), 537-560. https://doi.org/10.2307/3588427
Lee, I. (2011). Working smarter, not working harder: Revisiting teacher feedback in the L2 writing classroom. The Canadian Modern Language Review/La Revue Canadienne Des Langues Vivantes, 67(3), 377-399. https://doi.org/10.3138/cmlr.67.3.377
Mann, S., & Walsh, S. (Eds.). (2017). Reflective practice in English language teaching: Research-based principles and practices. New York: Routledge.
Maya, A. (2017). Generation 1.5 community college students' perceptions of academic writing: Balancing personal, cultural, and educational identities​. (Unpublished master's capstone project). Minnesota State University, Mankato, MN.
O'Donnell, K. (2005). Japanese secondary English teachers: Negotiation of educational roles in the face of curricular reform. Language, Culture and Curriculum, 18(3), 300-315. https://doi.org/10.1080/07908310508668749
Cynthia Lundgren, Stephanie D'Costa
This article presents findings from an exploratory study with secondary English Language Development teachers using Language Pathways, a genre-based instructional tool, to increase students' access to grade-level learning.
Key words: genre-based instruction, language awareness, Key Language Uses, teaching and learning cycle, functional language
As children learn the language of their families and communities, they develop an awareness of common patterns, or genres that facilitate how we use language every day to explain, argue, tell stories, or provide information to each other. Developing an understanding of how language functions allows speakers and listeners to quickly recognize and respond appropriately within their cultural and linguistic community (Bernstein, 1971; Bourdieu, 1991).  
Schooling expands the everyday use of these genres by introducing complex grammatical structures, formality, and precise technical word choices as students explore new areas of academic study. High stakes assessments, state standards, and even curriculum often assume students have an awareness of how language functions in these genres. However, students for whom these genres are less familiar need explicit opportunities to examine and discuss these genres if they are to fully access, participate, and derive meaning during schooling in a new context (Gee, 2004; Hyland, 2007; Tung, 2013).
English language educators play a critical role in helping build students' explicit knowledge of language. Educators can guide students in noticing the structures and language of a text. They can further support students in analyzing the text by discussing how grammatical and lexical choices work to shape meaning (Derewianka & Jones, 2016). Educators help students develop a stronger awareness of language through close examination of language features particular to the genre. This awareness helps students understand how language choices express and connect ideas, address audiences uniquely, and create cohesion within the genre (Humphrey, Droga, & Feez, 2013).
Developing Language Awareness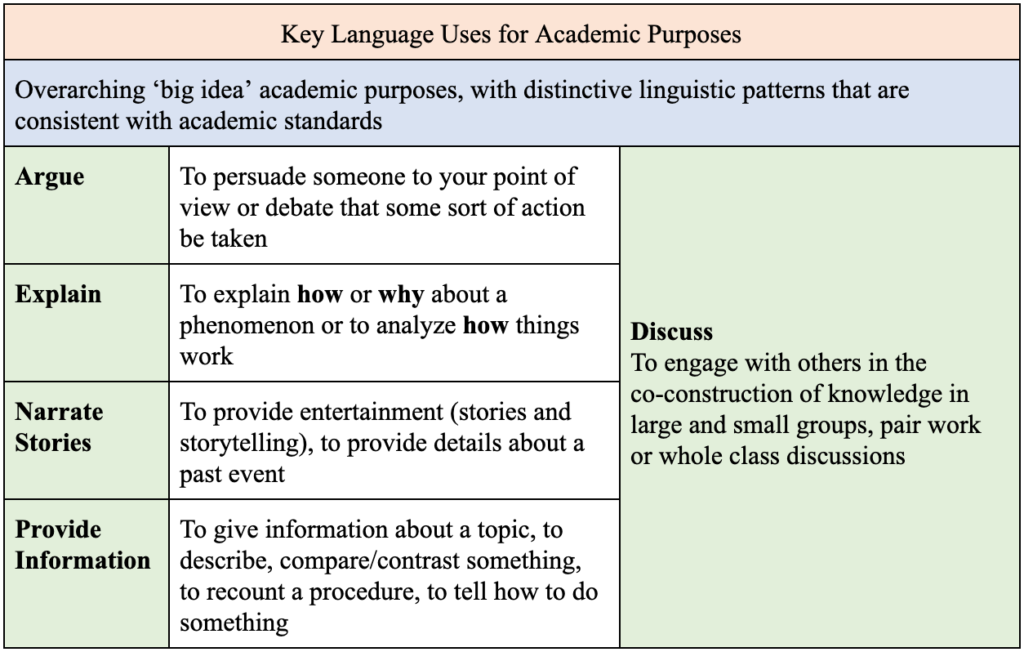 WIDA, at the Wisconsin Center for Educational Research, has been developing English language educator resources called Language Pathways, which are designed to engage teachers and students in language-rich discussions about academic genres. These resources draw on Halliday and Matthiessen's (2014) view of language as a meaning-making system and the genre-based approach of Martin and Rose (2008), Christie (2005), and Derewianka and Jones (2016) that help make the language demands of school-based curriculum explicit. Language Pathways describe discourse patterns and grammatical features based on WIDA's Key Language Uses: explaining, arguing, narrating stories, and providing information (see Table 1), so all students have the linguistic resources they need for school success.
Language Pathways follow the teaching and learning cycle (see Figure 1) developed for explicit language teaching in a genre-based approach (Derewianka & Jones, 2016; Martin & Rose, 2012; Rothery, 1994).
The teaching and learning cycle is a process for planning and guiding instruction that supports students' language learning (Rose & Martin, 2012). Teachers guide students in noticing, deconstructing, and constructing oral, written, and visual messages. This allows students to explore language choices as a creative, authentic process for meaning-making (Derewianka & Jones, 2016). Language Pathways guide teachers through the teaching and learning cycle with resources designed to support language instruction at each phase of the cycle.
Language Pathways Pilot Study
A pilot study was conducted by WIDA to explore how teachers applied Language Pathways to their instruction. Twenty-five middle and high school English Language Development (ELD) teachers in a western, urban district participated in a two-year pilot study applying Language Pathways resources to their planning and classroom instruction using the teaching and learning cycle. The district focus for the year was to help students master an understanding of effective arguments, which was the language feature focused on in this study. Teachers participated in professional learning sessions, classroom observations with follow-up coaching, and monthly individual phone coaching, in addition to on-line and face-to-face learning communities.
In the following sections, four teachers demonstrate how they apply Language Pathways resources as they:
plan for language instruction and assessment;
build awareness of language patterns by deconstructing mentor texts;
construct explicit features of the genre with their students; and
facilitate self/peer feedback on independent writing
Paula: Planning for instruction and assessment
Paula works with 10th and 11th graders, many of whom are students with interrupted schooling. Paula created a unit plan template (see Figure 2) to help her focus on specific language features she wants students to recognize when reading and apply when writing independently. As a former language arts teacher, Paula often struggles with the distinction between ELA and ELD instruction.
"It's been really difficult this year because the English teacher in me wants to come out and take over, but the key is to differentiate for students who are learning about language. The Pathways help me stay focused—bring it back to language."
Her template helps her look deeper at how language features address or advance the purpose of the genre. For this unit, the key language use is argue. Paula downloads current event articles on fracking, mining, and alternative energy sources from Newsela, (www.newsela.com) to show how authors link ideas using causal, comparative, or sequential conjunctions to strengthen the argument.
David: Building awareness of language patterns through deconstructing mentor texts
David deconstructs mentor texts with his students as a way to point out and talk about language choices that authors make. Mentor texts, which exemplify patterns of language, provide opportunities for teachers and students to notice and analyze how meaning-making occurs. David is preparing his students for the reading of The Omnivore's Dilemma (Pollan, 2006) in their 8th grade ELA class. He collects examples of persuasive language from newspapers, pamphlets, textbooks, and storybooks to deconstruct with students and show how arguments are constructed.
David builds awareness of the genre through conversations with students about how the author's choices can influence readers' thoughts and feelings. For example, David projects this sentence on the Smart Board:
Saving trashed food has become a matter of international urgency.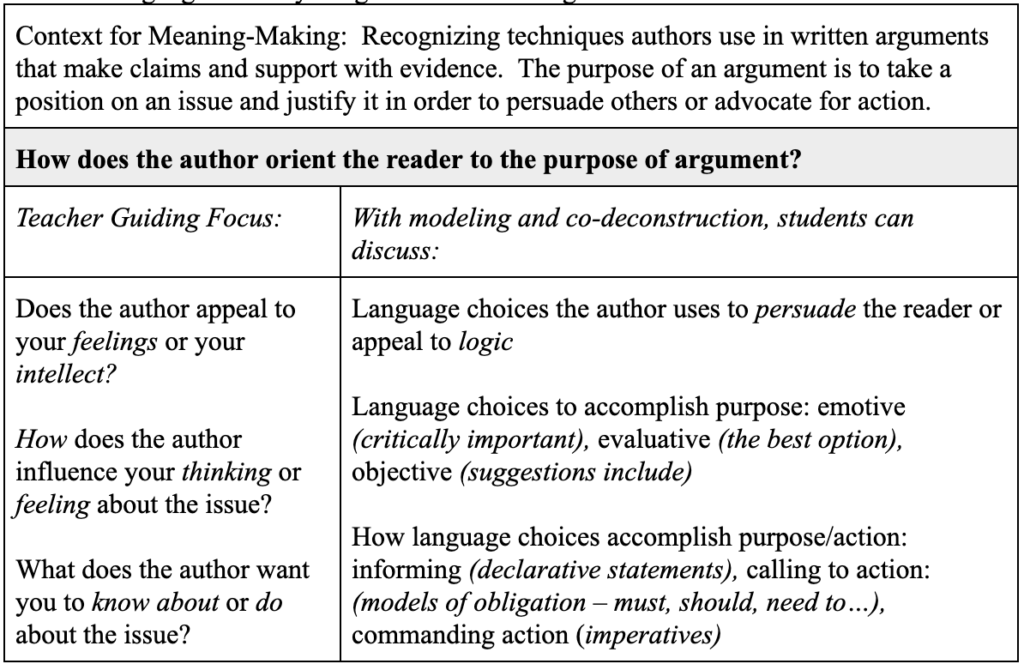 He asks students how they feel when they read it, what they think 'trashed food' might be, what the time frame for this urgency could be, who is "saving" and who might be impacted? David guides the discussion as they deconstruct the text. David uses Language Pathways tables to keep lessons focused on language. He feels this approach has re-energized his teaching and increased students' motivation.
"We have interesting conversations about meaning.  We go through the examples [text] together. I model how to break apart and look for the information from the chart [Language Pathways Argue] very explicitly."
Table 2 is an example of the resource David uses to guide the conversation as he deconstructs and discusses texts with students.  
Olivia: Joint construction of text
Olivia has 6th-8th grade newcomers. While her students have been formally schooled in their home countries, they are recent arrivals to the U.S. Olivia needs a mentor text that matches the cognitive maturity and academic skills of her students with their beginning English language proficiency. She hasn't been able to find such texts, so she writes her own. She plans lessons around language features specific to the genre and adjusts her instructional timeline to provide the scaffolding her newcomers need, spending more time jointly constructing text. In this lesson, Olivia moves between deconstructing the mentor text and guiding the class to add details that strengthen claims.
Olivia gives students their own copy of the mentor text she has written while she projects a working copy on the screen. She reads, "American football is a dangerous sport. Many players are hurt every year." Using both English and Spanish, Olivia points out the claim. Students talk about how the opinion is stated like a fact to make it sound more credible. Olivia highlights the rationale. She engages students in a conversation about the strength of the rationale.
"Do we really know if this sport is dangerous? How many players are hurt? What are the injuries? Where does the information come from?"  
She challenges them to look for the evidence in the text. She shows them another statement:
"2,000 football players are hurt with concussions every year."
Together, they highlight text that answers "how many, what kind, what type?" and talk about how quantity, quality, and descriptive details strengthen a claim. Olivia brings students' attention to how noun phrases can be expanded to add details and writes examples on a classroom chart (see Figure 3).            
Jerome: Independent construction and evaluation of the genre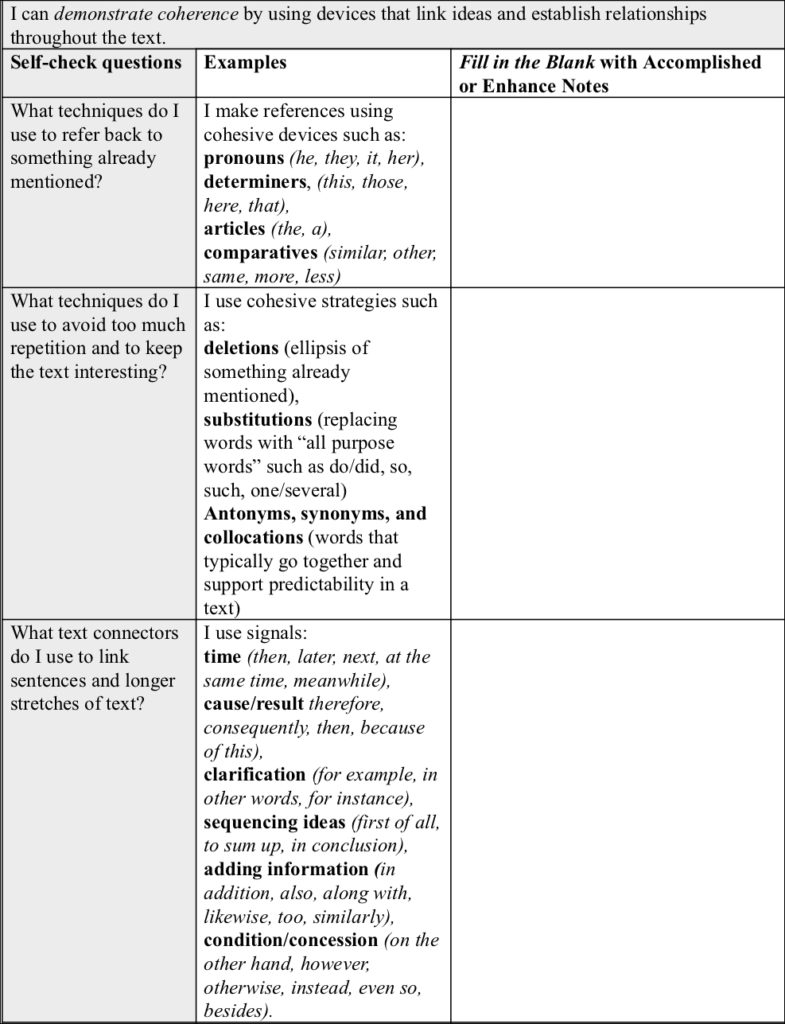 Jerome is a first-year high school teacher. He has advanced students who are anxious to exit ELD classes but must pass a writing assessment before they can exit. Jerome is struggling with his class; the students are not feeling successful. Jerome is finding that the school-wide rubric doesn't reflect the language lessons he's been teaching.
"I want my students to be able to recognize and produce good arguments. I teach my students how to look at how authors' decisions impact purpose, strength, and cohesion of an argument and I want students to think about their own language choices when writing their arguments. The school-wide rubric doesn't even acknowledge these critical elements [of cohesion]. I also want students to be able to reflect on their work—what they've done well and where they can improve."
Jerome designed a formative assessment tool (see Table 3) that could serve as self-reflection or peer reflection prior to teacher evaluation. He narrowed the evaluative focus based on lessons taught using Language Pathways writing resources. Jerome found that the rubric encouraged students to recognize their writing accomplishments. This also helped to keep peer suggestions for improvement connected to meaning-making. Students examined how well the writer's message accomplished the task. As a result, students felt more confident about their writing, were more willing to engage in reflective discussions about their writing and complete multiple edits.
Summary
Meaning-making reflects cultural communities and defines how language is used particularly in schooling. Building multilingual students' awareness about academic genres and language choices related to those genres is essential as we strive for educational equity. Teachers in this study made changes in their language instruction, but they also developed greater personal awareness about language. As one teacher remarked, "I'm so much more aware of language. You have to break it [language] apart—deconstruct to see what's happening. Share that with kids."
As language teachers, we advocate for our students but we also advocate with our students. By demystifying the cultural aspects of language, academic language in particular, we afford our students greater voice and agency in their own learning. Sharing how meaning-making occurs through joint deconstruction and construction of text, we allow multilingual learners to accomplish their communicative goals in school and community settings. Reflecting on the study experience, a teacher shared, "The Pathways are an answer that I've been looking for as a social activist… critical awareness for the students with little access to school language."
References
Bernstein, B. (1971). Class, codes, and control: Theoretical studies towards a sociology of language. New York: Schocken Books.
Bourdieu, P. (1991). Language and symbolic power. (Translation by G. Raymondson & M. Adamson). Cambridge, MA:  Harvard University Press.
Christie, F. (2005). Language education in the primary years. Sydney: University of NSW Press.
Derewianka, B., & Jones, P. (2016). Teaching language in context. Victoria, AU: Oxford Press.
Gee, J. P. (2004). Situated language and learning: A critique of traditional schooling. New York: Routledge.
Halliday, M., & Matthiessen, C. (2014). Introduction to functional grammar (4th ed.). New York: Routledge.
Humphrey, S., Droga, L., & Feez, S. (2013). Grammar and meaning. Newtown, NSW, AU: PETAA.
Hyland, K. (2007). Genre pedagogy: Language, literacy and L2 writing instruction. Journal of Second Language Writing, 16(3), 148-164. https://doi.org/10.1016/j.jslw.2007.07.005
Martin, J., & Rose, D. (2008). Genre relations: Mapping culture. London: Equinox Publishing.
Pollan, M. (2006). The omnivore's dilemma. New York: Penguin Press.
Rose, D., & Martin, J. (2012). Learning to write, reading to learn. South Yorkshire, UK:  Equinox.
Tung, R. (2013). Innovations in educational equity for English language learners. Voices in Urban Education, 37, 2-5.
Caroline Maguire
ESL teachers often struggle to balance language and content teaching. This article contains ideas for bringing a grammar focus into content-based instruction that will be useful for all teachers, but especially for teachers of middle and high school multilingual students.
Key words: Content-Based Language Teaching, Grammar, Focus on Form
Introduction
In the early days of the TESOL profession, most teachers pulled their students out of mainstream classes or offered English instruction in a self-contained, language-focused classroom. Teachers often focused on learning about language in these settings. It wasn't unusual to see explicit grammar explanations and drills in these ESL classrooms. In the last twenty years, however, things have changed. Due in large part to the underwhelming results of these early models, programs began shifting to push-in, co-teaching, and sheltered models. These models are thought to offer a form of content-based language instruction (CBI), a research-backed (Grabe & Stoller, 1997) approach to language teaching in which language and content are taught concurrently. A central idea of CBI is that language is best learned when used to make meaning, and academic language is best learned when heard and used in academic settings (Brinton, 2010).
As more ESL teachers push into content classes, their focus has shifted from teaching about language to scaffolding the content so that it is accessible to the multilingual students in the class. However, to be most effective, teachers must balance the emphasis on language and on content in a content-based class (Cammarata, Tedick, & Osborn, 2016). As to the correct balance, Nation (2007) suggests that approximately 25% of class time should consist of language-focused learning in which students are attending to, processing, and discussing language features that they will use in the other 75% of the course time.
In their teacher education programs, most ESL teachers are taught to achieve this balance by identifying two kinds of learning objectives: content objectives and language objectives. This practice is directly connected to a content-based approach to language instruction and the need to focus on both content and language. If we are to teach language through content, it is important to articulate both the content that is to be taught (the content objectives), and the language to be taught (the language objectives). Language identified in the language objectives is related to the content and will help students better understand and interact with the big ideas of the content.
After nearly fifteen years of working with new and experienced ESL teachers, my overwhelming experience has been this:
Achieving this balance is hard!
As a profession, we are good at scaffolding. We use many strategies to help our multilingual students access the content, which is, of course, very important. However, teachers often stop there. Furthermore, when they do focus explicitly on language, teachers often limit themselves to vocabulary or to the use of sentences starters or frames, which often help students develop useful chunks of academic language such as "in my opinion," "in summary," "for example," or "in conclusion." The development of vocabulary and the use of discourse markers such as these is extremely important, and teachers should feel good about using these strategies and should continue to do this. If we are aiming for 25% of our instructional time to be language focused, these kinds of activities certainly count as language-focused. However, at some point we also need to focus on the deeper morphosyntactic structures of language—what we often think of as "grammar." We need to help students learn the structures that allow, for example, for the creation of complex sentences and the control of the English verb system
I am not advocating a return to the drill worksheets and disconnected grammar lessons of the past. To be effective, the grammar focus should be deeply connected to and blended into the content lesson. This is something that many ESL teachers find difficult to do. It is my hope that this article will acquaint teachers with a few big ideas and introduce some evidence-based strategies that can help them get some new ideas for blending more grammar into their instruction.
Big Ideas
Explicit versus Implicit
An ongoing debate in the research on second language teaching is whether grammar should be taught explicitly at all. There are those who believe that explicitly teaching grammar is a waste of time, as grammar will be acquired implicitly when learners are exposed to comprehensible input. In the 1990's and early 2000's, quite a bit of research examined whether overtly focusing on language forms helped learners acquire grammar forms. The majority of this research showed that explicitly teaching grammar forms can help lead to better acquisition of the forms (Ellis, 2002; Norris & Ortega, 2000). Most researchers working in the field now believe some explicit focus is necessary for the development of high levels of proficiency (Ellis, 2008; N. Ellis, 2017). Thus, if teachers wonder, Should I be teaching grammar? the answer, simply put, is yes. The more difficult question, however, is how. Grammar instruction needs to be woven into the other, meaning-focused activities in class. We must always strive for a balance between a focus on meaning and a focus on form. The following ideas are key to achieving this balance.
Salience
One of the most important ideas that ESL teachers should internalize is the importance of raising the level of salience of a language feature. Salience refers to how noticeable something is in the input. Language learners will focus on the pieces of language that provide meaning (lexis) before they will focus on the grammatical aspects of words or sentences. One well known grammar challenge that L2 English speakers have demonstrates this point. The "s" on the end of third person singular verbs adds no meaning to an utterance. Thus, a learner will focus on the part of the verb that has meaning. The "s" has little salience and makes no or little impression in the mind of the learner, going in one ear and out the other, so to speak, as they focus on meaning. Think, too, about the "ed" on the end of a verb to mark past tense. Usually, the context in which such words are found already make clear that the events occurred in the past, so attending to the "ed" isn't necessary. This is compounded by the fact that "ed" is pronounced as [t], [d], or [id] depending on the final phoneme on the verb. These multiple pronunciations make the form less salient—it doesn't "pop out" to the learner. They don't even notice the form.
Noticing
Schmidt's (1990, 2001) noticing hypothesis is another helpful idea for ESL teachers. This theory is related to the idea of salience, in that Schmidt posited that in order for a learner to acquire a new language form, the learner must first notice that form in the input. In the examples given above, I demonstrated how learners can pull the meaning from language without ever attending to grammatical structures such as the 3rd person singular "s" or the past tense "ed." It is important to remember, too, that much language is learned in oral/aural interactions and in such interactions, morphosyntactic features often become unclear, swallowed up in oral language. For example, ing becomes in' or the article a becomes a schwa sound attached to the previous word (e.g., "read a book" becomes "reada book"). Our learners likely aren't acquiring these forms because they aren't even noticing them (Roberge, Siegal, & Harklau, 2009).
Here are three examples of sentences written by a college student who spent his entire K-12 career in the United States. They demonstrate how features of language that aren't salient are often not acquired fully. (The emphasis was added):
…like every other course that I have been taken.
…the Math professor assign homework
…After few days of class
When we look at sentences like these, it is easy to see how grammatical parts of language, like the difference between "ing" and "en", the "s" or the article "a" are simply not heard or noticed by L2 English speakers, and thus not fully acquired.
Therefore, as teachers decide how they will bring an explicit focus on grammar to their teaching, it is wise to begin by helping learners to notice the forms. We do this by making the forms more salient so that they stand out to learners.
Strategies to Help Develop Grammar/Forms
There are a number of strategies that teachers can use inside of a content-based lesson that will help students first notice and eventually acquire grammar forms. This section goes through a sequence of activity types that can be blended into content lessons and will lead your students to greater proficiency in the targeted grammar form.
Input Flood
One useful approach to helping students notice a language feature is to raise the number of times the feature appears in the learner's input. According to Nassaji and Fotos (2011), providing learners with frequent incidences of a target form may help draw learners' attention to the form. Gass and Selinker (2008) noted that "[s]omething which is very frequent in the input is likely to be noticed" (p. 45). When we manipulate a text that our students are reading or the oral input that we are giving our students so that a targeted form appears more frequently, this is called an input flood. This is an excellent place to start if we want to work on a grammar form. Imagine, for example, that you are targeting a certain verb form. You could write a short summary of a text which reviews an important content concept and use the targeted form far more often that it would normally appear. You might also add sentences to a PowerPoint presentation that all use the targeted form. Finally, you could consciously adjust your speech to use the form more often that you naturally would, to help expose students to the form. While it is possible that some students might acquire the form just from this increased exposure, it might be better to look at an input flood as "priming" students to learn a form. The input flood can help them "get a feel" for the form, but more will still be needed if students are to learn the form.
Here's an example of an input flood I created for multilingual students learning about landforms.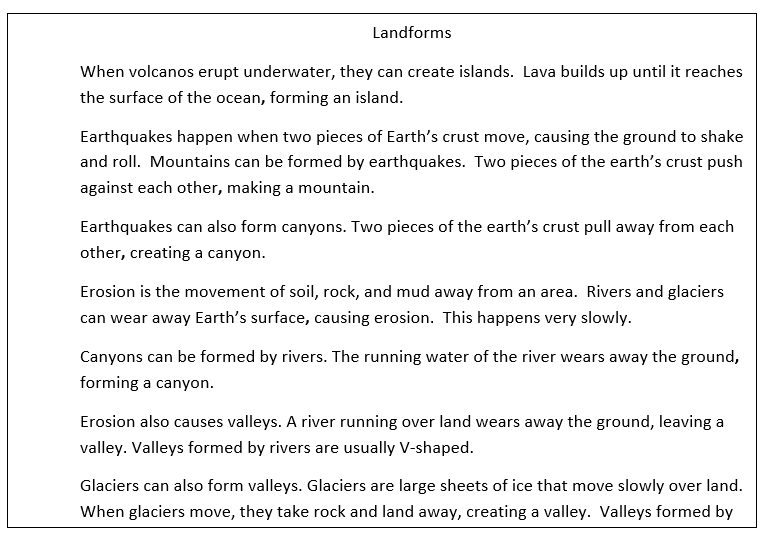 In this case, I noticed that the participle clause form was used twice in the text to show cause and effect. I also knew that this was a form that the students had not mastered, so I decided that this would be the language objective. The input flood was included in a summary of the main text. It helped the students review the content while also providing an entry point for discussing the language form.
Noticing and Awareness Activities
Lyster (2007) recommended that teachers provide their students with activities that help them notice forms and then become consciously aware of how the forms are made. There are a number of ways that you might help your students notice a specific language form you have targeted.
Input enhancement or textual enhancement is an instructional strategy in which a teacher bolds, highlights, or changes the text of the targeted form in some way to make it more noticeable (Sharwood Smith, 1993). If you have created a modified text to provide an input flood, like the example above, you might also bold or highlight the targeted form. The teacher can also enhance input given orally by adding stress to or pauses around a targeted feature. These kinds of strategies make the feature more salient and help students notice the form.
Here is an example of a PowerPoint slide from the same landform unit. Notice how the target form is bolded: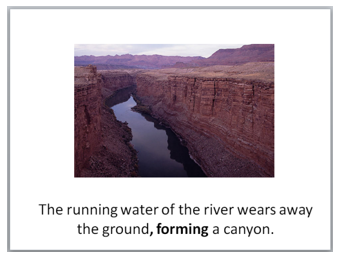 Students should also be asked to be more active in their noticing of the form. Asking them to find and highlight the forms in a text is an excellent way to help them become more aware of a form. Creating other activities that require that students attend to the form is also important. For example, in the landform unit, students were given an envelope with a number of slips of paper with partial sentences that they were asked to assemble into full, accurate sentences. In order to accomplish this task, they had to pay attention to the language form as well as how the form fits into a sentence. They also, it is important to note, had to use the content knowledge they were acquiring about landforms to successfully complete this activity.
Gibbons (2015) suggests that using a side by side partner dictation activity can help students attend to form. In this activity, each student has the same text but different pieces of the text are missing for each partner. They take turns reading the text out loud, supplying the missing piece for their partner. Students must attend carefully to the forms, both when they are the reader and the writer of the form, so that the correct form of the word can be filled in. Note that once again, this activity focuses on both language and content.
Creating a Student-Friendly Rule
Ultimately, teachers will move beyond these noticing activities and talk with students about the form. Talking about language helps develop students' metalinguistic awareness, something that is important for language development. Asking students to describe what is happening in the language and helping them to name the forms and create a student-friendly "rule" is appropriate.
Practice
Even if students have been guided to notice forms and articulate explanations for how the form works in language, they will still need to practice if we want them to acquire it as part of their repertoire. Thus, it is important to include activities that ask students to practice producing the form. Practice activities should become more complex and communicative as you move through the unit. As an early practice activity, it might be appropriate to include something very controlled, like a fill in the blank worksheet to practice the form, as long as it requires the students to understand what they are writing. The problem with such exercises isn't that they are inherently bad. The problem is that teachers have too often overused them or never asked students to go beyond such activities and use the form communicatively. Used in the context of a progression of activities as described here, they can be appropriate and helpful. Ultimately, however, a final product at the end of the unit, perhaps a poster, a presentation, or an essay, should include the form being used in a communicative, creative way by the student.
Fitting It In
The beginning of this article described the changing face of the ESL teacher's classroom setting. In push-in and co-teaching settings, teachers often have a hard time knowing how to fit grammar teaching into instruction. If the grammar form you are working on is focused mostly on complexity—that is, forms that help students build longer, more precise sentences such as participial phrases, embedded clauses, or complex sentences joined with a subordinating conjunction—these are likely forms that all students in the class could benefit from examining. If the grammatical form focuses more on accuracy—or the avoidance of nonnative-like errors—these are usually not forms that all students will benefit from addressing and should be handled with the multilingual students in the class by using different grouping strategies.
When working in a content class, I recommend building a "language detour" into the lesson. A target form could be included on a PowerPoint slide, used by the teacher in an oral discussion, or present in a text that is being read in class. Ideally the form has shown up multiple times, as the teacher has created an input flood. At some point, the ESL teacher can turn the class's attention away from the content to the language form, taking a few moments to explicitly discuss language. The ESL teacher might say…
"I keep seeing this certain kind of sentence in the book, let's look at that together."
Or
"Do you notice how this certain kind of sentence has appeared in this PowerPoint several times? Let's stop for a moment and look at that."
Or
"Mr. Co-teacher, you just said the most interesting sentence. I'd like to take a minute to write it on the board and look at it."

Ideally these "let's-stop-and-look-at-that-sentence" moments will be followed with a content activity where the students need to use the form to complete the activity.
Providing a language-focused warm up or bell ringer activity is another excellent way to bring a focus on the language form and bring some practice time to the class before shifting to the content focus.
A final way that a focus on grammar can be easily added into a content lesson is by pausing when working on a text to do a form-focused close read of a paragraph or two of the text where a targeted form appears. This would be a good time to highlight or circle the form as it appears in the text. This might happen when the ESL teacher is working with a small group inside a mainstream class. When doing a language-focused close read, it is always good to review other language features you have talked about previously with your students as well.
Revisit, Review, and Reenter
It's important to remember that language is never learned quickly and completely after a few language-focused lessons. Learners need multiple encounters with words and forms before they internalize them. Heilenman and Kaplan (1985) described different levels of control over language forms that learners pass through as conceptual control, partial control, and finally, full control. Depending on the range of language abilities of your learners, your goals might be for some learners to develop full control while trying to move others into conceptual control.
Teachers should bring forms back and call attention to forms you have already examined over and over throughout the year. Many classrooms have "word walls" where new vocabulary is displayed. Why not have a "writing wall" where specific language forms you have examined together are also displayed?
Right-Sized Language Objectives
Finally, it is important to remember to keep the language learning goals manageable. I will often see teachers describe their language objective as "the past tense" or "complex sentences." These objectives are far too large to be taught at once and as such, can't really guide instruction. What part of the past tense will you teach? Regular "ed" forms in affirmative sentences? The pronunciation of the "ed" form ([d], [t], or [id])? A few irregular forms that appear in the content you are focused on? Negation in the past tense? All of these might be part of a cluster of language objectives related to the past tense. In a content-based history class, for example, you could focus on different aspects of the past tense for months. If we return to the example in the landforms unit, it is important to note that after that focus on participle clauses, I certainly didn't think that students had mastered using participles. In the landform unit, they were used to show cause and effect. Of course, this form is used in English to accomplish many other functions, and the form will need to be reentered and reviewed multiple times to help students move toward acquisition.
Conclusion
Balancing the teaching of language and content is a challenge faced by all language teachers. In push-in and co-taught classes, the balance is too often lost and the content focus dominates. Purposeful and explicit focus on language forms should, however, be woven into these content-based classes. Teachers should work to make language forms more salient and draw their students' attention to forms in order to help students notice and acquire these language features. A well planned progression of practice activities that move from controlled to communicative can blend content and language teaching, as learners use the targeted form to talk about content.
References
Brinton, D. (2010). Two for one? Language-enhanced content instruction in English for academic purposes. In Proceedings from A TESOL Symposium: Teaching English for Specific Purposes: Meeting our Learners' Needs. Alexandria, VA: TESOL. Retrieved from http://www.tesol.org/docs/default-source/new-resource-library/symposium-on-teaching-english-for-specific-purpose.pdf?sfvrsn=0
Cammarata, L., Tedick, D. J., & Osborn, T. A. (2016). Content-based instruction and curricular reforms: Issues and goals. In L. Cammarata (Ed.) Content-based foreign language teaching: Curriculum and pedagogy for developing advanced thinking and literacy skills (pp. 1-21). New York: Routledge.
Ellis, N. C. (2017). Implicit and explicit knowledge about language. In J. Cenoz, D. Gorter, & S. May (Eds.) Language awareness and multilingualism. Encyclopedia of language and education (3rd ed.) (pp. 113-124). Springer, Cham.
Ellis, R. (2002). Does form-focused instruction affect the acquisition of implicit knowledge? Studies in Second Language Acquisition, 24(2), 223-236. https://doi.org/10.1017/S0272263102002073
Ellis, R. (2008). Principles of Instructed Second Language Acquisition. CAL Digest. Retrievable from http://www.cal.org/resource-center/resource-archive/digests
Gass, S., & Selinker, L. (2008). Second language acquisition: An introductory course. New York: Routledge.
Gibbons, P. (2015). Scaffolding language, scaffolding learning: Teaching English language learners in the mainstream classroom. Portsmouth, NH: Heinemann.
Grabe, W., & Stoller, F. L. (1997). Content-based instruction: Research foundations. In M. A. Snow & D. M. Brinton (Eds.), The content-based classroom: Perspectives on integrating language and content (pp. 5–21). White Plains, NY: Longman.
Heilenman, L. K., & Kaplan, I. M. (1985). Proficiency in practice: The foreign language curriculum. In C. J. James (Ed.), Foreign language proficiency in the classroom and beyond (pp. 55-77). Lincolnwood, IL: National Textbook Co.
Lyster, R. (2007). Learning and teaching languages through content: A counterbalanced approach. Amsterdam Philadelphia: John Benjamins Pub.
Nassaji, H., & Fotos, S. (2011). Teaching grammar in second language classrooms: Integrating form-focused instruction in communicative context. New York, NY: Routledge.
Nation, P. (2007). The four strands. Innovation in Language Learning and Teaching, 1(1), 2–13. https://doi.org/10.2167/illt039.0
Norris, J., & Ortega, L. (2000). Effectiveness of L2 instruction: A research synthesis and quantitative meta-analysis. Language Learning, 50(3), 417–528. https://doi.org/10.1111/0023-8333.00136
Roberge, M., Siegal, M., & Harklau, L. (2009). Generation 1.5 in college composition: Teaching academic writing to U.S.-educated learners of ESL. New York: Routledge.
Schmidt, R. (1990). The role of consciousness in second language learning. Applied Linguistics, 11(2), 129-158. https://doi.org/10.1093/applin/11.2.129
Schmidt, R. (2001). Attention. In P. Robinson (Ed.), Cognition and second language instruction (pp. 3-32). Cambridge: Cambridge University Press.
Sharwood Smith, M. (1993). Input enhancement in instructed SLA. Studies in Second Language Acquisition, 15(2), 165-179. https://doi.org/10.1017/S0272263100011943
Liz Hanson

Graphic organizers, think-pair-share, defining fiction and nonfiction, and summarization strategies are all common practices in many classrooms. Liz Hanson, an educator in ISD 196, analyzes how the use of these practices has changed throughout her career from a classroom teacher to a teacher of English language learners. Liz acknowledges EL colleagues, Bridget Coleman and Alena Hyams, and co-teacher, Jennifer Faber, for the collaboration that led to the changes in practice described in this article.
Key words: literacy, ELLs, critical thinking, graphic organizers, discourse

Over the course of my nearly two-decade career, literacy practices have come and gone, evolved, or cycled back around again. I continually do what I think is best for learners, based on my current understanding, but wonder if I am sometimes just going through the motions and not using some instructional practices to their highest capacity.

There are four common practices I have used since the early stages of my profession. These practices are the use of graphic organizers—visual representations used to categorize or show the connections between different pieces of information (Zwiers, 2011); think-pair-share—the process of pausing within a lesson and allowing students to organize and communicate their thoughts about content being taught (Lyman, 1981; Zwiers, 2014); defining nonfiction to distinguish it from fiction; and summarizing. Initially, as an elementary classroom teacher of grades three through six, I utilized these practices with my students in order to assess understanding of content. More recently, as an educator of English language learners (ELLs), my perspective has changed. I now see these practices as ways to support language acquisition. In addition, I've begun to wonder:

How might I use these educational practices to their full potential to support the development of academic discourse and critical thinking for my intermediate ELLs?

Graphic Organizers: Mapping Thinking for Academic Discourse
As a classroom teacher, graphic organizers were ever present scaffolds for my students to organize ideas within multiple content areas. These tools, which often times were copied for students to fill out, provided a place to stop and jot down ideas, and for me, as the educator, to check for student understanding of content.

My third graders were able to independently compare people, events, or concepts with a Venn diagram, show a sequence with a flow chart, or show cause and effect with a T-chart. For them, it was a simple task completion. Unknowingly, I taught them that this was all graphic organizers could do: show understanding.

Several years later, my thoughts about the purpose and intent of graphic organizers shifted from a tool to show understanding to a tool to prepare for discussion and writing (Fisher & Frey, 2018). Now, with my fourth grade ELLs, I demonstrate a box and bullets (Ehrenworth, 2013) for students to organize their ideas for a paragraph with a main idea and supporting details. Instead of giving them a printed graphic organizer, I show them how to create the box and bullets in their reader's notebook, so they may transfer this organizer to other contexts. The students then take the phrases and sentences they have constructed in their box and bullets and turn them into a paragraph with a topic sentence and supporting ideas.

Additionally, my third graders use a double entry journal to show a quote from the text in the first column and what the text made them think of in the second column in order to extend their responses from the literal meaning to more of the inferential implications. I confer one-on-one with individual students to have them practice sharing their thinking with me orally. Finally, this graphic organizer grounds them in their conversation when they share with a partner at the end of our Readers Workshop.

There is much greater cognitive demand and linguistic complexity within the synthesizing of information and transforming the notes on the graphic organizer into sentences and paragraphs (Zwiers, 2011). For our intermediate ELLs, the power is not in the note-taking of single words or phrases, which is how I had previously utilized this tool; rather, it is within the higher-level thinking of writing simple, compound, and complex sentences around a topic in one or multiple paragraphs. Figure 1 shows a student preparing to write and speak about how the sun helps the earth.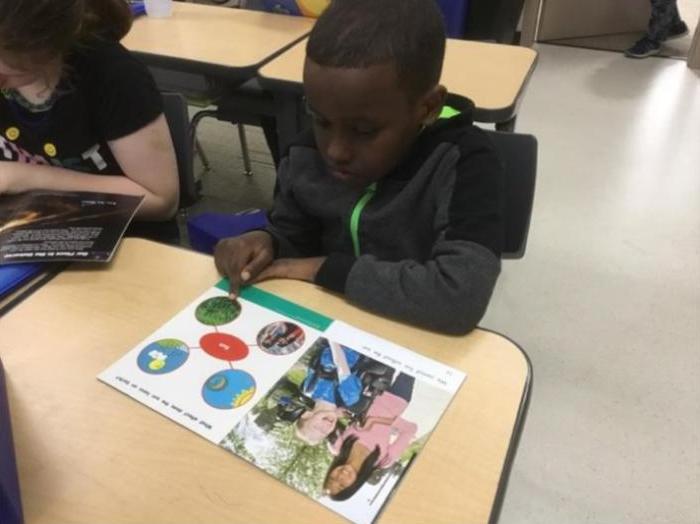 Think-Pair-Share: Tailoring Language Supports for Learners
Within a whole group lesson, it is fairly easy for the teacher to do all of the talking. Think-pair-share provides opportunities for students to participate in the lesson in a meaningful way (Zwiers, 2011, 2014).

I have always known that speaking was important for learning (City, 2014; Nichols, 2006; Zwiers, 2011) and that think-pair-share was a strategy I could incorporate to foster more talk in my classroom. For numerous years during whole group lessons, I modeled a new strategy or skill, asked my students a question, encouraged them to sit facing one another, and simply talk. During the conversations, I meandered around listening in and prompting students to elaborate. In the end, I selected one or two pairs to share out their ideas to the class.

What I was not always aware of was how unproductive these conversations could actually be. If I really looked closely, often times they involved one student monopolizing the entire conversation, students speaking in short phrases or utterances, both students sitting in silence, or a conversation that was completely off topic.

Through careful observation of students and conversations with other teachers of ELLs, I've concluded that:

I cannot assume that all students know how to carry an academic conversation, native English speakers included; and
that just stopping and asking a question does not provide enough linguistic support for students developing academic English.
As argued by Walqui and Heritage (2018), "teachers must find meaningful ways to provide students learning opportunities that engage them in productive talk and then listen carefully to the language they use in order to support their continued growth" (p. 20).

In order to investigate this further, my English Language (EL) colleagues and I participated in a lesson study where we co-planned a fifth-grade reading lesson together in February 2019 with the emphasis of listening to paraphrase or clarify meaning (Zwiers, 2011) during a think-pair-share. For this lesson, we used the text One Green Apple by Eve Bunting and Ted Lewin (2006), a text in the fifth-grade author study unit, and embedded several language scaffolds of intentionally pairing partnerships, providing sentence frames for clarifying, paraphrasing, and explaining, a demonstration of the process, and opportunities for oral rehearsal before writing.

As a team, we analyzed the fifth-grade benchmarks in order to brainstorm a question that was elaborate enough to foster a conversation (Billings & Roberts, 2014; Fisher & Frey, 2014), yet simple enough that it would not involve too much new content. We knew that teaching a new structure for talk would provide enough cognitive demand, so the question should be as accessible as possible (City, 2014). We created a visual card for the listener and the speaker so each had sentence frames to support their oral response with their partner (Zwiers, 2011). In addition, we planned the partnerships so that an ELL would have a native English speaker as a model. We structured the think-pair-share so that the native English speaker spoke first, giving the ELL an opportunity to borrow words or phrases from their peer (Bondie, Gaughran, & Zusho, 2014; Fisher & Frey, 2014; Zwiers, 2011). Finally, we carefully thought out how we would demonstrate the conversation for the students so they could see what the process would look like and sound like (Fisher & Frey 2014; Wright, 2016). After participating in the think-pair-share, we then asked students to put their thoughts and ideas into writing while we walked around and conferred.

As a result of this lesson study, we found that incorporating multiple language scaffolds supported ELLs in their ability to listen, speak, and write using the academic discourse of language arts to discuss the question: How is the main character feeling? How do you know? The classroom teacher and one of our colleagues who observed three ELLs noticed an increased amount of engagement and academic discourse produced compared to many previous lessons.

Through research and the experience of this lesson study, I've discovered that the key to think-pair-share is taking the time to intentionally think about what language you want students to be able to produce and what language supports will aide students in meeting that objective. Setting up the necessary scaffolds for all learners, especially ELLs (Billings & Roberts, 2014), will make for more targeted and productive conversations. Examples of language supports are in Figure 2.

Defining Fiction and Nonfiction: Laying the Foundation for Academic Thinking, Reading, and Writing
During my first few years as an educator, a majority of my reading instruction revolved around fiction texts, unless my students were in a social studies or science unit. My guided reading books, read alouds, and book clubs were nearly all narratives. Then, with the introduction of the Common Core standards (National Governors Association Center for Best Practices & Council of Chief State School Officers, 2010), I was much more intentional about including more nonfiction text into my whole group and small group instruction. My students could nearly always identify which books were fiction or nonfiction, but could not always defend their thinking with a reason, or their rationale was extremely limited. Additionally, my students were not always using what they knew about genre to support their understanding of the text or their construction of a piece of writing.

Beers and Probst (2015) encourage teachers to co-create a definition of nonfiction with their students. A noticing of theirs, and a practice I have also been guilty of, is the perpetuation of the misconception that fiction is fake and nonfiction is true or real. I've heard this countless times from students while administering diagnostic reading assessments. By students thinking that nonfiction text is real or true, they tend to believe everything they read, which makes it more challenging to critically analyze the text to find out whether it is valid, the author is credible, and what the purpose of the writing may be. A sample definition of nonfiction I use now is, "in nonfiction text, an author teaches the reader facts and information about a topic based on his/her research and perspective."

Beyond just identifying fiction and nonfiction, I also make sure that my ELLs can determine the subgenres of fiction and nonfiction and that they are able to justify their claim with evidence. We carefully study books of fiction from realistic fiction, fantasy, and historical fiction to nonfiction books which are expository, biographical, persuasive, procedural, or narrative nonfiction. Students read and hear several books within each genre throughout the year.

I often ask my students questions like:

"Does this text have facts and information about a topic or is it about a character who solved a problem? Are these characters and settings realistic or are these characters and settings you would not meet in our world? What topic did this author want to inform us about? What facts and information did this author most want us to know?"

These questions can help students to distinguish the genre and the purpose of writing the text. They are also especially helpful when parsing out the difference between the subgenres of realistic fiction and narrative nonfiction, which tends to be more challenging to differentiate for several students.

In my EL co-taught class, all fourth graders are expected to explain their thinking about the genre of a text and support their thinking with evidence. Students use a checklist (Calkins, 2015) and sentence frames, created by my co-teacher and me to assist their writing or speaking (see Figure 2). They then self-assess, peer assess, and receive a final grade from us. We have found that by studying the characteristics of genre in addition to stating a claim and defending that claim with more than one reason has solidified our students' understanding of an author's use of genre.

Being able to identify the genre of a text goes beyond just fiction and nonfiction. Students can analyze the text for subgenres, compare and contrast the choices of different authors writing about the same topic, read widely across genres and within genres, and critically read works of nonfiction instead of believing the printed word as being true.

How Text Structure, Text Features, and Signal Words Support Determining Importance in Expository Nonfiction
Retelling, a precursor to recounting and summarizing (Common Core, 2010), is the practice of telling events in order from the text. There are several ways this has historically been done in primary grades. One method is using the sentence frames of: In the beginning, In the middle, In the end (Reading Rockets, n.d). Another way this is introduced is telling the events from a story in order across five fingers, with each finger representing an event from the text (University of Pittsburgh School of Education, n.d). A final way is a story map (Reutzel, 1985) which may include the sentence frames of beginning, middle, and end, or a sequence of steps similar to telling across five fingers. The challenge I've found is taking students from the concept of retelling events of a story to determining importance from that text as a summary. Often times, students think they should retell when in fact they are being asked to summarize (Beers & Probst, 2015).

Summarizing, a way to state the important information from the text in a concise way (Fountas & Pinnell, 2017), is a skill that I have explicitly taught numerous times to intermediate students. One method I have taught general education students is by using a 25-word summary where students write about the character and what that character did in the chapter or episode of the text. Students carefully revise their word choice to keep the summary brief. Many students start out with 40-word summaries and would have to continue to narrow down and weed out events and ideas that were unimportant. Another method I've utilized was the Somebody wanted, but, so, finally. Unfortunately, neither of the methods necessarily helped the students decipher which parts were important and which parts were details. In addition, the strategies I used to summarize fiction didn't necessarily transfer to nonfiction. And, in some cases, we floundered when trying to summarize a fiction text that didn't have a traditional story structure.

Therefore, in addition to identifying and providing evidence to support their claim of the genre, my students and I also spend a lot of time looking at how the author organizes the text, or the text structure, in order to determine importance and summarize (Ouellette-Schramm, 2015). While fiction texts have mainly one text structure, nonfiction texts can be organized in many different ways. The nonfiction text structures we would expect to see in nonfiction are categorical, description, sequential, comparison, cause and effect, problem and solution, and question and answer (Fountas & Pinnell, 2017). The skill of summarizing nonfiction texts is beneficial for students in order to be college and career ready and is one that requires a lot of synthesis (Schwartz, Mendoza, & Meyer, 2017).

In my fourth-grade guided reading group, my English language learners think about the text features by looking at clues like the title or heading, bold words, and visuals on the page before they read so they can anticipate the knowledge the author might share or some of the concepts or ideas that may be introduced. When students do this, it seems to frame their thinking and they are actively able to modify or adjust their understanding of the text based on new clues as they read. They have also found it much easier to determine the important parts after reading (Kim & Clariana, 2017). In addition, we analyze the text structure, which supports the student in organizing their summary like a comparison, description, or problem solution. Figure 4 contains a writing sample demonstrating a student anticipating what they will read based on text structure, organization, and features before reading, along with their summary after reading.

Signal words were integral in a flash fiction unit I launched this spring with third graders. These students wrote a 100-word fantasy story within their astronomy unit based on a narrative text structure with a problem and solution. Students were asked to use signal words like but, however, unfortunately to show the problem in the text. With the emphasis on writing with text structure, and the utilization of signal words, the act of writing made explicit how writers use text structure and signal words so that it is clearer to them how important these structures are to notice as a reader.

Refining Our Practice
My previous ways of using graphic organizers, think-pair-share, defining fiction and nonfiction, and summarization strategies may have unintentionally had students speaking and writing in general words or phrases instead of the complex academic discourse we expect from our intermediate ELLs. It also potentially stifled critical thinking skills to analyze and determine importance in nonfiction text.

Readers use what they know about how texts work in order to predict, infer, summarize, and synthesize important information. Writers use what they know about texts while writing text in a specific genre. By taking this time to use graphic organizers in preparation for speaking and writing, utilizing think-pair-share with language supports to allow for more productive conversations, defining fiction and nonfiction to support more critical thinking, and explicitly teaching about how readers and writers use text structure, text features, and signal words, it lays a solid foundation for knowledge of genre, research, and critical analysis of all texts. The refinement of these practices has been paramount in my career as an educator of ELLs. I have witnessed countless students take on some of these strategies and make them their own. I am continually impressed by how the use of these practices has lifted the level of academic speaking and writing discourse for my ELLs.
References:
Beers, K., & Probst, R. (2015). Reading nonfiction: Notice and note stances, signposts, and strategies. Portsmouth, NH: Heinemann.

Billings, L., & Roberts, T. (2014). From mindless to meaningful: Whole class discussions can be valuable rituals that students look forward to. Educational Leadership, 72(3). Retrievable from http://www.ascd.org/publications/educational-leadership/nov14/vol72/num03/From-Mindless-to-Meaningful.aspx

Bondie, R., Gaughran, L., & Zusho, A. (2014). Fostering English learners' confidence. Educational Leadership, 72(3). Retrievable from http://www.ascd.org/publications/educational-leadership/nov14/vol72/num03/Fostering-English-Learners'-Confidence.aspx

Bunting, E., & Lewin, T. (2006). One green apple. New York: Clarion Books.

Calkins, L. (2015). Reading pathways, performance assessments and learning progressions: Grades 3-5. Portsmouth, NH: Heinemann.

City, E. A. (2014). Talking to learn. Educational Leadership, 72(3). Retrievable from http://www.ascd.org/publications/educational-leadership/nov14/vol72/num03/Talking-to-Learn.asp

Ehrenworth, M. (2013). Evidence-based argument: Raising the level of logic, critical thinking, and argument writing in classrooms across a school. Teachers College Reading and Writing Project. Columbia University, New York, NY.

Fisher, D., & Frey, N. (2014). Speaking volumes! Educational Leadership, 72(3). Retrievable from http://www.ascd.org/publications/educational-leadership/nov14/vol72/num03/Speaking-Volumes.aspx

Fisher, D., & Frey, N. (2018). The uses and misuses of graphic organizers in content area learning. The Reading Teacher, 71(6), 763-766. https://doi.org/10.1002/trtr.1693

Fountas, I. C., & Pinnell, G. S. (2017). Guided reading: Responsive teaching across the grades. Portsmouth, NH: Heinemann.

Kim, K., & Clariana, R. B. (2017). Text signals influence second language expository text comprehension: Knowledge structure analysis. Educational Technology Research and Development, 65(4), 909-930. http://dx.doi.org/10.1007/s11423-016-9494-x
Lyman, F. (1981). The responsive classroom discussion. In A. S. Anderson (Ed.), Mainstreaming Digest (pp. 109-113). College Park, MD: University of Maryland College of Education.

National Governors Association Center for Best Practices, & Council of Chief State School Officers. (2010). Common core state standards. National Governors Association Center for Best Practices, Council of Chief State School: Washington D.C.

Nichols, M. (2006). Comprehension through conversation: The power of purposeful talk in the reading workshop. Portsmouth, NH: Heinemann.

Ouellette-Schramm, J. (2015). More than a "basic skill": Breaking down the complexities of summarizing for ABE/ESL learners. Journal of Research and Practice for Adult Literacy, Secondary, and Basic Education, 4(2), 52-57.

Reutzel, R. (1985). Story maps improve comprehension. Reading Teacher, 38(4), 400-404.

Reading Rockets. (n.d.) Story Sequence. Retrieved from http://www.readingrockets.org/strategies/story_sequence

Schwartz, A. I., Mendoza, L., & Meyer, B. (2017). The impact of text structure reading strategy instructions in a second language: benefits across languages. Language Learning Journal, 45(3), 263-281. doi:10.1080/09571736.2013.837092

University of Pittsburgh School of Education. (n.d.) Five finger retelling. Retrieved from https://www.education.pitt.edu/EducationalResources/Teachers/LEADERS/TeachingStrategies/FiveFingerRetelling.aspx

Walqui, A., & Heritage, M. (2018). Meaningful classroom talk: Supporting English learners' oral language development. American Educator, 42(3). Retrievable from https://www.aft.org/ae

Wright, W. E. (2016). Let them talk! Educational Leadership, 73(5). Retrievable from http://www.ascd.org/publications/educational-leadership/feb16/vol73/num05/Let-Them-Talk!.aspx

Zwiers, J. (2011). Academic conversations: Classroom talk that fosters critical thinking and content understandings. Portsmouth, NH: Stenhouse Publishers.

Zwiers, J. (2014). Building academic language: Essential practices for content classrooms. Newark, DE: Jossey-Bass.

This article describes a procedure for training second-language writing raters to use scoring rubrics, and presents ideas for practical adaptation or research projects associated with the training procedure.
Imagine a novice language teacher doing the following:
understanding exactly what is meant by rubric descriptors such as

some knowledge of subject, adequate range, limited development of thesis, mostly relevant to topic but lacks detail

;

looking for features in a second language writer's composition that appear to match these descriptors, and then, upon finding a match; and

rating the content of the composition as

Good

.  
These descriptors are examples from a commonly used rubric for assessing second language writing (Jacobs et al., 1981), in which the example descriptors above represent only 5% of all the descriptors that a rater is supposed to be familiar with while reading and rating compositions.  
In programs in which graduate teaching assistants (TAs) need to be trained over a short period of time to rate second language writers' essays and make course placement decisions, rater training must ensure that the novice raters quickly become familiar with the descriptors used in a scoring rubric.  Regardless of the specific rubrics used, raters are typically expected to demonstrate knowledge of pre-determined descriptors (such as some knowledge of subject, adequate range, limited development of thesis, mostly relevant to topic but lacks detail) and perform the task of applying this knowledge consistently.  Such expectations may not be met easily.  Joe, Harmes, and Hickerson (2011) show, for example, that lack of transparency in rating scale descriptors can be a factor influencing raters' performance.  At the same time, rater-related factors can also add to the challenge in achieving reliable outcomes in rating (see Barkaoui, 2011 for a comprehensive review).  
In this article, first, I will briefly review studies on raters and rater training.  Then, I will describe a gap in published studies on rater training.  Finally, I will introduce a rater training procedure currently implemented at a four-year university in the U.S. Midwest, for two purposes:
to encourage language program administrators or language teacher educators to adopt and field-test the procedure in their own programs, and

to open up the possibility of empirically testing the procedure using systematically designed research methods.
Are experienced raters consistently better than novice raters?
Among several rater-related factors that could influence raters' interpretation and application of rating scales, raters' experience (novice vs. experienced) seems to be the most frequently researched factor (Barkaoui, 2011; Greer, 2013; Hamp-Lyons, 1989; Harsch & Martin, 2012; Joe et al., 2011; Weigle, 1994).  Research findings on this issue are mixed, contrary to what might be assumed (i.e. the more experienced, the more proficient).  In fact, the mixed findings might be a function of the complexity in the way raters' experience interacts with non-rater factors.  In Barkaoui (2011), for example, with regard to severity in rating, novice raters and experienced raters behaved more similarly when using analytic scales than they did when using holistic scales.  In other words, raters' experience impacts ratings differently depending on the type of rating scales used.
The intriguing nature of raters' experience as a factor was documented with great detail in Joe et al. (2011), which explored rater cognition based on data collected through verbal protocols.  In this study, eight faculty experts (experienced raters) and eight undergraduate students (inexperienced raters) participated in rating oral speech performances.  Both groups were trained to use an analytic scoring rubric, which included 39 features comprising ten competency dimensions relevant to the construct of the speech performances to be evaluated.  The study found that inexperienced raters started out paying attention to rubric features more consistently than did experienced raters, who were found to pay attention to construct-irrelevant features (i.e. features not listed in the rubric) at a higher rate than inexperienced raters did.  Over time, however, inexperienced raters attended to rubric features less and less while attending to construct-irrelevant features (such as the use of note cards or memorable thesis statement, which were not included in the rubric) more and more.  
Such findings are quite alarming in that not all changes exhibited by raters as they become more experienced seem to be in the expected direction – i.e. experience is generally expected to be a positive factor.  Some researchers even suggest that raters should not be selected based on teaching experience as it is not a significant factor (Royal-Dawson & Baird, 2009).  Although research findings about rater experience might be mixed, many researchers have emphasized the importance of rater training in enhancing the quality of raters' performance (Greer, 2013; Lovorn & Rezaei, 2011; Weigle, 1994).  The following section will review studies on rater training.
What do we know from studies on rater training?
One of the aims in most rater training involves monitoring rater behavior associated with rater-related factors such as experience, rating style, or rating preferences, and then providing feedback accordingly to achieve the ultimate goal of increasing inter-rater reliability (i.e. different raters performing similarly to one another).  On the one hand, studies such as Pufpaff, Clarke, and Jones (2015) and Weigle (1994) reported that rater training did not improve inter-rater reliability.  On the other hand, Weigle emphasized the point that "rater training cannot make raters into duplicates of each other, but it can make raters more self-consistent" (p. 32).  This statement, then, naturally leads to the question as to what factors might contribute to developing rater self-consistency.  Although there has not been much research that directly explored this question, several studies have reported the positive effects of rater training on rater performance in different aspects of the rating task.
In Greer (2013), novice raters practiced assessing ESL compositions following a training workbook, which included experienced raters' feedback on the same compositions that the novice raters were evaluating.  After the training, the novice raters reported increased confidence in their rating performance.  In another study based on a two-month rater training program (Harsch & Martin, 2012), 13 novice raters completed rigorous weekly assignments consisting of tasks commonly included in rater training such as individual practice and group discussion, using over 1700 writing samples (whittled down from an initial set of over 6000 samples).  Although the scope of the study is truly impressive, it is the depth of its rater training that makes it rather unique and remarkable.  As a part of their weekly assignments, for example, the novice raters were actively engaged in revising the wordings on the rating scale.  In fact, researchers recommend engaging raters in the development of rating scales (Barkaoui, 2010; Stevens & Levi, 2005).  Harsch and Martin (2012) concluded that rater agreement increased when a revised rating scale (i.e. revised based on the novice raters' discussion and input during the training period) was used.
Because the task of rating is replete with a myriad of interacting factors that could influence the process and outcome of rating, research-guided rater training may be essential in most contexts.  For example, when training raters, feedback should be provided immediately after rating has occurred (Knoch, 2011).  Rater training should promote detailed and analytical understanding of the scoring rubric (Lovorn & Rezaei, 2011; Rezaei & Lovorn, 2010).  An eye-movement study on raters' use of a scoring rubric showed that even the physical layout of the rubric can affect raters' attention to each category on the rubric (Winke & Lim, 2015).  These are just a few examples of published studies that could guide the design of a rater training.
So what is the gap in published studies on rater training?
In most published studies that either directly or indirectly report the outcome of rater training  (Barkaoui, 2011; Joe et al., 2011; Knock, 2011; Lovorn & Rezaei, 2011; Pufpaff et al., 2015; Weigle, 1994), it appears common to follow variations of the same approach, categorically speaking, in the way raters (regardless whether novice or experienced) are initially introduced to a rating scale (either holistic or analytic).  First of all, surprisingly, many studies (Barkaoui, 2011; Knock, 2011; Lovorn & Rezaei, 2011) do not provide sufficient detail regarding exactly how raters are introduced to the rating scales selected in their respective studies.  Of the studies (Joe et al., 2011; Pufpaff et al, 2015; Weigle, 1994) that do provide some limited information regarding this part of rater training, the common approach seems to be Present and Clarify/Explain with respect to the descriptors on the rating scale.  
This clearly is an example of what is defined as the hierarchical approach: "passing onto raters a predetermined view on how they are to interpret the scale wordings, using pre-assessed scripts (so called 'master codes') which are not to be discussed but to be accepted and internalised" (Martin & Harsch, 2012, p. 233).  On the one hand, researchers have repeatedly identified the difficulty that raters experience when trying to understand rating scale descriptors (Barkaoui, 2010; Greer, 2013; Hamp-Lyons, 1989; Harsch & Martin, 2012; Joe et al., 2011).  On the other hand, as described above, variations of a very top-down approach seem to prevail when it comes to training raters to become familiar with the wordings on the rating scale.
From this perspective, Harsch and Martin's (2012) study, as reviewed in the preceding section, may be considered as an exception in that the raters in their study were engaged in a series of in-depth tasks attending to, analyzing, and revising the descriptors on the scale.  These researchers also emphasize the importance of "reaching consensus about how to interpret scripts with reference to scale descriptors" (p. 233).  As mentioned earlier, the rater training in their study spanned over a two-month period.  Most readers would agree that a rater training program like that, while both impressive and exemplary, is anything but feasible in most real contexts.  The reality of most rater training is likely to resemble the two-hour norming session referred to as a typical rater calibration procedure (Weigle, 1994, pp. 7-8).
Here is a question, then, that a concerned program administrator or teacher educator might ask: Do people use the top-down approach because they are constrained to the typical two-hour calibration procedure (or however many hours it might take but not the luxury of two months)?  Acknowledging the "time- and resource-intensive" nature of their approach, Harsch and Martin (2012, p. 244) recommend realistic adaptations using existing rating scale descriptors (i.e. not necessarily attempting to revise the descriptors as their raters did).  So it appears that, although there is a huge gap between a deeply engaging, albeit extremely unfeasible, approach to rater training and a more commonly practiced top-down approach, careful retooling of the top-down approach can help fill this gap.  In the next section, I will introduce an authentic example of a rater training procedure which is characterized as a rater-centered bottom-up approach.  (Readers can rest assured that this procedure will not require two months to try!)
What does a rater-centered bottom-up rater training procedure look like?
Bottom-up Approach
The rater training procedure described here, as an example of a rater-centered bottom-up approach, has been implemented in an authentic test context.  The following provides some background information about the context:
Location

Four-year university in the U.S. Midwest

Purpose

Placement decisions for writing courses in English for Academic Purposes

Raters

Graduate teaching assistants in an MA-TESL program (1

st

~4

th

semester)

Target Texts

Academic essays written by second language writers

Scoring Rubric

Locally revised version of Composition Profile by Jacobs et al. (1981)
Table 1.  Training Protocol
Training Protocol (Rater-centered Bottom-up Approach) 

[I] Individually    [SG] Small Groups (3~4)     [WG] Whole Group     [T] Trainer     M: Materials

Description of Steps in the Training Protocol
Rationale for Each Step
1.  Activating existing knowledge & expectations about academic writing
[SG]  Brainstorm & consolidate existing knowledge & expectations about academic writing
[WG]  Discuss and summarize
M:

 Brainstorm sheets

Step 1

allows each rater to activate existing knowledge; allows each rater to generate his/her own language to describe features of writing; compile & share entire group's ideas.

2.  Evaluating a writing sample based on existing knowledge – without any rubric
[I]  Read Essay #1; Write any/all notable features, good & bad, one feature per sticky-note; Place sticky notes in worksheet; Give a holistic score
[SG]  Compare notes placed in individual worksheets; Compare holistic scores
M:

 Essay #1; Sticky-notes; Worksheet

Step 2

allows each rater to apply existing knowledge; allows each rater to notice features in the writing with no constraints; exposes raters to writing features noticed by others.

3.  Familiarization with rating scale descriptors
[I]  Read rating scale descriptors and criteria
[SG]  Discuss & help each other understand concepts & terminologies
[WG]  Review & clarify concepts & terminologies
M:

 Rating scale descriptors & criteria handout; handout on Content-to-Form continuum in writing

Step 3

introduces descriptor language to raters; helps raters to conceptually align their own language with descriptor language; helps identify & clarify gaps between rater-generated language and descriptor language.

4.  Matching current knowledge with rating scale descriptors
[SG]  Discuss each note on sticky-notes; Transfer & match each sticky-note with descriptors in the Descriptor Handout
[WG]  Discuss & further clarify descriptors based on questions from SGs
M:

Descriptor Handout (one copy for each SG)

Step 4

allows raters to map their own unconstrained observations onto descriptors; helps identify, discuss, & resolve writing features that are difficult to map onto descriptors; more importantly, helps raters understand descriptors with self-generated concrete examples.

5.  Practice using rating scale descriptors without scores
[I]  Read Essay #2; Use the Descriptor Handout to mark relevant descriptors
[SG]  Compare individuals' markings on descriptor handout
M:

 Essay #2; Descriptor Handout

Step 5

allows raters to practice using the descriptors directly without scaffolding (i.e. no self-generated descriptive notes as with Essay #1); allows another chance to focus on the descriptors with no burden to score the essay numerically.

6.  Familiarization with the complete version of rating scale (with score indicators)
[T]  Introduce the complete version of the rating scale (with score indicators) and explain
[I]  Based on markings on Descriptor Handout (from Step 5) and using the rating scale (with score indicators), numerically score Essay #2
[SG]  Compare scores for Essay #2
M:  

Complete version of rating scale

Step 6

finally exposes raters to the actual rating scale with score indicators; helps raters perform the task of numerical scoring (not exactly the same as mapping observed writing features onto descriptors); helps deal with two different subtasks (i.e. identifying matching descriptors vs. numerical scoring) with more clarity.

7.  Practice using the complete version of rating scale with a familiar essay
[I]  RE-read & score Essay #1 using rating scale
[WG]  Discuss the results & rationale of rating scale
M:

 Complete version of rating scale with score indicators

Step 7

allows raters to apply the rating scale in evaluating a familiar writing sample; provides raters with an opportunity to review & re-assess their own initial evaluation of Essay #1 (performed prior to the introduction of the rating scale).

8.  Remaining steps in the protocol
There are a few more steps in the protocol, which are beyond the focus of this article.  Some of the remaining steps are similar to commonly practiced norming procedure, and some steps are specific to the local test context.1
As Table 1 shows, the training protocol follows a rater-centered bottom-up procedure, which affords the raters step-by-step scaffolding to develop an understanding of and the ability to apply the descriptors on the rating scale.  The procedure promotes activating existing knowledge and acquiring new knowledge of technical concepts/terminologies through a sequence of small tasks rather than through top-down imposition of abstract descriptors onto the raters.  For many novice raters, learning to use a rating scale with pre-determined descriptors includes an element of language acquisition.  It is not a mere coincidence that, in many ways, the procedure introduced here resembles language learning activities based on the task-based language teaching (TBLT) approach, in which language acquisition occurs as a natural part of successful completion of communicative tasks (Van den Branden, 2006).
The rater training procedure introduced here also provides scaffolding for one of the subtasks of rating that present a unique challenge for most raters, namely translating descriptors into numerical scores.  Studies have shown that both novice raters (Greer, 2013) and experienced raters (Hamp-Lyons, 1989) find this subtask very difficult.  In the procedure described in Table 1, raters are assisted to deal with this challenge in two ways: (1) initial steps in the procedure focus on the descriptors without the 'burden' of matching them with numerical scores; and (2) the complete version of the rating scale, a locally revised version of the composition profile by Jacobs et al. (1981), presents numerical scores in subsets to match raters' judgments based on descriptors.
Unlike the two-month rater training described in Harsch and Martin (2012), which is quite impressive and ambitious, the training procedure introduced in this article is bundled with realistic and practical advantages:
the procedure can be easily adopted and adapted in most rater training contexts;

the sequence will work well with any type of rating scales;

it only takes 2~4 hours to complete the entire protocol; and finally and more importantly,

it does not cost much (i.e. if you can afford lots of sticky-notes). 
The last two items directly address "the time- and resource-intensive" challenge of Harsch and Martin's (2012, p. 244) otherwise exemplary rater training model.  Hopefully, these practical advantages would encourage many readers of this article to consider employing this training procedure.
Aside from the obvious practical advantages, the most critical advantage of this procedure, at least based on informal observations during several semesters of implementation, involves the change in dynamics and roles between the trainer and the raters in training.  As the protocol shows, at each step, raters are actively engaged in small doable tasks either independently or in collaboration with peer raters.  Because the steps are sequenced to promote learning-by-doing, the procedure does not require much top-down talk from the trainer.  
When this new procedure was first implemented a few semesters ago, raters who had experienced the previous format resembling the Present and Clarify/Explain approach enthusiastically commented that the new procedure felt stress-free, engaging, and helpful.  As the trainer in this incidence, I too noticed unexpected changes when first implementing the new procedure. It felt as though I did not have to do anything during the procedure because the raters were doing all the work for themselves!
What more can be done with this training procedure?
Although the rater-centered bottom-up training procedure is strongly recommended, the caveat is that it has not been empirically tested.  First, interested readers are encouraged to consider field-testing this procedure in their various test contexts.  It can be modified to fit the needs and capabilities of each context.  One example might be replacing the use of sticky-notes with a digital/online tool to help raters generate, compile, and compare the features they observe in the writing sample they evaluate.  This is actually an attractive idea, which can lead to the next point of this discussion, namely research possibilities.
The hands-on aspect of using sticky-notes is actually a very positive and valuable element of the procedure, and it helps raters ease into the sequence of tasks in the procedure.  Its non-digital nature, however, has been an obstacle in converting the notes into analyzable data.  These rater-generated notes can reveal interesting aspects of rater cognition.  Designing empirical studies to capture such data to learn more about rater cognition would not only benefit the field of language education but also the field of education in general.  In fact, in the special issue of the journal Educational Measurement: Issues and Practice devoted to rater cognition, Myford (2012) emphasizes that more research on rater cognition is needed.
Other research questions worth exploring including obvious ones such as Is the bottom-up rater training procedure more effective than the more commonly practiced top-down approach?  Is there any difference between the two approaches in improving rater self-consistency (emphasized as the main benefit of rater training)?  These are just a few examples, and readers are encouraged to pursue their own research questions associated with the rater-centered bottom-up rater training procedure introduced in this article.
This article started by asking readers to imagine a novice rater performing a presumably learnable, but indeed tremendously challenging, task of using a rating scale to make decisions about learners' proficiency.  Anecdotal evidence and informal observations suggest that rater training, for both novice and experienced raters, need not be like that – top-down, opaque, and anxiety-inducing.  Instead, a rater-centered bottom-up approach can make the process more transparent and positively engaging.  However, for this statement to be generalizable, we need empirical evidence, and this research topic is open to any interested readers.
---
NOTES:
Due to space limitation, this section has been abridged.  Please feel free to contact the author for more information or samples.
---
References
Barkaoui, K. (2011). Do ESL essay raters' evaluation criteria change with experience? A mixed-methods, cross-sectional study. TESOL Quarterly, 44, 31057.
Greer, B. (2013). Assisting novice raters in addressing the in-between scores when rating writing. (Master's thesis). Retrieved from BYU ScholarsArchive.
Hamp-Lyons, L. (1989). Raters respond to rhetoric in writing. In H. W. Dechert & Raupauch (Eds.), Interlingual processes (pp. 229-244). Tubingen: Buner Narr.
Harsch, C. & Martin, G. (2012). Adapting CEF-descriptors for rating purposes: Validation by a combined rater training and scale revision approach. Assessing Writing, 17, 228-250.
Jacobs, H., Zinkgraf, S., Wormuth, D., Hartfiel, V., & Hughey, J. (1981). Testing ESL composition: A practical approach. Rowley, MA: Newbury House.
Joe, J. N., Harmes, J. C., & Hickerson, C. A. (2011). Using verbal reports to explore rater perceptual processes in scoring: a mixed methods application to oral communication assessment. Assessment in Education: Principles, Policy & Practice, 18, 239-258.
Knoch, U. (2011). Investigating the effectiveness of individualized feedback to rating behavior – a longitudinal study. Language Testing, 28, 179-200.
Lovorn, M. G. & Rezaei, A. R. (2011). Assessing the assessment: Rubrics training for pre-service and new in-service teachers. Practical Assessment, Research & Evaluation, 16, 1-18.
Myford, C. M. (2012). Rater cognition research: Some possible directions for the future. Educational Measurement: Issues and Practice, 31, 48-49.
Pufpaff, L. A., Clarke, L., & Jones, R. E. (2015). The effects of rater training on inter-rater agreement. Mid-Western Educational Researcher, 27, 117-141.
Rezaei, A. R. & Lovorn, M. (2010). Reliability and validity of rubrics for assessment through writing. Assessing Writing, 15, 18-39.
Royal-Dawson, L. & Baird, J. (2009). Is teaching experience necessary for reliable scoring of extended English questions? Educational Measurement: Issues and Practice, 28, 2-8.
Stevens, D. D. & Levi, A. (2005). Introduction to rubrics: An assessment tool to save grading time, convey effective feedback, and promote student learning. Virginia: Stylus Publishing, LLC.
Van den Branden, K. (Ed.).  (2006). Task-based language education: From theory to practice.  Cambridge, UK: Cambridge University Press.
Weigle, S. C. (1994). Using FACETS to model rater training effects.  Paper presented at the Language Testing Research Colloquium (Washington, DC).
Winke, P. & Lim, H. (2015). ESL essay raters' cognitive processes in applying the Jacobs et al. rubric: An eye-movement study. Assessing Writing, 25, 38-54.