Jen Ouellette-Schramm, Jen Vanek
We are pleased to bring you the 2019 Volume 35(1) Spring Issue of MinneTESOL Journal!
This issue carries forth conversations begun during the Fall 2018 MELEd conference, and brings in new voices focusing on English Language Learner (ELL) academic language and success.
Invited feature articles in this issue include MELEd keynote speaker Dr. Esther de Jong and doctoral student Jiameng Gao's article addressing English-only ideologies and advocating for supporting translanguaging in the classroom. They provide a continuum of strategies affirming ELL home language use in K-12 educational settings, including for monolingual teachers. In another collaborative piece, Dr. Sarah Henderson Lee and former master's students Ryosuke Aoyama, Charlotte Harris-Hoffstrom, Alejandro Maya, and Shyam Pandey advocate for and demonstrate critical reflection on English language teaching in diverse contexts including Japan, the United States, and Nepal.
A theme in this issue is supporting ELL academic language learning and success in U.S. K-12 contexts. Dr. Cynthia Lundgren and Dr. Stephanie D'Costa present a pilot study describing WIDA's Language Pathways resources in explicit, genre-based language teaching in K-12 settings. Dr. Caroline Maguire describes strategies to help ESL teachers integrate academic language into K-12 Content-Based Instruction (CBI). In her practitioner piece, veteran K-12 teacher Liz Hanson reflects on potential pitfalls with common teaching methods including graphic organizers, think-pair-shares, defining fiction and nonfiction, and summarizing strategies. She offers adjustments to these methodologies to increase their effectiveness with ELLs.
Please read, enjoy, and share the research and practice ideas in this issue of MinneTESOL Journal!
Ester de Jong, Jiameng Gao
Even if they are monolingual, mainstream K-12 teachers need to take a multilingual stance toward their English language learners and engage in bi/multilingual practices. Their actions can be viewed along a continuum from no home language use to sustained multilingual practices.
Key words: teacher preparation, English language learners, multilingualism, multilingual stance
Despite the growing number of bi/multilingual students in U.S. schools, an "English-only" ideology still prevails in mainstream classrooms. Reinforced by English-only materials and assessments and an English-medium curriculum designed for fluent English speakers, it is not surprising that mainstream teachers purposefully or implicitly default to monolingual English practices in their classrooms (Catalano & Hamann, 2016; de Jong, 2013). However, the cognitive, cultural, economic, educational, and political benefits of bilingualism or multilingualism have historically been noted by various scholars in the field (Baker & Wright, 2017; de Jong, 2011).
Building on students' cultural experiences and extending their home languages and literacies are indispensable scaffolds for learning and for success in school (e.g., de Jong, 2011; González, Moll, & Amanti, 2005). Although the use of students' home languages has long been delegated as the sole responsibility of bilingual education teachers, effective English as a Second Language (ESL) teachers also strategically draw on students' home languages for teaching and learning (Gersten & Baker, 2000; Lucas & Katz, 1994; Manyak, 2004). Some might argue that bilingual and ESL teachers engage in such bilingual practices not only because they understand their importance, but also because they can tap into their own bilingual repertoires when teaching English language learners (ELLs). It is often concluded that mainstream teachers, who often self-identify as monolingual English speakers, are unable to approach their teaching through a multilingual lens (Schwarzer, Haywood, & Lorenzen, 2003).
In this article we argue that if linguistically and culturally diverse students' home languages play a key role in their learning English as an additional language and in affirming their identities as bilingual and bicultural individuals, then this principle would hold true regardless of the setting in which these students find themselves (de Jong, 2011, 2013). Even though mainstream classrooms may be English dominant classrooms, this should not imply that they are also monolingual classrooms (de Jong, 2013). In other words, drawing on students' linguistic and cultural resources, or what we refer to here as taking a multilingual stance, should be integral to what all teachers do, regardless of whether they are mainstream, ESL, or bilingual teachers. In this article, we provide examples from studies that have examined bi/multilingual practices in mainstream elementary classrooms. We hope to show that bilingual skills are not a pre-condition for taking a multilingual stance, although teachers' own bilingual repertoires certainly play a role in their ability to engage in certain types of bi/multilingual practices more easily. After reviewing examples, we propose that these practices can be conceptualized along a continuum that ranges from more passive (permissive) to active (affirmative) bi/multilingual practices.
Multilingual Practices in Mainstream Classrooms
A review of the limited articles that document bi/multilingual practices shows a wide range of strategies that mainstream teachers can use. For the purpose of this paper, we focus on strategies observed in elementary classroom settings in North America and discuss them in terms of (a) making home languages visible; and (b) structuring the classroom for home language use. Although "emergent bilinguals" (EBs) is increasingly used to describe students still learning English as an additional language when they come to school, we will use the term used in most formal policies, ELL.
Making ELLs' Home Languages Visible
Teachers can bring home language resources into the classroom in ways that represent languages other than English in the environment and allow students to use resources in their home languages. For example, teachers can create a multilingual print environment that includes multilingual signs and posters (Freeman & Freeman, 1993; Herques, 2007; Schwarzer, et al., 2003; Schwarzer, 2007) and display the students' names in different languages and alphabets (Pandey, 2014; Schwarzer, et al., 2003). They can include words both in English and the ELLs' home languages in their word walls (Pappamihiel & Lynn, 2014).
Teachers can learn about their students' home languages through student or parent interviews or by inviting community members to speak about their languages and cultures (Freeman & Freeman, 1993; Schwarzer, et al., 2003; Schwarzer, 2007). Herques (2007) introduces a language tree activity as a way to document students' language use outside the classroom and relate their languages to the culture. This not only creates a platform for the ELLs to illustrate and inform diverse language backgrounds but also raises teachers' awareness about their own linguistic and cultural backgrounds (Schwarzer & Acosta, 2014).
Teachers can also provide access to learning resources in students' home languages through supplemental learning materials, books, and technology (Freeman & Freeman, 1993; Herques, 2007; Schwarzer, 2007). These materials can support ELLs' access to the content, connect to their background knowledge, and link prior learning to new learning in English as an additional language.
Structuring the Classroom to Affirm Home Language Use
Teachers can take steps to structure their classroom discourse in ways that encourage students' use of multiple languages. Grouping ELLs with other bilingual students who share their home language creates multiple affordances for learning (Pappamihiel & Lynn, 2014; Woodley & Brown, 2016). In these settings, ELLs can use their home languages to express meanings and discuss the task and content with peers to facilitate comprehension (Brooks & Karathanos, 2009; Kleyn & Yau, 2016) and group work completion (Cummins, 2006; Giambo & Szecsi, 2015).
Teachers can purposefully design and select activities that use their students' home languages to enhance instruction. When mainstream teachers build some competence in their ELLs' home languages and learn about those languages, this can have a positive impact on their attitudes towards language diversity (Herques, 2007; Hite & Evans, 2006; Schwarzer, 2007) and empathy for their students (Catalano & Hamann, 2016). With these richer language resources, teachers can use ELLs' home languages to enhance comprehension, clarify concepts, and scaffold new vocabulary and literacy learning (Woodley & Brown, 2016).
Three additional teacher-driven strategies are highlighted in the literature. First, the use of cognates has been identified as an effective strategy to help ELLs with reading comprehension and vocabulary development in English (Brooks & Karathanos, 2009; Delbridge & Helman, 2016; Giambo & Szecsi, 2015; Kleyn & Yau, 2016; Pappamihiel & Lynn, 2014; Szilágyi, Giambo, & Szesci, 2013). Second, teachers can use bilingual books to support bilingualism and biliteracy (Cummins, 2007; Ernst-Slavit & Mulhern, 2003; Giambo & Szecsi, 2015; Gordon, 2018; Roessingh, 2011). Ernst-Slavit & Mulhern (2003, p. 6) show twelve ways that bilingual books can be integrated into the classroom. These are:
introducing a new topic;
supporting transfer of reading in first language (L1) to second language (L2);
supporting independent reading;
using L1 version as preview;
using L1 as review;
reading two versions for self-assessment;
comparing and contrasting cognates;
improving home-school connections;
supporting family literacy programs;
raising all children's awareness of multiculturalism;
helping teachers learn another language; and
encouraging reading for pleasure.
A final, and related, strategy is collaboratively constructed, student-created bilingual books, or identity texts (Cummins, 2006; Giambo & Szecsi, 2015; Stille & Cummins, 2013). During the composing process, ELLs can be encouraged to use their home languages to plan and scaffold writing and to discuss the writing with peers. ELLs can compose their own bilingual texts using bilingual dictionaries and online translation tools (Cohen & Leoni, 2006; Cummins, 2006; Delbridge & Helman, 2016; Giambo & Szecsi, 2015; Woodley & Brown, 2016).
Towards a Continuum of Bi/Multilingual Practices
We propose that the activities identified in the literature can be viewed as part of a continuum of bi/multilingual practices. Schwarzer, et al. (2003) identify four different attitudes teachers may have to the use of the home language (forbid, allow, maintain, foster). We extend this framework and argue that teachers can engage in bi/multilingual practices that range from what we call "permissive" actions to "temporary compensatory" practices to taking an active "multilingual stance" that affirms multilingual practices as a norm (see Figure 1).
Permissive policies focus on allowing students to use their home languages in non-classroom settings (hallways, playground) and giving permission for students to use their home languages under specific conditions, if necessary. Next are what might be referred to as transitional practices where the students' home languages are more strategically used by the teacher in an effort to make students feel welcomed and encourage access to content for ELLs at the beginning stages of English language development. Scaffolding content through the use of the home language moves further along the continuum but still reflects a temporary practice as it is enacted primarily for beginner ELLs. To move further toward the right side of the continuum, teachers take a multilingual stance toward the entire classroom at all times. They foster some level of multilingual competencies for all students, regardless of their home languages or their proficiency levels in English. They are in a continuous process of learning and using their students' home languages and cultivating positive attitudes towards language diversity and the importance of bilingualism (Herques, 2007; Hite & Evans, 2006; Schwarzer, 2007). Collectively, these bi/multilingual practices make multilingualism the norm for all and allow for the development of multilingual skills, including metalinguistic and multilingual awareness. Figure 2 provides some examples of illustrative practices for each stage along the continuum.
Conclusion and Implications
As U.S. schools become more linguistically and culturally diverse, it is imperative that mainstream classrooms do not default to monolingual environments, even if the language of instruction is English. Mainstream teachers can draw on students' home languages, even if their own knowledge of those languages is still developing. They can take a multilingual stance as they make decisions about how multilingualism is represented and used in their classrooms as a resource for all learners. The need for all teachers to take a multilingual stance and build the knowledge and skills to enact this stance in their classrooms challenges teacher preparation programs to go beyond developing teacher candidates' knowledge of second language development and scaffolding English as an additional language instruction. In addition to this knowledge and skills, mainstream preservice teachers also need an understanding of bilingualism and to be provided with opportunities to engage with multilingual strategies.
References
Baker. C, & Wright, W. E. (2017). Foundations of bilingual education and bilingualism (6th ed.). Clevedon, UK: Multilingual Matters.
Brooks, K., & Karathanos, K. A. (2009). Building on the cultural and linguistic capital of English learner (EL) students. Multicultural Education, 16(4), 47-51.
Catalano, T., & Hamann, E. T. (2016). Multilingual pedagogies and pre-service teachers: Implementing "language as a resource" orientations in teacher education programs. Bilingual Research Journal, 39(3-4), 263-278.  doi:10.1080/15235882.2016.1229701
Cohen, S., & Leoni, L. (2006). Dual language literacy practices in the mainstream and ESL classroom. Retrieved from http://www.multiliteracies.ca/index.php/folio/viewDocument/8/4495
Cummins, J. (2006). Identity texts: The imaginative construction of self through multiliteracies pedagogy. In O. García, T. Skutnabb-Kangas, & M. E. Torres-Guzmán (Eds.), Imagining multilingual schools: Language in education and globalization (pp. 51-68). Clevendon, UK: Multilingual Matters.
Cummins, J. (2007). Promoting literacy in multilingual contexts. What Works? Research Into Practice. Retrieved from http://www.edu.gov.on.ca/eng/literacynumeracy/inspire/research/Cummins.pdf
de Jong, E. J. (2011). Foundations for multilingualism in education: From principles to practice. Philadelphia, PA: Caslon Inc.
de Jong, E. J. (2013). Preparing mainstream teachers for multilingual classrooms, Association of Mexican American Educators Journal, 7(2), 40-49.
Delbridge, A., & Helman, L. A. (2016). Evidence-based strategies for fostering biliteracy in any classroom. Early Childhood Education Journal, 44(4), 307-316.
Ernst-Slavit, G., & Mulhern, M. (2003). Bilingual books: Promoting literacy and biliteracy in the second-language and mainstream classroom. Reading Online, 7(2), 1-14.
Freeman, D. E., & Freeman, Y. S. (1993). Strategies for promoting the primary languages of all students. The Reading Teacher, 46(7), 552-558.
Gersten, R., & Baker, S. (2000). What we know about effective instructional practices for English-language learners. Exceptional Children, 6(4), 454-470.
Giambo, D. A., & Szecsi, T. (2015). Promoting and maintaining bilingualism and biliteracy: Cognitive and biliteracy benefits & strategies for monolingual teachers. The Open Communication Journal, 9(1), 56-60.
González, N., Moll, L.C., & Amanti, C. (2005). Funds of knowledge: Theorizing practices in households, communities, and classrooms. Mahwah, NJ: Lawrence Erlbaum Associates.
Gordon, D. (2018). Using dual language story books to foster biliteracy. EAL Journal. Retrieved from https://ealjournal.org/2018/11/12/using-dual-language-story-books-to-foster-biliteracy/
Herques, A. J. (2007). Exploring a monolingual English-speaking teacher's perceptions of classroom interventions to foster Hispanic English language learners' primary language (Unpublished doctoral dissertation). Retrieved from https://scholarworks.uno.edu/cgi/viewcontent.cgi?referer=https://scholar.google.com/&httpsredir=1&article=1609&context=td
Hite, C. E., & Evans, L. S. (2006). Mainstream first-grade teachers' understanding of strategies for accommodating the needs of English language learners. Teacher Education Quarterly, 33(2), 89-110.
Kleyn, T., & Yau, H. (2016). The grupito flexes their listening and learning muscles. In O. García & T. Kleyn (Eds.), Translanguaging with multilingual students: Learning from classroom moments (pp. 100-117). New York: Routledge.
Lucas, T., & Katz, A. (1994). Reframing the debate: The roles of native languages in English-only programs for language minority students. TESOL Quarterly, 28(3), 537-561. https://doi.org/10.2307/3587307
Manyak, P. (2004). "What did she say": Translation in a primary-grade English immersion class. Multicultural Perspectives 6(11), 12-18.
Pandey, A. (2014). Using mother tongues as building blocks in childhood education. Childhood Education, 90(1), 61-67. doi:10.1080/00094056.2014.872517
Pappamihiel, E., & Lynn, C. A. (2014). How can monolingual teachers take advantage of learners' native language in class? Childhood Education, 90(4), 291-297. doi:10.1080/00094056.2014.937258
Roessingh, H. (2011). Family treasures: A dual-language book project for negotiating language, literacy, culture, and identity. Canadian Modern Language Review, 67(1), 123-148. https://doi.org/10.3138/cmlr.67.1.123
Schwarzer, D. (2007). Monolingual teachers fostering students' native literacies. In Y. Goodman & P. Martens (Eds.), Critical issues in early literacy (pp. 111-122). Retrieved from https://www.researchgate.net/profile/David_Schwarzer2/publication/281973157_Monolingual_Teachers_Fostering_Students'_Native_Literacies/links/5600465e08aeafc8ac8c597d.pdf
Schwarzer, D., & Acosta, C. (2014). Two activities for multilingual students: Learning in monolingual classrooms. Journal of Multilingual Education Research, 5(1), 93-110.
Schwarzer, D., Haywood, A., & Lorenzen, C. (2003). Fostering multiliteracy in a linguistically diverse classroom. Language Arts, 80(6), 453-460.
Stille, S., & Cummins, J. (2013). Foundation for learning: Engaging plurilingual students' linguistic repertoires in the elementary classroom. TESOL Quarterly, 47(3), 630-638. https://doi.org/10.1002/tesq.116
Szilágyi, J., Giambo, D., & Szecsi, T. (2013). Teaching strategies: "What if I don't speak it?" Classroom strategies to nurture students' heritage languages. Childhood Education, 89(2), 117-121.
Woodley, H., & Brown, A. (2016). Balancing windows and mirrors: Translanguaging in a linguistically diverse classroom. In O. García & T. Kleyn (Eds.), Translanguaging with multilingual students: Learning from classroom moments (pp. 83-99). New York: Routledge.
Sarah Henderson Lee, Ryosuke Aoyama, Charlotte Harris-Hoffstrom, Alejandro Maya, Shyam B. Pandey
Reflection plays an important role in teachers' professional development. In this paper, Dr. Henderson Lee and four of her former graduate TESOL advisees share their critical friendship, highlighting the connection between reflective language teaching and the development of L2 literacy teacher-scholars.
Key words: reflective language teaching, L2 literacy, critical friendship, teacher-scholars, global contexts
This short paper highlights the voices of four recent MA graduates as emerging second language (L2) literacy teacher-scholars. In my Fall 2015 graduate seminar, Second Language Literacy, the teacher-scholars, who are co-authors here (Ryosuke, Charlotte, Alejandro, and Shyam), developed as language teachers who understand literacy as situated social practice, which is informed by users' socially and historically constructed identities (Gee, 2015), and who consciously and systematically reflected on their L2 literacy teaching for positive change (Farrell, 2007). In this graduate classroom context, they explored critical readings, interactive discussions, content applications, and individual reflections. Now, as doctoral students and full-time teachers, they continue to engage in L2 literacy reflection with each other and their former adviser (Sarah) through a critical friendship, or teacher collaboration "which encourages talking with, questioning, and even confronting, the trusted other, in order to examine planning for teaching, implementation, and its evaluation" (Hatton & Smith, 1995, p. 41). The reflective snapshots shared in this paper stem from the teacher-scholars' collaborative exploration of L2 literacy as social practice across four unique teaching contexts.  
Reflective Language Teaching
To better understand the role of reflection in language teacher education, areas of teacher reflection and tools for teachers to reflect, as well as the construct of reflexivity, have been emphasized in the literature (De Costa, 2015; Edge, 2011; Farrell, 2007, 2012; Kumaravadivelu, 2001; Mann & Walsh, 2017). Farrell (2007), for example, defines reflective language teaching as "a bottom-up approach to teacher professional development that is based on the belief that experienced and novice language teachers can improve their understanding of their own teaching by consciously and systematically reflecting on their teaching experiences" (p. 9). To achieve such reflection, Farrell (2007) outlines several areas of reflection, including self-reflection, teachers' beliefs and practices, teachers' language proficiency, and classroom communication, and details a number of tools through which teachers and teacher educators can reflect, such as action research, teacher journals, classroom observations, and critical friendships. Building on this foundation of reflective language teaching, Edge (2011) presents reflexivity, or the interdependent interaction between practitioner and context, as both located in and distinguished from reflective practice. The discursive construction of reflexivity, moreover, "advocates social justice and examines the power imbalances that occur in language teaching as well as the ethical concerns surrounding it" (De Costa, 2015, p. 136).    
In teaching a graduate seminar on L2 literacy and advising L2 literacy-related MA theses and capstone projects, I (Sarah) turn to the above reflective language teaching framework to further develop my students and advisees as L2 literacy teacher-scholars. By focusing their reflection on the intersection of sociocultural perspectives of L2 literacy and their own practice, graduate TESOL students begin to see themselves as both consumers and producers of theory (Kumaravadivelu, 2001), and, in turn, feel empowered to make meaningful positive change in their unique L2 literacy teaching contexts.
Our Reflective Process
In addition to being students in my L2 literacy seminar, Ryosuke, Charlotte, Alejandro, and Shyam were also my advisees. This allowed us to extend conversations we started in the graduate classroom about socially situated literacy in regard to the students' unique teaching contexts, leading to the development of thesis and capstone project ideas and a collaborative presentation at MIDTESOL 2016 from which this paper stems. To prepare for that presentation, I asked the four graduate students to return to the context-focused research question they proposed for a literature review assignment in the L2 literacy seminar and reflect on how that work impacted their current practice and what new related questions or challenges had surfaced. Aligned with Farrell's (2007) bottom-up approach to reflective language teaching, this request positioned students within their own context-specific experiences and emphasized the cyclical power of reflection. A shared online writing space was used to read and respond to each other's reflections, which prompted further reflection and revision. Additionally, the group met twice in Fall 2016 for face-to-face dialogue, deepening our co-construction of L2 literacy knowledge and allowing new and more localized understandings to emerge.
Two years later, with group members in Minnesota, Indiana, and Japan, I asked Ryosuke, Charlotte, Alejandro, and Shyam to return to the shared, online writing space and to their previous L2 literacy reflections. More specifically, I asked that they expand on their initial reflection given their more recent experiences in the field, and I provided the following guiding questions:   
What new related question or challenge has emerged and why?
What L2 literacy scholarship has helped you answer this question or unpack this challenge and how?
What action plan have you established based on this reflection and how does (might) it address the identified question or challenge?
Similar to our initial reflection process, group members read and responded to each other's reflections, offering guiding comments and questions. Below are reflective snapshots of Ryosuke, Charlotte, Alejandro, and Shyam's context-led, L2 literacy inquiry, which represent (re)constructed knowledge through content- and context-specific reflection.
Ryosuke's Reflective Snapshot: L2 Writing Feedback in the Japanese Secondary Context
In English as a Foreign Language (EFL) contexts in particular, factors related to teaching contexts often present challenges for L2 writing teachers. For example, over-allocation of duties and large class sizes make it difficult for teachers to provide effective written feedback on student writing. As an English teacher in a public high school in Japan, I currently find it challenging to teach and prepare for 15 credit hours (one credit hour is equivalent to 50 minutes of classroom instruction) over five different subjects each week while also having to manage administrative tasks and supervise students' extracurricular activities. These working conditions and practices are not unique to my high school but can be observed in public junior high and high schools in Japan (Aoyama, 2017; O'Donnell, 2005). Since all the subjects I teach include essay writing, "working smarter, not working harder" (Lee, 2011, p. 377) is essential in effectively responding to my students' writing, considering the workload I have been assigned.
One of the strategies Lee (2011) suggests is multiple drafting. As she points out, single drafting or one-shot writing is problematic because students do not have to respond to the teacher's feedback no matter how detailed it is. By working on process writing that requires multiple drafts, teachers can provide quality feedback that students can incorporate into their drafts for gradual improvement. By reflecting on her work with my own classroom in mind, I knew I would need to further familiarize my students with the nature and process of writing to successfully employ multiple drafting. This was especially important given the fact that my students' expectation was that I would mark the grammatical errors in their essays so that they could correct them. This sole focus on grammar carried over to my students' initial participation in peer review, even though I provided them with a rubric that also highlighted content and organization components.
To help my students understand grammar as just one of several important writing areas, I returned to the work of Ferris and Hedgcock (2014) who suggest the prioritization of language errors that impede comprehension and the incorporation of mini language lessons in writing instruction. Accordingly, instead of responding to every single error when grading students' writing, I now selectively point out sentences which are difficult to understand and common mistakes which reoccur throughout the paper. This is usually followed by in-class instruction to address the most prominent errors of the class in the form of a mini grammar-based lesson, which is balanced with other lesson components that target writing content and organization. Reconceptualizing the role of grammar in my writing instruction and feedback has not only made me a more effective and efficient teacher, it has also greatly benefited my students who are now less overwhelmed and more invested in the multiple drafting of process writing.
As a full-time high school English teacher in Japan, it is not always easy to be confident about everyday pedagogical decisions I make due to the context-sensitive challenges. However, by engaging in Farrell's (2007) bottom-up approach to reflective teaching, particularly as it relates to L2 literacy as a sociocultural practice, I was able to use challenges in my lived teaching experiences as catalysts for more meaningful pedagogical change. Drawing on Lee's (2011) multiple drafting suggestion and Ferris and Hedgcock's (2014) prioritization of errors that impede writing helped improve my teaching of L2 writing and, in turn, empowered me as a teacher-scholar.
Charlotte's Reflective Snapshot: Genre Analysis in the U.S. First-Year Composition Context
As an instructor of a college-level introductory writing course for multilingual and multinational students, my initial reflection and challenge question during my graduate seminar with Dr. Henderson Lee became how to incorporate reading as a tool to improve academic writing. Since most of the students in my composition course arrive from EFL contexts and are new to genres required in the U.S. university context, genre analysis improves their ability to recognize textual features and genre-specific discourse elements as well as compose expected academic discourse. An integral part of my curriculum now includes mindful incorporation of genre analysis using authentic texts and weekly student self-reflections to link existing knowledge with new learning.
Second language literacy research supports the use of genre analysis in composition. By understanding reading as composing (Hirvela, 2004), students become proficient in both recognizing specific textual elements over time and constructing their own discourses. Learners are better able to internalize writing rules and conventions, organizational practices, and rhetorical features through reading materials and activities that allow for meaningful exposure to writing in the target language (Hirvela, 2004). Students are also able to develop improved writing abilities in English by noting rhetorical constructions that may be different from their own production of English (Hedgcock, 2005).
After reflecting on literature related to genre analysis (e.g., Hirvela, 2004; Hedgcock, 2005), an important action plan for my own practice became the regular incorporation of authentic texts and weekly reflections on learning. Students now read and analyze both professional and students text examples for each unit. They also write a weekly reflection based on their readings of these sample texts and the related class work, including discussion- and presentation-based activities. In these reflections, students explore their related learning process through the following prompts:
Which genre features from this week's reading(s) are familiar to you and how do they connect to your previous writing experiences?
What new genre information did you learn this week and how might it support your writing of the current essay?
Critical analysis activities, including reflections on learning, help improve students' engagement with the composition process, per student self-reporting in my action research capstone project that I completed in spring 2017. Through reflective language teaching and personally seeing the benefits of genre analysis, I also changed my curriculum to include a critical analysis essay assignment during my second year of teaching composition. This unit focuses on explicitly teaching new international undergraduates how to analyze texts and improves their composition quality in following units. Students learn how to critically analyze both the content and the discourse mechanisms of several types of texts before venturing to complete their own analysis essay of a self-chosen text. For students from countries with differing educational expectations, learning the specific academic and cultural conventions of the U.S. university system is an important part of learning the composition process.
In this process I used Farrell's (2007) bottom-up approach to reflective practice, including conscious observations of my students' needs, and the particularities of my context, including genre expectations in my university, which drove improvements to my practice. The prioritization of genre analysis in my L2 composition class, particularly the incorporation of authentic texts and self-reflections, is one example of how I have successfully bridged the gap between institutional expectations and language learners' backgrounds.
Alejandro's Reflective Snapshot: The Role of L1 in L2 Writing in the U.S. Community College Context
The development of academic writing skills at the post-secondary level proves to be a demanding endeavor for any student. The rising number of Generation 1.5 students in higher education, or learners who were primarily educated in the U.S. but who were born outside of the country or arrived at a young age (Harklau, Siegel, & Losey, 1999), presents a challenge towards the traditional academic writing placement categories of mainstream and ESL and/or developmental, given the intricate complexities of the students' literacy practices in both their first languages (L1s) and L2s. Generation 1.5 students are frequently enrolled in developmental academic writing classes designed for native English speakers based solely on test placement scores, indicating lower language proficiency in reading and writing, and without consideration of their multilingual writing abilities. In addition, Generation 1.5 students are mostly first-generation college students straddling multiple identities: "culturally" American while maintaining affiliations with their parents' cultures (Harklau, Siegel, & Losey, 1999). The challenge for both administrators and educators resides in identifying appropriate academic spaces to allow for the development of vital English academic writing skills in their collegiate careers while also recognizing the importance of encouraging Generation 1.5 students' L1 literacy skills.
In a recent research project I conducted among Generation 1.5 students at an urban community college, Generation 1.5 students reflected on their experiences taking courses in English composition and other disciplines, which pointed towards several interesting findings:
a disconnect between the course material and their lived experiences;
unclear instructor expectations as to what constitutes writing proficiently in each discipline; and
limited access to tutors and other support staff skilled in answering their queries (Maya, 2017).
As a language scholar, I used the insights provided from this study to contemplate how our current pedagogical practices contribute to a perceived disconnect with students and their immediate realities, as evinced by the participants' difficulties in ascertaining what academic skills are needed to be successful and finding themselves culturally absent from the content and curriculum in their studies.  
The insights from my research present some opportunities for community college educators to consider in designing their classes and assignments to promote student success for multilingual writers. Similar to Canagarajah's (2013) and Bazerman's (2013) leads on finding a balance between students using their authentic voices, codes, and translanguaging practices in the classroom while recognizing the conventions of disciplinary writing, Generation 1.5 students also frequently experience a disconnect between the subject material studied and the realities of their own personas and communities (Maya, 2017). Furthermore, educators should be active co-participants in the empowering effect that higher education studies can have on multilingual students' lives.
As I develop course writing assignments, I now prioritize opportunities for students to make meaningful connections beyond our immediate classroom context and to use writing as a vehicle to insert themselves into dialogues of social relevance in their lives. For example, my students use multimodal approaches, including oral histories and audiovisual narratives, to share issues of importance in their local communities, which encourages them to see themselves as authoritative figures and possessors of knowledge. Providing a public forum such as a student symposium allows for audiences beyond the classroom, including members from students' home communities, to support and engage in the meaningful academic work of these students. Establishing such a connection with students' communities through projects that seek to invite members of their inner circles to campus as resources of knowledge fortifies the notion of "community" in our two-year institutions, helping to break down barriers which often cause Generation 1.5 students to feel isolated and marginalized within our academic institutions. By participating in bottom-up reflective practice (Farrell, 2007) through classroom research and a refined, more culturally relevant pedagogical approach about socially-situated L2 literacy with my peers and professor, I have been able to strengthen these connections between classroom and community.
Shyam's Reflective Snapshot: The Relationship Between Oracy and Literacy in the Nepalese Language Teacher Training Context
Working with diverse student populations in Nepal as a high school and college-level teacher, and also through my work with the Nepal English Language Teachers' Association (NELTA), I have realized that Nepal presents a myriad of contextual challenges that are specific to the teaching of L2 literacy, including large class sizes, low language proficiency of teachers, high teaching loads, and little attention to the connection between oracy and literacy. As a writing teacher, I want to focus my current reflection on the last challenge because I have come to understand literacy as situated social practice (Gee, 2015) and, thus, so much more than reading and writing as isolated language domains. Despite some constraints, the Ministry of Education (MOE) in Nepal along with other professional organizations for teachers like NELTA are actively engaged in improving the quality of English language instruction in the country through a variety of short- and long-term programs. As the former country coordinator of the English Access Microscholarship Program, I was active in NELTA's program planning, which did not include any teacher training directly related to the oracy-literacy connection. This lack of prioritization mirrors the fact that language domains are still taught separately in Nepal. As of now, English teachers in this context are not adequately trained to support the relationship between their learners' spoken and written language.
Stressing the interconnectedness of oracy and literacy, Hornberger (1994) proposes an oral-literate continuum. As societies further diversify, she notes, learners must develop skills to move effectively between literacy and oracy in communicative contexts. With an increased focus on communicative competence in the Nepalese educational context, teachers need to understand the relationship between oracy and literacy and be trained to develop lessons with this beneficial relationship in mind. Since Nepal is culturally, ethnically, and linguistically diverse, this means the role of learners' home languages and literacies in educational spaces should be considered. While in my experience, most school administrations still seem to have a pejorative view of the L1s students bring with them to class, focused teacher training and development could shift this view by preparing teachers to incorporate students' L1s in pre-writing activities, for example. Based on this reflection, I am communicating with colleagues in Nepal about possible future training events that would allow teachers to collaboratively explore the connection between oracy and literacy specifically through the role of L1 in L2 writing instruction.
Farrell's (2007) bottom-up approach to reflective practice which "starts with the internal rather than the external" (p. 9), allowed the local particularities of my context of Nepal, especially the gap between oracy and literacy, to provide meaningful guidance through L2 literacy literature (e.g., Hornberger, 1994; Fu & Matoush, 2015; Gee, 2015) during my graduate studies. This reflective snapshot, as a product of that process, highlights needs within EFL teacher education in my context, and motivates me to keep engaging in reflective practice. Doing so will not only facilitate positive change for the training and development of pre- and in-service English teachers in Nepal, it will help me to further adopt teacher-scholar as part of my professional identity.
Conclusion
The above context-focused snapshots represent the reflective inquiry practice of a critical friendship that started between teacher/advisor and students/advisees in a graduate TESOL program. Now as peers, we continue to explore being and becoming L2 literacy teacher-scholars in global contexts. This work answers Farrell's (2012) call to (re)conceptualize language teacher education through reflective practice by both providing reflective opportunities in required coursework and nurturing post-program relationships with emerging teacher-scholars and their unique language teaching contexts. Positioning their study of L2 literacy within the realities of their preferred teaching contexts, Ryosuke, Charlotte, Alejandro, and Shyam were able to engage in meaningful and collaborative bottom-up reflection that shaped their practice and expanded their knowledge base. By sharing the reflective process of our critical friendship and the voices of emerging teacher-scholars, we hope more language teacher educators and pre- and in-service teachers will co-create transformative spaces for localized reflection and new knowledge construction and, in turn, contextually-situated positive change.
References:
Aoyama, R. (2017). Exploring NNESTs' beliefs and identities: A case study of Japanese EFL high school teachers (Unpublished master's thesis). Retrievable from https://cornerstone.lib.mnsu.edu/etds/752/
Bazerman, C. (2013). Global and local communication networks and implications for literacy. In  A. S. Canagarajah (Ed.), Literacy as translingual practice: Between communities and  classrooms (pp. 13-25). New York: Routledge.
Canagarajah, A. S. (Ed.). (2013). Literacy as translingual practice: Between communities and classrooms. New York: Routledge.
De Costa, P. (2015). Tracing reflexivity through a narrative and identity lens. In Y. L. Cheung, S. B. Said, & K. Park (Eds.), Advances and current trends in language teacher identity research (pp. 135-147). New York: Routledge.
Edge, J. (2011). The reflexive teacher educator in TESOL: Roots and wings. New York: Routledge.
Farrell, T. S. C. (2007). Reflective language teaching: From research to practice. New York: Continuum.
Farrell, T. S. C. (2012). Novice-service language teacher development: Bridging the gap between preservice and in-service education and development. TESOL Quarterly, 46(3), 435-449. https://doi.org/10.1002/tesq.36
Ferris, D., & Hedgcock, J. (2014). Teaching L2 composition: Purpose, process, and practice (3rd ed.). New York: Routledge.
Fu, D., & Matoush, M. M. (2015). Focus on literacy. Oxford: Oxford University Press.
Gee, J. P. (2015). Social linguistics and literacies: Ideology in discourses (5th ed.). New York: Routledge.
Harklau, L., Siegal, M., & Losey, K. M. (1999). Linguistically diverse students and college writing: What is equitable and appropriate? In L. Harklau, K. M. Losey, & M. Siegal (Eds.), Generation 1.5 meets college composition: Issues in the teaching of writing to U.S.-educated learners of ESL (pp. 1-14). New York: Routledge.
Hatton, N., & Smith, D. (1995). Reflection in teacher education: Towards definition and implementation. Teaching and Teacher Education, 11(1), 33-49. https://doi.org/10.1016/0742-051X(94)00012-U
Hedgcock, J. S. (2005). Taking stock of research and pedagogy in L2 writing. In E. Hinkel (Ed.), Handbook of research in second language teaching and learning (pp. 597-614). Mahwah, NJ: Lawrence Erlbaum Associates.
Hirvela, A. (2004). Connecting reading and writing in second language writing instruction. Ann Arbor, MI: University of Michigan Press.
Hornberger, N. H. (1994). Continua of biliteracy. In B. M. Ferdman, R. Weber, & A. G. Ramirez (Eds.), Literacy across languages and cultures (pp. 103-139). Albany, NY: State University of New York Press.
Kumaravadivelu, B. (2001). Toward a postmethod pedagogy. TESOL Quarterly, 35(4), 537-560. https://doi.org/10.2307/3588427
Lee, I. (2011). Working smarter, not working harder: Revisiting teacher feedback in the L2 writing classroom. The Canadian Modern Language Review/La Revue Canadienne Des Langues Vivantes, 67(3), 377-399. https://doi.org/10.3138/cmlr.67.3.377
Mann, S., & Walsh, S. (Eds.). (2017). Reflective practice in English language teaching: Research-based principles and practices. New York: Routledge.
Maya, A. (2017). Generation 1.5 community college students' perceptions of academic writing: Balancing personal, cultural, and educational identities​. (Unpublished master's capstone project). Minnesota State University, Mankato, MN.
O'Donnell, K. (2005). Japanese secondary English teachers: Negotiation of educational roles in the face of curricular reform. Language, Culture and Curriculum, 18(3), 300-315. https://doi.org/10.1080/07908310508668749
Cynthia Lundgren, Stephanie D'Costa
This article presents findings from an exploratory study with secondary English Language Development teachers using Language Pathways, a genre-based instructional tool, to increase students' access to grade-level learning.
Key words: genre-based instruction, language awareness, Key Language Uses, teaching and learning cycle, functional language
As children learn the language of their families and communities, they develop an awareness of common patterns, or genres that facilitate how we use language every day to explain, argue, tell stories, or provide information to each other. Developing an understanding of how language functions allows speakers and listeners to quickly recognize and respond appropriately within their cultural and linguistic community (Bernstein, 1971; Bourdieu, 1991).  
Schooling expands the everyday use of these genres by introducing complex grammatical structures, formality, and precise technical word choices as students explore new areas of academic study. High stakes assessments, state standards, and even curriculum often assume students have an awareness of how language functions in these genres. However, students for whom these genres are less familiar need explicit opportunities to examine and discuss these genres if they are to fully access, participate, and derive meaning during schooling in a new context (Gee, 2004; Hyland, 2007; Tung, 2013).
English language educators play a critical role in helping build students' explicit knowledge of language. Educators can guide students in noticing the structures and language of a text. They can further support students in analyzing the text by discussing how grammatical and lexical choices work to shape meaning (Derewianka & Jones, 2016). Educators help students develop a stronger awareness of language through close examination of language features particular to the genre. This awareness helps students understand how language choices express and connect ideas, address audiences uniquely, and create cohesion within the genre (Humphrey, Droga, & Feez, 2013).
Developing Language Awareness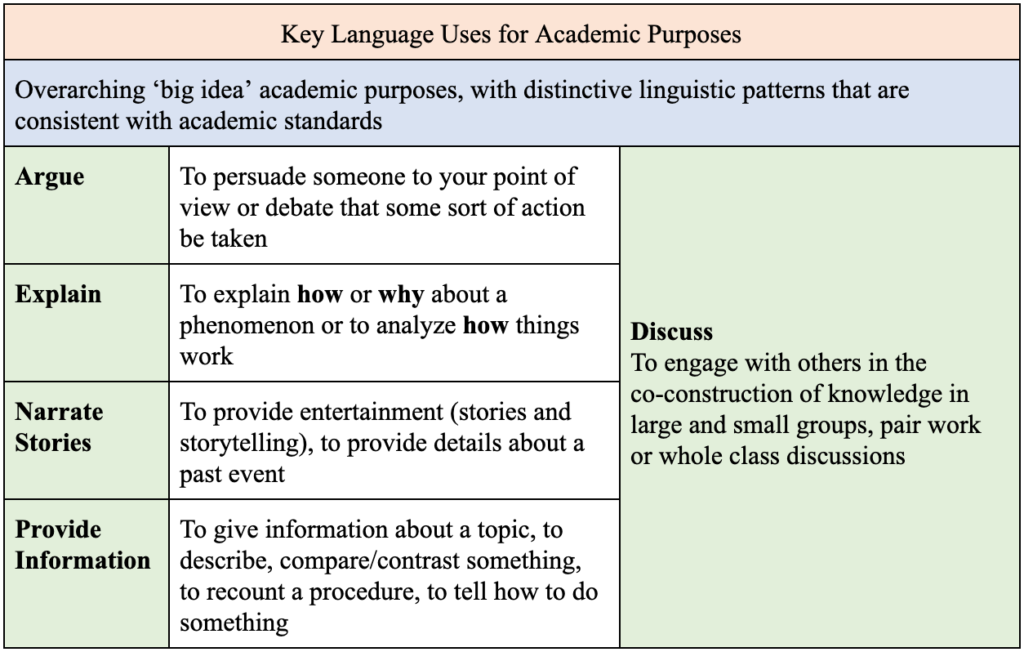 WIDA, at the Wisconsin Center for Educational Research, has been developing English language educator resources called Language Pathways, which are designed to engage teachers and students in language-rich discussions about academic genres. These resources draw on Halliday and Matthiessen's (2014) view of language as a meaning-making system and the genre-based approach of Martin and Rose (2008), Christie (2005), and Derewianka and Jones (2016) that help make the language demands of school-based curriculum explicit. Language Pathways describe discourse patterns and grammatical features based on WIDA's Key Language Uses: explaining, arguing, narrating stories, and providing information (see Table 1), so all students have the linguistic resources they need for school success.
Language Pathways follow the teaching and learning cycle (see Figure 1) developed for explicit language teaching in a genre-based approach (Derewianka & Jones, 2016; Martin & Rose, 2012; Rothery, 1994).
The teaching and learning cycle is a process for planning and guiding instruction that supports students' language learning (Rose & Martin, 2012). Teachers guide students in noticing, deconstructing, and constructing oral, written, and visual messages. This allows students to explore language choices as a creative, authentic process for meaning-making (Derewianka & Jones, 2016). Language Pathways guide teachers through the teaching and learning cycle with resources designed to support language instruction at each phase of the cycle.
Language Pathways Pilot Study
A pilot study was conducted by WIDA to explore how teachers applied Language Pathways to their instruction. Twenty-five middle and high school English Language Development (ELD) teachers in a western, urban district participated in a two-year pilot study applying Language Pathways resources to their planning and classroom instruction using the teaching and learning cycle. The district focus for the year was to help students master an understanding of effective arguments, which was the language feature focused on in this study. Teachers participated in professional learning sessions, classroom observations with follow-up coaching, and monthly individual phone coaching, in addition to on-line and face-to-face learning communities.
In the following sections, four teachers demonstrate how they apply Language Pathways resources as they:
plan for language instruction and assessment;
build awareness of language patterns by deconstructing mentor texts;
construct explicit features of the genre with their students; and
facilitate self/peer feedback on independent writing
Paula: Planning for instruction and assessment
Paula works with 10th and 11th graders, many of whom are students with interrupted schooling. Paula created a unit plan template (see Figure 2) to help her focus on specific language features she wants students to recognize when reading and apply when writing independently. As a former language arts teacher, Paula often struggles with the distinction between ELA and ELD instruction.
"It's been really difficult this year because the English teacher in me wants to come out and take over, but the key is to differentiate for students who are learning about language. The Pathways help me stay focused—bring it back to language."
Her template helps her look deeper at how language features address or advance the purpose of the genre. For this unit, the key language use is argue. Paula downloads current event articles on fracking, mining, and alternative energy sources from Newsela, (www.newsela.com) to show how authors link ideas using causal, comparative, or sequential conjunctions to strengthen the argument.
David: Building awareness of language patterns through deconstructing mentor texts
David deconstructs mentor texts with his students as a way to point out and talk about language choices that authors make. Mentor texts, which exemplify patterns of language, provide opportunities for teachers and students to notice and analyze how meaning-making occurs. David is preparing his students for the reading of The Omnivore's Dilemma (Pollan, 2006) in their 8th grade ELA class. He collects examples of persuasive language from newspapers, pamphlets, textbooks, and storybooks to deconstruct with students and show how arguments are constructed.
David builds awareness of the genre through conversations with students about how the author's choices can influence readers' thoughts and feelings. For example, David projects this sentence on the Smart Board:
Saving trashed food has become a matter of international urgency.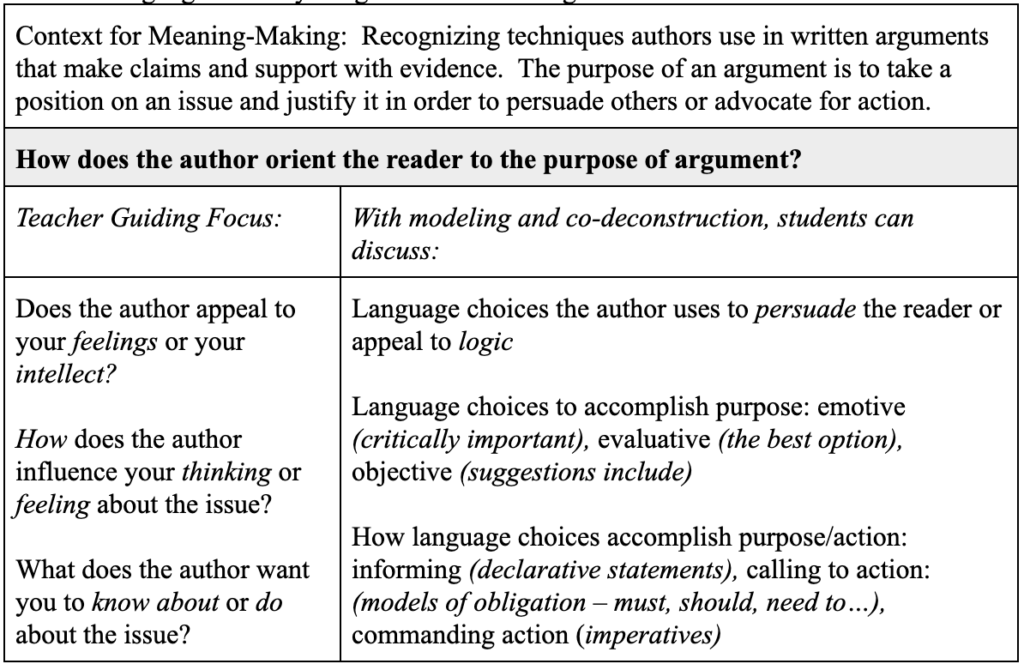 He asks students how they feel when they read it, what they think 'trashed food' might be, what the time frame for this urgency could be, who is "saving" and who might be impacted? David guides the discussion as they deconstruct the text. David uses Language Pathways tables to keep lessons focused on language. He feels this approach has re-energized his teaching and increased students' motivation.
"We have interesting conversations about meaning.  We go through the examples [text] together. I model how to break apart and look for the information from the chart [Language Pathways Argue] very explicitly."
Table 2 is an example of the resource David uses to guide the conversation as he deconstructs and discusses texts with students.  
Olivia: Joint construction of text
Olivia has 6th-8th grade newcomers. While her students have been formally schooled in their home countries, they are recent arrivals to the U.S. Olivia needs a mentor text that matches the cognitive maturity and academic skills of her students with their beginning English language proficiency. She hasn't been able to find such texts, so she writes her own. She plans lessons around language features specific to the genre and adjusts her instructional timeline to provide the scaffolding her newcomers need, spending more time jointly constructing text. In this lesson, Olivia moves between deconstructing the mentor text and guiding the class to add details that strengthen claims.
Olivia gives students their own copy of the mentor text she has written while she projects a working copy on the screen. She reads, "American football is a dangerous sport. Many players are hurt every year." Using both English and Spanish, Olivia points out the claim. Students talk about how the opinion is stated like a fact to make it sound more credible. Olivia highlights the rationale. She engages students in a conversation about the strength of the rationale.
"Do we really know if this sport is dangerous? How many players are hurt? What are the injuries? Where does the information come from?"  
She challenges them to look for the evidence in the text. She shows them another statement:
"2,000 football players are hurt with concussions every year."
Together, they highlight text that answers "how many, what kind, what type?" and talk about how quantity, quality, and descriptive details strengthen a claim. Olivia brings students' attention to how noun phrases can be expanded to add details and writes examples on a classroom chart (see Figure 3).            
Jerome: Independent construction and evaluation of the genre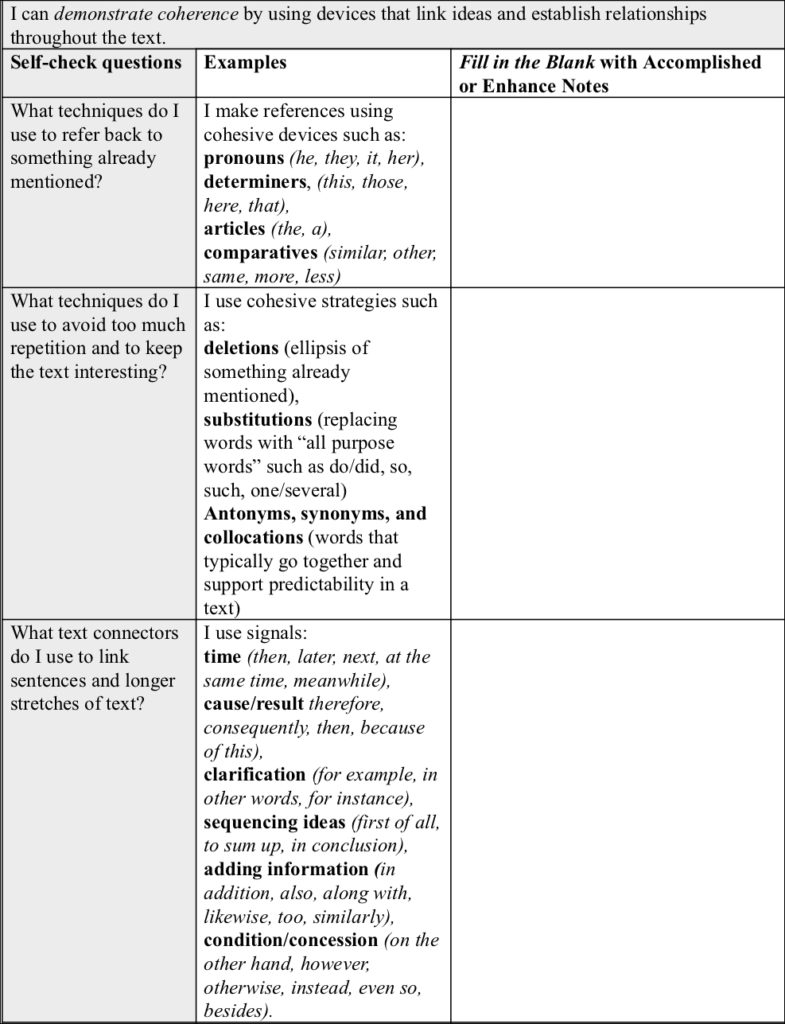 Jerome is a first-year high school teacher. He has advanced students who are anxious to exit ELD classes but must pass a writing assessment before they can exit. Jerome is struggling with his class; the students are not feeling successful. Jerome is finding that the school-wide rubric doesn't reflect the language lessons he's been teaching.
"I want my students to be able to recognize and produce good arguments. I teach my students how to look at how authors' decisions impact purpose, strength, and cohesion of an argument and I want students to think about their own language choices when writing their arguments. The school-wide rubric doesn't even acknowledge these critical elements [of cohesion]. I also want students to be able to reflect on their work—what they've done well and where they can improve."
Jerome designed a formative assessment tool (see Table 3) that could serve as self-reflection or peer reflection prior to teacher evaluation. He narrowed the evaluative focus based on lessons taught using Language Pathways writing resources. Jerome found that the rubric encouraged students to recognize their writing accomplishments. This also helped to keep peer suggestions for improvement connected to meaning-making. Students examined how well the writer's message accomplished the task. As a result, students felt more confident about their writing, were more willing to engage in reflective discussions about their writing and complete multiple edits.
Summary
Meaning-making reflects cultural communities and defines how language is used particularly in schooling. Building multilingual students' awareness about academic genres and language choices related to those genres is essential as we strive for educational equity. Teachers in this study made changes in their language instruction, but they also developed greater personal awareness about language. As one teacher remarked, "I'm so much more aware of language. You have to break it [language] apart—deconstruct to see what's happening. Share that with kids."
As language teachers, we advocate for our students but we also advocate with our students. By demystifying the cultural aspects of language, academic language in particular, we afford our students greater voice and agency in their own learning. Sharing how meaning-making occurs through joint deconstruction and construction of text, we allow multilingual learners to accomplish their communicative goals in school and community settings. Reflecting on the study experience, a teacher shared, "The Pathways are an answer that I've been looking for as a social activist… critical awareness for the students with little access to school language."
References
Bernstein, B. (1971). Class, codes, and control: Theoretical studies towards a sociology of language. New York: Schocken Books.
Bourdieu, P. (1991). Language and symbolic power. (Translation by G. Raymondson & M. Adamson). Cambridge, MA:  Harvard University Press.
Christie, F. (2005). Language education in the primary years. Sydney: University of NSW Press.
Derewianka, B., & Jones, P. (2016). Teaching language in context. Victoria, AU: Oxford Press.
Gee, J. P. (2004). Situated language and learning: A critique of traditional schooling. New York: Routledge.
Halliday, M., & Matthiessen, C. (2014). Introduction to functional grammar (4th ed.). New York: Routledge.
Humphrey, S., Droga, L., & Feez, S. (2013). Grammar and meaning. Newtown, NSW, AU: PETAA.
Hyland, K. (2007). Genre pedagogy: Language, literacy and L2 writing instruction. Journal of Second Language Writing, 16(3), 148-164. https://doi.org/10.1016/j.jslw.2007.07.005
Martin, J., & Rose, D. (2008). Genre relations: Mapping culture. London: Equinox Publishing.
Pollan, M. (2006). The omnivore's dilemma. New York: Penguin Press.
Rose, D., & Martin, J. (2012). Learning to write, reading to learn. South Yorkshire, UK:  Equinox.
Tung, R. (2013). Innovations in educational equity for English language learners. Voices in Urban Education, 37, 2-5.
Caroline Maguire
ESL teachers often struggle to balance language and content teaching. This article contains ideas for bringing a grammar focus into content-based instruction that will be useful for all teachers, but especially for teachers of middle and high school multilingual students.
Key words: Content-Based Language Teaching, Grammar, Focus on Form
Introduction
In the early days of the TESOL profession, most teachers pulled their students out of mainstream classes or offered English instruction in a self-contained, language-focused classroom. Teachers often focused on learning about language in these settings. It wasn't unusual to see explicit grammar explanations and drills in these ESL classrooms. In the last twenty years, however, things have changed. Due in large part to the underwhelming results of these early models, programs began shifting to push-in, co-teaching, and sheltered models. These models are thought to offer a form of content-based language instruction (CBI), a research-backed (Grabe & Stoller, 1997) approach to language teaching in which language and content are taught concurrently. A central idea of CBI is that language is best learned when used to make meaning, and academic language is best learned when heard and used in academic settings (Brinton, 2010).
As more ESL teachers push into content classes, their focus has shifted from teaching about language to scaffolding the content so that it is accessible to the multilingual students in the class. However, to be most effective, teachers must balance the emphasis on language and on content in a content-based class (Cammarata, Tedick, & Osborn, 2016). As to the correct balance, Nation (2007) suggests that approximately 25% of class time should consist of language-focused learning in which students are attending to, processing, and discussing language features that they will use in the other 75% of the course time.
In their teacher education programs, most ESL teachers are taught to achieve this balance by identifying two kinds of learning objectives: content objectives and language objectives. This practice is directly connected to a content-based approach to language instruction and the need to focus on both content and language. If we are to teach language through content, it is important to articulate both the content that is to be taught (the content objectives), and the language to be taught (the language objectives). Language identified in the language objectives is related to the content and will help students better understand and interact with the big ideas of the content.
After nearly fifteen years of working with new and experienced ESL teachers, my overwhelming experience has been this:
Achieving this balance is hard!
As a profession, we are good at scaffolding. We use many strategies to help our multilingual students access the content, which is, of course, very important. However, teachers often stop there. Furthermore, when they do focus explicitly on language, teachers often limit themselves to vocabulary or to the use of sentences starters or frames, which often help students develop useful chunks of academic language such as "in my opinion," "in summary," "for example," or "in conclusion." The development of vocabulary and the use of discourse markers such as these is extremely important, and teachers should feel good about using these strategies and should continue to do this. If we are aiming for 25% of our instructional time to be language focused, these kinds of activities certainly count as language-focused. However, at some point we also need to focus on the deeper morphosyntactic structures of language—what we often think of as "grammar." We need to help students learn the structures that allow, for example, for the creation of complex sentences and the control of the English verb system
I am not advocating a return to the drill worksheets and disconnected grammar lessons of the past. To be effective, the grammar focus should be deeply connected to and blended into the content lesson. This is something that many ESL teachers find difficult to do. It is my hope that this article will acquaint teachers with a few big ideas and introduce some evidence-based strategies that can help them get some new ideas for blending more grammar into their instruction.
Big Ideas
Explicit versus Implicit
An ongoing debate in the research on second language teaching is whether grammar should be taught explicitly at all. There are those who believe that explicitly teaching grammar is a waste of time, as grammar will be acquired implicitly when learners are exposed to comprehensible input. In the 1990's and early 2000's, quite a bit of research examined whether overtly focusing on language forms helped learners acquire grammar forms. The majority of this research showed that explicitly teaching grammar forms can help lead to better acquisition of the forms (Ellis, 2002; Norris & Ortega, 2000). Most researchers working in the field now believe some explicit focus is necessary for the development of high levels of proficiency (Ellis, 2008; N. Ellis, 2017). Thus, if teachers wonder, Should I be teaching grammar? the answer, simply put, is yes. The more difficult question, however, is how. Grammar instruction needs to be woven into the other, meaning-focused activities in class. We must always strive for a balance between a focus on meaning and a focus on form. The following ideas are key to achieving this balance.
Salience
One of the most important ideas that ESL teachers should internalize is the importance of raising the level of salience of a language feature. Salience refers to how noticeable something is in the input. Language learners will focus on the pieces of language that provide meaning (lexis) before they will focus on the grammatical aspects of words or sentences. One well known grammar challenge that L2 English speakers have demonstrates this point. The "s" on the end of third person singular verbs adds no meaning to an utterance. Thus, a learner will focus on the part of the verb that has meaning. The "s" has little salience and makes no or little impression in the mind of the learner, going in one ear and out the other, so to speak, as they focus on meaning. Think, too, about the "ed" on the end of a verb to mark past tense. Usually, the context in which such words are found already make clear that the events occurred in the past, so attending to the "ed" isn't necessary. This is compounded by the fact that "ed" is pronounced as [t], [d], or [id] depending on the final phoneme on the verb. These multiple pronunciations make the form less salient—it doesn't "pop out" to the learner. They don't even notice the form.
Noticing
Schmidt's (1990, 2001) noticing hypothesis is another helpful idea for ESL teachers. This theory is related to the idea of salience, in that Schmidt posited that in order for a learner to acquire a new language form, the learner must first notice that form in the input. In the examples given above, I demonstrated how learners can pull the meaning from language without ever attending to grammatical structures such as the 3rd person singular "s" or the past tense "ed." It is important to remember, too, that much language is learned in oral/aural interactions and in such interactions, morphosyntactic features often become unclear, swallowed up in oral language. For example, ing becomes in' or the article a becomes a schwa sound attached to the previous word (e.g., "read a book" becomes "reada book"). Our learners likely aren't acquiring these forms because they aren't even noticing them (Roberge, Siegal, & Harklau, 2009). 
Here are three examples of sentences written by a college student who spent his entire K-12 career in the United States. They demonstrate how features of language that aren't salient are often not acquired fully. (The emphasis was added):
…like every other course that I have been taken.
…the Math professor assign homework
…After few days of class
When we look at sentences like these, it is easy to see how grammatical parts of language, like the difference between "ing" and "en", the "s" or the article "a" are simply not heard or noticed by L2 English speakers, and thus not fully acquired.
Therefore, as teachers decide how they will bring an explicit focus on grammar to their teaching, it is wise to begin by helping learners to notice the forms. We do this by making the forms more salient so that they stand out to learners.
Strategies to Help Develop Grammar/Forms
There are a number of strategies that teachers can use inside of a content-based lesson that will help students first notice and eventually acquire grammar forms. This section goes through a sequence of activity types that can be blended into content lessons and will lead your students to greater proficiency in the targeted grammar form.
Input Flood
One useful approach to helping students notice a language feature is to raise the number of times the feature appears in the learner's input. According to Nassaji and Fotos (2011), providing learners with frequent incidences of a target form may help draw learners' attention to the form. Gass and Selinker (2008) noted that "[s]omething which is very frequent in the input is likely to be noticed" (p. 45). When we manipulate a text that our students are reading or the oral input that we are giving our students so that a targeted form appears more frequently, this is called an input flood. This is an excellent place to start if we want to work on a grammar form. Imagine, for example, that you are targeting a certain verb form. You could write a short summary of a text which reviews an important content concept and use the targeted form far more often that it would normally appear. You might also add sentences to a PowerPoint presentation that all use the targeted form. Finally, you could consciously adjust your speech to use the form more often that you naturally would, to help expose students to the form. While it is possible that some students might acquire the form just from this increased exposure, it might be better to look at an input flood as "priming" students to learn a form. The input flood can help them "get a feel" for the form, but more will still be needed if students are to learn the form.
Here's an example of an input flood I created for multilingual students learning about landforms.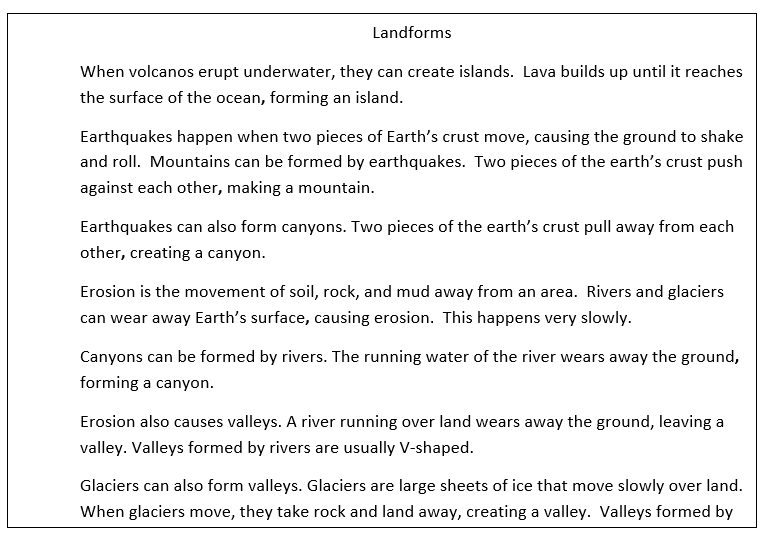 In this case, I noticed that the participle clause form was used twice in the text to show cause and effect. I also knew that this was a form that the students had not mastered, so I decided that this would be the language objective. The input flood was included in a summary of the main text. It helped the students review the content while also providing an entry point for discussing the language form.
Noticing and Awareness Activities
Lyster (2007) recommended that teachers provide their students with activities that help them notice forms and then become consciously aware of how the forms are made. There are a number of ways that you might help your students notice a specific language form you have targeted.
Input enhancement or textual enhancement is an instructional strategy in which a teacher bolds, highlights, or changes the text of the targeted form in some way to make it more noticeable (Sharwood Smith, 1993). If you have created a modified text to provide an input flood, like the example above, you might also bold or highlight the targeted form. The teacher can also enhance input given orally by adding stress to or pauses around a targeted feature. These kinds of strategies make the feature more salient and help students notice the form.
Here is an example of a PowerPoint slide from the same landform unit. Notice how the target form is bolded: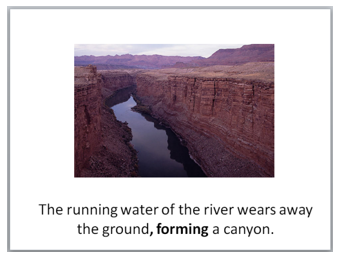 Students should also be asked to be more active in their noticing of the form. Asking them to find and highlight the forms in a text is an excellent way to help them become more aware of a form. Creating other activities that require that students attend to the form is also important. For example, in the landform unit, students were given an envelope with a number of slips of paper with partial sentences that they were asked to assemble into full, accurate sentences. In order to accomplish this task, they had to pay attention to the language form as well as how the form fits into a sentence. They also, it is important to note, had to use the content knowledge they were acquiring about landforms to successfully complete this activity.
Gibbons (2015) suggests that using a side by side partner dictation activity can help students attend to form. In this activity, each student has the same text but different pieces of the text are missing for each partner. They take turns reading the text out loud, supplying the missing piece for their partner. Students must attend carefully to the forms, both when they are the reader and the writer of the form, so that the correct form of the word can be filled in. Note that once again, this activity focuses on both language and content.
Creating a Student-Friendly Rule
Ultimately, teachers will move beyond these noticing activities and talk with students about the form. Talking about language helps develop students' metalinguistic awareness, something that is important for language development. Asking students to describe what is happening in the language and helping them to name the forms and create a student-friendly "rule" is appropriate.
Practice
Even if students have been guided to notice forms and articulate explanations for how the form works in language, they will still need to practice if we want them to acquire it as part of their repertoire. Thus, it is important to include activities that ask students to practice producing the form. Practice activities should become more complex and communicative as you move through the unit. As an early practice activity, it might be appropriate to include something very controlled, like a fill in the blank worksheet to practice the form, as long as it requires the students to understand what they are writing. The problem with such exercises isn't that they are inherently bad. The problem is that teachers have too often overused them or never asked students to go beyond such activities and use the form communicatively. Used in the context of a progression of activities as described here, they can be appropriate and helpful. Ultimately, however, a final product at the end of the unit, perhaps a poster, a presentation, or an essay, should include the form being used in a communicative, creative way by the student.
Fitting It In
The beginning of this article described the changing face of the ESL teacher's classroom setting. In push-in and co-teaching settings, teachers often have a hard time knowing how to fit grammar teaching into instruction. If the grammar form you are working on is focused mostly on complexity—that is, forms that help students build longer, more precise sentences such as participial phrases, embedded clauses, or complex sentences joined with a subordinating conjunction—these are likely forms that all students in the class could benefit from examining. If the grammatical form focuses more on accuracy—or the avoidance of nonnative-like errors—these are usually not forms that all students will benefit from addressing and should be handled with the multilingual students in the class by using different grouping strategies.
When working in a content class, I recommend building a "language detour" into the lesson. A target form could be included on a PowerPoint slide, used by the teacher in an oral discussion, or present in a text that is being read in class. Ideally the form has shown up multiple times, as the teacher has created an input flood. At some point, the ESL teacher can turn the class's attention away from the content to the language form, taking a few moments to explicitly discuss language. The ESL teacher might say…
"I keep seeing this certain kind of sentence in the book, let's look at that together."
Or
"Do you notice how this certain kind of sentence has appeared in this PowerPoint several times? Let's stop for a moment and look at that."
Or
"Mr. Co-teacher, you just said the most interesting sentence. I'd like to take a minute to write it on the board and look at it."
Ideally these "let's-stop-and-look-at-that-sentence" moments will be followed with a content activity where the students need to use the form to complete the activity.
Providing a language-focused warm up or bell ringer activity is another excellent way to bring a focus on the language form and bring some practice time to the class before shifting to the content focus.
A final way that a focus on grammar can be easily added into a content lesson is by pausing when working on a text to do a form-focused close read of a paragraph or two of the text where a targeted form appears. This would be a good time to highlight or circle the form as it appears in the text. This might happen when the ESL teacher is working with a small group inside a mainstream class. When doing a language-focused close read, it is always good to review other language features you have talked about previously with your students as well.
Revisit, Review, and Reenter
It's important to remember that language is never learned quickly and completely after a few language-focused lessons. Learners need multiple encounters with words and forms before they internalize them. Heilenman and Kaplan (1985) described different levels of control over language forms that learners pass through as conceptual control, partial control, and finally, full control. Depending on the range of language abilities of your learners, your goals might be for some learners to develop full control while trying to move others into conceptual control.
Teachers should bring forms back and call attention to forms you have already examined over and over throughout the year. Many classrooms have "word walls" where new vocabulary is displayed. Why not have a "writing wall" where specific language forms you have examined together are also displayed?
Right-Sized Language Objectives
Finally, it is important to remember to keep the language learning goals manageable. I will often see teachers describe their language objective as "the past tense" or "complex sentences." These objectives are far too large to be taught at once and as such, can't really guide instruction. What part of the past tense will you teach? Regular "ed" forms in affirmative sentences? The pronunciation of the "ed" form ([d], [t], or [id])? A few irregular forms that appear in the content you are focused on? Negation in the past tense? All of these might be part of a cluster of language objectives related to the past tense. In a content-based history class, for example, you could focus on different aspects of the past tense for months. If we return to the example in the landforms unit, it is important to note that after that focus on participle clauses, I certainly didn't think that students had mastered using participles. In the landform unit, they were used to show cause and effect. Of course, this form is used in English to accomplish many other functions, and the form will need to be reentered and reviewed multiple times to help students move toward acquisition.
Conclusion
Balancing the teaching of language and content is a challenge faced by all language teachers. In push-in and co-taught classes, the balance is too often lost and the content focus dominates. Purposeful and explicit focus on language forms should, however, be woven into these content-based classes. Teachers should work to make language forms more salient and draw their students' attention to forms in order to help students notice and acquire these language features. A well planned progression of practice activities that move from controlled to communicative can blend content and language teaching, as learners use the targeted form to talk about content.
References
Brinton, D. (2010). Two for one? Language-enhanced content instruction in English for academic purposes. In Proceedings from A TESOL Symposium: Teaching English for Specific Purposes: Meeting our Learners' Needs. Alexandria, VA: TESOL. Retrieved from http://www.tesol.org/docs/default-source/new-resource-library/symposium-on-teaching-english-for-specific-purpose.pdf?sfvrsn=0
Cammarata, L., Tedick, D. J., & Osborn, T. A. (2016). Content-based instruction and curricular reforms: Issues and goals. In L. Cammarata (Ed.) Content-based foreign language teaching: Curriculum and pedagogy for developing advanced thinking and literacy skills (pp. 1-21). New York: Routledge.
Ellis, N. C. (2017). Implicit and explicit knowledge about language. In J. Cenoz, D. Gorter, & S. May (Eds.) Language awareness and multilingualism. Encyclopedia of language and education (3rd ed.) (pp. 113-124). Springer, Cham.
Ellis, R. (2002). Does form-focused instruction affect the acquisition of implicit knowledge? Studies in Second Language Acquisition, 24(2), 223-236. https://doi.org/10.1017/S0272263102002073
Ellis, R. (2008). Principles of Instructed Second Language Acquisition. CAL Digest. Retrievable from http://www.cal.org/resource-center/resource-archive/digests
Gass, S., & Selinker, L. (2008). Second language acquisition: An introductory course. New York: Routledge.
Gibbons, P. (2015). Scaffolding language, scaffolding learning: Teaching English language learners in the mainstream classroom. Portsmouth, NH: Heinemann.
Grabe, W., & Stoller, F. L. (1997). Content-based instruction: Research foundations. In M. A. Snow & D. M. Brinton (Eds.), The content-based classroom: Perspectives on integrating language and content (pp. 5–21). White Plains, NY: Longman.
Heilenman, L. K., & Kaplan, I. M. (1985). Proficiency in practice: The foreign language curriculum. In C. J. James (Ed.), Foreign language proficiency in the classroom and beyond (pp. 55-77). Lincolnwood, IL: National Textbook Co.
Lyster, R. (2007). Learning and teaching languages through content: A counterbalanced approach. Amsterdam Philadelphia: John Benjamins Pub.
Nassaji, H., & Fotos, S. (2011). Teaching grammar in second language classrooms: Integrating form-focused instruction in communicative context. New York, NY: Routledge.
Nation, P. (2007). The four strands. Innovation in Language Learning and Teaching, 1(1), 2–13. https://doi.org/10.2167/illt039.0
Norris, J., & Ortega, L. (2000). Effectiveness of L2 instruction: A research synthesis and quantitative meta-analysis. Language Learning, 50(3), 417–528. https://doi.org/10.1111/0023-8333.00136
Roberge, M., Siegal, M., & Harklau, L. (2009). Generation 1.5 in college composition: Teaching academic writing to U.S.-educated learners of ESL. New York: Routledge.
Schmidt, R. (1990). The role of consciousness in second language learning. Applied Linguistics, 11(2), 129-158. https://doi.org/10.1093/applin/11.2.129
Schmidt, R. (2001). Attention. In P. Robinson (Ed.), Cognition and second language instruction (pp. 3-32). Cambridge: Cambridge University Press.
Sharwood Smith, M. (1993). Input enhancement in instructed SLA. Studies in Second Language Acquisition, 15(2), 165-179. https://doi.org/10.1017/S0272263100011943
Liz Hanson
Graphic organizers, think-pair-share, defining fiction and nonfiction, and summarization strategies are all common practices in many classrooms. Liz Hanson, an educator in ISD 196, analyzes how the use of these practices has changed throughout her career from a classroom teacher to a teacher of English language learners. Liz acknowledges EL colleagues, Bridget Coleman and Alena Hyams, and co-teacher, Jennifer Faber, for the collaboration that led to the changes in practice described in this article.
Key words: literacy, ELLs, critical thinking, graphic organizers, discourse
Over the course of my nearly two-decade career, literacy practices have come and gone, evolved, or cycled back around again. I continually do what I think is best for learners, based on my current understanding, but wonder if I am sometimes just going through the motions and not using some instructional practices to their highest capacity.
There are four common practices I have used since the early stages of my profession. These practices are the use of graphic organizers—visual representations used to categorize or show the connections between different pieces of information (Zwiers, 2011); think-pair-share—the process of pausing within a lesson and allowing students to organize and communicate their thoughts about content being taught (Lyman, 1981; Zwiers, 2014); defining nonfiction to distinguish it from fiction; and summarizing. Initially, as an elementary classroom teacher of grades three through six, I utilized these practices with my students in order to assess understanding of content. More recently, as an educator of English language learners (ELLs), my perspective has changed. I now see these practices as ways to support language acquisition. In addition, I've begun to wonder:
How might I use these educational practices to their full potential to support the development of academic discourse and critical thinking for my intermediate ELLs?
Graphic Organizers: Mapping Thinking for Academic Discourse
As a classroom teacher, graphic organizers were ever present scaffolds for my students to organize ideas within multiple content areas. These tools, which often times were copied for students to fill out, provided a place to stop and jot down ideas, and for me, as the educator, to check for student understanding of content.
My third graders were able to independently compare people, events, or concepts with a Venn diagram, show a sequence with a flow chart, or show cause and effect with a T-chart. For them, it was a simple task completion. Unknowingly, I taught them that this was all graphic organizers could do: show understanding.
Several years later, my thoughts about the purpose and intent of graphic organizers shifted from a tool to show understanding to a tool to prepare for discussion and writing (Fisher & Frey, 2018). Now, with my fourth grade ELLs, I demonstrate a box and bullets (Ehrenworth, 2013) for students to organize their ideas for a paragraph with a main idea and supporting details. Instead of giving them a printed graphic organizer, I show them how to create the box and bullets in their reader's notebook, so they may transfer this organizer to other contexts. The students then take the phrases and sentences they have constructed in their box and bullets and turn them into a paragraph with a topic sentence and supporting ideas.
Additionally, my third graders use a double entry journal to show a quote from the text in the first column and what the text made them think of in the second column in order to extend their responses from the literal meaning to more of the inferential implications. I confer one-on-one with individual students to have them practice sharing their thinking with me orally. Finally, this graphic organizer grounds them in their conversation when they share with a partner at the end of our Readers Workshop.
There is much greater cognitive demand and linguistic complexity within the synthesizing of information and transforming the notes on the graphic organizer into sentences and paragraphs (Zwiers, 2011). For our intermediate ELLs, the power is not in the note-taking of single words or phrases, which is how I had previously utilized this tool; rather, it is within the higher-level thinking of writing simple, compound, and complex sentences around a topic in one or multiple paragraphs. Figure 1 shows a student preparing to write and speak about how the sun helps the earth.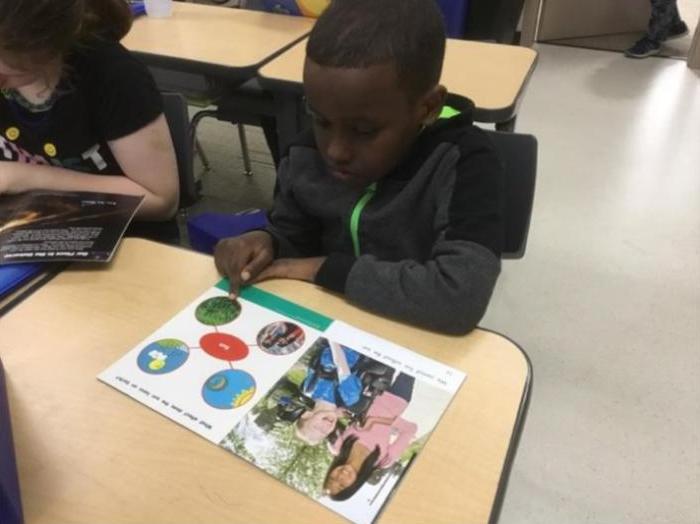 Think-Pair-Share: Tailoring Language Supports for Learners
Within a whole group lesson, it is fairly easy for the teacher to do all of the talking. Think-pair-share provides opportunities for students to participate in the lesson in a meaningful way (Zwiers, 2011, 2014).
I have always known that speaking was important for learning (City, 2014; Nichols, 2006; Zwiers, 2011) and that think-pair-share was a strategy I could incorporate to foster more talk in my classroom. For numerous years during whole group lessons, I modeled a new strategy or skill, asked my students a question, encouraged them to sit facing one another, and simply talk. During the conversations, I meandered around listening in and prompting students to elaborate. In the end, I selected one or two pairs to share out their ideas to the class.
What I was not always aware of was how unproductive these conversations could actually be. If I really looked closely, often times they involved one student monopolizing the entire conversation, students speaking in short phrases or utterances, both students sitting in silence, or a conversation that was completely off topic.
Through careful observation of students and conversations with other teachers of ELLs, I've concluded that:
I cannot assume that all students know how to carry an academic conversation, native English speakers included; and
that just stopping and asking a question does not provide enough linguistic support for students developing academic English.
As argued by Walqui and Heritage (2018), "teachers must find meaningful ways to provide students learning opportunities that engage them in productive talk and then listen carefully to the language they use in order to support their continued growth" (p. 20).
In order to investigate this further, my English Language (EL) colleagues and I participated in a lesson study where we co-planned a fifth-grade reading lesson together in February 2019 with the emphasis of listening to paraphrase or clarify meaning (Zwiers, 2011) during a think-pair-share. For this lesson, we used the text One Green Apple by Eve Bunting and Ted Lewin (2006), a text in the fifth-grade author study unit, and embedded several language scaffolds of intentionally pairing partnerships, providing sentence frames for clarifying, paraphrasing, and explaining, a demonstration of the process, and opportunities for oral rehearsal before writing.
As a team, we analyzed the fifth-grade benchmarks in order to brainstorm a question that was elaborate enough to foster a conversation (Billings & Roberts, 2014; Fisher & Frey, 2014), yet simple enough that it would not involve too much new content. We knew that teaching a new structure for talk would provide enough cognitive demand, so the question should be as accessible as possible (City, 2014). We created a visual card for the listener and the speaker so each had sentence frames to support their oral response with their partner (Zwiers, 2011). In addition, we planned the partnerships so that an ELL would have a native English speaker as a model. We structured the think-pair-share so that the native English speaker spoke first, giving the ELL an opportunity to borrow words or phrases from their peer (Bondie, Gaughran, & Zusho, 2014; Fisher & Frey, 2014; Zwiers, 2011). Finally, we carefully thought out how we would demonstrate the conversation for the students so they could see what the process would look like and sound like (Fisher & Frey 2014; Wright, 2016). After participating in the think-pair-share, we then asked students to put their thoughts and ideas into writing while we walked around and conferred.
As a result of this lesson study, we found that incorporating multiple language scaffolds supported ELLs in their ability to listen, speak, and write using the academic discourse of language arts to discuss the question: How is the main character feeling? How do you know? The classroom teacher and one of our colleagues who observed three ELLs noticed an increased amount of engagement and academic discourse produced compared to many previous lessons.
Through research and the experience of this lesson study, I've discovered that the key to think-pair-share is taking the time to intentionally think about what language you want students to be able to produce and what language supports will aide students in meeting that objective. Setting up the necessary scaffolds for all learners, especially ELLs (Billings & Roberts, 2014), will make for more targeted and productive conversations. Examples of language supports are in Figure 2.
Defining Fiction and Nonfiction: Laying the Foundation for Academic Thinking, Reading, and Writing
During my first few years as an educator, a majority of my reading instruction revolved around fiction texts, unless my students were in a social studies or science unit. My guided reading books, read alouds, and book clubs were nearly all narratives. Then, with the introduction of the Common Core standards (National Governors Association Center for Best Practices & Council of Chief State School Officers, 2010), I was much more intentional about including more nonfiction text into my whole group and small group instruction. My students could nearly always identify which books were fiction or nonfiction, but could not always defend their thinking with a reason, or their rationale was extremely limited. Additionally, my students were not always using what they knew about genre to support their understanding of the text or their construction of a piece of writing.
Beers and Probst (2015) encourage teachers to co-create a definition of nonfiction with their students. A noticing of theirs, and a practice I have also been guilty of, is the perpetuation of the misconception that fiction is fake and nonfiction is true or real. I've heard this countless times from students while administering diagnostic reading assessments. By students thinking that nonfiction text is real or true, they tend to believe everything they read, which makes it more challenging to critically analyze the text to find out whether it is valid, the author is credible, and what the purpose of the writing may be. A sample definition of nonfiction I use now is, "in nonfiction text, an author teaches the reader facts and information about a topic based on his/her research and perspective."
Beyond just identifying fiction and nonfiction, I also make sure that my ELLs can determine the subgenres of fiction and nonfiction and that they are able to justify their claim with evidence. We carefully study books of fiction from realistic fiction, fantasy, and historical fiction to nonfiction books which are expository, biographical, persuasive, procedural, or narrative nonfiction. Students read and hear several books within each genre throughout the year.
I often ask my students questions like:
"Does this text have facts and information about a topic or is it about a character who solved a problem? Are these characters and settings realistic or are these characters and settings you would not meet in our world? What topic did this author want to inform us about? What facts and information did this author most want us to know?"
These questions can help students to distinguish the genre and the purpose of writing the text. They are also especially helpful when parsing out the difference between the subgenres of realistic fiction and narrative nonfiction, which tends to be more challenging to differentiate for several students.
In my EL co-taught class, all fourth graders are expected to explain their thinking about the genre of a text and support their thinking with evidence. Students use a checklist (Calkins, 2015) and sentence frames, created by my co-teacher and me to assist their writing or speaking (see Figure 2). They then self-assess, peer assess, and receive a final grade from us. We have found that by studying the characteristics of genre in addition to stating a claim and defending that claim with more than one reason has solidified our students' understanding of an author's use of genre.
Being able to identify the genre of a text goes beyond just fiction and nonfiction. Students can analyze the text for subgenres, compare and contrast the choices of different authors writing about the same topic, read widely across genres and within genres, and critically read works of nonfiction instead of believing the printed word as being true.
How Text Structure, Text Features, and Signal Words Support Determining Importance in Expository Nonfiction
Retelling, a precursor to recounting and summarizing (Common Core, 2010), is the practice of telling events in order from the text. There are several ways this has historically been done in primary grades. One method is using the sentence frames of: In the beginning, In the middle, In the end (Reading Rockets, n.d). Another way this is introduced is telling the events from a story in order across five fingers, with each finger representing an event from the text (University of Pittsburgh School of Education, n.d). A final way is a story map (Reutzel, 1985) which may include the sentence frames of beginning, middle, and end, or a sequence of steps similar to telling across five fingers. The challenge I've found is taking students from the concept of retelling events of a story to determining importance from that text as a summary. Often times, students think they should retell when in fact they are being asked to summarize (Beers & Probst, 2015).
Summarizing, a way to state the important information from the text in a concise way (Fountas & Pinnell, 2017), is a skill that I have explicitly taught numerous times to intermediate students. One method I have taught general education students is by using a 25-word summary where students write about the character and what that character did in the chapter or episode of the text. Students carefully revise their word choice to keep the summary brief. Many students start out with 40-word summaries and would have to continue to narrow down and weed out events and ideas that were unimportant. Another method I've utilized was the Somebody wanted, but, so, finally. Unfortunately, neither of the methods necessarily helped the students decipher which parts were important and which parts were details. In addition, the strategies I used to summarize fiction didn't necessarily transfer to nonfiction. And, in some cases, we floundered when trying to summarize a fiction text that didn't have a traditional story structure.
Therefore, in addition to identifying and providing evidence to support their claim of the genre, my students and I also spend a lot of time looking at how the author organizes the text, or the text structure, in order to determine importance and summarize (Ouellette-Schramm, 2015). While fiction texts have mainly one text structure, nonfiction texts can be organized in many different ways. The nonfiction text structures we would expect to see in nonfiction are categorical, description, sequential, comparison, cause and effect, problem and solution, and question and answer (Fountas & Pinnell, 2017). The skill of summarizing nonfiction texts is beneficial for students in order to be college and career ready and is one that requires a lot of synthesis (Schwartz, Mendoza, & Meyer, 2017).
In my fourth-grade guided reading group, my English language learners think about the text features by looking at clues like the title or heading, bold words, and visuals on the page before they read so they can anticipate the knowledge the author might share or some of the concepts or ideas that may be introduced. When students do this, it seems to frame their thinking and they are actively able to modify or adjust their understanding of the text based on new clues as they read. They have also found it much easier to determine the important parts after reading (Kim & Clariana, 2017). In addition, we analyze the text structure, which supports the student in organizing their summary like a comparison, description, or problem solution. Figure 4 contains a writing sample demonstrating a student anticipating what they will read based on text structure, organization, and features before reading, along with their summary after reading.
Signal words were integral in a flash fiction unit I launched this spring with third graders. These students wrote a 100-word fantasy story within their astronomy unit based on a narrative text structure with a problem and solution. Students were asked to use signal words like but, however, unfortunately to show the problem in the text. With the emphasis on writing with text structure, and the utilization of signal words, the act of writing made explicit how writers use text structure and signal words so that it is clearer to them how important these structures are to notice as a reader.
Refining Our Practice
My previous ways of using graphic organizers, think-pair-share, defining fiction and nonfiction, and summarization strategies may have unintentionally had students speaking and writing in general words or phrases instead of the complex academic discourse we expect from our intermediate ELLs. It also potentially stifled critical thinking skills to analyze and determine importance in nonfiction text.
Readers use what they know about how texts work in order to predict, infer, summarize, and synthesize important information. Writers use what they know about texts while writing text in a specific genre. By taking this time to use graphic organizers in preparation for speaking and writing, utilizing think-pair-share with language supports to allow for more productive conversations, defining fiction and nonfiction to support more critical thinking, and explicitly teaching about how readers and writers use text structure, text features, and signal words, it lays a solid foundation for knowledge of genre, research, and critical analysis of all texts. The refinement of these practices has been paramount in my career as an educator of ELLs. I have witnessed countless students take on some of these strategies and make them their own. I am continually impressed by how the use of these practices has lifted the level of academic speaking and writing discourse for my ELLs.
References:
Beers, K., & Probst, R. (2015). Reading nonfiction: Notice and note stances, signposts, and strategies. Portsmouth, NH: Heinemann.
Billings, L., & Roberts, T. (2014). From mindless to meaningful: Whole class discussions can be valuable rituals that students look forward to. Educational Leadership, 72(3). Retrievable from http://www.ascd.org/publications/educational-leadership/nov14/vol72/num03/From-Mindless-to-Meaningful.aspx
Bondie, R., Gaughran, L., & Zusho, A. (2014). Fostering English learners' confidence. Educational Leadership, 72(3). Retrievable from http://www.ascd.org/publications/educational-leadership/nov14/vol72/num03/Fostering-English-Learners'-Confidence.aspx
Bunting, E., & Lewin, T. (2006). One green apple. New York: Clarion Books.
Calkins, L. (2015). Reading pathways, performance assessments and learning progressions: Grades 3-5. Portsmouth, NH: Heinemann.
City, E. A. (2014). Talking to learn. Educational Leadership, 72(3). Retrievable from http://www.ascd.org/publications/educational-leadership/nov14/vol72/num03/Talking-to-Learn.asp
Ehrenworth, M. (2013). Evidence-based argument: Raising the level of logic, critical thinking, and argument writing in classrooms across a school. Teachers College Reading and Writing Project. Columbia University, New York, NY.
Fisher, D., & Frey, N. (2014). Speaking volumes! Educational Leadership, 72(3). Retrievable from http://www.ascd.org/publications/educational-leadership/nov14/vol72/num03/Speaking-Volumes.aspx
Fisher, D., & Frey, N. (2018). The uses and misuses of graphic organizers in content area learning. The Reading Teacher, 71(6), 763-766. https://doi.org/10.1002/trtr.1693
Fountas, I. C., & Pinnell, G. S. (2017). Guided reading: Responsive teaching across the grades. Portsmouth, NH: Heinemann.
Kim, K., & Clariana, R. B. (2017). Text signals influence second language expository text comprehension: Knowledge structure analysis. Educational Technology Research and Development, 65(4), 909-930. http://dx.doi.org/10.1007/s11423-016-9494-x
Lyman, F. (1981). The responsive classroom discussion. In A. S. Anderson (Ed.), Mainstreaming Digest (pp. 109-113). College Park, MD: University of Maryland College of Education.
National Governors Association Center for Best Practices, & Council of Chief State School Officers. (2010). Common core state standards. National Governors Association Center for Best Practices, Council of Chief State School: Washington D.C.
Nichols, M. (2006). Comprehension through conversation: The power of purposeful talk in the reading workshop. Portsmouth, NH: Heinemann.
Ouellette-Schramm, J. (2015). More than a "basic skill": Breaking down the complexities of summarizing for ABE/ESL learners. Journal of Research and Practice for Adult Literacy, Secondary, and Basic Education, 4(2), 52-57.
Reutzel, R. (1985). Story maps improve comprehension. Reading Teacher, 38(4), 400-404.
Reading Rockets. (n.d.) Story Sequence. Retrieved from http://www.readingrockets.org/strategies/story_sequence
Schwartz, A. I., Mendoza, L., & Meyer, B. (2017). The impact of text structure reading strategy instructions in a second language: benefits across languages. Language Learning Journal, 45(3), 263-281. doi:10.1080/09571736.2013.837092
University of Pittsburgh School of Education. (n.d.) Five finger retelling. Retrieved from https://www.education.pitt.edu/EducationalResources/Teachers/LEADERS/TeachingStrategies/FiveFingerRetelling.aspx
Walqui, A., & Heritage, M. (2018). Meaningful classroom talk: Supporting English learners' oral language development. American Educator, 42(3). Retrievable from https://www.aft.org/ae
Wright, W. E. (2016). Let them talk! Educational Leadership, 73(5). Retrievable from http://www.ascd.org/publications/educational-leadership/feb16/vol73/num05/Let-Them-Talk!.aspx
Zwiers, J. (2011). Academic conversations: Classroom talk that fosters critical thinking and content understandings. Portsmouth, NH: Stenhouse Publishers.
Zwiers, J. (2014). Building academic language: Essential practices for content classrooms. Newark, DE: Jossey-Bass.
You likely noticed that this Fall 2018 Issue of the MinneTESOL Journal has been posted in a newly redesigned website. We have worked over the past few months to update the journal's look and navigation. We have also made changes to the infrastructure of the website making it easier to bring new issues to you. The work deepened our appreciation for the efforts of past Senior Editors Kimberly Johnson and Anne Dahlman, whose vision for the MinneTESOL Journal as a high quality and dynamic online practitioner journal set a high bar for our work. We hope that you will feel at home in this new space as you did in past years.
The issue includes two articles that focus on reading materials for language learners in K12 contexts. Aaron Mermelstein reviews literature describing representation of gender in children's literature. Mermelstein emphasizes the point that representation can have a deep impact on the identity of language learners in the classroom. Meur describes a study on the use of retells and memory recalls to explore English learners' comprehension when working in graphic novels.
In support of practitioners working with adult English language learners who may have had exposure to traumatic events, we include an article by Rachel Johnson. Johnson shares research reporting on evidence-based strategies that target attention and memory networks, interventions that can have a significant impact on brain mechanisms for language learning and therefore can help mitigate the effects of trauma on learning.
We also include an article by Heather Camp that makes the case for incorporating off-campus learning experiences into international students' second language instruction at the college level. Camp describes the impact of acculturation and authentic language use on language proficiency development and shares an example from her own work in classrooms.
Finally, we include two articles that describe institutions central to development and ongoing support of ESL teachers in the state of Minnesota. Patsy Egan and Betsy Parrish present the work of the ATLAS at Hamline University, describing how preparing ESL teachers is central to their work providing Adult Basic Education professional development. Elaine Tarone's article traces the development of programming and historical context for current ESL teaching and learning programs at the University of Minnesota. In this important piece, Tarone ensures that the history of TESOL in our state will not be forgotten.
One final note; this issue also marks a transition in our technical editing. Darren LaScotte worked together with Jen Vanek on posting this issue and the transition of the journal to the new website. He will take on the role of Technical Editor going forward. Jen Vanek will remain engaged with the journal as Senior Editor (one role is enough!). We are grateful to have Darren onboard and look forward to working with him on issues to come.
This paper discusses how gender roles are portrayed in children's literature, the potential impact of these portraits, and how teachers can better use children's books as a resource in the classroom.
Children are shaped into who they are as adults starting when they are very young. Children adopt certain roles and behaviors as part of their socialization process (Tsao, 2008). They begin to create their own identities and one element that influences this identity is the literature that children read or what is read to them (Allen, Allen, & Sigler, 1993). Children's literature has been generally defined as anything that children read (Nodelman, 2008), but this is too narrow. In today's world, it also needs to include works intended for children, young people, and second language learners. Children's literature is said to provide characters and events that learners can identify with and through which they can evaluate their own actions, beliefs, and emotions (Mendoza & Reese, 2001), and is now being commonly used in ESL/EFL classrooms (Lazar, 1993). Culturally and linguistically diverse learners can be introduced to cultural knowledge and universal themes that are present in the English speaking societies (Department of Education, Newfoundland and Labrador, 2009) because it can give a voice to underrepresented groups and stimulate cross-cultural appreciation (Smallwood, 1998). Thus, children's literature can have an enormous impact on children and language learners throughout the world, especially in the areas of culture and gender roles.
Gender roles are an important part of culture (Gazda, 2015; Singh, 1998). However, they often differ from culture to culture and it is important for children and students to understand that these differences exist and not to merely believe stereotypes. Trepanier-Street and Romatowski (1999) found that it was possible to influence children's gender attitudes through children's literature and related activities. Tsao (2008) notes that picture books also have an influence on gender identities. Books that convey gender bias, or sexism, depictions may have damaging effects on both boys and girls. For example, stereotypical representations of occupations along gender lines may encourage girls to select more traditional female areas of employment. This may lead young women into situations in which they are subordinate. It is hoped that the discussion of such a controversial issue can stimulate teachers to rethink what and how they should teach in the 21st century classroom (Kuo, 2005).
How Gender is Portrayed in Children's Literature
Gender bias is present in the content, language, and illustrations of many children's books (Brower, 2016; Heinsz, 2013; Kittelberger, 2002; Trepanier-Street & Romatowski, 1999). Gender-roles portrayed in children's picture books influence their audiences, but the magnitude and generalization of this influence and its impact on behavior are not completely understood (Tsao, 2008). Gender bias may be seen in the extent to which a gender is represented as the main character in children's books and how that gender is depicted (Singh, 1998; Brower, 2016). Weitzman, Eifler, Hokada, and Ross (1972) were among the first researchers to note a greater emphasis on male characters in children's literature, although more current studies (i.e. Turner-Bowker, 1996) have discovered similar findings. Ernst (1995) researched the titles of books written for children to determine whether or not boys or girls names were more frequently included in the titles. His findings were that boy's names appeared about twice as often as girl's names. He also found that books that had a gender neutral name, or a girl's name, were actually books about boys.
Singh (1998) noted that not only are girls portrayed less often than boys in children's books, but that both genders are frequently presented in stereotypical terms. According to Ernst (1995), girls are usually portrayed as sweet, naive, conforming, and dependent. In contrast, male characters are usually aggressive, physically strong, possess a sense of adventure, and are able to function in complete independence. Similarly, Temple (1993) found that boys tend to have roles as fighters, adventurers, and rescuers, while girls tended to have more passive roles as caretakers, mothers, princesses that need rescuing, and characters that support the male figure. Rudman (1995) discusses how female characters in children's novels may start out as active, aggressive, or headstrong, but soon relinquish their independence, or are tamed, by a male character or situation that occurs in their lives. In general, male characters do not do this. Rudman (1995) and Kramer (2001) also found that the female characters were the "nurturers" and often depicted as mothers, nurses, and kitchen helpers. Turner-Bowker (1996) found that the most commonly used female descriptors in children's books were beautiful, frightened, and worthless. By comparison, she also found the most commonly used male descriptors were big, horrible, and fierce. Further, she found that females were significantly less frequently found in pictures. Kortenhaus and Demarest (1993) found that males are typically portrayed as competent and achievement-oriented, but females are limited in what they can do, and are less competent in their ability to accomplish things.
More recent studies (e.g. Gazda, 2015; Heinsz, 2013; Lowther, 2014; Ly Kok & Findlay, 2006) report similar results, indicating that perhaps very little has been changed over the years or that change is taking place rather slowly. Tsao (2008) also adds that male dominance can be found in books in which the characters are animals, and that even the types of animals used to represent characters also vary according to gender: mice are most often used to represent female characters and bears are most often used to represent male characters.
Unfortunately, it does seem like very little is changing or changing very slowly. In a recent study conducted by McGrabe, Fairchild, Grauerholz, Pescosolido, and Tope (2011), they came to the following conclusion:
One thing that surprised us is that females' representations did not consistently improve from 1900 to 2000; in the mid part of the century it was actually more unequal. Books became more male-dominated. (p. 197)
Their study was based upon almost 6,000 books published from 1900 to 2000, and came to the following conclusions:
Males are central characters in 57 percent of children's books published, while only 31 percent have female central characters.

No more than 33 percent of children's books published in any given year contain central characters that are adult women or female animals, but adult men and male animals appear in up to 100 percent of books.

Male animals are central characters in more than 23 percent of books per year, while female animals are in only 7.5 percent.

On average, 36.5 percent of books in each year studied include a male in the title, compared to 17.5 percent that include a female.

Although books published in the 1990s came close to parity for human characters (with a ratio of 0.9:1 for child characters; 1.2:1 for adult characters), a significant disparity of nearly 2 to 1 remains for male animal characters versus female.
Suggestions for the ESL/EFL classroom
Teachers can make a difference in how children's literature is used as a resource in the classroom. Rudman (1995) believes it is important for teachers to first recognize and articulate their own attitudes towards gender. Teachers can more extensively evaluate the goals they have for their students and the goals of their program or school. While some may argue that teachers must create lesson plans that directly combat gender bias, it may be more prudent to discuss specific gender issues as they arise or more indirectly incorporate them into lesson plans. The important condition that should be established in the classroom is the awareness of gender issues by both the teacher and the students. Perhaps the best method of incorporating children's literature and gender issues into ESL/EFL classrooms is through critical thinking activities. By integrating critical thinking into daily classroom activities, teachers can assist students in understanding how texts are constructed (Bainbridge, Heydon, & Malicky, 2009; Gazda, 2015). Teachers can also use scaffolding activities, like graphic organizers, to guide and assist students through these activities.
Children's books can be used as catalysts for discussions (Gazda, 2015; McGowan, McGowan & Wheeler, 1994; Lowther, 2014), writing activities, and individual or group projects. It is important for teachers to support children's group discussions by posing thought-provoking questions and facilitating student exchanges (Singh, 1998). During discussions with children, teachers can validate both feminine and masculine voices, and listen to dissenting individual opinions (Trites, 1997). Lenski (2008), states that it is important to understand that texts offer a unique view of the world. Culturally and linguistically diverse learners could be asked to compare and contrast their part of the world with the world in the book or the place in the world where the story was created. Students could also be asked to compare the physical and psychological characteristics of the male and female characters, which are often stereotyped. There are almost endless possibilities for teachers who have a greater understanding of higher level thinking and critical thinking skills.
Conclusion
Children's literature is a widely available cultural and learning resource. It has the power to influence a child's identity by making inferences about gender, and gender is perhaps the most basic perspective through which children see and experience the world and their places in it (Taylor, 2003). Books intended for children, and used by ESL/EFL teachers, reflect societal attitudes and maintain discrimination in societies (Rudman, 1995). Unfortunately, as Short (2001) points out, teaching may resemble a political agenda. Kuo (2005) also states that there are no politically innocent books for students and that a classroom is always laden with different values and perspectives introduced by teachers, students, and the texts. Therefore, teachers can take actions to ensure that the learning environment is less gender bias.
Teachers can select books in which the characters have distinct personalities regardless of their genders. Teachers can try to make a conscious effort to select books for students that reflect fairness and inspire both genders. There are also books that offer realistic and engaging stories that address issues of gender and abilities. Over the past decades, increased female representation in titles, central roles, and pictures appears to indicate that more and more authors of children's books are aware of and sensitive to women's changing roles (Tsao, 2008). And, although there is now research suggesting very little changes are taking place (McGrabe, et al., 2011), it's important for children to be exposed to books that can break stereotypes. However, perhaps the most important thing teachers can do is teach children critical thinking skills. Through the development of critical thinking skills, children can develop their own independent thoughts, a greater understanding of societal issues, and become more engaged and responsible citizens in the future.
References
Allen, A., Allen, D., & Sigler, G. (1993). Changes in sex role stereotyping in Caldecott Medal Award picture books 1938-1988. Journal of Research in Childhood Education, 7, 67-73.
Bainbridge, J., Heydon, R., & Malicky, G. (2009). Constructing meaning: balancing elementary language arts (4th ed.). Toronto: Nelson Thomson Learning.
Brower, A. (2016). Gender Roles and Gender Stereotypes in Four Newbery Award Winning Books. Unpublished master's thesis, The University of Southern Mississippi, Hattisburg, MS.
Department of Education, Newfoundland and Labrador (2009). Using children's literature with ESL students. Retrieved on June 1st, 2018 from https://www.ed.gov.nl.ca/edu/k12/curriculum/guides/esl/literature_esl.pdf
Ernst, S.B. (1995). Gender issues in books for children and young adults. In S. Lehr (Ed.), Battling dragons: Issues and controversy in children's literature (pp. 66-78). Portsmouth, NH: Heinemann.
Gazda, A. (2015). Once Upon A Time: Exposing Sexism in Children's Literature. Unpublished master's thesis, The College at Brockport: State University of New York, Brockport, NY.
Heinsz, J. (2013). Contemporary gender roles in children's literature. Norman Rockwell Museum. Retrieved on June 1st, 2018 from https://www.nrm.org/2013/04/contemporary-gender-roles-in-childrens-literature-by-joshua-heinsz
Kittelberger, L. M. (2002). Gender bias: changes in portrayal of women in children's literature from 1955-1960 to 1995-2000. Unpublished master's thesis, Pennsylvania State University, University Park, PA.
Kortenhaus, C.M., & Demarest, J. (1993). Gender role stereotyping in children's literature: An update. Sex Roles, 28(3), 219-232.
Kramer, M.A. (2001). Sex-role stereotyping in children's literature. Unpublished master's thesis, Pennsylvania State University, University Park, PA.
Kuo, J. (2005). Teaching ESL/EFL students to recognize gender bias in children's literature. The Internet TESL Journal, Vol. XI, No. 11. Retrieved July 11, 2011, from http://iteslj.org/Articles/Kuo-GenderBias.html
Lazar, G. (1993). Literature and Language Teaching: A guide for teachers and trainers. New York, NY: Cambridge University Press.
Lenski, S. (2008). Teaching from a critical Literacy perspective and encouraging social action. In S. Lenski & J. Lewis (Eds.), Reading success for struggling adolescent learners. New York: The Guilford Press.
Lowther, T. (2014). Children's books still promote gender stereotypes. The New Republic. Retrieved on June 1st, 2018 from https://newrepublic.com/article/116943/childrens-books-still-promote-gender-stereotypes
Ly Kok, J., & Findlay, B. (2006). An exploration of sex-role stereotyping in Australian award winning children's picture books. The Australian Library Journal, 5(3), 248–261.
Mendoza, J., & Reese, D. (2001). Examining multicultural picture books for the early childhood classroom: Possibilities and pitfalls. Early Childhood Research & Practice, 3(2), 1-38.
McCabe, J., Fairchild, E., Grauerholz, L., Pescosolido, B., & Tope, D. (2011). Gender in twentieth-century children's books: Patterns of disparity in titles and central characters. Gender & Society, 25 (2), 197.
McGowan, M., McGowan, T., & Wheeler, P. (1994). Appreciating diversity through children's literature: Teaching activities for the primary grades. Englewood, CO: Teachers Ideas.
Nodelman, P. (2008).The hidden adult: Defining children's literature. The John Hopkins University Press. Baltimore: MD.
Rudman, M. (1995). Children's literature: An issues approach (3rd edition). New York: Longman.
Short, K.G. (2001). Why Do Educators Need a Political Agenda on Gender. In S. Lehr (Ed.), Beauty, Brains, and Brawn: The Construction of Gender in Children's Literature. Portsmouth, NH: Heinemann.
Singh, M. (1998, November). Gender issues in children's literature. ERIC, Identifier: ED424591. Retrieved July 11, 2011, from http://www.indiana.edu/~reading/ieo/digests/d135.html
Smallwood, B.A. (1998). Using multicultural children's literature in adult ESL classes. National Clearinghouse for ESL Literacy Education Washington DC. ERIC Digest.
Taylor, F. (2003). Content analysis and gender stereotypes in children's books. Teaching Sociology, 31(3), 300-311.
Temple, C. (1993). What if 'Beauty' had been ugly? Reading against the grain of gender bias in children's books. Language Arts, 70 (2), 89-93.
Trepanier-Street, M.L., & Romatowski, J.A. (1999). The influence of children's literature on gender role perceptions: A reexamination. Early Childhood Education Journal, 26(3), 155-159.
Trites, R.S. (1997). Waking sleeping beauty: Feminist voices in children's novels. Iowa City: University of Iowa.
Tsao, Y. (2008). Gender issues in young children's literature. Reading Improvement. Fall Issue.
Turner-Bowker, D.M. (1996). Gender stereotyped descriptors in children's picture books: Does "Curious Jane" exist in the literature? Sex Roles, 35(7-8), 461-487.
Weitzman, L.J., Eifler, D., Hokada, E. & Ross, C. (1972). Sex-role socialization in picture books for preschool children. American Journal of Sociology, 77, 1125–1149.
In order to find potential tools, scaffolds, and differentiation to be employed by English Language (EL) and content teachers alike, a small qualitative study was conducted that found that English learners (ELs) displayed better reading comprehension and increased memory retention of the chapter events when reading the graphic novel versions of a text in comparison to the traditional book format.
Key words: language learners, ELL, graphic novels, comics, reading, reading comprehension, memory recall
Using Graphic Novels to Increase Comprehension and Recall
As an English Language teacher, I work with English learners (ELs) not only by helping them with listening, speaking, reading, and writing, but also by providing tools and scaffolds to help them successfully navigate the English language in their mainstream classes. Sadly, ELs can face more challenges in the classroom than their native speaking peers, including, but not limited to, skill transfer from the learner's first language L1 to the target language (L2); the unique nature of student's L1 (e.g. is there a different alphabet? Is the language a spoken language only?); interrupted schooling; and the possibility that school is the only place these learners are hearing and using their L2 (Ford, 2005). My personal belief in the power of visuals in the form of comic books and graphic novels led me to study graphic novels as a potential tool for EL reading success in elementary education.
The purpose of my study was to explore how the use of graphic novels in an EL classroom could increase reading comprehension and memory recall. I sought to find answers to the following questions:
How can graphic novels affect the proficiency of reading comprehension, as shown by increased performance on the task of retelling, for middle school ELs in comparison with a text only novel?

In what ways can the memory recall of a chapter's events be affected by the use of a graphic novel adaptation in contrast with the traditional text format?
The purpose of this article is to provide a brief summary of the major findings that emerged from my research. The article will begin by discussing the usefulness of visual aids for reading comprehension and memory recall. Next, it will introduce graphic novels, and their potential for serving as visual aids in the classroom. Finally, my study and findings, followed by their implications, will be discussed.
Terms
There is a lot of confusion regarding the true difference between the terms comic and graphic novel. Will Eisner originally defined comics as simply "sequential art" (1985). Scott McCloud later defined them as a "collection of pictures and words arranged side-by-side in a sequential story format" (McCloud, 1993). The term graphic novel maintains this sequential art aspect, but differs in that instead of being serialized, they are often published as original trade paperbacks that tell a single story from beginning to end, more similar to a traditional novel (Arnold, 2003). A casual search will show there are graphic novels for just about every subject or literary genre with equally thought-provoking themes as those present in traditional novels, but with the added scaffold of visuals. It is this visual scaffold aspect that allows both graphic novels and comics the potential to provide support for struggling readers while still working through the same difficult themes and complicated stories that exist in the text-only format. It is when we look through the lens of the visual scaffold that is provided by both comic books and graphic novels in education that the difference between them becomes negligible. To avoid confusion in this article, the term "graphic novel" will be used as a catchall to describe both comic books and graphic novels, as it is their shared visual scaffolding aspect I am focusing on, and not whether they are serialized (comics) or whole works (graphic novels). The graphic novel used in this study was published as a whole work in sequential story format.
Visual Aids and Reading Comprehension
Visuals have long been hailed as useful aids in assisting students in their reading comprehension (e.g., Levie & Lentz, 1982; Levin, Anglin, & Carney, 1987). Luckily for EL educators, visuals are ever-present within the context of graphic novels, which may aid reading comprehension. Any student confusion that could arise regarding the comprehension of the plot, characters, or setting may have a more concrete representation in the accompanying visual than appears in the graphic novel format of the story. A graphic novel's ability to display the relationship between words and visual images simultaneously allows readers an easier path to imagine what they just read, a fundamental key to facilitating comprehension (Eisner, 1998). In fact, this path seems to naturally assist students with the use of a key reading strategy, visualization, or forming mental pictures in students' minds, which helps students to "…find they are living the story as they read" and therefore increase their enjoyment and understanding (Roe & Smith, 2005, p. 333).
Additional research suggests that pictures presented alongside text facilitates comprehension by reducing the cognitive load of dense text or more sophisticated concepts (Burke, 2012; Mayer 1994, 2014; Metros & Woolsey 2006; Schnotz, 2002). A recent study of native English-speaking university students, for example, found that incorporating visuals into a lesson on how blood circulates through the heart resulted in a better understanding than text alone (Butcher, 2006). In addition, the usefulness of visuals has been found effective for adult ESL learners (Liu, 2004). The results of Liu's study showed that low-level adult EL students given a high-level text with added visuals scored significantly higher on a series of comprehension recall protocols immediately administered than those given the high-level text only.
Paivio's (1991) dual coding theory, which discusses the process our brain undergoes during reading, sheds light on how graphic novels may facilitate reading comprehension. Paivio argues that all learners learn to read or write using two separate language systems of cognition. The first is the verbal system, which is the information garnered from words, sequence, speech, and writing. The second system is the imagery system, consisting of non-verbal information, such as images and visualizations. Paivio (1991) explains that students are making connections between these two different systems simultaneously while they read, and it is these connections between the two different systems that allow for better understanding and recall. Essentially, information is stored both verbally and non-verbally, as words and images, and in this format one can recall information to a greater degree. Graphic novels, it seems, have a unique format that includes both of the language systems of cognition in one reading experience; they are student reading materials with visual scaffolds already designed into them.
Visual Aids and Reading Recall
Paivio (1991) further argues that the visual portion of the system of the dual coding is even more important when it comes to memory recall. An early study that seems to support the connection between visuals and memory recall was conducted by Omaggio (1979), which measured comprehension among Native English speakers reading several different texts with and without visuals in both the L1 of English and the L2 of French. He found that while the visuals had no effect on reading comprehension in the English L1, they did have a positive effect on reading comprehension and recall in the French L2 reading (Omaggio, 1979).
In another study, two different groups of participants were given readings, with one group using a text only excerpt, and a second group using a text with added visuals (Waddill & McDaniel, 1992). Upon completion of the reading of the excerpts, participants were simply asked to write a much as they could recall on the subject. It was found that those from the group with the added visual support were able to recall a greater amount of information than those without (Waddill & McDaniel, 1992).
It is worth noting that visuals are not a panacea for comprehension; a study conducted by Daniel Bruski (2011) found that a group of beginning-level adult language learners, some first language non-literate and some first language literate, produced non-universal understandings and inaccurate descriptions of what was occurring in the visual when presented with images of speech bubbles, arrows, and symbolic signs. Context and cultural background were shown to play a major role in differing interpretations of images, noting that misinterpretations of meaning that may occur with visuals in the same manner it may with text.
Graphic Novels: A Visual Scaffold
Visuals can sometimes better illustrate a concept. This is the reason that manuals contain images alongside written instruction, and why companies use logos to brand themselves: visuals are not affected as easily by language barriers (McCloud, 1993). Visuals are more concrete. So, when applying this to a classroom, the simplified visual nature of comic books may provide a scaffold by allowing the reader to focus their attention on important text aspects as well as eliminate potentially confusing aspects.
The Study
This qualitative classroom study used retells and memory recall assessments to determine how graphic novels versus traditional novels might support comprehension and memory of texts.
Setting and participants
The school setting of this qualitative action research study was a grade five through eight environmental, science, technology, engineering and math (E-STEM) public middle school. The fifth grade class in which this research was conducted consisted of seven students, five boys and two girls, all of whom participated in the study. All participants had been in the United States for a minimum of two years, were labeled as Limited English Proficient (LEP), and had received regular prior formal schooling. Their language levels ranged from 2.8-3.9 according to the World Class Instructional Design and Assessment (WIDA) scale used for assessing English Language levels in Minnesotan K-12 schools, indicating they were low-intermediate students, and received sheltered English instruction from an English as a Second Language (ESL) instructor, also the author of this study. The sheltered classes provide language support while simultaneously meeting mainstream content standards.
Data collection
Instruments
I used student-produced written retells to show comprehension of the text, and multiple choice questions to measure recall.
The process of retelling requires students to consider the information they read, and summarize what they understand; it also includes higher order thinking skills including the processing of schema, the ability to process and filter textual information, the ability to sequence events, the ability to determine the relative importance of events, the ability to later recall this important information, the ability to organize this information in an understandable and meaningful way, and the ability to draw conclusions about the relationships that may exist within ideas in the text itself (Fisher & Frey, 2011; Klingner, 2004; Shaw, 2005). With the variety of required skills needed to produce a retell, it has been argued that retells are a powerful way to measure reading comprehension or to check for understanding (Shaw, 2005).
Retell preparation
To begin the process, I modeled how to complete the graphic organizers to help the students capture the essential information needed for a retell.
After modeling, the graphic organizers were practiced with a traditional novel. A chapter of the young adult, science-fiction novel City of Ember was read aloud to the whole group at the end of each class period for the first eight chapters. This text was chosen not only because the lexile levels for both the traditional and graphic novel fell within the reading level range of the participants, but also because the graphic novel uses a great deal of the same text and quotations from the traditional novel. Using these beginning chapters as practice for the graphic organizers and the written retells, gradual release was used through first modeling the act of completing the organizer, and then slowly shifting this responsibility onto the participants (Pearson & Gallagher, 1983).
After this practice with the traditional novel, the graphic organizers were practiced with a graphic novel of the same City of Ember text. This was also done at the end of each period for three consecutive days. The same graphic organizers were used to help participants complete written retells for each of these graphic novel chapters daily. This gradual release assured participants could complete the organizers and retells independently for the study.
Data collection
Upon reaching Chapter 11, participant retells began to be used for data collection in the study. Participants began the process of using the end of the class period to independently read, fill out their graphic organizers, and compose their written retells from these organizers. They created a new retell for each chapter read on each consecutive day. The use of the traditional novel and the graphic novel alternated for the purpose of comparison. Only the data collected from the independently-produced student written retells for Chapters 11-18 were formally scored, and their results were used as data in this study.
In addition to completing written retells of chapter events, participants were given a short three to four multiple-choice question quiz after a 24-hour period to gauge recall from the previous day's chapter. The assessment contained information specific to the last chapter read, and each assessment was similar in format, regardless of the text medium (traditional or graphic novel) that it was used to assess.
Retells were collected during the final 15 minutes of each class period for approximately six school weeks.
Data analysis
The retell data was analyzed using participants' final written retells. These retells were assessed using a six-category instructor-created retell-scoring rubric (Table 1) focused solely on student delivery of information related to their comprehension of the story holistically. The rubric emphasized construction of meaning rather than anything sentential or sub-sentential such as construction of clauses, spelling, or punctuation, thereby eliminating possible loss of points due to language transfer errors. The rubric categories were used to assess retell of the chapter's key events, sequence of events, problem, resolution, characters and setting. Scores ranged from zero to three for each category, resulting in 18 points total. Scores resulting from a traditional chapter and from a graphic novel chapter were compared.
Table 1. Recall Rubric
| | | | | | |
| --- | --- | --- | --- | --- | --- |
| Idea Unit | Verbal Prompts Used |  0 | 1 | 2 | 3 |
| Key idea of chapter's event | What important events took place during this chapter? | Wholly inaccurate or not included | Does not recall many key ideas or inaccurately expresses events | Accurately expresses some key, although incomplete, events. | Accurately expresses all key events in the chapter to completeness. |
| Sequence of events | How does this chapter begin? What was the order of the events? | Wholly inaccurate or not included | States some events in order, but with some inaccuracies. | States many events in order, but with some inaccuracies | Accurately states events in correct order. |
| Problem | What was one important problem in this chapter? | Wholly inaccurate or not included | Includes chapter non-specific, vague, or unrelated problem. | Chapter's problem description is accurate but vague or with some inaccuracies. | Accurately states chapter's problem. |
| Resolution | How does the chapter end? Is a problem solved? | Wholly inaccurate or not included | States chapter non-specific or unrelated resolution. | Chapter's resolution description is accurate but vague or with some inaccuracies. | Accurately states chapter's resolution. |
| Characters | Who were the important or main characters in this chapter? | Wholly inaccurate or not included | States chapter non-specific or unrelated character descriptions or includes unimportant characters. | Chapter's character description is accurate but vague or with some inaccuracies. | Accurately states chapter's main characters. |
| Setting | Where and when does this chapter take place? | Wholly inaccurate or not included | States chapter non-specific or unrelated chapter setting. | Chapter's setting is accurate but vague or with some inaccuracies. | Accurately states chapter's setting. |
The data from the multiple choice memory recall assessments was assessed using the standard percentage basis. For example, three of four correct was assessed at 75%. The scores were totaled and given a percentage point for ease of scoring, as well as averaged to create a student personal average on the four traditional novel chapters as well as student personal average on the graphic novel chapters.
Findings
The results of this study found that when students read the graphic novel chapter, they displayed increased scores in both reading comprehension and in memory recall assessments.
Reading comprehension
When the total rubric score of the four written retells for the traditional novel were averaged, and compared to the average of the total scores of the four written retells for the graphic novel, all seven student participants' averages increased with the use of the graphic novel version in place of the traditional novel. The averaged increase in score when using the graphic novel was an increase of 2.64 points of the rubric's 18 total points. The maximum increase in average score was 4.25 and minimum increase in average score was an increase of .5. Figure 1 displays shows this comparison.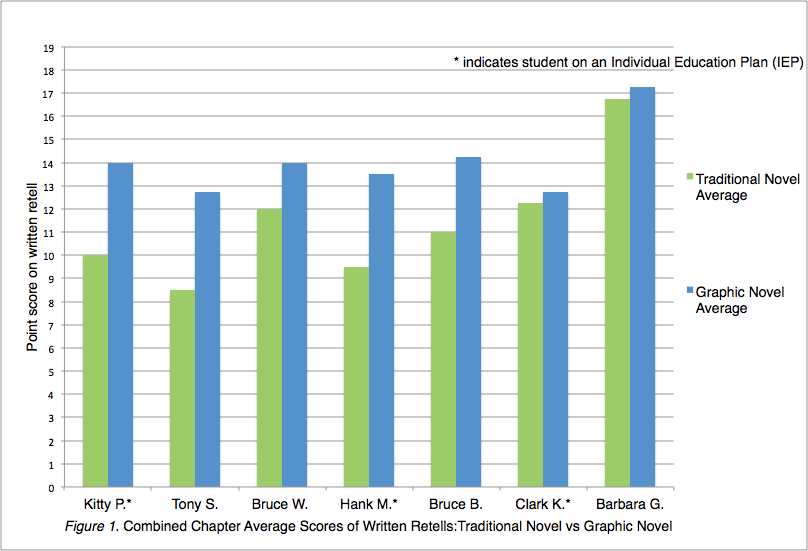 Memory recall
The average percentage score on memory recall assessments increased when students had read graphic novel chapters with seven of the seven participants, with an average higher score of 16.8% on the chapters read in the graphic novel format. Figure 2 shows this comparison.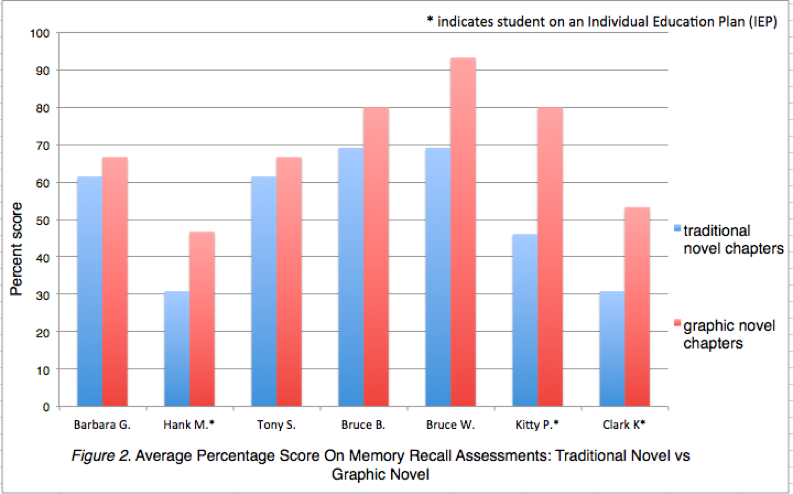 The largest percentage score increase for a student participant was a 33.9% increase from 46.1% on the traditional novel memory recall assessment, to 80% on the graphic novel memory recall assessment.
Discussion
Research on visuals (Butcher, 2006; Omaggio, 1979; Waddill & McDaniel, 1992) as well as this study suggest the importance of visuals for language learners as they progress towards the language levels of their native speaking peers. ELs in this study likewise seemed to be able to better reproduce the main plot elements of a story while retaining comprehension after reading graphic novels. Furthermore, this study suggests ELs will even remember the previous day's reading better when using the graphic novel format, allowing them to better maintain their understanding as they progress throughout the story. These results seem to produce similar findings to those attained by Lui, Butcher, Waddill and McDaniel, and Omaggio: participants consistently show increased comprehension and can recall texts more accurately when they are provided scaffolding in the form of visuals.
While these findings apply only to the limited number of participants in this study, their promise warrants additional research of the topic on a larger scale and with ELs of other age groups and language levels. Additionally, one could explore the possible benefits of graphic novels with other student populations who benefit from reading scaffolding, including those with Individual Education Plans (IEPs) and learning disabilities.
Activities with Visual Literacy
All classroom teachers could begin integrating the use of comic books and graphic novels into the classroom by identifying the goal for the lesson, and determining if graphic novels could be used as alternate or companion readers. If the goal is to have students identify character development, for example, or to identify the conflict and other plot elements of a story, it may be of no consequence whether students do so by reading the traditional versus the graphic version of the novel.
Another implementation for graphic novels is simply to use them in the same manner as leveled readers by creating reading groups based upon needs. An EL classroom can contain very diverse needs when it comes to text studies, which at one point had me splitting our class into three different groups including one group reading a Pearson ESL Leveled Frankenstein reader, a small group reading a graphic novel adaptation of Frankenstein, and a final small group reading the traditional novel. The group reading the graphic novel adaptation was actually reading a more difficult text than the leveled reader group, but they had the built-in scaffolds of pictures to give them the visual support they still needed to access the higher level text. All of the groups were then able to come back together and participate in the same discussions, activities, and check-ins despite the vast differences in their reading abilities.
Graphic novels could be used as an initial at-level replacement for the traditional novel version for below-level reading groups, they could be pre-taught or used for front-loading before attempting a traditional text that may be above a reader's level with visual scaffolds removed, or they could be used as a supplement to the traditional novel.
The graphic format can be used for student-produced work as well, as it is a perfect format for presenting concepts like sequencing, dialogue, predicting, and summarizing. If students are struggling to write a good summary, educators could allow students to create a visual summary of the events of a chapter using blank comic panels that students fill in. Students will still be required to show they understand the sequence of events through the use of sequential panels, and can show whether they grasped the setting and important chapter events through their visual summary. If teachers want to incorporate writing into the summary, they may require students to produce dialogue by requiring a set amount of speech balloons, or scaffold their writing by adding cloze passages and sentence starters in the panels for students to complete.
Conclusion
ELs are often required to perform difficult tasks that require native-like levels of comprehension. Content teachers need a varied set of tools and strategies to help ELs develop their language levels and experience greater success. This initial, albeit limited, study suggests that the use of graphic novels as one of these tools can help language learners improve achievement in reading comprehension and memory retention. As ELs use these tools to reach the level of reading comprehension of their native speaking peers, they may be more willing and confident to retell, participate in class readings, and take risks in their learning. While the use of visuals has always been a hallmark of good language teaching, this study shines a light on the potential of the often-overlooked format of graphic novels for increasing reading comprehension and memory retention among ELs.
Links to Resources
If you are interested in learning more about the medium of graphic novels, I highly recommend Scott McCloud's work on the topic, "Understanding Comics." The text delves into the graphic novel as an art form, and serves to really remove the stigma that comic books are just for children. http://scottmccloud.com/
The links below can provide with you additional information regarding using graphic novels in your classroom, including additional resources and lessons for teachers, comic book and graphic novel listings, and more.
The American Library Association's yearly graphic novel reading list: http://www.ala.org/alsc/publications-resources/book-lists/graphicnovels2018
Reading with pictures includes research, content, and best practices for integrating comics into curriculum: http://www.readingwithpictures.org/
Getgraphic.org gives up-to-date news in the graphic novel world as well as ideas for how to use graphic novels as a tool for literacy: https://www.buffalolib.org/content/get-graphic
The Comic Book Legal Defense Fund has library and educator tools for using graphic novels: http://cbldf.org/using-graphic-novels/
Readingrockets has classroom ideas and booklists for graphic novels in the classroom: http://www.readingrockets.org/article/graphic-novels-kids-classroom-ideas-booklists-and-more
References
Arnold, A.D. (2003). The graphic novel silver anniversary. Time Online Edition. Retrieved from http://content.time.com/time/arts/article/0,8599,547796,00.html
Bruski, D. (2012). Graphic device interpretation by low-literate adult ELLs: Do they get the picture? MinneTESOL/WITESOL Journal, 29, 7-29.
Burke, B.P. (2012). Using comic books and graphic novels to improve and facilitate community college students' literacy development. Retrieved from ProQuest Dissertations and Theses Global. (UMI No. 3546922)
Butcher, K.R. (2006). Learning from text with diagrams: Promoting mental model development and inference generation. Journal of Educational Psychology, 98(1), 182-197.
Eisner, W. (1985). Comics and sequential art. Paramus, NJ: Poorhouse Press.
Ford, K. (2005, July). Fostering literacy development in English Language Learners. Color in Colorado. Article retrieved from http://www.colorincolorado.org/article/fostering-literacy-development-english-language-learners
Frey, N., & Fisher, D. (2004). Using graphic novels, anime, and the internet in an urban high school. English Journal, 93,19-25. 
Frey, N., & Fisher, D. (2011). The formative Assessment Action Plan. Alexandria, VA: ASCD.
Klingner, J.K. (2004). Assessing reading comprehension. Assessment for Effective Intervention, 29(4), 59–70.
Levie, W.H., & Lentz, R. (1982). Effects of text illustrations: A review of research. Educational Communication and Technology, 30(4), 195-233.
Levin, J.R., Anglin, G.J., & Carney, R.N. (1987). On empirically validating functions of pictures in prose. In D.M. Willows, & H.A. Houghton (Eds.), The psychology of illustration, volume 1. New York: Springer-Verlag. (pp. 51-85).
Liu, J. (2004). Effects of comic strips on L2 learners' reading comprehension. TESOL  Quarterly, 38(2), 225-243.
Mayer, R.E. (1994). Visual aids to knowledge construction: Building mental representations from pictures and words. Advances in Psychology, 108, 125-138.
Mayer, R. (Ed.). (2014). The Cambridge Handbook of Multimedia Learning (Cambridge Handbooks in Psychology). Cambridge: Cambridge University Press.
McCloud, S. (1993). Understanding comics: The invisible art. New York: Paradox Press.
Metros, S.E., & Woolsey, K. (2006). Visual literacy: An institutional imperative. EDUCAUSE Review, 41(3), 80-81.
Omaggio, A.C. (1979). Pictures and second language comprehension: Do they help? Foreign Language Annals, 12, 107–116.
Paivio, A. (1991). Dual coding theory: Retrospect and current status. Canadian Journal of Psychology, 45(3), 255-287.
Pearson, P.D., & Gallagher, M.C. (1983). The instruction of reading comprehension. Contemporary Educational Psychology, 8, 317-344.
Roe, B.D., Smith, S.H., & Burns, P.C. (2005). Teaching reading in today's elementary schools (9th ed.). Boston: Houghton Mifflin.
Schnotz, W. (2002). Towards an integrated view of learning from text and visual displays. Educational Psychology Review, 14, 101-120.
Shaw, D. (2005). Retelling strategies to improve comprehension: Effective hands-on strategies for fiction and nonfiction that help students remember and understand what they read. New York: Scholastic.
Snowball, C. (2005) Teenage reluctant readers and graphic novels. Young Adult Library Services, 3(4), 43-45.
Waddill, P.J., & McDaniel, M.A. (1992). Pictorial enhancement of text memory: Limitations imposed by picture type and comprehension skill. Memory & Cognition 20, 472-482.
Exposure to potentially traumatic events, which can have a significant impact on brain mechanisms for language learning, is high in adult ELL classrooms. Strategies targeting attention and memory networks presented here may mitigate those effects.
Key words: trauma, adult English language learners, language acquisition, cognitive function, attention, mindfulness
Trauma and Its Prevalence in the Adult Classroom
Discussions of traumatic exposure and their impacts on the classroom have become increasingly common in education circles in recent years, befitting its serious impact on subsequent quality of life and its prevalence in society. In the United States, up to 90% of adults report having experienced at least one potentially traumatic event (PTE) in their lifetime (Kessler, Sonnega, Bromet, Hughes, & Nelson, 1995; Kilpatrick et al, 2013). Furthermore, the majority of people who experience one PTE tend to experience additional PTEs (Kessler et al, 1995; Kilpatrick et al, 2013). An international study representing individuals from 24 countries found that over 70% of respondents experienced at least one PTE, and 30.5% had experienced four or more (Benjet et al, 2015). PTEs include childhood neglect; sexual, physical or emotional abuse; natural disasters; interpersonal violence; and generational or historical traumas.
There is considerable individual variability in response to PTEs. Although most people experience relatively positive outcomes with relatively limited dysfunction, such as resilience and recovery, others experience negative outcomes and dysfunction, such as diagnosable Posttraumatic Stress Disorder (PTSD) (Bonanno, 2004; Norris, Tracy, & Galea, 2009). Certain types of trauma, particularly sexual violence, are more likely to lead to negative quality of life, including diagnosable PTSD (Kessler et al, 1995).
The current international prevalence rate of PTSD is roughly 1.1%; however, prevalence rates vary widely in different populations (Yehuda et al, 2015). For instance, a systematic review of studies estimated 10% of refugees have PTSD (Fazel, Wheeler, & Danesh, 2005). Notably, 62% of a particular population of Cambodian refugees (586 surveyed) in California were found to have PTSD (Marshall, Schell, Elliott, Berthold, & Chun, 2005). Determining true prevalence can be complicated by underreporting of trauma or limited English language skills and lack of appropriate interpreters (Kirmayer et al, 2011; Yehuda et al, 2015).
In the adult ESL classroom, it can be assumed that many or all students have experienced at least one PTE in their lifetime either prior to arrival in a new country, post arrival, or both (Hollifield, Warner, Krakow, & Westermeyer, 2018). Most will have survived more. Being in the classroom shows at least some level of resilience. This, however, does not indicate that trauma has not impacted students' day to day functionality and language acquisition (Emdad, Söndergaard, & Theorell, 2005; Söndergaard & Theorell, 2004). In this paper, I explore how exposure to trauma can impact the brain, affecting classroom behaviors and performance, particularly language acquisition ability, and review some strategies to mitigate the effects of trauma and enhance language learning in adult ESL students.
Trauma's Impact on the Learning Brain
Few studies have explored the impact of PTSD and traumatic exposure on language learning. Results from two studies with a refugee population acquiring Swedish as a second language after resettlement provide initial evidence for impairment. Söndergaard and Theorell (2004) found as PTSD symptom severity increases, there is a corresponding decrease in the rate of language acquisition in their adult refugee students. Further, trauma duration and severity has been shown to correspond with learning difficulties (Emdad et al, 2005). Though few to no such studies have been conducted with adult ESL students who have experienced trauma, similar patterns of impairment are likely. These learning patterns may be a result of the effect traumatic stress can have on two key factors for second language acquisition, namely attention and memory.
As teachers are well aware, students' concentration in the classroom is critical for learning. The Noticing Hypothesis describes how this process works for language acquisition (Schmidt, 1990, 2010). Students do not automatically acquire input; rather, they must first notice it, or consciously register it, in order for it to be acquired. This requires capacity to focus and sustain attention. Unfortunately, traumatic stress can have a negative impact on brain networks that monitor and enforce attention control, such as the salience network, which allows humans to determine what stimuli to focus on; the default mode network, which helps with self-regulation; and the central executive network, which is critical for controlling thoughts, emotions and behaviors (Yehuda et al, 2015).
Memory is also required for learning to guide the storage of new material and its subsequent retrieval including both declarative and procedural forms of memory, which related to facts and events, and how to do tasks, respectively (Morgan-Short, Faretta-Stutenberg, Brill-Schuetz, Carpenter, & Wong, 2014). The negative impact from traumatic stress can limit language acquisition, particularly in terms of storing and retrieving new information, including vocabulary and grammar (Perry, 2006). When storing and retrieving information are negatively affected, students may have a difficult time remembering the day's lessons and subsequently applying what was learned.
Classroom Behaviors after Trauma
The impact of traumatic stress and PTSD extends beyond learning capabilities in most studied populations. Biological evidence demonstrates that individuals with PTSD can display a dynamic shifting between hyperarousal, or a heightened arousal response tending towards anxiety and hypoarousal, or a heighted settling down response. Hyperarousal may result in displays of fear, anger, and guilt, while hypoarousal may result in lack of portrayed emotion (flat affect) or numbing (Yehuda et al, 2015). These arousal patterns are seen in relation to the autonomic nervous system, which allows the body to respond to potential threats and relax after threat is gone (Williamson, Porges, Lamb, & Porges, 2014).
Instead of staying within the limits of a healthy autonomic nervous system or within patterns of healthy arousal and settle, individuals exposed to trauma may be well outside normal range, with an increased sympathetic system response, leading to high anxiety, panic, exaggerated startle reflexes, restlessness, digestive problems, sleeplessness, and rage. Conversely, individuals exposed to trauma can also get stuck below the normal healthy range of the autonomic nervous system, with an increased parasympathetic response, resulting in depression, exhaustion, disconnection, and inability to express emotions (Sherin & Nemeroff, 2011; Williamson et al, 2014; Yehuda et al, 2015).
There is little research on how these biological patterns impact behaviors within the adult classroom. Perry (2006) synthesizes the biological impacts of shifting between hyperarousal and hypoarousal with behaviors commonly seen in the adult classroom. He explains that when hyperaroused, students might jump at noises or seem unable to focus on the teacher. There could be outbursts of crying or laughter at inappropriate times. Students may seem emotionless, or overly emotional when hypoaroused. They may refuse to work with other students or teachers. To complicate the picture, these behaviors may change from day to day (Perry, 2006). It's important to recognize that these behaviors may be protective strategies stemming from fight-or-flight system activation (Perry, 2006). When behaviors become disruptive to student learning, however, there are some interventions that may be helpful.
What can teachers do to mitigate the effects?
Evidence-based research on interventions to improve learning and emotional regulation in adult ESL classrooms after trauma is limited to date. Fortunately, there has been substantive work on improving cognition and learning following Traumatic Brain Injury (TBI), particularly with memory (Kennedy & Coelho, 2005) and attention (Mckay, Moore, & Sohlberg et al, 2003). Below I present several strategies from that field that could benefit adult ESL learners whose attentional networks are impacted by trauma. Additionally, to mitigate the emotional-behavioral impacts, I present some simple mindfulness exercises, which have shown strong positive outcomes in K-12 classrooms with and without non-native speakers of English in emotional regulation (Napoli, Krech, & Holley, 2005; Zenner, Herrnleben-Kurz, & Walach, 2014), and in connection with psychological therapy with traumatized adult refugee and immigrant populations (Hinton, Pich, Hofmann, & Otto, 2013).
Attention tasks
The goal of attention tasks is to regain control over the attentional brain networks that want to respond too quickly, or may not be willing to respond when asked. These tasks have shown transferability of improved attention in more natural settings, such as classroom instruction, which may result in improved language acquisition by training attentional focus to return to healthy levels (Mckay, Moore, Sohlberg, et al, 2003).
Selective Attention Task: Read a story with a target word (or a list of letters with a target letter). Every time the target is read, students complete some action (raising a hand, tapping the table, writing a number, etc.). As students show improved attention, this task can be made more difficult by asking comprehension questions from the story at the end. This adds an element of shifting attention between a specific stimuli and gist meaning, something that can be very difficult due to hyperarousal after trauma (Mckay, Moore, Sohlberg, et al, 2003).

Alternating Attention Task: Have students sort decks of cards (or any type of flashcard with at least two elements) by number or color. Change the rules every so often. This requires students to sustain focus on a particular rule, then shift their focus to a new rule, enhancing voluntary control of where attention is directed (Mckay, Moore, Sohlberg, et al, 2003).
Memory strategies and tasks
Following trauma, students may have difficulties encoding new material from working memory to long term storage. In terms of improving memory, all of these systems may be functioning correctly, albeit slowly, due to the damaged networks (Morgan-Short et al, 2014; Perry, 2006). The strategies below have shown to help patients with TBI in storing information more effectively and maintaining it for future use (Kennedy & Coelho, 2005).
Teacher strategies: Wait longer after giving instructions to allow extra time for processing information along the network. Give instructions both orally and visually when appropriate to allow for review (Kennedy & Coelho, 2005).

Errorless learning: When brain networks have sustained damage, guessing an answer can lead to encoding inaccurate information. Errorless learning involves repeated rehearsal with answers provided before inaccurate guessing can occur, particularly when introducing a new topic (Sohlberg, Ehlhardt, & Kennedy, 2005). An example could be naming a word and its meaning before asking a student to guess. This has shown to result in improved long term retrieval in patients with memory problems, and ultimately improved learning (Baddeley & Wilson, 1994; Sohlberg, Ehlhardt, & Kennedy, 2005).

Spaced retrieval task: Read a story and immediately ask a comprehension question. Tell the class you'll ask the same question later, and progressively space it out. This task is a little trickier, in that it requires both attention and memory to be working well synchronously (Sohlberg et al, 2005).
Mindfulness
Techniques presented below (Hinton et al, 2013) could benefit students, by promoting emotional balance and healthy release of potential stress by focusing on awareness of the present (Kabat-Zinn, 2005). At times, classroom material, interpersonal experiences at school, or other events may result in a flashback of distressing events or memories, or a hyperaroused state. The mindfulness strategies presented below may help to settle the autonomic nervous system to a healthier level. These specific strategies have been carefully selected to avoid the risk of exacerbating this distress response by avoiding imagery techniques that may intensify the response to a triggering event (Creswell, 2017).
Breathing (Creswell, 2017): An excellent way to start and end the day, can be done sitting or standing. Place a hand on the stomach and take five refreshing breaths, counting to three on each inhale and exhale.

Stretching (Creswell, 2017): Reach for the sky with one hand, while keeping the other palm facing the floor, grounded. Slowly switch arms, being careful to avoid pain.

Tense/relax (Creswell, 2017): Tighten and release various muscle groups. For example, tighten all of the muscles in your arms, hold for five seconds, and release. Repeat as needed.

5-4-3-2-1 (Creswell, 2017): Have a student describe five things they see in the room, four things they feel with their skin, three things they can hear, two things they can smell, and one good thing about themselves. This is very helpful in terms of settling down and returning to the present moment after an emotional episode.
Overall, it is important to note that though many students in the adult ESL classroom will have survived significant trauma, they have already demonstrated high levels of resilience by resettling, entering school, seeking (and finding) jobs, and caring for their family and friends. Many have developed successful strategies for their lives that are culturally encouraged and helpful. Some have not had that opportunity.
The strategies presented here could help mitigate the effects of trauma on learning, and may enhance learning for less traumatized students as well by increasing attentional, memory, and emotional resources. However, these strategies are not presented as a substitute for treatment from qualified mental health professionals. Finally, the mindfulness techniques presented here may also be useful for teachers of trauma-exposed learners to protect against the risk of secondary traumatic stress, compassion fatigue, and professional burnout, which can occur when continually being exposed to and absorbing students' distress (Newell & MacNeil, 2010).
Concluding remarks
Trauma affects the learning brain. Attention, memory, the autonomic nervous system, and other parts of the body all show signs of this type of suffering. Generally, the result in the adult ESL classroom is slower, lower-level language acquisition. Students may get stuck, frustrated, or vanish. Though best practices are still being identified, teacher-led tasks aimed at increasing attention, enhancing memory and developing strategies to improve emotional regulation may assist in aiding students who are experiencing difficulties in the classroom due to traumatic exposure.
References
Baddeley, A., & Wilson, B.A. (1994). When implicit learning fails: Amnesia and the problem of error elimination. Neuropsychologia, 32(1), 53–68. https://doi.org/10.1016/0028-3932(94)90068-X
Benjet, C., Bromet, E., Karam, E.G., Kessler, R.C., McLaughlin, K.A., Ruscio, A.M., Koenen, K.C. (2015). The epidemiology of traumatic event exposure worldwide: results from the World Mental Health Survey Consortium. Psychological Medicine, 1–17. https://doi.org/10.1017/S0033291715001981
Bonanno, G.A. (2004). Loss, trauma, and human resilience: Have we underestimated the human capacity to thrive after extremely adverse events? American Psychologist, 59(1), 20–28. https://doi.org/10.1037/0003-066X.59.1.20
Creswell, J.D. (2017). Mindfulness interventions. Annual Review of Psychology, 68(1), 491–516. https://doi.org/10.1146/annurev-psych-042716-051139
Emdad, R., Söndergaard, H.P., & Theorell, T. (2005). Learning problems, impaired short-term memory, and general intelligence in relation to severity and duration of disease in posttraumatic stress disorder patients. Stress, Trauma, and Crisis, 8(1), 25–43. https://doi.org/10.1080/15434610590913612
Fazel, M., Wheeler, J., & Danesh, J. (2005). Prevalence of serious mental disorder in 7000 refugees resettled in western countries: A systematic review. Lancet, 365(9467), 1309–1314. https://doi.org/10.1016/S0140-6736(05)61027-6
Hinton, D.E., Pich, V., Hofmann, S.G., & Otto, M.W. (2013). Acceptance and mindfulness techniques as applied to refugee and ethnic minority populations with PTSD: Examples from "Culturally Adapted CBT." Cognitive and Behavioral Practice, 20(1), 33–46. https://doi.org/10.1016/j.cbpra.2011.09.001
Hollifield, M., Warner, T., Krakow, B., & Westermeyer, J. (2018). Mental health effects of stress over the life span of refugees. Journal of Clinical Medicine, 7(2), 25. https://doi.org/10.3390/jcm7020025
Kabat-Zinn, J. (2005). Coming to our senses: Healing ourselves and the world through mindfulness. London: Piatkus.
Kennedy, M.R.T., & Coelho, C. (2005). Self-regulation after traumatic brain injury: A framework for intervention of memory and problem solving. Seminars in Speech and Language, 26(4), 242–255. https://doi.org/10.1055/s-2005-922103
Kessler, R.C., Sonnega, A., Bromet, E., Hughes, M., & Nelson, C.B. (1995). Posttraumatic stress disorder in the national comorbidity survey. Archives of General Psychiatry, 52, 1048–1060.
Kilpatrick, D.G., Resnick, H.S., Milanak, M.E., Miller, M.W., Keyes, K.M., & Friedman, M.J. (2013). National estimates of exposure to traumatic events and PTSD prevalence using DSM-IV and DSM-5 criteria. Journal of Traumatic Stress, 26, 537–547. https://doi.org/10.1002/jts.
Kirmayer, L.J., Narasiah, L., Munoz, M., Rashid, M., Ryder, A.G., Guzder, J., Pottie, K. (2011). Common mental health problems in immigrants and refugees: General approach in primary care. CMAJ : Canadian Medical Association Journal = Journal de l'Association Medicale Canadienne, 183(12), E959-67. https://doi.org/10.1503/cmaj.090292
Marshall, G.N., Schell, T.L., Elliott, M.N., Berthold, S.M., & Chun, C.A. (2005). Mental health of Cambodian refugees 2 decades after resettlement in the United States. JAMA, 294(5), 571–579. https://doi.org/10.1001/jama.294.5.571
Morgan-Short, K., Faretta-Stutenberg, M., Brill-Schuetz, K.A., Carpenter, H., & Wong, P.C.M. (2014). Declarative and procedural memory as individual differences in second language acquisition. Bilingualism, 17(1), 56–72. https://doi.org/10.1017/S1366728912000715
Napoli, M., Krech, P.R., & Holley, L.C. (2005). Mindfulness training for elementary school students: The attention academy. Journal of Applied School Psychology, 21(1), 10.1300/J008v21n01\_05. https://doi.org/10.1300/J370v21n01_05
Newell, J.M., & MacNeil, G.A. (2010). Professional burnout, vicarious trauma, secondary traumatic stress, and compassion fatigue: A review of theoretical terms, risk factors, and preventive methods for clinicians and researchers. Best Practice in Mental Health, 6(2), 57–68.
Norris, F.H., Tracy, M., & Galea, S. (2009). Looking for resilience: Understanding the longitudinal trajectories of responses to stress. Social Science and Medicine, 68(12), 2190–2198. https://doi.org/10.1016/j.socscimed.2009.03.043
Perry, B.D. (2006). Fear and learning: Trauma-related factors in the adult education process. New Directions for Adult and Continuing Education, 110(Summer), 21–27. https://doi.org/10.1002/ace.215
Schmidt, R. (1990). The role of consciousness in second language learning. Applied Linguistics, 11(2), 129–158.
Schmidt, R. (2010). Attention, awareness, and individual differences in language learning. Proceedings of CLaSIC 2010, 4, 721–737.
Sherin, J.E., & Nemeroff, C.B. (2011). Post-traumatic stress disorder: The neurobiological impact of psychological trauma. Dialogues in Clinical Neuroscience, 13(3), 263–278.
Sohlberg, M.M., Avery, J., Kennedy, M., Ylvisaker, M., Coelho, C., Turkstra, L., & Yorkston, K. (2003). Practice guidelines for direct attention training. Journal of Medical Speech-Language Pathology, 11(3), xix–xxxix. https://doi.org/10.1037/t00741-000.
Sohlberg, M.M., Ehlhardt, L., & Kennedy, M. (2005). Instructional techniques in cognitive rehabilitation: A preliminary report. Seminars in Speech and Language, 26(4), 268–279. https://doi.org/10.1055/s-2005-922105
Söndergaard, H.P., & Theorell, T. (2004). Language acquisition in relation to cumulative posttraumatic stress disorder: Symptom load over time in a sample of resettled refugees. Psychotherapy and Psychosomatics, 73, 320–323.
Williamson, J.B., Porges, E.C., Lamb, D.G., & Porges, S.W. (2014). Maladaptive autonomic regulation in PTSD accelerates physiological aging. Frontiers in Psychology, 5(OCT), 1–12. https://doi.org/10.3389/fpsyg.2014.01571
Yehuda, R., Hoge, C.W., McFarlane, A.C., Vermetten, E., Lanius, R.A., Nievergelt, C. M., Hyman, S.E. (2015). Post-traumatic stress disorder. Nature Reviews Disease Primers, (October), 15057. https://doi.org/10.1038/nrdp.2015.57
Zenner, C., Herrnleben-Kurz, S., & Walach, H. (2014). Mindfulness-based interventions in schools: A systematic review and meta-analysis. Frontiers in Psychology, 5(JUN), 1–20. https://doi.org/10.3389/fpsyg.2014.00603
Additionally recommended resources:
SAMHSA on Trauma-Informed Care: www.samhsa.gov; free download available
The National Child Traumatic Stress Network: nctsn.org/sites/default/files/asssets/pdfs/secondary_traumatic_tress.pdf