We are delighted to introduce and frame up the Spring 2015 issue of the MinneTESOL Journal.  Our spring issues are designed to build upon and extend the learning from the annual Minnesota English Learner Education Conference held the previous fall.  For this issue, we've invited keynote speakers from the November 2014 conference to share their work with us.  In addition, we encouraged conference presenters to submit their work for consideration in an effort to document their research or recommendations, reach others, and extend the conversations begun at the fall conference.  As always with our Spring issues, all of the submissions for this issue were reviewed by members of the MinneTESOL Journal Editorial Board before acceptance.
Our featured, invited article for the Spring 2015 issue is a previously published article generously offered to us by Jeff Zwiers, keynote speaker at the fall conference, and his colleagues Susan O'Hara and Robert Pritchard.  Bringing expertise in academic language development, this article describes ways for teachers to create the right conditions for effective classroom conversations and supports to prepare our learners for the communication rigors of college and beyond.  Given the importance of preparing all learners at all levels to be academically ready, the article is timely and relevant.
We've got a nice variety of topics in this issue that feature ideas, lessons learned, or thoughtful analysis of teaching and learning across many contexts of English language teaching.  Readers can explore the experiences of using music in the EFL classroom, incorporating strategies instruction as an aid to building listening skills, or working to support resilience in urban immigrant and refugee young people.  We've also got articles that highlight research and experiences teaching college learners to use visual supports in presentations and how that might support listening development, how teachers of young learners can analyze leveled and graded readers for language complexity, and thinking about the value and impact of literature classes for students enrolled in a university-based Intensive English Program.
As always, this work doesn't happen without many people.  Thank you to those who take the time to write and submit manuscripts and to the volunteers who serve on the Editorial Board.  We'd like to thank Kate Clements, who has worked with us for the last two years in the re-design of the journal, and welcome Jen Vanek as our new technical editor.  Jen is a valued colleague who brings skills and energy to the task; she's been a tremendous help as we assembled this issue and as we fine-tune the continuing evolution of the online journal.  We are certain you will find much of value in the Spring 2015 MinneTESOL Journal. Enjoy!
Kim Johnson and Anne Dahlman
MinneTESOL Journal Senior Co-editors
Having learners pair up to discuss homework assignments and use presentation software to develop visual slides summarizing their homework visually might do more for acquisition than having learners use slides to support presentations.
Go into any classroom and you have a good chance of seeing a colleague or one of her students using presentation software to support a talk. I use slides (Microsoft's PowerPoint), and so do my students. I suspect we often use presentation software badly. We bore our audiences, obscure our ideas, and hinder language and content learning. So in this article, I focus on how to use slides, such as PowerPoint or Apple's Keynote, to better support language and content learning through interaction. I'll begin by talking about the problems with using slides in the classroom. I'll then discuss digital literacy and second language acquisition theory, and explain how I use slides to support student discussions rather than student presentations. I'll then discuss limitations and suggestions for trying out the idea yourself. Currently, I'm a language teacher educator, but the technique is based on second language acquisition (SLA) theory and should work in language and content classes.
The Problem with Slides…and a Solution
Since its invention in the 1980s, PowerPoint has become ubiquitous (Alley, 2013). We, and our students, use it beyond, and in, the classroom. For example, I use slides to support conference talks as well as lessons in my teacher education classes. I have also used it to support lessons in university-level intensive English classes. In my listening-speaking classes, for example, I have used a PowerPoint template to demonstrate one basic model of the organization of an academic talk. My students use presentation software as well. My teacher education students use slideware when presenting at conferences and when teaching in their classrooms. My listening-speaking students also used the software in their class presentations. In the listening-speaking context, Ur (1984) stresses the benefits of English learners developing their listening abilities by listening to someone speaking to them in person. Because slides are intended to help the audience understand the speaker, in ESL classes, as well as in other contexts, that should mean that slides would support better listening comprehension and, through repeated listening comprehension practice, even listening development. Therefore, the use of slides by teachers, teacher education students, or English learners should benefit their respective audiences.
But often it seems that using slides doesn't benefit anyone.  Alley (2013) discusses the terms "PowerPointless" and "Death by PowerPoint" (p. 240). A recent Google search of the phrase "death by powerpoint" returned around 8 million hits. De Szendeffy (2005) argues that language learners may spend more time developing their slides than their oral remarks and that they may read out their remarks from their slides rather than speaking to their audience.
There is debate about whether the problem with using presentation software lies with the training people receive or with the tool itself. Many offer advice on creating better slides, implying that the issue is people using the tool ineffectively; this includes Alley (2013); De Szendeffy (2005); Kosslyn (2011); and the popular writing website from Purdue University: Purdue OWL (1995-2015). On the other hand, Tufte (2003; 2006) argues that the problem lies in the tool itself, not in its use, and claims that PowerPoint, by offering almost no content in its graphics and bulleted lists, distorts information and discourages evaluation of the speaker's claims. As a remedy, Tufte (2006) recommends speakers give audiences well-written handouts illustrated with detailed graphics to encourage careful attention to and analysis of presentations. In contrast, De Szendeffy (2005) argues that since presentation software is so common, language learners need to know how to use it, and so benefit from training.
What may help is to train learners to work on their speaking and develop slides that use richer images along with fewer words written in sentences (Alley, 2013; De Szendeffy, 2005). Alley (2013) suggests presenters replace PowerPoint's standard bulleted list with an "assertion-evidence" slide layout; the slide title is a claim stated as a sentence supported by evidence presented graphically in the slide's body. In addition, Alley (2013) endorses the mostly visual TED talk style slide presentation. Finally, Alley (2013), and Heiman (2009), also suggest presenters consider a mostly visual approach to slides called Pecha Kucha (Japanese for 'chit-chat,' [Alley, 2013, p. 192]), in which brief talks are supported by visual slides (Klein and Dytham, n.d.).
Digital Literacy, SLA Theory, and an Application
Heiman's (2009) suggestions have prompted me to think about my own use of slides and how my teacher education students and I can foster better digital literacy for language learners. Slides are not something our students should avoid. Better use of slides can contribute to learners' L2 digital literacy (Healey et al., 2011). Digital literacy involves adept digital communication and is by definition social social (Dudeney, Hockly, & Pegrum, 2013; Gee & Hayes, 2011).
Language acquisition is also social. Interaction fosters L2 acquisition (Ellis, 2008; Gass, Behney, & Plonsky, 2013). Teachers encourage interaction as a means for learners to acquire English, to develop their productive and receptive skills, and to better understand what they read and listen to (Grabe, 2009; Vandergrift & Goh, 2012). Using the target language to work collaboratively at a shared computer supports L2 acquisition (Jeon-Ellis, Debski, & Wigglesworth, 2005), so there may be value in allowing students to work together at computers when developing more effective visuals and slides.
To take advantage of and to model for my students the benefits of collaborating at shared computers, I've long had my students work collaboratively in class at shared computers. I have recently begun applying this technique to the use of presentation software. I now have my students work together to discuss and create summaries of their homework using collaboratively developed short slide shows. The technique seems to foster digital literacy and better understanding of the content.
What I Do
Students in my classes have readings or viewings they need to complete for homework. Typically, we discuss the homework assignments in class using a "think-pair-share" technique (Lyman Jr., 1981, as cited in McTighe & Lyman Jr., 1988). In my computer-assisted language learning (CALL) class, I decided to try integrating PowerPoint into an adaptation of  think-pair-share: students first do something on their own (think), then typically work with one partner on a task (pair), then come together as a whole group to present, discuss, or debrief (share). The activity works as follows.
Steps
Needs for the activity:
Students need access to some means of presenting information in a mostly visual format. In my CALL classes, that usually means school-provided desktop computers, and presentation software (typically PowerPoint). Students could also use laptops or tablet computers and appropriate software. Appropriate software could include presentation software, word processors, drawing programs, or even mind-mapping programs like Freemind (Mueller, Polansky, Foltin, & Polivaev, 2000-2010). But computers are not even necessary. Students can use notebooks, large pieces of paper, or areas of a chalkboard, or marker board, or small dry-erase boards. The main criteria are that students will need to work in groups to develop a visual representation, and others in the class will need to see the work of each group. This idea is not original. I've used a version of this idea in which students draw on paper (Pollard & Hess, 1997).
Students need to have completed a homework assignment before class. In my classes of undergraduate and MA-level prospective teachers, this is often a reading selection, but it could be a viewing or listening selection.
2. In class, I pair or group students. I limit groups to no more than three students. Following Ellis (2008), I intentionally choose groups to encourage interaction. Because I seek to model good practice for my teacher education students, the criteria I use for grouping students include those language teachers commonly use. Sometimes students choose partners from those seated nearby. But I also use my knowledge of my students to group them across L1s or to group more talkative students with more reserved students. Everything I have mentioned here is similar to what Brinton (2014) recommends.
3. In groups, students discuss their homework and develop slide shows that offer their summaries and reactions to the homework. Slide shows are meant to be mostly visual, with a few well-chosen words. I might limit the words to no more than 10. Groups typically have about 15 minutes to discuss and develop their summaries and reactions.
4. Groups then briefly share their short presentations. I can put these slide shows up on the screen in front of the classroom, and, optionally, students can also post their brief slide shows into our course website.
When I use this activity for the first time, students and I do talk about the options they have for presenting information visually. I allow clip art, though that's not recommended (De Szendeffy, 2005). I also demonstrate Microsoft's "SmartArt" graphics as one means of encouraging visual summaries.
Anecdotally, I've observed that using slides in this manner contributes to learning the content in my CALL classes. The major reason, I think, is the collaboration (Jeon-Ellis, Debski, & Wigglesworth, 2005). I believe that the interaction fosters acquisition of the discourse of the discipline. Gee and Hays (2011) discuss how communities use discourse to develop and share knowledge and how that discourse is increasingly digital in nature. In our class, learners contribute to understanding in their groups, and groups then help construct a class understanding of the content.
Limitations
I can only report on my own anecdotal impressions linked to my own reading of the literature. Testing this activity, or at least gathering students' impressions of it, would help us understand how interaction while developing slides at a computer might add to students' acquisition of content and language.
One could object that the use of clip art, or Microsoft's SmartArt, in slides with limited numbers of words endorses the worst of Tufte's (2006) criticisms of PowerPoint – that the medium distorts information and cannot convey complex ideas the way writing can. Indeed, in the future, I may ask students to collaborate outside the classroom to develop their visual summaries using Alley's 'assertion-evidence' approach (2013). In addition, while I focused here on slides because they are widely used, an alternative such as Prezi (2015) may be worth considering. However, the goal of the activity is really the discussion of the ideas as an aid to their acquisition, rather than presentation, and there are findings in the CALL literature to support this use (Jeon-Ellis, Debski, & Wigglesworth, 2005).
Trying the Idea Out for Yourself
Slides still have a place in talks. I'm especially interested in the use of more visual elements to support presentations as recommended by Alley (2013). I've used mostly visual slides when I've shared these ideas at conferences (Madden, 2014, March; 2014, November). But using slides as a more flexible medium, more of a conversation starter rather than as a finished part of a presentation, may do more to help learners.
Why not try out the activity presented here to see how well it would work in your class?  After you finish reading this article, share your ideas with a colleague who has also read the article; then the two of you should start up your presentation software, or graphics program, or word processor, or take out a piece of paper, and try to visually represent the ideas from the article, and your reaction to them. That can give you both a sense of whether this activity would be helpful to you and your students.
References
Alley, M. (2013). The craft of scientific presentations: Critical steps to succeed and critical errors to avoid (2nd ed.). New York: Springer.
Brinton, D. M. (2014). Tools and techniques of effective second / foreign language. teaching. In M. Celce-Murcia, D. M., Brinton, & M. A. Snow (Eds.), Teaching English as a second or foreign language (pp. 340-361). Boston, MA: National Geographic Learning.
De Szendeffy, J. (2005). A practical guide to using computers in language teaching. Ann Arbor, MI: University of Michigan Press.
Dudeney, G., Hockly, N., & Pegrum, M. (2013). Digital literacies. New York: Pearson.
Ellis, R. (2008, December). Principles of instructed second language acquisition. CAL Digest. Retrieved May 21, 2015, from http://www.cal.org/content/download/1553/16478/file/PrinciplesofInstructedSecondLanguageAcquisition.pdf
Gass, S. M., Behney, J., & Plonsky, L. (2013). Second language acquisition: An introductory course (4th ed.). New York: Routledge.
Grabe, W. (2009). Reading in a second language: Moving from theory to practice. New York: Cambridge University Press.
Gee., J.P., & Hayes, E. R. (2011). Language and learning in the digital age. New York: Routledge.
Heiman, J. (2009, October). Subverting the 'prankish conspiracy' of PowerPoint: Visual narrative and the Pecha Kucha method. Paper presented at the meeting of the Great Plains Alliance on Computers and Writing, St. Cloud State University, St. Cloud, MN.
Healey, D., Hanson-Smith, E., Hubbard, P., Ioannou-Georgiou, S., Kessler, G., & Ware, P. (2011). TESOL technology standards: Description, implementation, integration. Alexandria, VA: Teachers of English to Speakers of Other Languages, Inc.
Jeon-Ellis, G., Debski, R., & Wigglesworth, G. (2005, September). Oral interaction around computers in the project-oriented CALL classroom. Language Learning & Technology, 9 (3), 121-145. Retrieved May 21, 2015, from http://llt.msu.edu/vol9num3/jeon/default.html
Klein, A., & Dytham, M. (n.d.). PechaKucha 20×20. Retrieved May 21, 2015, from http://www.pechakucha.org
Kosslyn, S. M. (2011). Better PowerPoint: Quick fixes based on how your audience thinks. New York: Oxford.
Madden, J. P. (2014, March). Using presentation software to foster discussion and support learning. Paper presented in the Computer-Assisted Language Learning Interest Section (CALL-IS) Electronic Village at the annual meeting of Teachers of English to Speakers of Other Languages (TESOL) International Association, Portland, OR.
Madden, J. P. (2014, November). Using slides to spark discussion and learning. Paper presented at the Minnesota English Learner Education conference, Bloomington, MN.
McTighe, J., & Lyman Jr., F. T. (1988, April). Cueing thinking in the classroom: The promise of theory-embedded tools. Educational Leadership, 45 (7), 18-24.
Mueller, J., Polansky, D., Foltin, C., & Polivaev, D. (2000-2010). Freemind (Version 0.9.0) [Computer software]. Retrieved May 21, 2015, from http://freemind.sourceforge.net/wiki/index.php/Main_Page
Pollard, L., & Hess, H. (1997). Zero prep: Ready-to-go activities for the language classroom. Burlingame CA: Alta.
Prezi – Presentation Software. (2015). Retrieved May 21, 2015, from https://prezi.com/
Purdue OWL. (1995-2015). Purdue OWL: Designing effective PowerPoint presentations. Retrieved May 21, 2015, from https://owl.english.purdue.edu/owl/resource/686/01/
Tufte, E. R. (2003, September). The cognitive style of PowerPoint. Cheshire, CT: Graphics Press.
Tufte, E. R. (2006). Beautiful evidence. Cheshire, CT: Graphics Press.
Vandergrift, L., & Goh, C. C. M. (2012). Teaching and learning second language listening. New York: Routledge.
Ur, P. (1984). Teaching listening comprehension. New York: Cambridge University Press.
This paper examines the literature supporting music in the ESOL classroom and explores an original example procedure for use in an EFL context.
Use of Music in the EFL Classroom
Music is a greatly underutilized instructional medium in the EFL context. Although there is a wealth of research supporting the regular incorporation of music-related tasks into the classroom, there is still general reluctance within our field to use music consistently with EFL students. There are many possible reasons for this reluctance, including apprehension about students' reactions to classroom music use, especially with adult students, the perception that music-related activities are only "for fun" and lack effective pedagogical applications, and teachers' own myriad of inhibitions and anxieties regarding music, many of which might be very personal.
However, by eschewing music due to these or other rationales, instructors risk limiting their effectiveness and their potential impact on language students. This paper will examine the theory and body of literature in support of music in the FL classroom in terms of the efficacy of music as a memory aid; music as an encourager of involuntary mental rehearsal; the link between song, voices and values; and music as an authentic cultural artifact. Finally, an example of a procedure which can be used in the EFL classroom will be explored.
Music as a Memory Aid
In addition to theory supporting mood and cognitive enhancement in students, there is evidence supporting the use of music in the EFL classroom for a variety of language-specific purposes. Several studies have been carried out supporting music as a memory aid for second language acquisition. Many of these studies can be found in a literature survey by Engh (2013). One quantitative study conducted by Suzanne Medina with 48 second-graders with limited English proficiency found that music is an equally effective medium for vocabulary acquisition compared with non-musical media, such as oral stories. In addition to these statistical data, the descriptive data of the study "demonstrated definite and consistent patterns favoring music" (Medina, 1990, p. 15). In her analysis, Medina concludes,
If music is a viable vehicle for second language acquisition to the same extent as other non-musical means, then songs can no longer be regarded as recreational devices, having little instructional value. Consequently, musical means of promoting second language acquisition should occupy a more important role in the second language curriculum. (Medina, 1990, p. 18)
One reason that has been suggested (Murphey, 1990; Salcedo, 2002) for the positive effect of music on students' memorization and recall ability is that music encourages involuntary mental rehearsal. Also referred to as The Din, involuntary mental rehearsal has been suggested to be a powerful memorization strategy and a natural occurrence on the path to language acquisition (Parr & Krashen, 1983). The Song Stuck In My Head Phenomenon (Murphey, 1990) has been equated with a musical form of involuntary mental rehearsal, and Claudia Smith Salcedo has termed this the "musical din" (p. 13) when mental playback occurs due to exposure to songs in a foreign language (Salcedo, 2002). Salcedo goes on to suggest that music is an even more efficient trigger of involuntary mental rehearsal than other forms of input, as illustrated in Figure 1.
Figure 1. A Comparison of the Din and the Song Stuck In My Head Phenomenon (SSIMHP)
| DIN | SSIMHP |
| --- | --- |
| Set off by comprehensible input, NOT output. | Set off by easily learned tune with repetitive text. |
| Increases with immersion. | Increases with singing. |
| Input must contain i + 1 | Experienced without comprehension of what is dinning |
| Rarely occurs in advanced performers | Occurs in beginner and advanced performers. |
| 1-2 hours for din to begin. | Begins almost immediately and may din the whole day long. |
| Wears off after a few days. | Sometimes triggered years later. |
Source: Salcedo, 2002, p. 60
According to these data, there are a number of enhanced benefits that accompany the use of music as a memory aid which are absent from the non-musical din. First, music is particularly well-suited to triggering mental rehearsal in language learners. Catchy tunes, repetitive texts, and the fun of singing are not only motivating but are also incredibly effective in getting students to think about language. Music also encourages mental rehearsal in learners of all levels, whereas non-musical forms of input rarely encourage mental rehearsal in advanced performers. Owing to the way that a memorable song can be easily called to mind long after learning it, the musical din is more enduring than the non-musical din. Finally, in my experience, a good song encourages students to seek out more music by the same artist, and so the effect is compounded by students' genuine interest in seeking out more and more music.
Song as a Voice
A key observation provided by the sociolinguistic perspective of Second Language Acquisition is that we ultimately learn language from people and not from books. Sociolinguistic theory of second language acquisition, based in part on the work of philosopher Mikhail Bakhtin (1929/1984), has suggested that the voices through which we learn language are internalized in addition to the language itself. Tarone (2007) summarizes this as follows:
When the language varieties of others are internalized by the learner, they retain elements of otherness in the mind of the learner; they are not absorbed into a single voice, but rather exist in the mind of the learner as a kind of chorus of different voices that may be invoked in turn as the learner has need of them. These voices retain the social values of their original speakers, and when the learner uses those voices, the social characteristics and values of each speaker are also displayed. (p. 842)
The importance of the internalization of voice is especially pertinent to the EFL context, where students may not regularly have contact with speakers of English. The voices of the songs that our students hear might actually become internalized, bringing with them the values of the artist, which students may then generalize to help define a culture or society.
This surfaced in a rather humorous way during my teaching experience in Russia, where students and non-students alike often welcomed me with the words "Don't worry, be happy" upon discovery that I was American. I am unsure how, exactly, Bobby McFerrin's famous song came to be ubiquitously associated with American culture, but seemingly every Russian had internalized this lyric and, along with the phrase, a certain value that was then associated with the culture of America as a whole. Music then, particularly for the EFL student, can channel voice in a very influential way, and is therefore a powerful tool at the disposal of the EFL instructor. Music can shape the way that students interpret culture.
Music as a Cultural Artifact
The suitability of popular music as a vehicle for experiencing and teaching culture has been thoroughly documented. Mishan (2005) writes "a song is a cultural artifact and can be invaluable as a sample of its culture, embodying its values and even sometimes helping to change it" (p. 206). Within the field of ESOL, the ability of music to convey these values is especially noted in terms of rock music. Moi (1994) suggests that rock lyrics are excellent for literary analysis, in that they provide "a magnificent opportunity to exchange views, to see how much the members of the community of the classroom have in common and to see the world from somebody else's perspective" (p. 5). In addition, rock lyrics are highly motivating, relevant, an accessible source of authentic reading and listening material, and are a potential bridge to higher forms of literature (Moi, 1994).
These same arguments can be made for a variety of other genres of music for various pedagogical applications. Some instructors may choose music based on values of cultural awareness and inclusiveness, while others may prefer to choose songs based on a central theme or topic that the lyrics address. Regardless of these preferences, choosing to incorporate music into the classroom is motivating in that students are presented with authentic, yet accessible texts that are culturally rich in content and highly engaging.
Implementing music in the EFL classroom
There are different approaches to the incorporation of music into the EFL classroom which form a very broad spectrum. For example, there are now music-based materials designed to be used as an entire approach, such as the Contemporary Music Approach. The Contemporary Music Approach (CMA) is a set of materials compiled by Ron Anton, the focus of which is to teach one grammar topic through one song. More information can be found at http://viamusiccommunications.com/. A completely music-based approach is certainly not for everyone, and so more attention will be given to music as the centerpiece of a procedure (Harmer, 2007).
If I Had $1,000,000: A Procedure
A procedure that I have used in the EFL classroom many times to teach the hypothetical/second conditional has, at its center, the song "If I had $1,000,000" by the band Barenaked Ladies. This song is particularly well-suited to the classroom because it is humorous, uses mostly conversational language (including several pop culture references that provide the opportunity for additional pedagogical applications), and, most importantly, the meaning of the song is very clear and accessible. If the students were not able understand that the singer did not have a million dollars simply by listening to the song, its usefulness as a pedagogical device would have been undermined. So then, the great strength of music in the classroom, as typified by this song, is that, through music, students can accurately and intuitively decode the meaning of unfamiliar texts containing unfamiliar and difficult grammar. In this way, music can be thought of as a powerful scaffolding technique which appeals to intuition, feeling, or emotion in addition to cognition. The procedure I use involves three stages.
Step One: Cloze-Gap Activity. 
First, I use a cloze-gap activity. I distribute the lyrics to the song with several words missing. Depending on my students, I may delete random words which I think they should know, the purpose of which is a simple listening exercise and a check to ensure the students pay attention to the song, or I may delete certain function words, such as modals or past tense verbs to draw their attention to the form.
For example:
If I had a million dollars

If I had a million dollars

I'd buy you a _____

I would buy you a _____

or

If I had a million dollars

If I had a million dollars

_____ buy you a house

I _____ buy you a house
In the first example, the word "house" is missing from both stanzas, which is accessible vocabulary for all students. That they are able to identify words from a real American pop song is both motivating and entertaining. In the second example, "I'd" is missing from the first blank and "would" is missing from the second. This is more difficult than the former example, but more proficient listeners are able to notice the contracted form in the first example and contrast it with the uncontracted modal in the second blank. After finishing the song, we check for understanding of the deleted words together as a class.
Step Two: Big-Picture Questions. 
After this activity, I ask a series of big-picture questions, such as "Does the singer have a million dollars?," to which the students answer "no!" Even when I have asked "Do you think that the singer will ever have a million dollars?," my students have consistently answered negatively (the actuality of the band's success need not be a factor here since we are concentrating on form and meaning of the hypothetical conditional). This is a perfect lead-in for talking about the meaning of the hypothetical conditional, as students have already noticed the hypothetical/unlikely meaning on their own without explicit instruction.
Step Three: Extension Activity. 
All that is left to do is an extension activity of some sort and/or an additional presentation on form if rules are a focus of the classroom. One such activity suggested by Tarone (2014) involves listening to three songs on a single topic, but of varying genres and points of view. The songs can then be used to launch into a discussion about the different points of view, during which students will have to reference lyrics from the music. This will promote noticing and use of new and varied authentic forms without a focus on rules, all the while exploring cultural and personal topics in a meaningful context. In short, everybody wins.
Conclusion
Current research suggests that music can be a highly effective tool available to the EFL instructor, yet, on the whole, it is still used very infrequently in the classroom. This paper has examined a number of rationales for the implementation of music into the EFL classroom from a variety of backgrounds and approaches with the aim of informing instructors of the pedagogical value that regular incorporation of music into the classroom can bring. With more awareness of these benefits and the increasing variety of music-based materials available to the EFL instructor, we will be able to better meet our students' needs by giving music a more prominent place in the EFL curriculum. Not only is it an effective and authentic medium, but it is also motivating and a lot of fun for both students and teachers alike.
References
Altenberg, B., 1990. Speech as linear composition. In: Caie, G. Haastrup, K., Jakobsen, A.L., Nielsen, J.E., Sevaldsen, J., Specht, H. and Zettersten, A. (Eds.), Proceedings from the Fourth Nordic Conference for English Studies, Vol. 1. Department of English, University of Copenhagen, pp. 133-143.
Bakhtin, M. (1984). Problems in Dostoevsky's poetics (C. Emerson & M. Holquist, Eds. & Trans.). Minneapolis: University of Minnesota Press. (Original work published 1929)
Engh, D. (2013). Why use music in English language learning? A survey of the literature. English Language Teaching, 6(2), 113-127. Retrieved November 24, 2014, from http://dx.doi.org/10.5539/elt.v6n2p113
Harmer, J. (2007). The practice of English language teaching (4th ed.). Harlow, England: Pearson Longman.
Medina, S. (1990, March). The effects of music upon second language vocabulary acquisition. Paper presented at the Annual Meeting of the Teachers of English to Speakers of Other Languages. Retrieved November 23, 2014, from http://eric.ed.gov/?id=ED352834
Mishan, F. (2005). Designing authenticity into language learning materials. Bristol, UK: Intellect.
Moi, C. M. (1994). Rock Poetry: The Literature Our Students Listen To. Paper presented at the Annual Meeting of the Teachers of English to Speakers of Other Languages (28th, Baltimore, MD, March 8-12, 1994). Retrieved November 23, 2014, from http://files.eric.ed.gov/fulltext/ED372631.pdf
Murphey, T. (1990). The Song-Stuck-In-My-Head phenomenon: A melodic din in the LAD? System, 18(1), 53-64.
Page, S., & Robertson, E. (1992). If I had $1000000 [Recorded by Barenaked Ladies]. On Gordon [CD]. Burbank, California: Reprise.
Parr, P., & Krashen, S. (1986). Involuntary rehearsal of second languages in beginning and advanced performers. System, 14(3), 275-278.
Salcedo, C. S. (2002). The effects of songs in the foreign language classroom on text recall and involuntary mental rehearsal. Doctoral dissertation, Louisiana State University.
Tarone, E. (2007). Sociolinguistic approaches to second language acquisition research—1997–2007. The Modern Language Journal, 91(s1), 837-848.
Tarone, E. (2014). Course wrap-up. Presented as part of CI 5653 Methods in Teaching English as a Second Language in Higher Education, Minneapolis, MN.
Wray, A., & Perkins, M. (2000). The functions of formulaic language: An integrated model. Language & Communication, 20, 1-28.
This article discusses an approach to supporting resilience in urban students, particularly Somali, Latino, and Hmong youth, through a professional development experience called Project TRUST (Training for Resiliency in Urban Students & Teachers).
"He really connects to the students from experience and from also, he makes
you work hard for your grades. He's really different from other teachers, or from
past teachers, and like some way this teacher really makes you want to be motivated. Just come to school and like even though you don't like school, you come to school to be in the classroom, because that's how great he is." (Hmong youth)
"… you live in a black and white world and people expect that Latinos can't do what they can do. Latinos are not going to amount to anything, you know what I mean? Like, they have no respect, I guess? They just assume just because we're Latino that we're not going to graduate, that we're going to get pregnant, that we're going to gang bang. But those … it doesn't even have to be like a Latino administrator. Anyone who takes the time to understand another person." (Latino youth)
"I was new to school and I didn't know anybody and was too scared to go to class and everything. My science teacher, she really helped me. She showed me around the school. I was scared, but she helped me out a lot even though still a lot of summer school. She just helped me around. Every time I have a problem. She always tells me, 'Come to me. Don't feel scared.'" (Somali youth)
These statements came from nearly sixty hours of focus groups and one-on-one interviews with Somali, Latino, and Hmong youth, parents, as well as community youth workers and high school teachers. The goal of these focus groups was to engage youth and adults around such questions as, "What is resilience?", "How do you know a resilient person when you see one?", and "How can teachers support resilience in young people?". Youth and parents from Somali, Latino, and Hmong communities in the Twin Cities shared their experiences, stories, and knowledge with community researchers working on Project TRUST (2014), a community-based participatory research (Macauley, Commanda, Freeman, Gibson, McCabe, Robbins, & Twohig,1999; Wallerstein & Duran, 2010), partnership project1. Specifically, Project TRUST (2014) is a community-university partnership between the Somali, Latino, Hmong (SoLaHmo) Partnership for Health and Wellness, the University of Minnesota Medical School Program in Health Disparities Research, and College of Education and Human Development. Our collaborative board includes teachers, representatives of community organizations, and Somali, Latino, and Hmong parents and youth.
A Community Advisory Board, consisting of community and university members, used a concept mapping model to determine key themes and ranked these in terms of importance and perceived feasibility for enactment in classrooms and schools. Out of this work, Project TRUST (2014) developed an embedded, long-term professional development curriculum that aims to engage high school teachers across content areas in strengthening or developing strategies to deepen the networks of belonging and support that facilitate positive youth development and resilience in all youth, but focusing particularly on Somali, Hmong, and Latino immigrant or heritage youth.
Resilience and Positive Youth Development
Resilience is the ability to cope with, adapt to, and overcome challenges. From the research in positive youth development, youth who are resilient tend to possess a set of internal, family, school, and community developmental assets that they rely on to overcome challenges in or out of school (Bernat & Resnick, 2006; Youngblade, Theokas, Schulenberg, Curry, Huang, & Novak, 2007). More assets make it more likely that youth will do well.
Importantly, research shows that these assets are malleable over time and can be intentionally developed with youth to support their healthy development and academic achievement (Gavin, Catalano, David-Ferdon, Gloppen, & Markha, 2010). Internal assets, such as belief in the future, pro-social behaviors, and interpersonal skills, are typically developed in the context of a relationship with an adult, such as a teacher who models these behaviors, and in environments oriented towards providing youth opportunities to identify and develop their own skills and strengths. Teenagers, then, develop their internal assets within a relationship, which in turn is an asset within a larger positive school environment. This layering on of protection, which may come from a relationship with a single teacher, supports youth in doing well personally and in school.
One important timeframe for promoting resilience is during adolescence. In the early high school years, most youth are in mid-adolescence (ages 14-16). Some characteristics of this developmental stage are that these youth are at the peak of their peer orientation, are concerned about their appearance, and are sensitive to being singled out or treated as different (Erikson, 1968). They are in the process of developing complex thinking and an ability to plan and consider consequences. If harnessed, teachers can use these adolescent development tendencies to their advantage. For example, teachers can create a classroom environment that is a safe place where students are expected to treat their peers with respect. Doing so builds a common in-group community that will feel positive and motivating to students. Additionally, teachers can support youth in developing the asset of planning and decision making by being explicit about the steps necessary to finish a project and giving examples of decisions that may get in the way of completing a project.
Each of us can think back to a time when our own sense of resilience has helped us get through something difficult or to realize we should be going in a different direction. Tapping into resiliency in teaching and learning and pushing students to develop the capacity of being resilient are key to school success and the healthy development of high school aged students. One way to think about resilience is with a focus on what assets the student already has or is developing. Research on resilience shows us that youth who possess internal, family, school and community assets are also likely to have positive health and developmental outcomes over time, despite experiencing challenges such as poverty or discrimination (Bernat & Resnick, 2006; Resnick, Bearman, Blum, Bauman, Harris, Jones, et al.,1997; Youngblade, et al., 2007). One of the most important of these assets for the development of a teenager is that they feel connected to non-parental adults, such as teachers, and to their schools.
This sense of connectedness is associated with both greater educational achievement and lower risky behaviors to their health, such as substance use and risky sexual activity. In addition to all of this, resiliency and academic achievement are intertwined. Studies that look at factors that affect long-term health show us that individual academic achievement is actually a key contributor to wellness and longevity (Reyes, Brackett, Rivers, White, & Salovey, 2012; Youngblade, et al., 2007). Education and long-term health outcomes are so intertwined that, if the United States had made the same investment in addressing educational disparities as we did in developing technology between 1996-2002, we would have achieved eight times greater reduction in mortality (Woolf, Johnson, Phillips, & Philipsen, 2007).
Focusing on Somali, Latino, and Hmong Youth in Urban Schools
For decades, Minnesota's population has been enriched by waves of transnational and diaspora populations who have settled by choice or necessity. In academic year 2013-2014, Minneapolis Public School District reported having 11,209 students who speak a language or dialect other than English at home (57 different languages and dialects) and St. Paul Public School District reported having 16,975 students who speak a language or dialect other than English at home (112 different languages and dialects) (Minnesota Department of Education, 2015).2 Both the country's largest Somali community and the country's second-largest and most concentrated Hmong community call Minnesota home, with more than 30,000 Somali, and 60,000 Hmong-Minnesotans (Hmong American Partnership, 2010; U.S. Census Bureau, 2013b).
The population of Latinos has shown the most growth, in both Minnesota and the country, with the population increasing by 75% in the state between 2009-2013 (U.S. Census Bureau, 2013a). Conservative estimates from 2010 suggest that more than 8% of the K-12 student population in Minnesota can be identified as Hispanic (Pew Research Center, 2011). Such vital and dynamic student and community populations offer both great opportunity and numerous learning curves for educators.
Youth from these communities are minoritized groups in Minnesota school districts. In other words, the languages and cultural practices and knowledge represented in this groups do not tend to be highly privileged in schooling spaces, content, and knowledge production. In addition, they disproportionately experience long-term and academic achievement challenges such as poverty, histories of trauma, and adult role models in schools who have limited experience with students' languages and cultural backgrounds (Bigelow, 2008; 2010; Lopez, 2003; Ngo, 2008; Ngo, Bigelow, & Wahlstrom, 2007). How can schools and teachers maximize the assets and networks of resilience that thrive in these communities to support Somali, Latino, and Hmong youth to navigate school successfully and to build assets towards positive youth development? This question has been the driving force behind the work undertaken by Project TRUST (2014). We are often asked, "Why focus on Somali, Latino, and Hmong youth?"
What is Project TRUST?
Project TRUST (2014) is not only a professional development opportunity, it is also a research study. Project TRUST (2014) is a National Institutes of Health funded, community based participatory research project that aims to support educators in engaging with all students, but with Somali, Latino, and Hmong students in particular, in ways that contribute to academic achievement and positive youth development. The project goal is to develop and pilot an educator professional development program that connects teachers with the knowledge gathered from youth and parents in the Somali, Latino, and Hmong communities. Finding ways to increase Somali, Latino, and Hmong students' connections to school and teachers can make a big difference. Many teachers taking part in the initial pilots have reported benefits with students who do not identify as Somali, Latino, and Hmong as well, and particularly with students of color. The goal is to support educators as they develop and strengthen approaches, skills, and strategies for interacting with their students in ways that promote resiliency, facilitate effective learning environments, and increase student engagement and connectedness to their teachers and school.
Gaining Perspective from Community Members
The Project TRUST (2014) team spent three years gathering perspectives from teachers; administrators; youth-workers with particular expertise working with Somali, Latino, and Hmong youth; and parents and youth themselves on how educators can best promote resilience in the classroom (Allen, Ortega, Rosas-Lee, Pergament, Hang, & Omar, under review). Somali, Latino, and Hmong community researchers utilized an innovative concept mapping approach (Allen, Shaleben-Boateng, Davey, Hang, & Pergament, forthcoming) wherein community members from our collaborative board identified key perspectives from the qualitative data and ranked those ideas on importance and feasibility.
In so doing, Project TRUST (2014) attempted to shift the eye of analysis and meaning making away from external researchers in the academy and into the hands of community members themselves. Over the last year, teachers, administrators, youth, parents, and other community members have worked together to translate these priorities and evidence-based resilience-promotion strategies into the Project TRUST (2014) curriculum for teachers, in a way that aligns with the work already happening in schools.
Key Facets of Professional Development for Project TRUST
A decision we made early on in the project was that we would focus the curriculum on tools that the teachers could use and skills they could develop to build resilience. The approach would be assets-focused with regard to our stance toward both teachers and students. In addition, we made a commitment to focusing on supporting teachers in doing inquiry and taking action into classroom practices and interactions with their students. In addition to these values, we knew that for the professional development to serve teachers well, it needed to be long-term, embedded in professional development structures already established in the school (i.e., Professional Learning Communities), and embedded in teachers' practice. Project TRUST (2014) had to focus on teachers' day-to-day work and not be something extra that was unrelated to their teaching. It also needed to include many layers of personalization, such as dilemma processing, dialogue with colleagues, and inquiry and action in one's own practice.
Project TRUST (2014) pilot-tested the first version of the professional development curriculum for teachers. In this early stage, we surveyed teachers after each session and took field notes about how the sessions unfolded – how the facilitation went, and how the teachers engaged with the material. In this first iteration of the project, we discovered a number of ways to improve the curriculum. These included rearranging the order of session topics, providing improved access to academic research that connected to the existing topics, and building in additional time and space for teachers to connect research and community voices to their own teaching practices and dilemmas. A key aspect of the experience was a pedagogy of reflection, dialogue and inquiry. In this professional development experience, teachers read, discuss, and implement tools for building resilience in their own practice.
Now, in the second stage of Project TRUST (2014), we are offering the professional development to more teachers, with nearly 70 teachers and educational support staff (including school social workers) taking part. These educators span all content areas, and include teachers of English as an Additional Language, world languages, special education, family and consumer sciences, health and physical education, and art. In the next stage of the project we plan to expand our current work to more sites and to determine the effectiveness of the professional development with a larger group of teachers and students over a longer period of time. The constructivist and action-oriented nature of the professional development that we used in the first pilot continued in this second iteration.
What are the sessions like? Project TRUST (2014) Topics and Tools
Following are the current nine topics in the professional development series.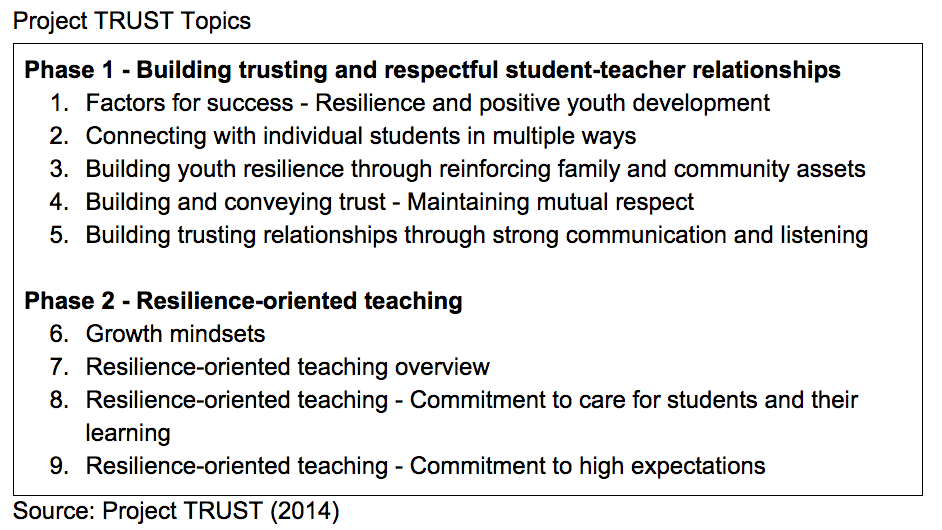 The nine sessions are designed for use within existing professional learning communities (PLCs). In the pilot year, Project TRUST (2014) facilitated sessions occurred every other week. Between sessions, teachers explored their own practice and utilized the strategies and ideas discussed in the previous session. Participating teachers also used this time to access background materials, including youth and parent quotes and summaries of connected research on classroom practice. Each session included a "Tool for Use/Inquiry" to guide participants through a process of inquiry on their classroom practices and their relationships with focal students of their choosing. At the beginning of the following session, teachers then checked-in with fellow colleagues in the PLC to share what they had done, reflected on the experience, and processed dilemmas that arose.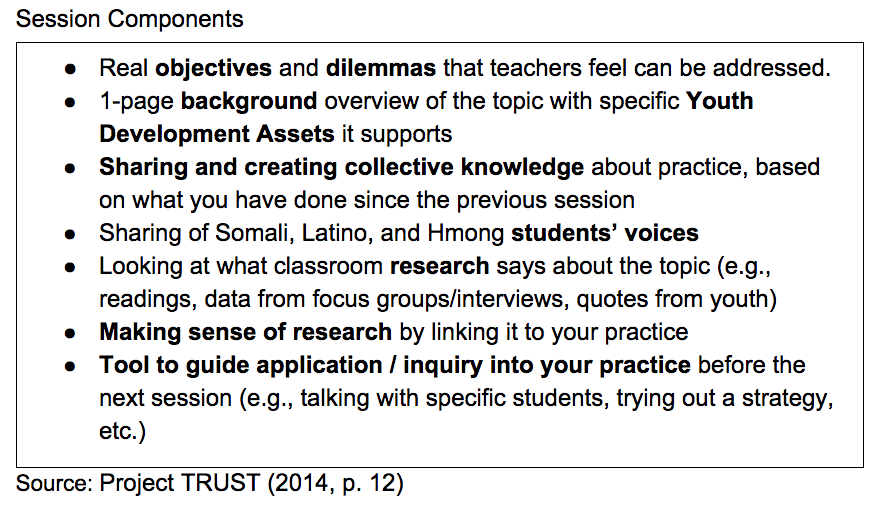 Each session focused on engaging participating teachers in professional conversations with colleagues around inquiry into teaching practices, making sense of research and what it means for teaching and learning in different classrooms, and reading and listening to quotes shared by Somali, Latino, and Hmong youth and parents. Each session included the steps in Figure 2, all designed to support connections between research and practice.
An example of one of these Tools for Use / Inquiry can be seen in Figure 3. This tool followed our seventh session, during which we introduced and explored the concept of resiliency-oriented teaching. This session linked Project TRUST's (2014) "resiliency-oriented teaching" to existing conceptualizations in education of warm demanders (Delpit, 1995) and positive youth development of authoritative parenting (Baumrind, 1967; Maccoby & Martin, 1983).
During this session, the group members collectively connected stories of their own classroom practices and dilemmas with these existing paradigms. As a group, the teachers discussed how any teacher could be (or could be perceived to be as) authoritarian, permissive, resiliency-oriented, and disengaged with different students across a day, or a class period. Teachers agreed that they recognized they were engaging in different styles at different times and with different students. Importantly, teachers expressed discomfort and displeasure when they found themselves engaging in practices that were not resiliency-oriented. Teachers often expressed feeling like they were "pushed" or simply "out of ideas" and "at the end of [their] rope."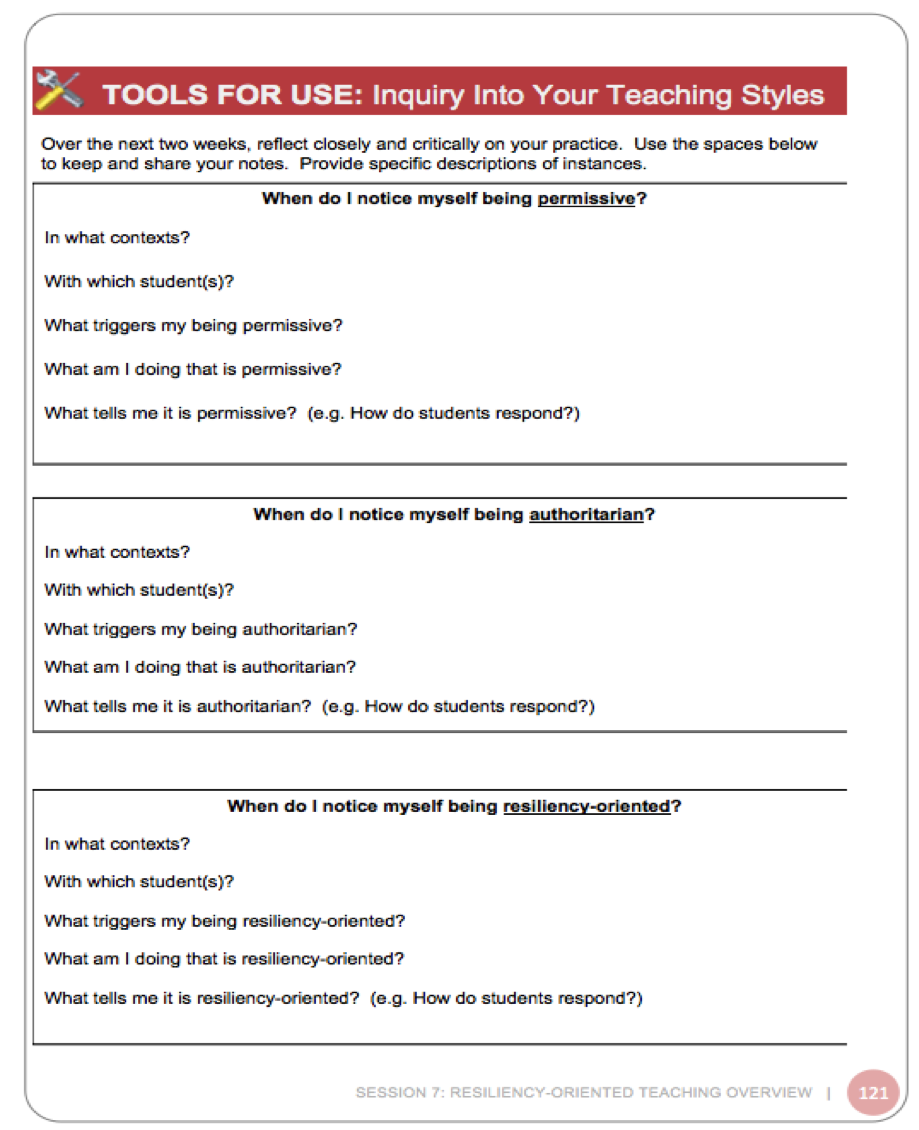 Over the next two weeks, PLC members used this tool to guide independent inquiry into their classroom practices and interactions with students. The tool asked them to focus on a single class or group of students and to be mindful of what contextualizes their shifting practices. What is the context? Which students are experiencing them as this style of teacher? What seems to trigger this style of teaching? What about their practice or interaction makes them think it is this style? What are their students doing or saying that indicates to them they are or are not in the resiliency-teaching "zone"?  It is important to note that the session asked teachers to identify different teaching styles as well as to consider how these styles influence relationships with students. In other words, which students are repeatedly experiencing any given teaching style with them? Many teachers felt this eye on the patterns of teaching styles was useful to help them intentionally key in on and interrogate the practices that were not facilitating resiliency-oriented learning in their classrooms. At the beginning of the following session, teachers brought dilemmas and stories of success with them back to the PLC and used these to engage in collective knowledge sharing and building with their colleagues.
Final Thoughts: The answers aren't in the back of the book – they are in us
While we can not eliminate all education disparities with just one approach, we do know that generating strong connections between youth, teachers, other educators, and adult role models in a young person's day can have a huge impact. Students interviewed by Project TRUST (2014) researchers reported learning a lot from their teachers' stories about consequences. They enjoyed hearing about how their teachers made poor decisions and suffered the consequences but ended up doing well in the long-run – just like the students said they do. Beyond that, they learned through the stories which teachers shared about how they had navigated challenges, who had helped them, and what strengths they had developed from that experience that they continue to use. These networks of resilience, and the ways struggles develop strengths, were powerful moments of connection, teaching, and learning.
References
Allen, M.L., Ortega, L.E., Rosas-Lee, M., Pergament, S., Hang, M., & Omar, L. (under review). Promoting positive youth development in high school for Somali, Latino, and Hmong youth: Perspectives of teachers, youth-workers, and students. Journal of Primary Prevention.
Allen, M. L., Shaleben-Boateng, D., Davey, C., Hang, M., & Pergament, S. (forthcoming). Concept mapping as an approach to facilitate participatory intervention building. Progress in Community Health Partnership.
Baumrind, D. (1967). Child care practices anteceding three patterns of preschool behavior. Genetic Psychology Monographs, 75(1), 43-88.
Bernat, D. H., & Resnick, M. D. (2006). Healthy youth development: Science and strategies. Journal of Public Health Management and Practice, 12, S10-S16.
Bigelow, M. (2010). Mogadishu on the Mississippi: Language, racialized identity, and education in a new land. New York: Wiley-Blackwell.
Bigelow, M. (2008). Somali adolescents' negotiation of religious and racial bias in and out of school. Theory into Practice, 47(1), 27-34.
Delpit, L. (1995). Other people's children. The New Press.
Erikson, E. H. (1968). Identity: Youth and crisis. New York: Norton & Co.
Gavin, L. E., Catalano, R. F., David-Ferdon, C., Gloppen, K. M., & Markham, C. M. (2010). A review of positive youth development programs that promote adolescent sexual and reproductive health. Journal of Adolescent Health, 46(3), S75-S91.
Hmong American Partnership (2010). 2010 Census Hmong Population by State. Retrieved from http://www.hmong.org/page33422626.aspx.
Lopez, N. (2003). Hopeful girls, troubled boys: Race and gender disparity in urban education. New York: Routledge.
Macauley, A.C., Commanda, L.E., Freeman, W.L., Gibson, N., McCabe, M.L., Robbins, C.M., & Twohig, P.L. (1999). Participatory research maximises community and lay involvement. British Medical Journal, 319, 774 -778.
Maccoby, E., & Martin, J. (1983). Parent-child relationships. In P. Mussen (Series Ed.), and E.M. Hetherington (Vol. Ed.) Handbook of child psychology. Vol. 4. Socialization, personality and social development (pp. 1-101). New York: Wiley.
Minnesota Department of Education. Data Reports and Analytics. Retrieved from http://w20.education.state.mn.us/MDEAnalytics/Data.jsp on February 4, 2015.
Ngo, B. (2008). The affective consequences of cultural capital: Feelings of powerlessness, gratitude, and faith among Hmong refugee parents. Journal of Southeast Asian American Education and Advancement, 3. Retrieved from http://jsaaea.coehd.utsa.edu/index.php/JSAAEA
Ngo, B., Bigelow, M., & Wahlstrom, K. (2007). The transition of Wat Tham Krabok Hmong children to Saint Paul Public Schools: Perspectives of teachers, principals, and Hmong parents. Hmong Studies Journal, 8, 1-36.
Pew Research Center. (2011). Demographic profile of Hispanics in Minnesota. Retrieved from http://www.pewhispanic.org/states/state/mn/.
Project TRUST. (2014, September). Building resiliency with a focus on Somali, Latino, and Hmong students: Professional development curriculum. [A community partnership between SoLaHmo Partnership for Health and Wellness, Westside Community Health
Services; College of Education and Human Development, and University of Minnesota Medical School Program in Health Disparities Research, University of Minnesota; and St. Paul Public Schools].
Resnick, M. D., Bearman, P. S., Blum, R. W., Bauman, K. E., Harris, K. M., Jones, J., … Udry, J. R. (1997). Protecting adolescents from harm. Findings from the National Longitudinal Study on Adolescent Health. JAMA, 278(10), 823-832.
Reyes, M. R., Brackett, M. A., Rivers, S. E., White, M., & Salovey, P. (2012). Classroom Emotional Climate, Student Engagement, and Academic Achievement. Journal of Educational Psychology, 104(3), 700-712.
U.S. Census Bureau. (2013a). Minnesota Population Records, 2009-2013 American Community Survey 5-year estimates. Retrieved from http://factfinder.census.gov/faces/tableservices/jsf/pages/productview.xhtml?pid=ACS_pums_csv_2009_2013&prodType=document.
U.S. Census Bureau. (2013b). Total ancestry categories tallied for people with one or more ancestry categories reported, 2008-2012 American Community Survey 5-year estimates. Retrieved from http://factfinder.census.gov/faces/tableservices/jsf/pages/productview.xhtml?src=bkmk.
Wallerstein, N. & Duran, B. (2010). Community-based participatory research contributions to intervention research: The intersection of science and practice to improve health equity. American Journal of Public Health, 100(1), S40-S46.
Woolf, S.H., Johnson, R.E., Phillips, R.L., & Philipsen, M. (2007). Giving everyone the health of the educated: An examination of whether social change would save more lives than medial advances. American Journal of Public Health, 97(4), 679-683.
Youngblade, L. M., Theokas, C., Schulenberg, J., Curry, L., Huang, I. C., & Novak, M. (2007). Risk and promotive factors in families, schools, and communities: A contextual model of positive youth development in adolescence. Pediatrics, 119(Supplement 1), S47-S53.
---
1Research reported in this publication was supported by National Institute of Minority Health and Health Disparities of the National Institutes of Health under award number R24MD007966. The content is solely the responsibility of the authors and does not necessarily represent the official views of the National Institutes of Health. Additional funding came from the University of Minnesota Clinical Translational Science Institute Planning Grant # CTSI 15673, and the University of Minnesota Program in Health Disparities Research Planning Grant # 2010-004.

2These data are not exact because of how dialects and languages are (mis)categorized by district personnel and/or because families may not always name their particular home language but rather the larger language family under which their language falls. For example, speakers of Pa'o, Pwo, Kayan, Lahta, Geba, Gekho, and Paku may all name their home language as Karen. Disagreements about what is a language and what is a dialect are common among speakers and sociolinguists.
By incorporating learning strategies through context, teachers reduce the possibility of incorrect interpretation in L2 listening comprehension and therefore enhance their students' learning in a second or foreign language.
Introduction to L2 Listening
"To place speaking before listening… is to put the cart before the horse" (Vandergrift, 1999, p. 169). As language teachers, it is not often that we hear from our students that they wish to learn to listen in a foreign or second language. Most of the time, the focus is heavily placed on written and oral production in foreign and second language classrooms; we want the students to be able to produce the language they are learning as quickly as possible. Of course, teaching a language involves a complex combination of speaking, writing, and listening. But, when and how often do we teach our students to listen in a foreign or second language? Although research has demonstrated that adults spend 40-50% of communication time listening (Gilman & Moody, 1984), the important role that listening plays in language learning has not always been recognized (Oxford, 1993). The purpose of this article will be to further explore the research behind listening comprehension and strategy instruction, and how we, as educators, can incorporate strategic listening activities in our classrooms to better serve our students in their language learning.
Vandergrift (1999) defines listening comprehension as:
"a complex, active process in which the listener must discriminate between sounds, understand vocabulary and grammatical structures, interpret stress and intonation, retain what was gathered in all of the above, and interpret it within the immediate as well as the larger sociocultural context of the utterance" (p. 168).
With listening comprehension being the ultimate goal of most listening activities, it is important to start from the beginning of this complex process and analyze how given context—relevant conditions and circumstances—or lack thereof, has an effect on discriminating between phonemes and understanding strings of speech. The effect may, in turn, cause change in the initial steps leading towards listening comprehension, and would therefore result in an incorrect interpretation of the subsequent steps of this complex process. In this article, I argue that context plays a crucial role in listening comprehension and, without given context, incorrect discrimination between sounds of a speech sequence would result in a lack of comprehension for the listener.
Learning Strategies for L2 Listening and Past Research
To positively affect the initial steps in listening comprehension, Vandergrift (1999) argues that teachers must incorporate different strategies to aid students in their performance—learning strategy instruction. He divides possible learning strategies into three different categories: metacognitive, cognitive, and socio-affective. The first two were derived from a body of language learning strategies validated by O'Malley and Chamot (1990). Below I have included a short list of possible learning strategies that Vandergrift redefines and characterizes as metacognitive, cognitive, and socio-affective; this list is not exhaustive. See Vandergrift (1997) for his complete list of learning strategies for listening and their definitions with representative examples (p. 392-395).
Metacognitive Strategies
Planning – Developing an awareness of what needs to be done to accomplish a listening task; an appropriate action plan to overcome difficulties
Monitoring – Checking, verifying, or correcting one's comprehension or performance in the course of a listening task
Evaluation – Checking the outcomes of one's listening comprehension against an internal measure of completeness and accuracy
Cognitive Strategies
Inferencing – Using information within the text or conversational context to guess the meanings of unfamiliar language items associated with a listening task; predicting outcomes; filling in missing information
Elaboration – Using prior knowledge from outside the text or conversation context and relating it to knowledge gained from the text or conversation
Translation – Rendering ideas from one language to another
Transfer – Using knowledge of one language to facilitate listening in another
Deduction/Induction – Consciously applying learned or self-developed rules to understand the target language
Socio-affective Strategies
Questioning – Asking for explanation, verification rephrasing; posing questions to the self
Cooperation – Working together with someone other than an interlocutor to solve a problem, pool information, check a learning task, or get feedback
Lowering anxiety – Reducing anxiety through the use of mental techniques that make one feel more competent to perform a listening task
Vandergrift (1997, 1999, 2002) emphasizes the importance of these three different categories of learning strategies because they facilitate comprehension and make learning more effective. In other more recent work, Vandergrift and Tafaghodtari (2010) refer to a few of these same strategies as processes, as they may be ongoing and employed in tandem with other strategies. It is true that depending on the general context of the class, the cognitive level of the learners, and the set-up of the classroom, some learning strategies or processes may be more appropriate for the teacher to employ at certain times than others. In addition to selecting the appropriate strategy within these three larger categories, other research shows that certain categories can be more effective than others (see examples below).
In a research study conducted by O'Malley and Chamot (1990, p. 170), two groups of intermediate-level English language learners in secondary schools received instruction using a variation of metacognitive, cognitive, and socio-affective learning strategies for academic listening. The learners in these groups took multiple post-listening activity tests that were then compared to another group of learners of an identical language level, used as the control group. The control group did not receive instruction using any of the aforementioned strategies, but were instead told to use whatever procedures they normally would in completing classroom activities. The results of these tests concluded that on each of the posttests, the groups receiving strategy instruction outperformed the control group. Furthermore, it was also shown that the group receiving metacognitive strategy instruction (which included metacognitive, cognitive, and socio-affective strategies) outperformed the group receiving cognitive strategy instruction (which included only cognitive and socio-affective strategies) on three of the four posttests. This research indicates that "strategy instruction could be effective in enhancing initial learning, and that teachers could do more than simply provide comprehensible input by pairing learning strategy instruction with listening tasks" (Vandergrift, 1999, p. 170-171).
In another study of university-level students of French as a second language, Vandergrift and Tafaghodtari (2010) investigated the performance of two groups over a period of 13 weeks (one session per week). The first group received strategy instruction, in which the teacher implemented metacognitive strategies with listening activities. The strategies required students to anticipate what they might hear based on the topic of the lesson (thus activating their prior knowledge), check hypotheses and their understanding with partners, and verify overall comprehension as a large group. The second group, the control group, did the same listening activities; however no strategy instruction was incorporated into the lessons. The students in the control group only listened in the activity; they did not write down hypotheses, discuss in pairs or as a large group.
Testing both the experimental group and the control group with the same posttest for listening comprehension on each of the activities, the research concluded that the experimental group, in which the teacher incorporated strategy instruction, outperformed the control group significantly. Although this research was conducted in a foreign language classroom, this same context can be applied to teaching English as a foreign language (EFL). Learning from the results of the previously done research, we as educators should learn to incorporate similar strategies in our classrooms to best serve our students' language learning needs. Although it is clear that there are many learning strategies to choose from for strategy instruction (see above for a brief list of Vandergrift's [1997] learning strategies), let us consider two greater, encompassing approaches by which teachers can incorporate learning strategy into their lessons; these approaches are top-down and bottom-up.
Top-Down vs. Bottom-Up: Why Teach in Context
Applying the top-down approach, the main goal of the listening activities would be to activate the students' prior knowledge of the subject matter, or schema, so that they are able to better derive meaning of the input from the given context (Byrnes, 1984). Research has shown that by activating the learners' schema or by giving learners context from which they are able to derive meaning, learners are able to recognize vocabulary more quickly and understand the overall meaning more easily than if they had no context or prior knowledge whatsoever (Byrnes, 1984; Vandergrift, 2002).
The learner can therefore be primed to recognize certain language forms before others based on the context of the listening activity. Much of what we now know about priming stems from the initial cognitive psychology studies conducted in the early 1970's which showed that participants recognized words more quickly when they followed an associatively or semantically related word (e.g. Meyer & Schvaneveldt, 1971). Although the original research in cognitive psychology tested visual recognition of words, the same effect of priming through context holds true for aural recognition of words and phrases in speech perception (Garnes & Bond, 1977; Jongman, Wang, & Kim, 2003). Listening in the context of priming, or an activated schema, influences the listener's interpretation of the input. Consider the following "oronyms"—strings of sounds that can be interpreted as words in two different ways—taken from Steven Pinker's (2007, p. 155) The Language Instinct:
| | |
| --- | --- |
| /ðəgʊdkændəkeymɛniweyz/ |  /ðəstʌfinowzkænlidtuprɒbləmz/ |
| The good can decay many ways. |  The stuffy nose can lead to problems. |
|  The good candy came anyways. |  The stuff he knows can lead to problems. |
Taking into consideration the first oronym (on the left), if the context of the class or of the listening activity was death, sickness, grimness, darkness, tragedy, poetry, etc., then the learners would sooner comprehend the first of the two sentences, "The good can decay many ways." Contrarily, if the teacher activates the learners' prior knowledge of treats, sugar, gifts, mail, Halloween, Christmas, birthdays, etc., the latter of the sentences, "The good candy came anyways," would instead be interpreted more often than not. Similarly, with the second oronym (on the right), the students can be primed to hear and understand the first sentence, "The stuffy nose can lead to problems," if the context of the activity was related to medicine, cold remedies, congestion, illness, sneezing, etc. And, by activating the listeners' schema and prior knowledge of secrets, mystery, information, snooping, etc., the participants in the listening activity would more quickly recognize and interpret the second sentence, "The stuff he knows can lead to problems."
In both oronyms listed above, the two sentences are interpreted and derived from the same set of phonemes. Phonetically, "The stuffy nose can lead to problems" and "The stuff he knows can lead to problems" are identical, as are "The good can decay many ways," and "The good candy came anyways." It is through context by which the listeners are primed to derive a certain interpretation or meaning from the string of phonemes. By not activating learners' schema or teaching in context, the teacher is risking ambiguity when presenting certain listening activities, phrases, and vocabulary.
Contrastingly, the bottom-up approach aims to use the listeners' linguistic knowledge to derive meaning from a set of phonemes by creating word boundaries and phrases within the string of speech. This approach focuses on building meaning from phonemes, and utilizes a different skillset in listening than the top-down approach, which is based heavily on context and the learners' prior knowledge. Although we as listeners are constantly creating hypotheses about what we expect to hear next in an utterance, it is true that without much context or prior knowledge we risk creating false hypotheses. For a language learner, there is more of a risk with unknown idiomatic expressions, uncommon phrasing, and new vocabulary. In such cases, the listener must first recall from his/her short term memory what the speaker(s) said, then parse the string of phonemes into comprehensible units, and finally combine the units to form a complete thought that holds meaning for the listener.
The following sentences selected from Pinker (2007, p. 156) are phrases that have been reproduced by learners who parsed strings of speech into meaningful units consisting of words and grammatical structures already in the learners' vocabulary. To those who do not have the L2 vocabulary used in the input, these "incorrect" interpretations of speech may appear to be just as logical as the "correct" sentences. This is where learners' attention needs to be explicitly drawn to linguistic form.
It's a doggy-dog world. [dog-eat-dog]
He was a notor republic. [notary public]
They played the Bohemian Rap City. [Bohemian Rhapsody]
Having never heard the popular, idiomatic expression "It's a dog-eat-dog world," the listener, already primed with the word dog, could very well infer "doggy-dog," knowing already that doggy is a colloquial word for dog. Similarly, in the second sentence, the listener could already be familiar with the word "republic" and therefore parse and group the other phonemes into a unit assuming it is a word he/she does not know yet, thus assembling a non-existent word, "notor." And finally, for those who are not familiar with the song "Bohemian Rhapsody" but who are familiar with the music genre rap, the third sentence may appear correct. In this case, even with context, one does not make more sense than the other. Although it is difficult to accurately apply context to such idioms in order to mitigate false interpretations in listening activities, this practice of bottom-up processing is useful for focusing on individual units and unknown features of the language. To avoid false interpretations teachers need to direct learners' attention to linguistic form.
Conclusion
This article focuses on representative examples and benefits of using strategy instruction to teach L2 listening in context. Priming the students and activating their prior knowledge or schema, with regard to the topic of a conversation, class, or listening activity, allows students to derive meaning from context. This results in overall higher scores in listening comprehension, later determined by an assessment (multiple posttests) following a listening activity.
While the research presented was conducted in ESL and foreign language contexts, both of which were encompassed by an English-speaking community, further research and observation is necessary for determining the effect that strategy instruction has on the comprehension skills of English language learners in EFL contexts, and how that compares to the results of strategy instruction in L2 listening contexts for ESL. Arguably, EFL contexts would see a more drastic result in the overall development of L2 listening comprehension through the implementation of strategy instruction, given that in most cases the classroom is the only access to L2 input that students in EFL contexts have. Although we are unable to draw a direct comparison between ESL and EFL without the aforementioned research, it remains certain that by incorporating learning strategies through context teachers reduce the possibility of incorrect interpretation in listening comprehension and therefore enhance their students' learning in a second or foreign language.
References
Byrnes, H. (1984). The role of listening comprehension: A theoretical base. Foreign Language Annals, 17, 317-329.
Garnes, S., & Bond, Z. S. (1977). Influence of semantics on speech perception. The Journal of the Acoustical Society of America, 61, S65. http://dx.doi.org/10.1121/1.2015833
Gilman, R. A., & Moody, L. M. (1984). What practitioners say about listening: Research implications for the classroom. Foreign Language Annals, 17, 331-334.
Jongman, A., Wang, Y., & Kim, B. H. (2003). Contributions of semantic and facial information to perception of nonsibilant fricatives. Journal of Speech, Language, and Hearing Research, 46, 1367-1377.
Meyer, D. E., & Schvaneveldt, R. W. (1971). Facilitation in recognizing pairs of words: Evidence of a dependence between retrieval operations. Journal of Experimental Psychology, 90, 227-234.
O'Malley, J. M., & Chamot, A. U. (1990). Learning strategies in second language acquisition. Cambridge: Cambridge University Press.
Oxford, R. (1993). Research update on L2 listening. System, 21, 205-211. doi:10.1016/0346-251X(93)90042-F
Pinker, S. (2007). The language instinct. Harper Perennial Modern Classics edn. New York: HarperCollins.
Vandergrift, L. (1997). The comprehension strategies of second language (French) listeners: A descriptive study. Foreign Language Annals, 30(3), 387-409.
Vandergrift, L. (1999). Facilitating second language listening comprehension: Acquiring successful strategies. ELT Journal, 53, 168-176.
Vandergrift, L. (2002). Listening: Theory and practice in modern foreign language competence. Subject Centre for Languages, Linguistics and Area Studies Good Practice Guide. Retrieved from https://www.llas.ac.uk/resources/gpg/67.
Vandergrift, L., & Tafaghodtari, M. H. (2010). Teaching L2 learners how to listen does make a difference: An empirical study. Language Learning, 60(2), 470-497.
In this invited piece the authors describe strategies for incorporating "classroom conversation" to prepare learners the communication rigors of college and beyond. The article describes necessary conditions for effective classroom conversations and provides strategies to support them in the classroom.
This article was previously published as "Conversing to Fortify Literacy, Language, and Learning" by Jeff Zwiers, Susan O'Hara, and Robert Pritchard, Voices from the Middle, Volume 22, Number 1, September 2014. Copyright © 2014 by the National Council of Teachers of English. www.ncte.org. Used with permission.
"I already know the answer.
Why do I have to talk to a partner?"
–Nora, 6th grade
How would you respond to Nora's comment?
You probably thought of how to convince Nora that she can learn from others and that they can learn from her. And this would be a good start. Yet the "response" that needs to happen in this and similar settings is a much deeper one, a transformation of both what and how students are taught. Nora has been immersed in hundreds of lessons that have focused on short, right answers. She has been asked to fill in blanks, fill in boxes, fill in lines, and choose the right letter on tests and several trees worth of worksheets. She has come to believe that the purpose of talking to others in school, when allowed at all, is to give or get answers.
Interaction, dialog, conversation, discussion, discourse, collaboration, and talk have become increasingly popular terms in recent years, particularly with the advent of the Common Core State Standards. In the 21st and future centuries, students will need to be able to jointly build complex ideas and solve problems by talking to one another. Yet, as Nora's comment points out, we still need to overcome several challenges related to using and building student talk in school. And these challenges are particularly relevant for language arts teachers in middle grades, when texts and concepts tend to take an extra leap in complexity and abstractness.
Moreover, in schools that have lived in constant fear of sanctions for low test scores, large numbers of English learners have suffered the slings and arrows of lessons filled with test preparation, word meanings recitation, and grammar rules memorization. As a result, too many students have lost interest in learning, and many others, if they do graduate, lack key communication and thinking skills needed for college and career.
To better prepare students like Nora for the communication rigors of college and beyond, we have identified several necessary conditions for effective classroom conversations and possible ways to create them in the classroom. We use the term "classroom conversation" in this article to refer to paired interactions in which students build on one another's turns to build up ideas in a non-scripted manner.
Challenge #1: Valuing Talk
Nora doesn't seem to value talking to learn. But is it her fault? Tests haven't valued it. Curricula, lessons, and teachers, for the most part, haven't valued it. And yet, conversations are highly valuable for many reasons, three of which are described in this section.
Conversations support reading. As students converse with partners, they practice interacting, questioning, clarifying, paraphrasing, critiquing, making inferences, comparing, challenging ideas, building up understandings, and fortifying positions. Some even call this interacting with the text (Rosenblatt, 1995). Thus, interacting with people can strengthen students' reading comprehension skills, especially those struggling readers who view reading as a passive "decode the words without stopping and hope it all sinks in" process.
Conversing supports writing skills. In a conversation, partners need to continue clarifying ideas for partners. They get immediate feedback on how clear their idea is and can make adjustments, often adding information or defining their terms. They also fortify and support their ideas with evidence and examples. When, for instance, a student tells her partner a sentence that proposes the use of symbolism in a story, and then she follows that sentence with sentences describing examples from the text, she has practiced, orally, the crafting of a logical paragraph—just as we want to see in students' writing.
Conversing supports language development. Producing linguistic output and interacting with others are vital for language development (Swain, 1985; Long 1981). Paired conversations offer the most "practice opportunities per minute" for forming original and authentic messages. The more chances the brain has to put words together into sentences and connect them to convey and clarify ideas, the better it gets at using language.
Condition #2: Focusing Less on Short Answers and More on Whole Ideas
Let's consider the "know the answer" part of Nora's response above. This answer-focused paradigm of education is deeply rooted in students, teachers, assessments, and curricula. Much of it stems from the "factory" or "banking" view of teaching that considers a person's education to be an accumulation of facts and right answers, most of which are "short," meaning that they can be answered with one word, one sentence, or choosing an option on a test. Short answers tend to be more easily tested and taught. For example, teaching the meanings of terms such as onomatopoeia, irony, denouement, and foreshadowing tends to be easier than teaching students to use criteria to evaluate and argue the strength of evidence supporting a theme in a novel.
In many classrooms, teachers have students answer orally in order to test their knowledge. Students' responses are often just for "display," to show what they have learned, not to communicate an idea for a purpose and not to put an idea out there for it to be built upon or challenged. Because of this focus on answering with short answers for points, students have learned not to push themselves to clearly communicate their ideas. They say the minimum and tend to depend on prompting by the teacher for elaboration and justification. Yet to reach a wide variety of new standards, and to do well in life, students need to be able to orally communicate longer, more complete messages that contain complex ideas. And to do this, they need numerous opportunities to practice putting thoughts together into oral messages.
We must put into practice what John Dewey tried to tell us over 100 years ago: "Were all instructors to realize that the quality of mental process, not the production of correct answers, is the measure of educative growth, something hardly less than a revolution in teaching would be worked" (Dewey, 1916, p. 183). Thus, we must prepare and prompt students to do things that require "long answers." These are ideas and understandings that require students to use (a) thinking skills that we want them to use in English classes, such as interpreting, supporting ideas, and applying; and (b) original, complete sentences that connect to one another.
Opinion Formation Cards
An activity that helps students fortify their oral communication skills is Opinion Formation Cards (Zwiers, O'Hara, & Pritchard, 2014). On each card is a quotation from an argument-based text. Often there are three cards supporting one side of the issue and three supporting the other side. Each student receives a copy of one of the six cards. Students are presented with the issue such as "Should middle school students take more classes online?" and are asked to begin forming their opinion. They don't need to agree with their card's idea, but they should be able to respond to it. The teacher models how to use complex sentences and how to link supporting sentences with appropriate transitions, pronouns, and noun phrases. They then share their evolving opinion with three different peers. Here is the crucial feature of the activity: with each successive partner they must augment what they say and how they say it. That is, they must improve the quantity and quality of their opinions in each conversation by using the language and ideas of previous partners, as well as the modeling and feedback from the teacher.
Condition #3: Focusing Less on Talking to and More on Conversing with
Now let's look at the "why talk to a partner" part of Nora's response. First of all, there is a difference between talking to and talking with another person. Talking to is one-way transmission of information. It is best for short answers, definitions, facts, etc. We see talking to often in activities such as think-pair-shares and jigsaws. Students tell or read aloud their information to others. Conversely, conversing with means building ideas together. It means a two-way process in which students co-construct, co-fortify, and negotiate ideas to form new knowledge and understandings. It requires building students' abilities to orally communicate with others in academic ways—to "think together," as Mercer (2000) puts it.
We call interaction the fifth language domain. Listening and speaking are two of the famous four (reading and writing being the other two), but interaction involves much more than just listening plus speaking. You need to: build ideas in collaboration with others in real time, follow conversation norms, clarify and negotiate meanings, and both direct and follow the flow of the conversation.
Constructive Conversations
Lisa:   I think the theme is being honest.
Edgar: I think it's don't judge a book cover.
Lisa:   OK.
Edgar: It could be about friendship.
Lisa:   Yeah. That one works.
The overabundance of non-constructive conversations like this one in upper grades fuels the urgency of oral language development work through high school. In response to this urgency, we have been working with teachers to help students build four focal skills for what we call "constructive conversations." The four skills are creating, clarifying, fortifying, and negotiating.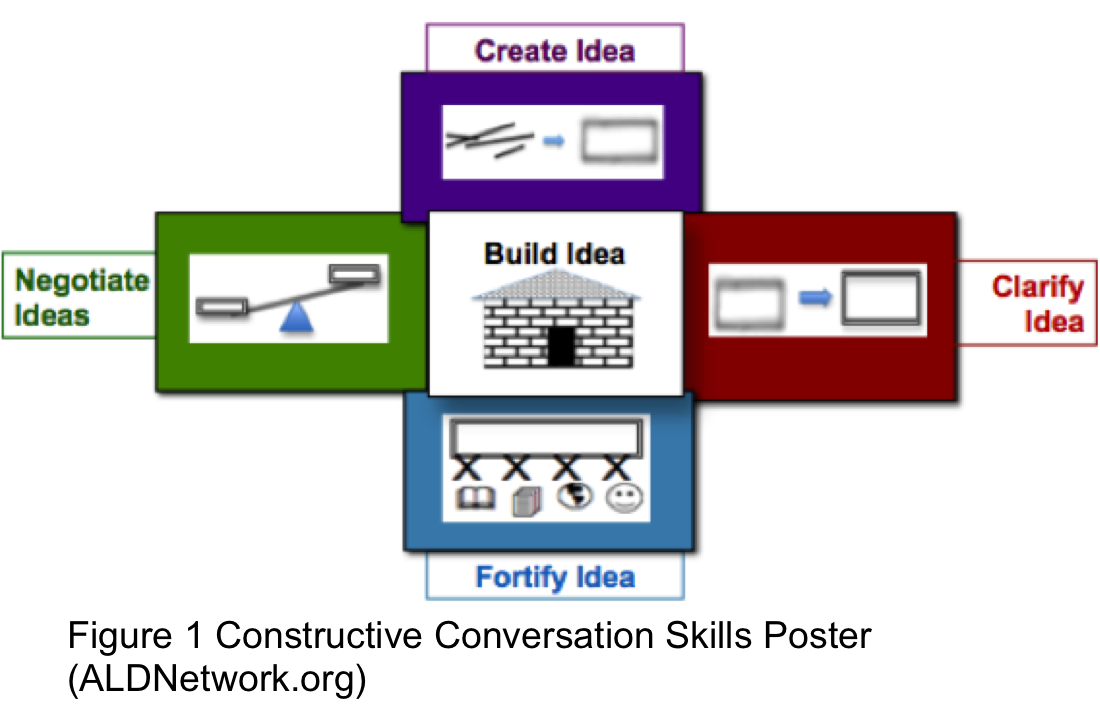 These work together to help students build ideas within a conversation, as shown in Figure 1. The visual reminds students of the skills they can use as they talk, and the symbol in the center reminds them to build one idea as much as they can before moving on. Edgar and Lisa might have benefited from this visual tool.
Each conversation skill can be taught with focused activities, scaffolds, and practice opportunities.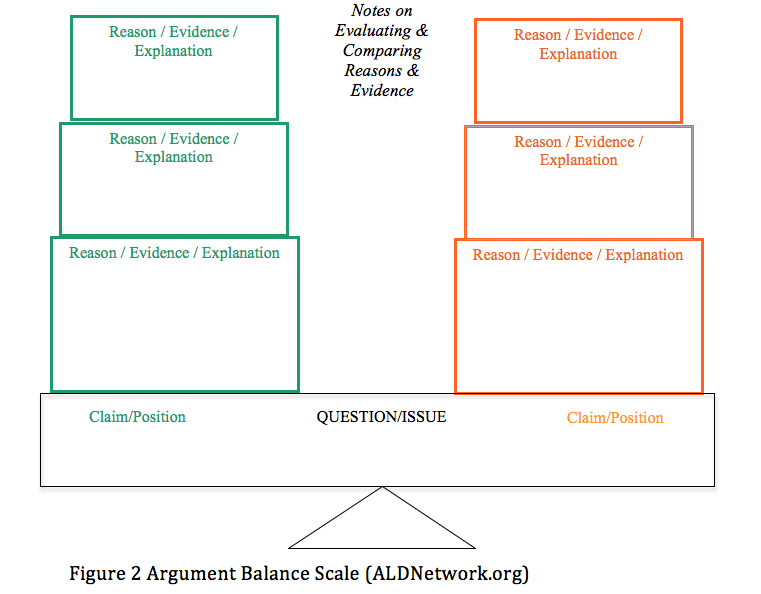 One helpful scaffold for teaching negotiation of ideas is the  Argument Balance Scale from www.ALDNetwork.org and shown in Figure 2 (Zwiers, O'Hara, & Pritchard, 2014). It shows students what we do in our minds as we assign values, or "weights," to different reasons and their evidence. (Click on the image to better view it.) In their conversations, they try to agree on how big or small the boxes are, according to the strength of their evidence. They then compare the points on both sides to come to an agreement on which side is heavier.
Students in a ninth grade English class used the scale to decide which theme from To Kill a Mockingbird was most apparent in the text. Here is a snippet from one paired conversation that followed a class discussion used to surface several ideas for themes.
Leonel: I think like the heaviest is doing the right thing.
Daisy: Why?
Leonel: Atticus knows he's gonna lose the case with Tom.
Daisy: And it's dangerous for him and his kids. But I think it's don't be racist. It's heavy cuz being racist is really wrong. Look at what happened to Tom!
Leonel: Yeah. And like Ms. Seeley said, Tom was like an example of lots of others.
Daisy: So what's heaviest?
Leonel: I don't know. If you don't be racist, then you don't need people like Atticus to do the right thing. It depends.
Daisy: Do the right thing is not being racist.
Even though Daisy and Leonel didn't quite reach a decision, they were creating and building important ideas that will help them become skillful thinkers and communicators over time. Our work is cut out for us, though, if we want to hear conversations like this between our students. We must move the focus of our teaching and assessments from finding and accumulating answers to co-constructing and strengthening ideas.
Teachers play a key role in supporting and guiding conversations in school. In the early stages, we recommend that teachers take the time to model and show models (transcripts and video) that show students what they can and should do with ideas in a conversation. But as soon as possible, students must be given the tools and skills needed to build ideas with partners without the teacher's training wheels. This means that teachers need to "gradually release" to students the responsibility for running their conversations on their own (Fisher & Frey, 2008).
Conclusion
The three conditions for effective classroom conversations overlap and support one another, and they are vital not only for developing students' literacy skills, but also for fostering the growth of their abilities to communicate with others. It is our hope that Nora and many students like her will benefit from lessons that value conversations with others as ways to build and learn important ideas in each discipline.
References
Dewey, J. (1916). Democracy and Education. New York: The MacMillan Co.
Fisher, D., & Frey, N. (2008). Better learning through structured teaching: a framework for the gradual release of responsibility. Alexandria, VA: ASCD.
Long, M. (1981). Input, interaction and second language acquisition. In H. Winitz (Ed.), Native Language and Foreign Language Acquisition. New York: Annals of the New York Academy of Science.
Mercer, N. 2000. The guided construction of knowledge: Talk amongst teachers and learners. Clevedon, UK: Multilingual Matters.
Rosenblatt, L. M., (1995). Literature as exploration. New York: The Modern Language Association of America.
Swain, M. (1985) Communicative competence: Some roles of comprehensible input and comprehensible output in its development. In S. Gass and C. Madden (eds.), Input in Second Language Acquisition. Rowley, MA: Newbury House Publishers, Inc. 235-253
Zwiers, J., O'Hara, S., & Pritchard, R. (2014). Common Core Standards in diverse classrooms: Essential practices for developing academic language and disciplinary literacy. Portland, ME: Stenhouse.
Harold B. Allen Award Recipient:Our desire to fix, move or improve our students can get in the way of hearing their voices and honoring their humanity.
Developing student voice, opportunities for higher order thinking, forging student relationships. Given this platform to share with my peers, these were the topics I know are most dear to me, the ones I wanted to share. I had an outline in my head. So I went to class and asked the students a question: "What do you want teachers to know about you?"
t was the beginning of the semester, I had just met the kids. I was not their teacher, but a visiting coach, another nice woman in the room. Their responses were tepid. "I want to do well," "I like school," "I like my teachers." These were not the deep responses I had hoped for.
How I learned what I needed to know
Throughout the fall, I spent one day each week co-teaching with the reading teacher. Then, one cold December morning I found this in my inbox.
Miss Smith,
I would like to work on myself, because the new is always better, to challenge yourself, to show yourself, you will be able to succeed, I think this is a happiness! But, when I'm thinking about my language, I feel like, lost, there is no way to go, no vocabulary, no enough language.. I really-really lost, seriously, I feel myself «dumb», did I deserve it? Am I? I have to find the way from this situation, problems. You know that feeling? When people around you most likely "Smart, intelligent, have enough high level of studying». They speak very clear, they have enough vocabulary, they can share their opinions, without feeling, shame. But I had and have that shame, it seems like, if I will say or write something, it's not gonna be correct.. For first time it's fine, but when it repeats again and again, of course I will feel myself stupid, why not? 
 
It's hard, when in my mind i have huge of ideas to share, but i can't, I am trying to explain something for someone, but i can't and the worse thing is, in the test, i had this lesson, maybe i know what is the passage is talking about, and I need to write summary about it, but I am struggling with grammar, speaking, writing.. When I my thoughts about it, I lose myself. But I need to stick up myself, there is noting is easy way to build my succeed, only one person can help me it's me, only one person can change my mind, it's me again. But I need support and someone can show me from what I can start, to get things better.  ~S.M.
This email stopped me in my tracks. After a few months of visiting the class, this student trusted me enough to share these thoughts. This is what she wants her teachers to know.
Let them be their authentic selves
My first thought was to find a vocabulary study program, start a book club, talk to her teacher, help her. But as I reread it, I heard her voice more clearly. I felt the depth of her desire to connect. Not just in her new language, but to her own humanity. She wanted to be understood. Her voice was there, I just had to listen. My reaction, I'm sure, is not uncommon, but I wonder what correcting her work might have done to her voice. I wonder if engaging in dialogue with her, mediating only her thinking, not her grammar, spelling, vocabulary might strengthen her voice in a way that red (or purple pen) might. Even letting that work be, and offering to enact "solutions" could imply that her voice is broken.
My response to this letter was to engage with the student on mindset around language learning, around what power her voice carried. I told her that I would use her voice to connect with other teachers. I also offered to support her in her academic and narrative writing in any way I could, but that I would never correct every single issue, because her voice should not be compromised.
Our responsibility to teach language is second only to our responsibility to teach people. That is our charge, listen to each student's voice. Offer pathways for expression. Honor the struggle and sometimes fight our own urges to correct, repair, move forward. Give students the tools, help them clear the road, but always let them be their authentic selves.