We are very excited to share with you our Fall 2015 issue of the MinneTESOL Journal.   This issue, like all of our Fall issues, are blind-reviewed, meaning that the manuscripts, stripped from any information regarding the author, have been reviewed by a group of experts in the field to determine the scholarly merits of the manuscripts. This allows authors who need this level of rigor and credibility in their professional careers (often in higher education) to publish through our journal. Nevertheless, we have made sure that all of the manuscripts published in this issue are also accessible and relevant to practitioners and are applicable to practice.
In this issue, you will find two very special invited articles. First, to continue making connections to the professional field of language education in our state, one of our invited articles is by Dr. Annela Teemant, who was one the keynote speakers at the Ninth Language Teacher Education Conference in Minneapolis in May, 2015. Dr. Teemant is an Associate Professor of Second Language Education at Indiana University-Purdue University in Indianapolis. Her research and teaching focus on preparing urban K12 teachers to work with English Learners.  To learn more about her, please visit her faculty page at: http://education.iupui.edu/directory/facultydetail.php?id=100. Dr. Teemant's article in this issue describes critical sociocultural pedagogical practices for sheltering instruction for K-12 English Learners, questioning the status quo in ESL teacher preparation which over emphasizes language to the exclusion of the broader sociocultural, sociopolitical, and sociohistorical context in which students are educated.
We are also very proud and excited to have our second invited article written by Amy Hewett-Olatunde, an ESL teacher at LEAP High School, who was named the 2015 Minnesota Teacher of the Year by Education Minnesota in May 2015. In her article, Hewett-Olatunde shares her ideas for co-constructing a learning environment for and with students that reflects peace, reconciliation, and self-validation. This kind of collaborative environment invites and appreciates different opinions and places community building to the center of the learning process.
In addition to our invited pieces, we have four excellent articles to share. These four articles offer a nice range of ESL teaching and learning contexts, spanning from K-12, to college, adult, SLIFE and to teacher education contexts. The articles discuss a variety of important issues in our field: the shifting roles of the ESL teachers in K-12 classrooms; differences between native and non-native graduate students imagining their future college-level reading instruction; the challenges associated with rating rubrics used for evaluating second language writing in contexts where writing samples are used for decisions about placement; and a description of the strategic efforts of the Hmong American Partnership (HAP) English School to better meet the needs of its students, adult ESL learners from limited formal schooling backgrounds.
As always, this work doesn't happen without many people.  Thank you to those who take the time to write and submit manuscripts and to the volunteers who serve on the Editorial Board and others who agreed to review manuscripts for us.  We'd like to thank Jen Vanek, our technical editor, who puts the final formatting touches on the manuscripts before publication, serves as quality control on content and form and coordinates the process of communicating with our authors to get the manuscripts fully ready for publication.
We hope you enjoy reading this issue and will share the articles through social media! Pass on the great work done by our Minnesota ESL professionals and share the learning with people all around the world.
Anne Dahlman and Kim Johnson
MinneTESOL Journal Senior Co-editors
ESL teachers share their perspective that ESL teachers often serve in three key professional roles in the K-12 instructional setting: supporting systematic English language development, supporting access to grade-level content learning, and serving as an advocate and local expert to support colleagues in meeting the needs of English learners.
Not too many years ago, the K-12 ESL classroom was a space apart. It served as a warm refuge from what were often the unreasonable demands of the rest of the school day. These classrooms were their own corner of the school characterized by diversity, acceptance, and comprehensible input. Sounds good, right? And, maybe it was good while the students were in that little peaceable kingdom.
So, why did many ESL teachers become uncomfortable with the system as it was? They realized that creating a space apart for ESL services did not meet the learning needs of English learners (ELs) as they navigated the rest of the school or out in the wider world. Teachers realized that students did not need a refuge from the world as much as they needed tools and advocacy to be successful there.
Today the roles and responsibilities of the ESL teacher have been greatly broadened.  Sometimes that broadening means stretching the work of ESL teachers into the wrong places.  ESL teachers are called to work as on-call emergency substitutes, math tutors, assistant principals, interpreters, and glorified paraprofessionals; they often become the utility infielders for the entire school.
What is the rightful role of an ESL teacher? Concisely put, it is to help students learn English. That seems obvious, but in schools all over the country, it is often overlooked in favor keeping "the system" running smoothly. A recent move toward co-teaching in content classes has exacerbated this problem as the ESL teacher can be treated as an extra hand. As such, ESL teachers too often are trapped into serving as grease for the wheels of systems that habitually fall short of meeting the needs of ELLs. ESL teachers find themselves helping students finish homework and complete assignments. At times, they find themselves providing "assessment accommodations" that devolve into coaching students through tests in ways that can make all uncomfortable. This is done to help ESL students pass content classes that often do not recognize their unique learning needs. On one hand, this makes a lot of people feel better. The students pass their classes. The teachers are not forced to fail them. The parents see their students getting good grades. But, on the other hand, ultimately the learning needs of the students are not being served. The actual achievement gap does not narrow. There are still too many long-term learners. Too many dropouts. Too many students who are not career or college ready.
What is the remedy? How does the profession fix this? A good start is for ESL teachers to embrace and grow into the three key roles. Each role is situated around a key function:
Supporting systematic English language development.
Supporting access to grade-level content learning.
Serving as advocates and local experts to support colleagues and the school in better meeting ELLs needs (see Figure 1).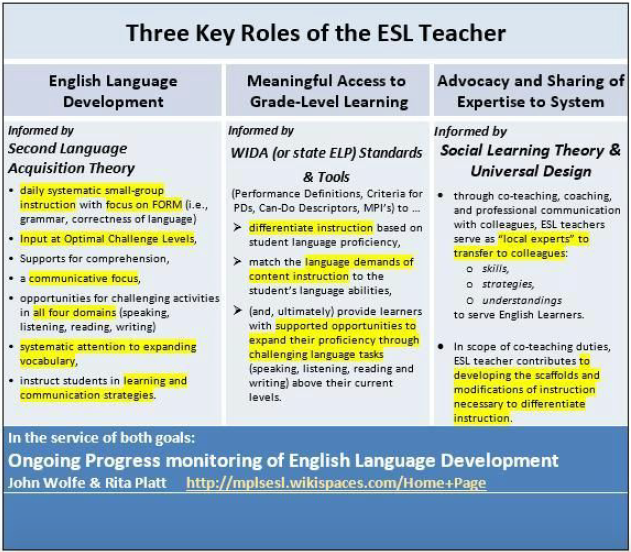 Role 1: Support English Language Development (ELD)
While it may be controversial, the profession must consider a systematic approach. Students at all levels of language proficiency need systematic stand-alone ELD instruction. The convergence of the research indicates not just the efficacy but also the absolute need for a pullout class with a dedicated ESL teacher for 30 to 45 minutes of every day. For example, Saunders, Guldenberg, and Marcelletti's (2013) synthesis of the research on English Language Development draws the conclusion that despite the profession's commitment to communicative language teaching, teaching approaches grounded in this perspective are simply not enough. They write, "Second language acquisition teachers, theorists, and researchers have realized that exposure and interaction might help promote fluency and communicative competence, but they are not sufficient for native-like proficiency" (p. 14). Since native-like proficiency is what will provide ELLs with access to traditional paths to success, the authors go on to recommend that "ELD instruction should continue at least until ELs attain advanced English language ability" (p. 16).
Saunders et al. go on to offer conclusions drawn from empirical research on ELD, which adds up to a strong endorsement of a return to what many teachers might think of as old-school language teaching. Saunders et al. specifically suggest that, "A separate, daily block of time should be devoted to ELD instruction" (p. 17) that "explicitly teach[es] forms of English (e.g., vocabulary, syntax, morphology, functions, and conventions)" (p. 18).
Role 2: Provide Meaningful Access to Grade-Level Content Learning
This is where co-teaching comes in. ESL teachers know that their students' language abilities are an asset. They also know that their students are capable of learning grade-level content. But, to make it happen the ESL teacher has to work to make sure that learning targets are clear, teaching is comprehensible, and the assignments, activities, and assessments are appropriate to the students' language abilities.
The struggle is that mainstream content teachers have an impulse to maximize the content they teach which can drown the specific standards-based learning targets and leave ELLs in the dust. Part of the role of the ESL teacher is to help content teachers tighten their focus and pinpoint the most important learnings so that we can help scaffold and differentiate to meet ESL needs. The best way to do this is to start with state standards. Williams, Hakuta, Haertel and their research team (2007) reported on an analysis correlating ELs' performance on state reading, math and English proficiency accountability tests with a wide variety of school practices and beliefs. In a large-scale study (257 elementary schools, 1,400 teachers and all ELs at the buildings), "coherent standards-based instruction" was identified as the third-strongest factor associated with higher scores, and the only factor with essentially equal positive effects on both EL's and non-ELs (p.17). As working ESL teachers know, this places a large burden at their feet. In essence, to support ELLs and content teachers in serving them, ESL teachers have to master the standards in every content area and grade they work with.  Standards identify the key understanding that students should achieve as the result of instruction. Thought it will take time and effort, it is worth it in the end. What teachers do not have time to do is to support teachers in instruction that is not standards-based, this type of on the fly or off the map teaching does not fit the co-teaching model.
When ESL teachers know the standards, they can help the content teacher focus on them and apply WIDA (2014) tools and supports to maximize student growth in content vocabulary and knowledge. This can be a sticking point with content teachers. They are afraid their lessons, assignments, and assessments lose rigor when the language demands are modified to meet the needs of ELs.  ESL teachers know that is not the case. ESL and content teachers must work together, using the Can-Do Descriptors to plan for comprehensible input and to ensure that the activities and assessments we use with ELs are appropriate, learning focused, and still rigorous. When instruction is focused on standards co-teachers can work together to plan lessons even when they do not have extended collaborative time.
Role 3: Capacity Building and Advocacy
This is the newest role of the ESL teacher and an incredibly important one. A content teacher's job is increasingly difficult. There seems to be a never-ending bevy of mandates, initiatives, evaluations, pilot-programs, and assessments. This trend gives no indication of changing soon. On a positive note, one of the best recent trends in education is a focus on meeting the individual needs of students through differentiated instruction, however, most of that has focused on helping native English speakers who are below grade level. Meeting the needs of ELs, however, requires a unique set of skills to differentiate for diverse language learners from various backgrounds and with wide-ranging proficiency levels. Classroom teachers cannot manage it all alone. Part of an ESL teacher's job is to serve as an expert. ESL teachers must not be afraid to share expertise. They are specially trained and have knowledge and skills to serve ELs that most mainstream teachers simply do not have. They must include in their goals being a resource to all who serve English language learners.
Hansen-Thomas, Dunlap, Casey, and Starrett (2014) highlight the potential of this shared expertise in an article describing the results of an innovative program designed to provide content teachers with accelerated, intense training in "multicultural competence, second language acquisition, and ESL teaching strategies" (p. 35). The article's conclusion is clear; there are great benefits when content teachers have more insight into best practices in ESL. The authors state, "These newfound [content teachers who are also] ESL experts began to advocate for the needs of their ELLs, working for the best interests of their students and promoting appropriate practices such as research-based strategy use, understanding the implications of standardized testing, and knowing and showing how best practices for ELLs can promote their success" (p. 44). The implication is clear: deeper understanding of the challenges ELLs face and of how to support them results in greater instructional efforts to serve them. This result strongly argues for a greater prioritizing of the ESL teacher's role as a teacher of colleagues.
Again, this means that the goal of co-teaching cannot just be to bolster student success it must also be to transfer skills, strategies, and understandings to classroom teachers so that they themselves can serve language learners well. Additionally, ESL teachers must be loud and proud advocates for students' needs inside and outside of the classroom. An example from comes from Stephen Krashen (2015), one of the profession's strongest and most vocal advocates for the educational rights of ELs. In a blog post titled The ELL "Problem" and the Common Core "Solution" he responds to the claim that ELLs are not making progress on state accountability Math and Reading measures. Confronting this point head on, Krashen argues that "We would not expect ELLs as a group to 'improve'; when ELLs make sufficient progress, they are reclassified as non-ELL. The group average test score should stay about the same."  Krashen admirably models here a style of advocacy for ELs that is strong, committed, and informed by clear educational thinking.  This is another situation where ESL teachers need broad expertise about community resources and issues that surround the ESL community.
The three roles of the ESL teacher are daunting. The work of an ESL teacher is hard. Nevertheless, there may not be a more important job or a job more in sync with the American dream. Through embracing their roles as teachers of ELD, co-teachers for content instruction, and expert-advocates in the system, this seemingly overwhelming challenge can be more realistically addressed. An ESL teacher's job is not to make either their students or their colleague's jobs easy. These jobs are hard by their very nature. The role of the ESL teacher is to make these jobs possible.
References
Hansen-Thomas, H., Dunlap, K., Casey, P., & Starrett, T. (2014). Teacher development: De facto teacher leaders for English language learners. International Journal of Learning, Teaching and Educational Research, 5(1), 35-47.
Krashen, S. (2105). The ELL "problem" and the Common Core "solution" Retrieved from http://skrashen.blogspot.com/2015/07/the-ell-problem-and-common-core-solution.html#
Saunders, W., Goldenberg, C., & Marcelletti, D. (2013). English language development guidelines for instruction. American Educator. Retrieved from https://www.aft.org/sites/default/files/periodicals/Saunders_Goldenberg_Marcelletti.pdf .
WIDA: Can-do descriptors. (2014). Retrieved from https://www.wida.us/standards/CAN_DOs/  
Williams, T., Hakuta, K., Haertel, E., et al. (2007). Similar English learner students, different results: Why do some schools do better? A follow-up analysis, based on a large-scale survey of California elementary schools serving low-income and EL students. Mountain View, CA: EdSource.
This article describes critical sociocultural pedagogical practices for sheltering instruction for K-12 English Learners, questioning the status quo in ESL teacher preparation which over emphasizes language to the exclusion of the broader sociocultural, sociopolitical, and sociohistorical context in which students are educated.
The Problem
In the United States, students who are multilingual, multicultural, and low-income do not achieve academically on par with their White, monolingual, majority culture peers (Calderón, Slavin, & Sánchez, 2011; Morrell & Noguera, 2011; U.S. Department of Education, 2009). In response and over time, the field of English as a Second Language (ESL) Education has developed increasingly more sophisticated descriptions of what public educators need to know about and do with language (e.g., TESOL, 1997; WIDA, 2012). For over 15 years, the Sheltered Instruction Observation Protocol (SIOP) has been the dominant model of professional development for ESL and general educators alike (Echevarria, Vogt, & Short, 2008). Still, the underachievement of English Learners (ELs) continues unabated.
Like many other fields, ESL professionals have underestimated the scope and depth of change needed to radically improve schooling for ELs. Teacher preparation for multilingual, multicultural, and/or low-income students requires more than improved subject matter knowledge, greater knowledge of English, or better checklists for lesson planning. It requires more than minor pedagogical and curricular adjustments.
Video Clip One depicts standard teaching in one urban elementary school prior to the beginning of a year of ESL-focused instructional coaching. The student population was 75% Latino and 45% designated Limited English Proficient.  The video clip captures 60 minutes of instruction in two minutes, highlighting every instructional change made by the teacher. This teacher's routine was typical of literacy instruction for the 29 teachers observed: Teachers spent 86% of instructional time in a teacher-dominated whole class configuration; only 14% of student time was spent working in small groups or with a partner (Teemant, 2014). Unfortunately, similar classroom observations in a high-performing suburban district, with a small but growing EL population, showed elementary teachers relied on whole class instruction 89% of the time (Teemant, Wilson, Bhathena, & Brandt, 2013). Such teaching values teacher talk, student silence, compliance, and good behavior. It relies on individual work, knowing facts, copying or repeating, and student use of isolated words and ideas. Standard teaching practice cannot reverse ELs' underachievement because it does not create conditions sufficient for (language) learning.
Video Clip One: Standard Practice Prior to ESL Instructional Coaching
We need to reconsider what it means to prepare every teacher—generalists and specialist alike—to effectively teach ELs. It is naïve to believe that by advocating for the same things another 15 years, we will get a different result. Something much more radical, complex, and holistic is needed to unsettle current school practices in ways that benefit ELs, who are often marginalized by school practices as well as society. Fullan (2007) describes reculturing as a process for  "how teachers come to question and change their beliefs and habits" (p. 25). We as ESL teachers and teacher educators would benefit from engaging in a reculturing process.  
Driving Change With New Theoretical Perspectives
Teemant, Leland, and Berghoff (2014, p. 137) observed that ELs "need more than academic knowledge. They need to be comfortable with hybrid identities, competent in reading power relations and challenging everyday assumptions, and agentive in the face of inequities."  This type of holistic perspective on student development goes beyond theories of (language) learning that focus on observable behavior or even the individual mind. Sociocultural learning theory (Vygotsky, 1978) and critical social theory (Freire, 1994; Sleeter & Bernal, 2004) offer starting points for reculturing our profession.
Vygotsky (1978) argued that (school) knowledge was cultural, learning was social, and teaching was assisting. That is, teachers do more than present, observe, or auditing learning: Teaching should ideally make the interactive space between the teacher and learners active with dialogue and various forms of assistance to learn (e.g., questioning, rephrasing, modeling, etc.). Smagorinksy (2013, p. 194) also observes that for Vygotsky "emotions are inseparable from thinking" and "all aspects of human life are interrelated." Therefore, "the re-education of teachers for addressing difference is central" to resolving the marginalization of culturally and linguistically diverse students in our schools (p. 195). Sociocultural theory describes teachers as central to mediating learning but also social relationships.
Critical social theory (e.g., Freire, 1994; McLaren & Kincheloe, 2007) addresses issues of identity, asymmetries of power, and use of agency in learning interactions and in society. Freire's (1994), for example, envisioned learning as a means of interrogating the status quo, reflecting on society from multiple perspectives, and taking appropriate action to address inequities resulting from standardized practice.  Howard and Milner (2014, p. 206) argue for the inclusion of a "third dimension" of knowledge for teaching, which they identify as "racial and cultural knowledge."  Because a majority of educators and teacher educators are predominately White, middle class, and monolingual (Cochran-Smith & Zeichner, 2005), they are not adequately prepared in this third dimension to understand and reach their students from different social, racial, or cultural backgrounds. Sleeter (2008) observes, "Lacking familiarity with communities their students of color come from, many White teachers are unable to build bridges between students and the curriculum" (p. 559). Unconsciously or consciously, teachers and students enact their varied and hybrid identities, power relations, and use of agency in every classroom interaction. To bridge differences, educators benefit from knowing that:
The most reliable quality criterion for instructional activity is that it should be patterned to produce diversity: of task, groups, roles, power, and language genres and codes. Diverse students have diverse strengths and diverse needs. Students, like teachers, have much to learn from one another and expanding joint activity beyond existing affinity groups can enrich these opportunities. (Tharp, Estrada, Dalton, & Yamauchi, 2000, p. 67)
Taken together as critical sociocultural perspectives (Lewis, Enciso, & Moje, 2007), educators can address schooling for ELs from a whole-child perspective, where issues of identity, asymmetries of power, and use of agency in the learning process can be examined in light of broader cultural, historical, political, and ideological perspectives outside the classroom. This requires teachers and teacher educators themselves to pay much greater attention to "their own deep-rooted beliefs, ideologies, and values" and "understand them in relation to their students" (Howard & Milner, 2014, p. 207). Critical sociocultural perspectives offer promising direction in how to radically improve ESL teaching and teacher preparation in order to achieve equity in opportunities and outcomes for ELs.  Johnson (2006, p. 237) identified this as the "sociocultural turn" in second language teacher education: It is time to move more intentionally in this critical sociocultural direction.
Critical Sociocultural Pedagogy: The Six Standards Example
What pedagogical practices result from critical sociocultural theory and how are they radically different from traditional conceptions of teaching? One pedagogical model of critical sociocultural practices is called the Six Standards for Effective Pedagogy (Teemant et al., 2014; Tharp et al., 2000).   The Six Standards embody the following principles of learning: collaboration, language use, meaning making, teaching complex thinking, teaching through conversation, and civic engagement in a democracy. Figure 1 captures these principles as the following pedagogical practices.
Joint Productive Activity – the teacher and a small group of students collaborating to create a shared product together

Language and Literacy Development – employing sustained opportunities to read, write, or speak with assistance

Contextualization – activating students' knowledge and skills from home, school, and community to learn new content

Challenging Activities – challenging students toward cognitive complexity

Instructional Conversation – the teacher engaging a small group of students in a sustained, goal-directed academic conversation

Critical Stance – teaching to transform inequities through democracy and civic engagement
When a teacher designs a learning activity to use at least three of the Six Standards in the same activity, the teacher has not only created the conditions for (language) learning, but also the "dialogical spaces where all the lived experiences and worldviews can be heard" (Leistyna, 2009, p. 52).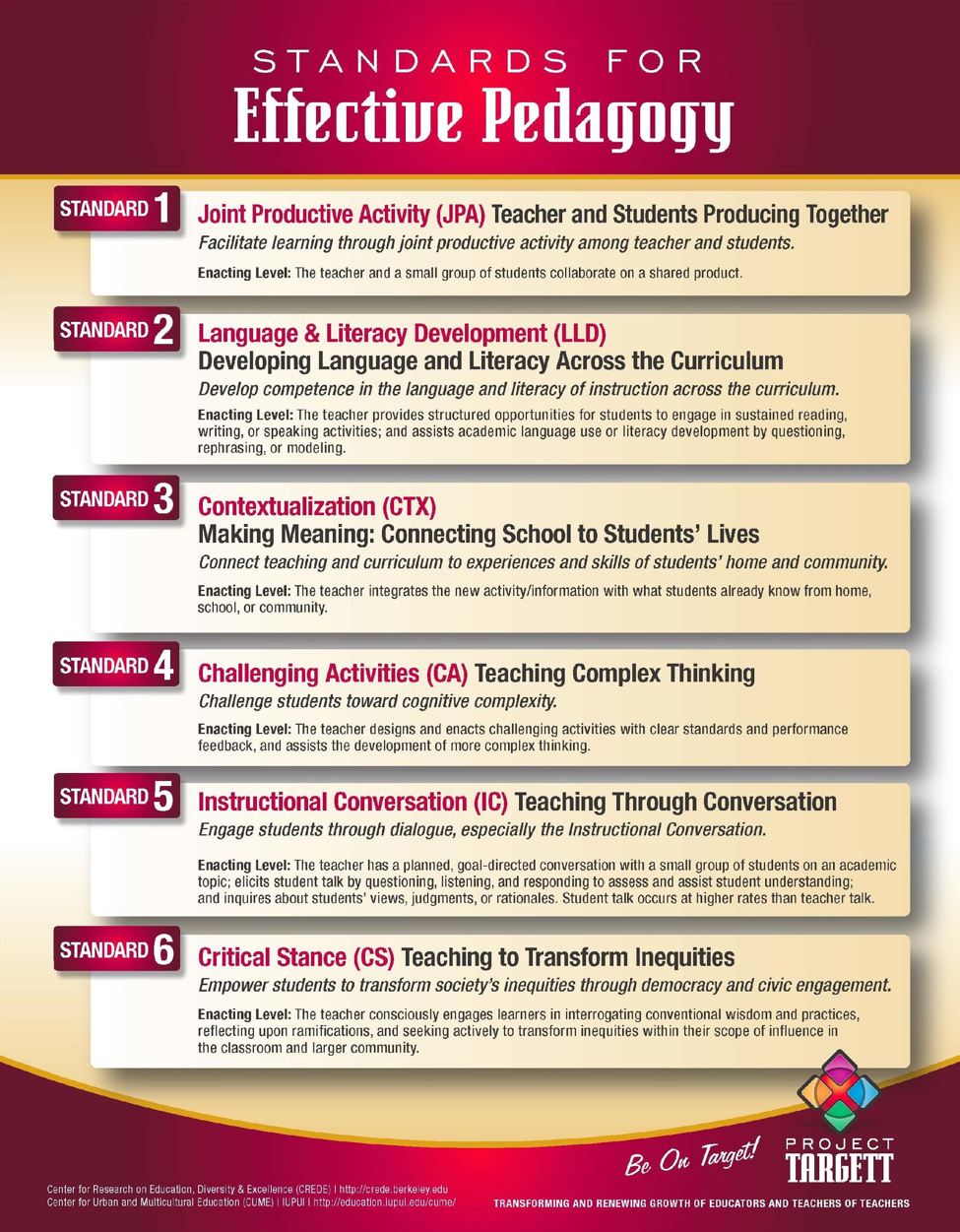 While the first five standards represent sociocultural principles (Tharp et al., 2000; Five Standards), the last principle derives from a critical pedagogy perspective (e.g., Freire, 1994; Lewison, Leland, & Harste, 2015). Teemant et al. (2014) define Critical Stance as involving critical thinking but going beyond it, asking students to name, reflect upon, and take action within their sphere of influence to apply school learning to remedy societal inequities encountered in students' lives and communities. When teachers take a Critical Stance in their teaching, they contextualize learning by making rich connections to home, school and community, but they also encourage learners from non-dominant cultures, communities, and low socio-economic backgrounds to question school knowledge from multiple perspectives as they apply school knowledge in real world settings.
Another important feature of Six Standards pedagogy is its emphasis on small group activity centers—a teacher center and multiple independent student centers. Small group configurations, especially the Instructional Conversation, create the necessary conditions for teachers to regularly assess, assist, and advance student learning within the zone of proximal development (ZPD) (Vygotsky, 1997). In this way, students' cognitive development is advanced through social interactions between a novice and an expert when (a) activities are slightly above the novice's level of competence, (b) require expert assistance to accomplish, and (c) timely assistance is provided as required for successful performance.
Video Clip Two depicts the same teacher in Video Clip One after seven cycles of ESL instructional coaching in the Six Standards. The video clip is thin-sliced, showing 60 minutes of language arts instruction in six minutes. It briefly shows how the teacher reviews key vocabulary, prepares students for working in centers, showcases students' experiences in and outside of school, conducts an instructional conversation with a small group of students, which prepares  them to participate in a follow up center where they provide a rationale justifying how they evaluate a character in a story they have read. The video clip provides evidence that a typical teacher can move away from traditional pedagogy toward increasingly more critical sociocultural practices with the assistance of instructional coaching.
Video Clip Two: Teaching After ESL Instructional Coaching
Six Standards teaching is intentionally collaborative, language rich and dialogic, contextualized, cognitively challenging, critical, reflective, and action oriented. Teachers also mediate social relationships between diverse teacher and students by creating opportunities for positive interdependence and intersubjectivity (i.e., shared experiences and ways of interpreting the world) through meaningful collaboration. Ideally, teachers intentionally connect school knowledge in age-appropriate ways to "how majority-minority cultures, languages, economics, and learning are influenced by the sociocultural, sociohistorical, and sociopolitical aspects of classroom activity and society at large" (Teemant et al., 2014, p. 140).
Video Clip Three depicts how a group of sixth graders in California's Central Valley apply Critical Stance, in particular, during their integrated literacy and science unit on the ocean. One group of students has focused on how humans pollute the ocean. They have written a short puppet theater play they will be presenting to groups of younger students at their school as part of a class project. This video clips shows how the students work together as a small group, independent of the teacher, to refine their script and practice for their presentation.
Video Clip Three: Example of Critical Stance in a Sixth Grade Classroom
Six Standards Research: Instructional Coaching Outcomes
Living critical sociocultural pedagogy in everyday classroom instruction presents teachers with opportunities as well as challenges. Several recent studies (e.g., Teemant, 2014;
Teemant & Hausman, 2013; Teemant et al., 2014; Teemant, Wink, & Tyra, 2011) have incorporated sociocultural (Five Standards) and critical sociocultural practices (Six Standards) into an instructional coaching professional development model targeting urban teachers of ELs. In these studies, coached teachers participate in an intensive 30-hour workshop followed by seven cycles of individual instructional coaching with expert coaches across the school year to support implementation of sociocultural or critical sociocultural pedagogy. For each study, teacher use of the Six Standards is measured using the Standards Performance Continuum Plus (Teemant et al., 2014). As shown in Figure 2 (click on the title to see the rubric pictured), the "not observed" end of the continuum describes learning as primarily whole class, teacher-dominated, rote, mechanistic, and abstract.
Teemant2015Figure2

Figure 2. Standards Performance Continuum Plus Observation Rubric
The "enacting" level defines critical sociocultural practices as collaborative, dialogic, challenging, civically engaged, and language and literacy rich small group learning with assistance from a more knowledgeable other. The highest or "integrating" level requires teachers to use at least three of the standards at the "enacting" level simultaneously (i.e., the 3 by 3 rule).
Teemant, Wink, and Tyra (2011) studied how instructional coaching assisted elementary teachers (N = 41) in California's Central Valley to use sociocultural practices (Five Standards only). Teachers demonstrated statistically significant growth in use of the Five Standards and fidelity with the small group instructional model. Subsequently, in a quasi-experimental study in the Midwest with 36 urban elementary teachers, Teemant (2014) similarly found the combination of the intensive workshop and seven instructional coaching sessions led to significant teacher growth during the coaching year as well as sustained use of the Five Standards one-year after the end of coaching.
In a repeated measures replication study, Teemant and Reveles (2012) documented a generalized pattern of elementary teacher growth in use of sociocultural practices. Teachers quickly adopted use of Joint Productive Activity and Language and Literacy development, changing the organization of their classrooms through increased use of small group configurations. Next they begin to assist students in the process of learning by adding the standards of Contextualization and Challenging Activities. Teachers grew the most in their use of the Instructional Conversation.  Investigating secondary urban teachers (N = 22), Teemant, Yen, and Wilson (2015) found large effect differences between humanities and STEM secondary teachers. Unlike humanities secondary teachers, STEM teachers showed no significant growth in use of the sociocultural practices, struggling to move to small group instruction, preferring teacher-dominated whole class configurations, with limited student talk, collaboration, or assistance to learn. Finally, despite a plethora of research lauding the benefits of using students' everyday knowledge from home, school, and community as the basis for learning new academic content (e.g., Bransford, Brown, & Cocking, 1999; González, Moll, Amanti, 2005; Tharp & Gallimore, 1988), elementary and secondary teachers both struggled to contextualize instruction given sanctioned texts, practices, and pacing guides (Teemant, 2014; Teemant et al., 2015).
In an effort to further disrupt standard teaching practices, Teemant et al. (2014) articulated and validated Critical Stance as a sixth observable teaching practice along a continuum (Figure 2). Using correlational and quasi-experimental designs, Teemant et al. studied 36 urban elementary teachers' use of the Six Standards as a result of instructional coaching. Coached teachers made significant growth in use of Critical Stance; however, Critical Stance was also the most difficult of the Six Standards to implement with fidelity. Teemant and Bhathena (2015) studied elementary and secondary teacher response to Six Standards instructional coaching (N = 30). Figure 3 provides a column graph comparing elementary and secondary teacher use of the Six Standards on a 4 points scale at the end of seven cycles of coaching. Elementary teachers implemented critical sociocultural practices with greater fidelity than secondary teachers as a result of instructional coaching, with Critical Stance also being the most difficult standard for both groups to implement.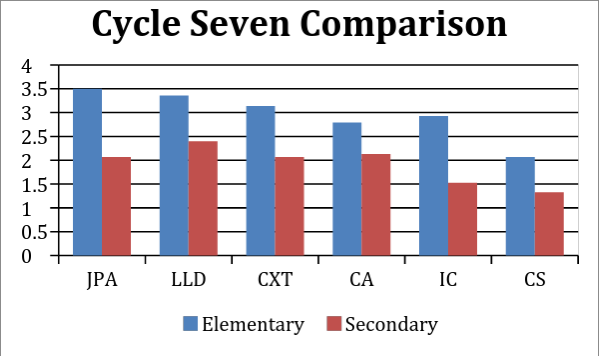 Nevertheless, Teemant and Hausman (2013) established predictive validity with Critical Stance, demonstrating even moderate growth in use of Critical Stance by elementary teachers resulted in significant gains in English development for ELs. Elementary teacher use of Critical Stance also significantly improved language arts achievement for both native and non-native speakers of English. In sum, the Six Standards pedagogy and instructional coaching have been established quantitatively as evoking significant teacher change and positive gains in student achievement and English proficiency (Teemant & Hausman, 2013).
In summary, these instructional coaching studies make visible how teachers take up critical sociocultural practices. Teachers first change the organization of their classrooms by using of multiple, simultaneous, and diversified small group activities focused on Joint Productive Activity (collaboration) and Language and Literacy Development (sustained language use with assistance). Next, they add Contextualization and Challenging Activities to their practice, improving the quality of the assistance they provide students in the process of learning. Finally, they build a culture of recognition by privileging student voice, thinking, and connections through the Instructional Conversation and making real-world connections between school knowledge and students' lives in and outside the classroom or Critical Stance.  
Conclusion
Ettling (2012) argues that education, as an enterprise, should be about personal and societal change. As ESL professionals, we ought to critically reflect on how far standard ESL teaching and teacher education—our comfort zone—has taken us in disrupting the educational inequities experienced by ELs in opportunities and outcomes. Critical sociocultural theory, and the practices that result from it, offers a much more rigorous and challenging direction for ameliorating educational inequities. The Six Standards for Effective Pedagogy represents one model for how to radically change what counts as effective sheltered instruction for ELs. The highlighted studies suggest that living critical sociocultural theory in classroom practice is no quick fix. Bringing about the equivalent of "climate change" in our public schools is more than focusing on the "weather" per se, or in the case of ESL the academic language needed for today's concept and text.  Changing inequities will require a new generation of teachers able to unpack the sociocultural, sociopolitical, and sociohistorical aspects of school learning in community as well. While difficult, it is necessary.
References
Bransford, J. D., Brown, A. L., & Cocking, R. R. (Eds.) (1999). How people learn: Brain, mind, experience, and school. Washington, DC: National Academy Press.
Calderón, M., Slavin, R., Sánchez, M. (2011). Effective instruction for English learners. The Future of Children, 21(1), 103-127.
Cochran-Smith, M., & Zeichner, K.M. (Eds.) (2005). Studying teacher education: The report of the AERA panel on research and teacher education. Mahwah, NJ: Lawrence Erlbaum Associates, Publishers.
Echevarria, J. J., Vogt, M., & Short, D. J. (2008). Making content comprehensible for English learners: The SIOP model (3rd edition). Boston, MA: Allyn & Bacon.
Ettling, D. (2012). Educator as change agent: Ethnics of transformative learning. In E. W. Taylor, P. Cranton, & Associates (Eds.), The handbook of transformative learning: Theory, research, and practice (pp. 536-551). San Francisco, CA: Jossey Bass.
Freire, P. (1994). Pedagogy of the oppressed. New York: Continuum.
Fullan, M. (2007). The new meaning of educational change (4th edition). New York, NY: Teachers College Press.
González, N., Moll, L., & Amanti, C. (2005). Funds of knowledge: Theorizing practices in households, communities and classrooms. Mahwah, NJ: Erlbaum.
Howard, T. C., & Milner, H. R. (2014). Teacher preparation for urban schools. In H. R. Milner IV, & K. Lomotey (Eds.), Handbook of Urban Education (pp. 199-216). New York: Routledge.
Johnson, K. E. (2006). The sociocultural turn and its challenges for second language teacher education. TESOL Quarterly, 40(1), 235-257.
Leistyna, P. (2009). Preparing for public life: Education, critical theory, and social justice. In W. Ayers, T. Quinn, & D. Stovall (Eds.), Handbook of social justice in education, (pp. 51-58). New York: Routledge.
Lewis, C., Enciso, P., & Moje, E.B. (2007). Reframing sociocultural research on literacy: Identify, agency, and power. Mahwah, NJ: Lawrence Erlbaum Associates, Publishers.
Lewison, M., Leland, C., & Harste, J.C. (2015). Creating Critical Classrooms: Reading and Writing with an Edge (2nd ed.). New York: Routledge.
McLaren, P. & Kincheloe, J. L. (Eds.) (2007). Critical pedagogy: Where are we now? New York: Peter Lang.
Morrell, E., & Noguera, P. (2011). A framework for change: A broader and bolder approach to school reform. Teachers College Record. August 4, 2011: http://www.tcrecord.org. ID Number 16503.
Sleeter, C.E. (2008). Preparing White teachers for diverse students. In M. Cochran-Smith, S. Feiman-Nemser, D.J. McIntyre, & K.E. Demers (Eds.), Handbook of research on teacher education: Enduring questions in changing contexts (3rd ed.)  (pp. 559-582). New York: Routledge, Taylor & Francis Group and the Association of Teacher Education.
Sleeter, C. E., & Bernal, D. D. (2004). Critical pedagogy, critical race theory, and antiracist education: implications for multicultural education.  In J.A. Banks & C. A. McGee Banks (Eds.), Handbook of research on multicultural education (2nd ed.) (pp. 240-260). San Francisco, CA: Jossey-Bass.
Smargorinksy, P. (2013). What does Vygotsky provide for the 21st-century language arts teacher.Language Arts, 90(3), 192-204.
Teemant, A. (2014). A mixed methods investigation of instructional coaching for teachers of diverse learners. Urban Education, 49(5), 574-604. DOI:10.1177/0042085913481362
Teemant, A., & Hausman, C. S. (2013, April 15). The relationship of teacher use of critical sociocultural practices with student achievement. Critical Education, 4(4). Retrieved from http://ojs.library.ubc.ca/index.php/criticaled/article/view/182434.
Teemant, A., Leland, C., & Berghoff, B. (2014, April). Development and validation of a measure of Critical Stance for instructional coaching. Teaching and Teacher Education, 39, 136-147. Retrieved from http://dx.doi.org/10.1016/j.tate.2013.11.008.
Teemant, A., & Reveles, C. (2012). Mainstream ESL instructional coaching: A repeated measures replication study. INTESOL Journal, 9(1), 17-34.
Teemant, A., Wilson, A., Bhathena, C.,  & Brandt, A., (2013). Elementary ESL technical assistance report. Indiana University-Purdue University Indianapolis.
Teemant, A. Wink, J., & Tyra, S. (2011). Effects of coaching on teacher use of sociocultural instructional practices. Teaching and Teacher Education, 27(4), 683-693.
Teemant, A., Cen, Y., & Wilson, A.  (2015). Comparing elementary and secondary teacher use of critical sociocultural practices. Manuscript under review.
TESOL. (1997). ESL standards for pre-K-12 students. Alexandria, VA: Author.
Tharp, R. G., &  Gallimore, R. (1988). Rousing minds to life: Teaching, learning, and schooling in social context. New York: Cambridge University Press.
Tharp, R. G., Estrada, P., Dalton, S. S., & Yamauchi, L. (2000). Teaching transformed: Achieving excellence, fairness, inclusion, and harmony. Boulder, CO: Westview Press.
U.S. Department of Education. (2009, July). Achievement gaps: How Black and White students in public schools perform on the National Assessment of Educational Progress. Retrieved from http://nces.ed.gov/nationsreportcard/studies/gaps/.
Vygotsky, L. S. (1978). Mind in society: The development of higher psychological processes, trans. and ed. M. Cole, V. John-Steiner, S. Scribner, and E. Souberman. Cambridge, MA: Harvard University Press.
Vygotsky, L.S. (1997). Educational psychology. Boca Raton, Florida: St. Lucie Press.
WIDA. (2012). 2012 Amplification of the English language development standards: Kindergarten-Grade 12. Madison, WI: Board of Regents of the University of Wisconsin System. Retrieved from https://www.wida.us/standards/eld.aspx
This article describes the benefits of employing a constructivist approach in language education classes for refugee youth.
I once knew a Karen1 girl born in 1993, amidst a lush jungle surrounding bamboo-thatched memories. Strapped to her grandpa's back, hearing his labored breathing, feeling the salty sweat drench her face as it hid in the back of his neck. Long gone was her mother, her father killed in the cause, and her grandfather was now her sole caregiver. He was once a farmer, a carpenter, a pastor, a man of great wisdom and the village storyteller. Time had stolen his years, war had carved deep creases in his brow, and his once jovial laugh had turned to unintelligible murmurings under his breath. From Myanmar across to Thailand into a refugee camp for the next seven years, grandfather's eyes have now forever been closed, and his spirit has returned to his younger years in Myanmar before the war.
This girl, now orphaned and alone is brought to America to live with her aunt. Walking into her first American classroom with foreign eyes burning through her skin, she holds back her tears, smiles meekly, trying to hide her heartbeat almost exploding through her chest. She sits down, hopes the teacher doesn't call on her, and that she can just make it through the day.
This young girl is one girl of many students. She is one of many students from non-native tongues, finding themselves in a new country, a new culture, a new life, but whose hearts may be thousands of miles away.
Classroom Community and Connecting with Learners
Is it impossible to think that we could connect with each of our learners in a way that would break down walls, differences in cultures, religions, languages, beliefs, to see that the heart beating in her is as beautiful as the heart beating in you? Just as each of our loved ones had a dream for us in our earlier years, there is a dream in each of them. If the dream that belongs to that little girl is allowed to reveal itself and flourish, it could change the world and it could benefit society.  The realization of her dream could allow one more child's voice to be heard.
In each classroom across this state there can be a catalyst of transformation for growth and of community. How we view the classroom environment varies from one educator to the next, but what is integral to the heart of the classroom should not be as differentiated as the instruction we teach. A focus on community building through a constructivist lens will allow youth like this Karen girl to feel validated, accepted, and a crucial part of the whole.
My greatest wish is that every person in the world understands that educating and treasuring our children is the only hope we have for a better future. The way in which we choose to approach educating our children is on the shoulders of educators. We need to see our youth as thoughtful and intelligent human beings whose perspective should be valued. In a constructivist environment, a shared responsibility for a vision needs to be employed.  Through the means of collaboration, the importance of a constructivist-learning environment takes shape where different opinions are valued and a community is built through a process of steps. Then, the benefits of this constructivist-learning environment become evident.
Almost two years ago, I had an idea, a grand idea: 25 students, all English learners in my high school humanities class, would put on a play that would change their perspectives and the perspectives of those around them. Their journey towards peace, reconciliation, and self-validation would emerge while building a community. This play would be a culmination of the students' work based on social justice and advocacy through the means of collaboration. Creating a constructivist environment would be the key to "liberate their minds to construct personal beliefs about truth and value" (DeVries & Zan, 2005, p. 142).  It would be my job to focus on the learners' needs and "help them construct new concepts" (Cowey, 2005, p. 210).
Why is a Constructivist Learning Environment Important?
When we refer to environment, most people understand it to mean what surrounds us, but a constructivist environment has two meanings. Environment "refers to the totality of permanent objects and their relations that we have abstracted from the flow of our experience" and "the surroundings of the item we have isolated" (von Glasersfeld, 2005, p. 5). We perhaps forget the item and those things that surround it are also a form of our experiential field, "not an observer-independent objective world" (von Glasersfeld, 2005, p. 5). It is important to note that when a teacher envisions a constructivist-learning environment in his or her classroom, it is the individual students who must co-create the environment. Since every person constructs knowledge in a different way, there are no identical constructs occurring among individual students, although they may be compatible with one another. The teacher may come to realize that students view their environment differently than they do.  In a constructivist classroom, the educator's job is "not to dispense knowledge but to provide students with opportunities and incentives to build it up" (von Glasersfeld, 2005, p. 7). How does an educator begin to implement this type of milieu? The following five steps contribute to building a constructivist-learning environment.
How to Build a Constructivist Learning Environment
Step 1: Establishing Community Rules
First, a constructivist-learning environment is created when community rules are established.  It may be standard for the teacher to determine the rules in a classroom, according to how they want the students to act; however, when a teacher dictates the rules for a classroom, it "can lead to mindless conformity in moral and intellectual life" (DeVries & Zan, 2005, p. 148). The teacher takes an "expert" attitude that does not transform; rather, the teacher expects the student to mold to what he or she wants. The class as a whole should create the rules according to how everyone expects the environment to function. DeVries & Zan (2005) write that the objective of the students making the rules is:
to promote feelings of necessity about rules and fairness, to promote feelings of ownership and commitment to classroom rules, procedures, and decisions, and to promote feelings of shared responsibility for what goes on in the class and how the groups gets along together (DeVries & Zan, 2005, p. 139).
This is the genesis of creating community and in turn, there is a vested interest from each member of the class. They understand that the decisions belong to them.
What could this look like in a classroom? In my humanities class, they came up with a list of a few rules they saw as the most important in small groups. Then, one member from each small group jigsawed to form a new group. In the new group, they chose two rules they thought were the most important for the class, such as 'everyone needs to participate', or 'no laughing when someone is acting'. Then the class came together to voice their rules. A spokesperson from each group read the rules. If a rule came up multiple times, it was recorded as such. The top five rules became the official for the class. In this way, the students felt they had created a democratic environment based on equality and mutual respect. They were more willing to contribute because a feeling of common ground had been established. This was evident in their behavior toward each other and myself. The students were given choices and were able to make more decisions to shape their environment; in turn, they were more invested.
Step 2: Shifting a Teacher's Paradigm
After establishing co-created rules, a teacher needs to shift his or her thinking about what an ideal classroom environment looks like. Genuine classroom community encourages multiple perspectives and building communication skills. When a group of people comes together for the first time, trepidation and anxiety may be hidden just below the surface. It does not take long before those feelings emerge. How a teacher deals with this can make or break the building of community. The teacher needs to be able to step out from behind the desk and join the students by being more 'present' in the class and with the learners. When teachers shift the paradigm of what teaching should look like, they are able to help transform the classroom environment (hooks, 1994). Rather than viewing the teacher as the giver of knowledge and the learners as the 'vessels' in which information is fed into and stored, hooks proposes that we become part of the class, on a level playing field with the students. Students are very receptive to this form of mutual respect. When a teacher models and invests in the students, students reciprocate in a plethora of ways; personalities become more apparent and relationships deepen. A community is being created. Block (2009) asserts that part of building community is that "we need to advance our understanding of the nature of communal or collective transformation" (p. 4). He continues to explain that even though we know more about individual transformation, we are naïve "in the belief that if enough individuals awaken, and become intentional and compassionate beings, the shift in community will follow" (Block, 2009, p. 4). Shifting from the focus being on your own self to the collective means investing in the future of the community you are trying to build.
Step 3: Individualism to Pluralism
Third, the students and teacher must move from individualism to pluralism "to create a new story" (Block, 2009, p. 37). Each educator has the opportunity to view education in a new way. They can still hold on to the standards, curriculum and initiatives being passed down to them, while co-creating community and encouraging transformation in the classroom. From the conversations we have with each other an alternative future can emerge.
What can we create collectively? Community within the classroom should not just be a possibility; it should be the future we choose to live in.  Moving from individualism to pluralism allows a community to have faith in its members. "It helps us to leave behind our penchant for seeing our disconnectedness as an inevitable consequence of modern life and moves us toward accountability and citizenship" (Block, 2009, p. 54). In the humanities class, we stopped to recognize each other as citizens of our community. We slowed down and connected with one another every day whether through a simple five-minute opener of sharing the previous night's events with a partner to sharing a personal thought on a question of the day. Regardless of what the activity was, the value was in creating connections and building partnerships. These are small, discreet, important ways of creating a constructivist-learning environment that build upon one another each day.
One example of how we connected on a daily basis is illustrated in the following example, where I was involved in this daily practice with the learners.
Each student partnered up with a new person. They sat on the floor, cross their legs, and had their knees connect to their partner's knees. They would look at each other directly in the eyes for 30 seconds. When the time was up, they took a turn stating one thing they appreciated about the other person i.e., "One thing I appreciate about you is…" They also stated one thing they would like to learn about their partner i.e., "I would like to know…"
Step 4: Self-regulation and Cooperation
Fourth, self-regulation and cooperation lead to a stronger community. Self-regulation is the ability to monitor one's own work and membership in a group, while working collaboratively with other members of the group. As with the building of any community, there are bumps along the way. How one chooses to handle those bumps defines the role each person plays in his or her community; being able to self-regulate actions can be difficult at the best of times. When you bring so many individual personalities together, not everyone will agree. Figuring out ways to take a step back and reflect on the situation before speaking can be more helpful than a voice that is always quick to speak. Working through an issue using cooperation and problem-solving skills tends to work better than being given a teacher-driven solution. If the students are successful at this, this will benefit them in the future when they are in situations with individuals whose opinions are contrary to their own. They will be able to figure out ways to problem-solve and create constructivist environments of their own. Piaget stated that, "adults' cooperative relations with children result in active reflection in both moral and intellectual aspects of the child's life" (as cited in DeVries & Zan, 2005, p. 136). Piaget refers to this type of relation as "autonomous" or "cooperative." By not forcing rules unnecessarily upon a learner, the learner is able to think independently and creatively to develop "moral feelings and convictions that take into account the best interest of all parties" (DeVries & Zan, 2005, p. 137).
Self-regulation is one tool used to become a critical thinker. "Self-regulation fosters self-confidence, an attitude of questioning and critical evaluation, and motivation to think about causes, implications, and explanations of physical and logical as well as social and moral phenomena" (DeVries & Zan, 2005, p. 147).  Self-regulation is a piece of critical thinking that I see lacking in a majority of my students. The ability to think critically about an issue and develop an opinion that takes into account multiple perspectives helps a student contribute academically, socially, and morally to the community they are in. As self-regulated critical thinkers, students have the tools to "search for patterns, raise questions, and model, interpret, and defend their strategies and ideas" (Fosnot, 2005, p. ix). Self-regulation equals more ownership of ideas. When students are able to take ownership of their own ideas while considering other's perspectives, the tools for conflict resolution become more evident.
An example of this step from class would be the weekly goals that each person would set. Each learner was required to set a goal that would challenge him/her into doing something a step beyond his/her comfort level to take risks and invest in the community. One such goal a student made was to perform spoken word of an original piece of poetry in both his native language and English in front of the class. This a challenge for this learner because public speaking was extremely difficult for him. He tended to stutter when speaking in front of others. Because he made this his personal challenge, the students were behind him and anxious to hear the poetry they had read. On the final day of the week, he got up and presented beautifully. The students applauded excitedly, as they understood the courage it took for him to do this.
Step 5: Conflict Resolution
Lastly, conflict resolution is part of a constructivist-learning environment and is "an important constructivist goal" (DeVries & Zan, 2005, p. 142). Piaget understood conflict as important for development for the individual and between individuals. The interpersonal conflict "in facilitating the internal conflict by which an individual begins to take more perspectives into account" (DeVries & Zan, 2005, p. 142) is crucial. Components of the constructivist agenda are conflict and resolution. When a problem arises, the teacher does not step in and assert his or her authority; rather, he lets the students work out the issue and come up with a solution. If a solution is not reached, the teacher has the opportunity to suggest possible solutions that may be utilized, whereupon the students can proceed to resolve the problem.  The teacher "upholds the value of mutual agreement" (DeVries & Zan, 2005, p. 142).
For example, in this particular class, we took time to discuss social-emotional issues that may be affecting the dynamics of the class. One such incident that occurred was bullying between a couple of the male students and one female student. The bullying occurred outside of class down in the cafeteria during lunch. Three of the male students in my class were calling the female student derogatory names based on her size that were insulting and shaming. When I asked if there were any issues to discuss for the day, the female student advocated for herself by naming the male students who were calling her names and repeating the phrases they had called her. We addressed the issue as a group, the male students took responsibility for their actions, apologized, and we discussed how words and actions may affect a person far beyond when the situation took place.
My students were developing into mature, critical thinkers in the process of building community as each day passed. Most every conflict was worked out to a feasible solution where the individual members of the class felt respected and heard.
The Benefits of a Constructivist Learning Environment
There are myriad benefits to learning in and teaching in a constructivist environment.  Learners begin to be more reflective and independent thinkers in a constructivist-learning environment. It is at that "historical moment when one begins to think critically about the self and identity" (hooks, 1999, p. 47) that transformation and growth occur. The individual growth affects the collective, and community develops in an authentic and collaborative manner. Mindful engagement increases liking for people, not just objects and things (Langer, 1997). As quoted in hooks (1999), Friere writes, "authentic help means that all who are involved help each other mutually, growing together in the common effort to understand the reality which they seek to transform" (p. 54). This reality and the co-creation of this community are built on the "assets and gifts of its citizens, not from the citizens' needs or deficiencies" (Block, 2009, p. 15).
Time and experience have shown me that there is always a way to teach to the individual and "foster intellectual, sociomoral, and affective development" (DeVries & Zan, 2005, p. 132). In order to create a constructivist classroom, mutual respect must be continually practiced in a sociomoral atmosphere, "the entire network of interpersonal relations that make up a child's experience in school" (DeVries & Zan, 2005, p. 132). In this day and age of increased behavior management and a growing achievement gap, youth need teachers to be present and proactive in the classroom. Every day that I walk into my classroom, I am excited for the day and to get involved with all of my students. In education today, there are "a lot of people who don't recognize that being a teacher is being with people" (hooks, 1994, p. 165). Educators need to acknowledge and take into consideration that shifting their paradigms should not be a fearful concept (hooks, 1999, p. 36). We are all connected to each other, and until humankind recognizes this, our youth suffer. A constructivist-learning environment means bringing ourselves to the table exposed, and through the means of conscience collaboration, a foundation for a strong and empowered community is built.
Conclusion
My humanities class ran its production of "On the Wings of a Crane," and it was nothing short of spectacular. They pulled themselves together and put on a moving play. As I sat in the back and watched them bow, the audience stood and cheered, and that grand idea I had just months prior came to fruition because of them. Teary-eyed, I rose to my feet and applauded for a group of students who created their own constructivist-learning environment. And that Karen girl, well she was one of the performers, and her voice was definitely heard.
---
NOTES:
Karen-An ethnic group originally from Burma. Forced to flee Burma by the Burmese military, many Karen resettled in refugee camps along the Thai-Burmese border.
References
Block, P. (2009). Community: The structure of belonging. San Francisco, CA: Berrett-Koehler Publishers, Inc.
Cowey, S. (2005). A first-year teacher implements a literature-based/whole-language program in a fourth-fifth grade. In Fosnot, C.T. (Ed.). Constructivism: Theory, perspectives, and practice (2nd ed.). New York: Teachers College Press.
DeVries, R. & Zan, B. (2005). A constructivist perspective on the role of the sociomoral atmosphere in promoting children's development, In Fosnot, C.T. (Ed.). Constructivism: Theory, perspectives, and practice (2nd ed.). New York: Teachers College Press.
Fosnot, C.T. (Ed.). (2005). Constructivism: Theory, perspectives, and practice (2nd ed.). New York: Teachers College Press.
Gardner, H. (2007). Five minds for the future. Boston, Mass.: Harvard Business School Press.
Hooks, B. (1994). Teaching to transgress: Education as the practice of freedom. New York: Routledge.
Langer, E. (1997). The power of mindful learning. Boston, MA: Da Capo Press.
Senge, P. M. (2006). The fifth discipline: The art and practice of the learning organization (Rev. and updated.). New York: Doubleday/Currency.
von Glasersfeld, E. (2005). Introduction: Aspects of Constructivism. In Fosnot, C.T. (Ed.). Constructivism: Theory, perspectives, and practice (2nd ed.). New York: Teachers College Press.
This article describes a procedure for training second-language writing raters to use scoring rubrics, and presents ideas for practical adaptation or research projects associated with the training procedure.
Imagine a novice language teacher doing the following:
understanding exactly what is meant by rubric descriptors such as

some knowledge of subject, adequate range, limited development of thesis, mostly relevant to topic but lacks detail

;

looking for features in a second language writer's composition that appear to match these descriptors, and then, upon finding a match; and

rating the content of the composition as

Good

.  
These descriptors are examples from a commonly used rubric for assessing second language writing (Jacobs et al., 1981), in which the example descriptors above represent only 5% of all the descriptors that a rater is supposed to be familiar with while reading and rating compositions.  
In programs in which graduate teaching assistants (TAs) need to be trained over a short period of time to rate second language writers' essays and make course placement decisions, rater training must ensure that the novice raters quickly become familiar with the descriptors used in a scoring rubric.  Regardless of the specific rubrics used, raters are typically expected to demonstrate knowledge of pre-determined descriptors (such as some knowledge of subject, adequate range, limited development of thesis, mostly relevant to topic but lacks detail) and perform the task of applying this knowledge consistently.  Such expectations may not be met easily.  Joe, Harmes, and Hickerson (2011) show, for example, that lack of transparency in rating scale descriptors can be a factor influencing raters' performance.  At the same time, rater-related factors can also add to the challenge in achieving reliable outcomes in rating (see Barkaoui, 2011 for a comprehensive review).  
In this article, first, I will briefly review studies on raters and rater training.  Then, I will describe a gap in published studies on rater training.  Finally, I will introduce a rater training procedure currently implemented at a four-year university in the U.S. Midwest, for two purposes:
to encourage language program administrators or language teacher educators to adopt and field-test the procedure in their own programs, and

to open up the possibility of empirically testing the procedure using systematically designed research methods.
Are experienced raters consistently better than novice raters?
Among several rater-related factors that could influence raters' interpretation and application of rating scales, raters' experience (novice vs. experienced) seems to be the most frequently researched factor (Barkaoui, 2011; Greer, 2013; Hamp-Lyons, 1989; Harsch & Martin, 2012; Joe et al., 2011; Weigle, 1994).  Research findings on this issue are mixed, contrary to what might be assumed (i.e. the more experienced, the more proficient).  In fact, the mixed findings might be a function of the complexity in the way raters' experience interacts with non-rater factors.  In Barkaoui (2011), for example, with regard to severity in rating, novice raters and experienced raters behaved more similarly when using analytic scales than they did when using holistic scales.  In other words, raters' experience impacts ratings differently depending on the type of rating scales used.
The intriguing nature of raters' experience as a factor was documented with great detail in Joe et al. (2011), which explored rater cognition based on data collected through verbal protocols.  In this study, eight faculty experts (experienced raters) and eight undergraduate students (inexperienced raters) participated in rating oral speech performances.  Both groups were trained to use an analytic scoring rubric, which included 39 features comprising ten competency dimensions relevant to the construct of the speech performances to be evaluated.  The study found that inexperienced raters started out paying attention to rubric features more consistently than did experienced raters, who were found to pay attention to construct-irrelevant features (i.e. features not listed in the rubric) at a higher rate than inexperienced raters did.  Over time, however, inexperienced raters attended to rubric features less and less while attending to construct-irrelevant features (such as the use of note cards or memorable thesis statement, which were not included in the rubric) more and more.  
Such findings are quite alarming in that not all changes exhibited by raters as they become more experienced seem to be in the expected direction – i.e. experience is generally expected to be a positive factor.  Some researchers even suggest that raters should not be selected based on teaching experience as it is not a significant factor (Royal-Dawson & Baird, 2009).  Although research findings about rater experience might be mixed, many researchers have emphasized the importance of rater training in enhancing the quality of raters' performance (Greer, 2013; Lovorn & Rezaei, 2011; Weigle, 1994).  The following section will review studies on rater training.
What do we know from studies on rater training?
One of the aims in most rater training involves monitoring rater behavior associated with rater-related factors such as experience, rating style, or rating preferences, and then providing feedback accordingly to achieve the ultimate goal of increasing inter-rater reliability (i.e. different raters performing similarly to one another).  On the one hand, studies such as Pufpaff, Clarke, and Jones (2015) and Weigle (1994) reported that rater training did not improve inter-rater reliability.  On the other hand, Weigle emphasized the point that "rater training cannot make raters into duplicates of each other, but it can make raters more self-consistent" (p. 32).  This statement, then, naturally leads to the question as to what factors might contribute to developing rater self-consistency.  Although there has not been much research that directly explored this question, several studies have reported the positive effects of rater training on rater performance in different aspects of the rating task.
In Greer (2013), novice raters practiced assessing ESL compositions following a training workbook, which included experienced raters' feedback on the same compositions that the novice raters were evaluating.  After the training, the novice raters reported increased confidence in their rating performance.  In another study based on a two-month rater training program (Harsch & Martin, 2012), 13 novice raters completed rigorous weekly assignments consisting of tasks commonly included in rater training such as individual practice and group discussion, using over 1700 writing samples (whittled down from an initial set of over 6000 samples).  Although the scope of the study is truly impressive, it is the depth of its rater training that makes it rather unique and remarkable.  As a part of their weekly assignments, for example, the novice raters were actively engaged in revising the wordings on the rating scale.  In fact, researchers recommend engaging raters in the development of rating scales (Barkaoui, 2010; Stevens & Levi, 2005).  Harsch and Martin (2012) concluded that rater agreement increased when a revised rating scale (i.e. revised based on the novice raters' discussion and input during the training period) was used.
Because the task of rating is replete with a myriad of interacting factors that could influence the process and outcome of rating, research-guided rater training may be essential in most contexts.  For example, when training raters, feedback should be provided immediately after rating has occurred (Knoch, 2011).  Rater training should promote detailed and analytical understanding of the scoring rubric (Lovorn & Rezaei, 2011; Rezaei & Lovorn, 2010).  An eye-movement study on raters' use of a scoring rubric showed that even the physical layout of the rubric can affect raters' attention to each category on the rubric (Winke & Lim, 2015).  These are just a few examples of published studies that could guide the design of a rater training.
So what is the gap in published studies on rater training?
In most published studies that either directly or indirectly report the outcome of rater training  (Barkaoui, 2011; Joe et al., 2011; Knock, 2011; Lovorn & Rezaei, 2011; Pufpaff et al., 2015; Weigle, 1994), it appears common to follow variations of the same approach, categorically speaking, in the way raters (regardless whether novice or experienced) are initially introduced to a rating scale (either holistic or analytic).  First of all, surprisingly, many studies (Barkaoui, 2011; Knock, 2011; Lovorn & Rezaei, 2011) do not provide sufficient detail regarding exactly how raters are introduced to the rating scales selected in their respective studies.  Of the studies (Joe et al., 2011; Pufpaff et al, 2015; Weigle, 1994) that do provide some limited information regarding this part of rater training, the common approach seems to be Present and Clarify/Explain with respect to the descriptors on the rating scale.  
This clearly is an example of what is defined as the hierarchical approach: "passing onto raters a predetermined view on how they are to interpret the scale wordings, using pre-assessed scripts (so called 'master codes') which are not to be discussed but to be accepted and internalised" (Martin & Harsch, 2012, p. 233).  On the one hand, researchers have repeatedly identified the difficulty that raters experience when trying to understand rating scale descriptors (Barkaoui, 2010; Greer, 2013; Hamp-Lyons, 1989; Harsch & Martin, 2012; Joe et al., 2011).  On the other hand, as described above, variations of a very top-down approach seem to prevail when it comes to training raters to become familiar with the wordings on the rating scale.
From this perspective, Harsch and Martin's (2012) study, as reviewed in the preceding section, may be considered as an exception in that the raters in their study were engaged in a series of in-depth tasks attending to, analyzing, and revising the descriptors on the scale.  These researchers also emphasize the importance of "reaching consensus about how to interpret scripts with reference to scale descriptors" (p. 233).  As mentioned earlier, the rater training in their study spanned over a two-month period.  Most readers would agree that a rater training program like that, while both impressive and exemplary, is anything but feasible in most real contexts.  The reality of most rater training is likely to resemble the two-hour norming session referred to as a typical rater calibration procedure (Weigle, 1994, pp. 7-8).
Here is a question, then, that a concerned program administrator or teacher educator might ask: Do people use the top-down approach because they are constrained to the typical two-hour calibration procedure (or however many hours it might take but not the luxury of two months)?  Acknowledging the "time- and resource-intensive" nature of their approach, Harsch and Martin (2012, p. 244) recommend realistic adaptations using existing rating scale descriptors (i.e. not necessarily attempting to revise the descriptors as their raters did).  So it appears that, although there is a huge gap between a deeply engaging, albeit extremely unfeasible, approach to rater training and a more commonly practiced top-down approach, careful retooling of the top-down approach can help fill this gap.  In the next section, I will introduce an authentic example of a rater training procedure which is characterized as a rater-centered bottom-up approach.  (Readers can rest assured that this procedure will not require two months to try!)
What does a rater-centered bottom-up rater training procedure look like?
Bottom-up Approach
The rater training procedure described here, as an example of a rater-centered bottom-up approach, has been implemented in an authentic test context.  The following provides some background information about the context:
Location

Four-year university in the U.S. Midwest

Purpose

Placement decisions for writing courses in English for Academic Purposes

Raters

Graduate teaching assistants in an MA-TESL program (1

st

~4

th

semester)

Target Texts

Academic essays written by second language writers

Scoring Rubric

Locally revised version of Composition Profile by Jacobs et al. (1981)
Table 1.  Training Protocol
Training Protocol (Rater-centered Bottom-up Approach) 

[I] Individually    [SG] Small Groups (3~4)     [WG] Whole Group     [T] Trainer     M: Materials

Description of Steps in the Training Protocol
Rationale for Each Step
1.  Activating existing knowledge & expectations about academic writing
[SG]  Brainstorm & consolidate existing knowledge & expectations about academic writing
[WG]  Discuss and summarize
M:

 Brainstorm sheets

Step 1

allows each rater to activate existing knowledge; allows each rater to generate his/her own language to describe features of writing; compile & share entire group's ideas.

2.  Evaluating a writing sample based on existing knowledge – without any rubric
[I]  Read Essay #1; Write any/all notable features, good & bad, one feature per sticky-note; Place sticky notes in worksheet; Give a holistic score
[SG]  Compare notes placed in individual worksheets; Compare holistic scores
M:

 Essay #1; Sticky-notes; Worksheet

Step 2

allows each rater to apply existing knowledge; allows each rater to notice features in the writing with no constraints; exposes raters to writing features noticed by others.

3.  Familiarization with rating scale descriptors
[I]  Read rating scale descriptors and criteria
[SG]  Discuss & help each other understand concepts & terminologies
[WG]  Review & clarify concepts & terminologies
M:

 Rating scale descriptors & criteria handout; handout on Content-to-Form continuum in writing

Step 3

introduces descriptor language to raters; helps raters to conceptually align their own language with descriptor language; helps identify & clarify gaps between rater-generated language and descriptor language.

4.  Matching current knowledge with rating scale descriptors
[SG]  Discuss each note on sticky-notes; Transfer & match each sticky-note with descriptors in the Descriptor Handout
[WG]  Discuss & further clarify descriptors based on questions from SGs
M:

Descriptor Handout (one copy for each SG)

Step 4

allows raters to map their own unconstrained observations onto descriptors; helps identify, discuss, & resolve writing features that are difficult to map onto descriptors; more importantly, helps raters understand descriptors with self-generated concrete examples.

5.  Practice using rating scale descriptors without scores
[I]  Read Essay #2; Use the Descriptor Handout to mark relevant descriptors
[SG]  Compare individuals' markings on descriptor handout
M:

 Essay #2; Descriptor Handout

Step 5

allows raters to practice using the descriptors directly without scaffolding (i.e. no self-generated descriptive notes as with Essay #1); allows another chance to focus on the descriptors with no burden to score the essay numerically.

6.  Familiarization with the complete version of rating scale (with score indicators)
[T]  Introduce the complete version of the rating scale (with score indicators) and explain
[I]  Based on markings on Descriptor Handout (from Step 5) and using the rating scale (with score indicators), numerically score Essay #2
[SG]  Compare scores for Essay #2
M:  

Complete version of rating scale

Step 6

finally exposes raters to the actual rating scale with score indicators; helps raters perform the task of numerical scoring (not exactly the same as mapping observed writing features onto descriptors); helps deal with two different subtasks (i.e. identifying matching descriptors vs. numerical scoring) with more clarity.

7.  Practice using the complete version of rating scale with a familiar essay
[I]  RE-read & score Essay #1 using rating scale
[WG]  Discuss the results & rationale of rating scale
M:

 Complete version of rating scale with score indicators

Step 7

allows raters to apply the rating scale in evaluating a familiar writing sample; provides raters with an opportunity to review & re-assess their own initial evaluation of Essay #1 (performed prior to the introduction of the rating scale).

8.  Remaining steps in the protocol
There are a few more steps in the protocol, which are beyond the focus of this article.  Some of the remaining steps are similar to commonly practiced norming procedure, and some steps are specific to the local test context.1
As Table 1 shows, the training protocol follows a rater-centered bottom-up procedure, which affords the raters step-by-step scaffolding to develop an understanding of and the ability to apply the descriptors on the rating scale.  The procedure promotes activating existing knowledge and acquiring new knowledge of technical concepts/terminologies through a sequence of small tasks rather than through top-down imposition of abstract descriptors onto the raters.  For many novice raters, learning to use a rating scale with pre-determined descriptors includes an element of language acquisition.  It is not a mere coincidence that, in many ways, the procedure introduced here resembles language learning activities based on the task-based language teaching (TBLT) approach, in which language acquisition occurs as a natural part of successful completion of communicative tasks (Van den Branden, 2006).
The rater training procedure introduced here also provides scaffolding for one of the subtasks of rating that present a unique challenge for most raters, namely translating descriptors into numerical scores.  Studies have shown that both novice raters (Greer, 2013) and experienced raters (Hamp-Lyons, 1989) find this subtask very difficult.  In the procedure described in Table 1, raters are assisted to deal with this challenge in two ways: (1) initial steps in the procedure focus on the descriptors without the 'burden' of matching them with numerical scores; and (2) the complete version of the rating scale, a locally revised version of the composition profile by Jacobs et al. (1981), presents numerical scores in subsets to match raters' judgments based on descriptors.
Unlike the two-month rater training described in Harsch and Martin (2012), which is quite impressive and ambitious, the training procedure introduced in this article is bundled with realistic and practical advantages:
the procedure can be easily adopted and adapted in most rater training contexts;

the sequence will work well with any type of rating scales;

it only takes 2~4 hours to complete the entire protocol; and finally and more importantly,

it does not cost much (i.e. if you can afford lots of sticky-notes). 
The last two items directly address "the time- and resource-intensive" challenge of Harsch and Martin's (2012, p. 244) otherwise exemplary rater training model.  Hopefully, these practical advantages would encourage many readers of this article to consider employing this training procedure.
Aside from the obvious practical advantages, the most critical advantage of this procedure, at least based on informal observations during several semesters of implementation, involves the change in dynamics and roles between the trainer and the raters in training.  As the protocol shows, at each step, raters are actively engaged in small doable tasks either independently or in collaboration with peer raters.  Because the steps are sequenced to promote learning-by-doing, the procedure does not require much top-down talk from the trainer.  
When this new procedure was first implemented a few semesters ago, raters who had experienced the previous format resembling the Present and Clarify/Explain approach enthusiastically commented that the new procedure felt stress-free, engaging, and helpful.  As the trainer in this incidence, I too noticed unexpected changes when first implementing the new procedure. It felt as though I did not have to do anything during the procedure because the raters were doing all the work for themselves!
What more can be done with this training procedure?
Although the rater-centered bottom-up training procedure is strongly recommended, the caveat is that it has not been empirically tested.  First, interested readers are encouraged to consider field-testing this procedure in their various test contexts.  It can be modified to fit the needs and capabilities of each context.  One example might be replacing the use of sticky-notes with a digital/online tool to help raters generate, compile, and compare the features they observe in the writing sample they evaluate.  This is actually an attractive idea, which can lead to the next point of this discussion, namely research possibilities.
The hands-on aspect of using sticky-notes is actually a very positive and valuable element of the procedure, and it helps raters ease into the sequence of tasks in the procedure.  Its non-digital nature, however, has been an obstacle in converting the notes into analyzable data.  These rater-generated notes can reveal interesting aspects of rater cognition.  Designing empirical studies to capture such data to learn more about rater cognition would not only benefit the field of language education but also the field of education in general.  In fact, in the special issue of the journal Educational Measurement: Issues and Practice devoted to rater cognition, Myford (2012) emphasizes that more research on rater cognition is needed.
Other research questions worth exploring including obvious ones such as Is the bottom-up rater training procedure more effective than the more commonly practiced top-down approach?  Is there any difference between the two approaches in improving rater self-consistency (emphasized as the main benefit of rater training)?  These are just a few examples, and readers are encouraged to pursue their own research questions associated with the rater-centered bottom-up rater training procedure introduced in this article.
This article started by asking readers to imagine a novice rater performing a presumably learnable, but indeed tremendously challenging, task of using a rating scale to make decisions about learners' proficiency.  Anecdotal evidence and informal observations suggest that rater training, for both novice and experienced raters, need not be like that – top-down, opaque, and anxiety-inducing.  Instead, a rater-centered bottom-up approach can make the process more transparent and positively engaging.  However, for this statement to be generalizable, we need empirical evidence, and this research topic is open to any interested readers.
---
NOTES:
Due to space limitation, this section has been abridged.  Please feel free to contact the author for more information or samples.
---
References
Barkaoui, K. (2011). Do ESL essay raters' evaluation criteria change with experience? A mixed-methods, cross-sectional study. TESOL Quarterly, 44, 31057.
Greer, B. (2013). Assisting novice raters in addressing the in-between scores when rating writing. (Master's thesis). Retrieved from BYU ScholarsArchive.
Hamp-Lyons, L. (1989). Raters respond to rhetoric in writing. In H. W. Dechert & Raupauch (Eds.), Interlingual processes (pp. 229-244). Tubingen: Buner Narr.
Harsch, C. & Martin, G. (2012). Adapting CEF-descriptors for rating purposes: Validation by a combined rater training and scale revision approach. Assessing Writing, 17, 228-250.
Jacobs, H., Zinkgraf, S., Wormuth, D., Hartfiel, V., & Hughey, J. (1981). Testing ESL composition: A practical approach. Rowley, MA: Newbury House.
Joe, J. N., Harmes, J. C., & Hickerson, C. A. (2011). Using verbal reports to explore rater perceptual processes in scoring: a mixed methods application to oral communication assessment. Assessment in Education: Principles, Policy & Practice, 18, 239-258.
Knoch, U. (2011). Investigating the effectiveness of individualized feedback to rating behavior – a longitudinal study. Language Testing, 28, 179-200.
Lovorn, M. G. & Rezaei, A. R. (2011). Assessing the assessment: Rubrics training for pre-service and new in-service teachers. Practical Assessment, Research & Evaluation, 16, 1-18.
Myford, C. M. (2012). Rater cognition research: Some possible directions for the future. Educational Measurement: Issues and Practice, 31, 48-49.
Pufpaff, L. A., Clarke, L., & Jones, R. E. (2015). The effects of rater training on inter-rater agreement. Mid-Western Educational Researcher, 27, 117-141.
Rezaei, A. R. & Lovorn, M. (2010). Reliability and validity of rubrics for assessment through writing. Assessing Writing, 15, 18-39.
Royal-Dawson, L. & Baird, J. (2009). Is teaching experience necessary for reliable scoring of extended English questions? Educational Measurement: Issues and Practice, 28, 2-8.
Stevens, D. D. & Levi, A. (2005). Introduction to rubrics: An assessment tool to save grading time, convey effective feedback, and promote student learning. Virginia: Stylus Publishing, LLC.
Van den Branden, K. (Ed.).  (2006). Task-based language education: From theory to practice.  Cambridge, UK: Cambridge University Press.
Weigle, S. C. (1994). Using FACETS to model rater training effects.  Paper presented at the Language Testing Research Colloquium (Washington, DC).
Winke, P. & Lim, H. (2015). ESL essay raters' cognitive processes in applying the Jacobs et al. rubric: An eye-movement study. Assessing Writing, 25, 38-54.
This article summarizes differences between American and Chinese graduate students when asked to imagine their future reading instruction.
Training future teachers to teach reading is important and challenging, yet research and theorization of native English speakers and university-level reading is largely ignored in comparison with writing (Sullivan, 2010); in particular, advanced reading strategies are too often expected of university-level students with little instruction provided (Orlando, Caverly, Sweetham, and Flippo, 2003). I was keenly aware of this "reading gap" as I taught my graduate-level methods course in teaching writing (and reading) for new graduate assistants from both the TESOL M.A. and Literature and Language M.A. programs at Winona State University.
My methods course, Teaching College Writing, which also provides the data for this study, is not a TESOL course. The course presents the theory, methods, and outcomes of the American composition classroom, and therein the methods and goals of a first-year writing course (i.e., Freshmen English) housing both native English-speaking undergraduates and non-native English-speaking undergraduates with requisite scores or coursework to enter first-year composition.  The study detailed in this article evolved from my observation that my American graduate students and Chinese graduate students had differently patterned responses to our readings on reading instruction.
I became interested in differences in graduate students' early reflections on reading instruction because the topic of preparing teachers to teach critical reading was a departure from the themes of the basic TESOL literature I had been exposed to as a PhD in Rhetoric and Composition, yet the topic is of interest to both TESOL and non-TESOL instructors engaged in teacher preparation. A meta-review by Moussu and Llurda (2008) positions critical reading and imagined reading instruction by future TESOL teachers as worthy of study. In their review of the literature on non-native English-speaking English language teachers, Moussu and Llurda found that language education programs can empower non-native English speakers in the following ways, which I agree with, but find too general to address some unique aspects of teacher preparation:
courses in grammar, pronunciation, vocabulary, and culture;

collaboration between native and non-native English-speaking teachers;

awareness of culture shock, language learning difficulties, and other intercultural and sociolinguistic issues to native speakers.
I'm not sure if future teachers' initial thoughts on critical reading are covered in Massou and Llurda's three points. Critical reading moves beyond practice in grammar, pronunciation, vocabulary, and basic cultural knowledge, Massou and Llurda's first point. I suppose critical reading as practiced in Western educational institutions (and elsewhere) can fall under the basic umbrellas of intercultural and sociolinguistic issues, Moussu and Llurda's third point, but Moussu and Llurda embed these issues through informal education for native speakers, not through the study of initial insights during teacher education in a methods course; additionally, such general terms as "intercultural" and "sociolinguistic" are too weak to say much about student-teachers' comprehension of the reading process.
Canagarajah (1999) differentiates between the shallowness of the native speaker fallacy and, I believe, the deeper concerns of training future teachers. Canaragajah states that the "native speaker fallacy also contributes to a narrow definition of expertise in ELT. If it is one's accent and pronunciation that qualify one to be a teacher, then […] professionalism developed in ESL is flimsy" (p. 84). Attitudes and early formation of how to teach reading, in particular, critical reading, are not part of the native speaker fallacy based in accent and pronunciation. Early attitudes on critical reading are the deeper, non-"flimsy" professionalism worth investigating.
Moussu and Llurda's (2008) meta-review locates just two studies surveying TESOL teacher supervision of native and non-native speakers, leading the Moussu and Llurda to conclude that an "increase in research on teacher educators' perspectives […] is needed to help NNS student teachers be better prepared to teach in different contexts" (p. 341). It is in this spirit of teacher educators' perspectives to supplement student self-reporting that I undertook the study.
Differences in L1 and L2 Graduate Students Responses to Reading
I am heartened by the TESOL mantra that any number of Englishes exist in the world, and any specific variety is informed by differences in culture, region, race, class, level and forms of education, and related social, cultural and political phenomena. This dismisses the too easy binary of "native" and "non-native" speaker. Similar to others, I see the students in this study as each on a continuum (Moussu and Llurda, 2008) that defies any attempt at labeling them "native" and "non-native" speaker. Rather, they are best viewed as having various degrees of "ownership" (Higgins, 2003; Norton, 1997) of not only the English language, but in this case of academic language as well as teaching and professional skills. This study is meant to capture a moment in their journey on this continuum, to illustrate how they are moving toward ownership of the teaching methods we discussed in the seminar while also illuminating their different cultural and educational backgrounds that affect ownership of not just language, but applied teacher preparation.
What is reading?
Reading is a complex process that is often separated into various facets for study. These parts include decoding, a variety of domain knowledges including vocabulary, linguistic structure, discourse, and world knowledge as well as cognitive capacities such as memory and access capabilities (Prater, 2009). Additionally, reading at higher educational levels often entails the resolution of contradictory information, demands response from the reader, and can include a variety of procedures including integration of information, evaluation, critique, synthesis, and use of information (Grabe, 2009). These latter response-based or use-based reading procedures both support and are the results of the critical thinking we ask students to perform through reading and writing  (Sullivan, 2014). These forms of reading, reading-to-write, and critical thinking are not unique to English. Literacy's forms and preferences vary by culture and genre and are typically studied in the field of contrastive rhetoric (Connor, 2008). My major concern for this study is not culturally-influenced critical thinking or contrastive rhetoric. Due to my goals of teacher preparation, I had and have a different concern: whether or not students were including the basic forms of critical reading from our methods seminar into their imagined university-level reading instruction. This is the focus of my investigation.
Methodology
After much reading over nine weeks of our seminar on a variety of social, cultural, and cognitive research and theory pertaining to mainly university-level writing and reading, the tenth week of class focused on a set of chapters and articles on reading instruction in both L1 and L2 environments. The data for this article was generated by my Week 10 writing prompt asking students to summarize, apply, reflect on, or otherwise synthesize course chapters and articles on reading. Mainly, I wanted students to imagine a use or application for our readings' various perspectives on reading instruction in their own imagined classroom. This article examines those written responses, comparing and contrasting through best case examples six American graduate students and four non-native English-speaking (L2) Chinese graduate students' imagined reading instruction. The bolded sections within the direct quotes are designed to demonstrate particularly illustrative examples of the differences between the two groups of students.
Results
1. Chinese students' discussion of critical thinking was sometimes interfered with by less critical reading strategies.
Because my course was dedicated to preparing new teachers, mainly toward the goals of a first-year composition course (i.e., Freshman English), much of the course and reading was dedicated to various forms of text-based critical thinking mentioned in the definitions of reading above (summary, analysis, critique, synthesis, etc.). As an educator of teachers, I am always looking at which instructional concepts students easily absorb, which are mentioned but seem unformed or under-conceptualized, and which remain unmentioned by students.
In the initial written responses to the readings, which were due before class, and which asked students to synthesize our articles on reading and hypothesize a basic reading pedagogy, I noticed that Chinese students tended to omit the term "critical thinking," from their reading responses or had less elaborate detail and discussion of the concept.  I also noticed two Chinese students had inserted "creativity" as a major goal of reading instruction despite my not using the term "creativity" in our course and this term also not appearing in our readings.
Of four Chinese students in this study, just one student, CZ, attempts to define critical thinking as we had spoken of it in class. In CZ's written response below, which is the most elaborate of the Chinese students' responses, we do not see an elaboration on the moves of critical thinking in a text, but only a general summary of the stages of critical thinking. CZ does acknowledge critical response, the idea of challenging a text's statements or moving toward a divergent interpretation or response, a goal less common in the Chinese culture and educational system than the American (Markel, 2010; Mason, 2008). CZ, however, was the only Chinese student to note Chinese convergence as a potential impediment to Western critical thinking in the reading-writing classroom. CZ writes:
The challenge for international students might be critical thinking/reading which stems from the lack exposure to critical thinking and thinking skills.  Thinking skills are highly valued and widely taught in American education courses. Benjamin Bloom "arranges these skills in hierarchical order with later ones incorporating the former"(Peterson, "Meeting the needs of international students"):
Knowledge-Comprehension-Application-Analysis-Synthesis-Evaluation
Those thinking skills might not be addressed in an international student's learning experience. And international students may also have different thinking habits when they are reading. For example, more often a Chinese student might not challenge or evaluate the author's thoughts but converge the author's idea when reading.
CZ lists Bloom's Taxonomy of critical thinking and thus demonstrates a great absorption of a standard facet of university-level reading in the U.S., but CZ does not connect it deeply to textual interpretation, although CZ mentions "challenge" and "evaluation" of an author, which are clearly critical reading strategies. CZ is the only Chinese student to outline a continuum of critical thinking options, and CZ is also the only Chinese student to note the potential difference in reading instruction in Chinese and U.S. educational cultures (convergence-divergence).
CZ's response clearly outlines the grounds of critical thinking, even if the examples leave a teacher educator unsure of the depth of understanding or how to get students and oneself to perform these moves. The other three Chinese students did not address a continuum or forms of critical thinking, nor did they address cultural differences in reading (convergence-divergence). As later examples suggest, Chinese students tended to not differentiate their Chinese reading instruction and their developing understanding of Western critical reading or thinking, which suggests that after nine weeks of graduate-level instruction, the integration of Western-style critical reading and thinking still requires ample support, especially when a future teacher's teaching experience in America contrasts with their student experience in their native region.
2. L1 American TESOL students focused on critical thinking as not just counterargument, but often included synthesis as a major reason for reading. They also focused on cognitive dissonance in their classroom.
The L1 American TESOL students' responses routinely discussed critical thinking as counterargument (divergence), similar to CZ above, and they also discussed the synthesis of ideas and multiple texts as important in reading instruction. They also engaged the idea of creating cognitive dissonance—presenting students with information that challenges their current beliefs—in their classroom more than the Chinese students. Each of these ideas—counterargument, synthesis, and cognitive dissonance–had appeared in the readings for the week of this study and were concepts heavily mentioned over the first half of the course.
For example, American TESOL student ME focuses on not just counterargument, but synthesis of multiple sources for argument or counterargument. ME states:
I think that the idea stated in Horning's "Reading Across the Curriculum" about students not being able to "use sources in ways that capture a full argument or that synthesize several sources in terms of their overall discussions" (p. 77-78) is one of the big challenges students face when writing about what they are reading. 
In addition to American TESOL students having a greater focus on argument and synthesis in their imagined reading pedagogy, the American and Chinese students also focused on different potential struggles of their future students. Below, Chinese student CZ focuses on specific instruction to build vocabulary, CZ's imagined major struggle for L2 readers, as opposed to L1 students' focus on synthesis and cognitive dissonance. CZ was the only Chinese student to consistently mention critical thinking, but CZ details critical thinking only in connection with a reading guide for vocabulary; the specifics remain unmentioned. CZ writes
Based on all the challenges facing the international students, I would have my students keep a vocabulary journal and I would hang out reading guide to my students to help them better underhand the text but also encourage them to think critically.
Chinese student CZ, who best integrated critical thinking into her imagined reading instruction of the four Chinese students, consistently mentions critical thinking in the responses, but in undetailed fashion.  American TESOL students often imagined much more specific and fluid solutions for teaching critical thinking, as opposed to only defining or mentioning it.
For instance, American student ME imagines a specific form of critical reading and instruction. ME focuses on education as a process of inquiry and continuous questioning when writing:
I try to find some "bigger picture" ideas from the book.  So, I will come up with questions that are not explicitly written in the text, but something that Estabrook is trying to get across to his reader.  Sometimes each group will get different questions; sometimes they will be the same.  Either way, we come back together as a class, and either compare our ideas, or share our different questions and answers to those questions.
While ME also isn't highly specific here, the impetus is beyond comprehension, and the mention of sharing questions, answers, and comparing ideas presses the response toward a dialogic and inquiry-based classroom not quite seen in CZ's imagined classroom, which is based in reading guides that will somehow address critical reading. We also see in ME, and later in other American students, hints of introducing students to the discourse of a reading, a critical act in which students identify the "doing-being-valuing-believing combinations" that embed social values in language (Gee 1989, p. 7). Such a reading strategy is highly critical, asking students to identify author biases or examine how language naturalizes social values and ideology. Chinese students tended to mention more concrete goals from vocabulary to comprehension and didn't move into critical investigation of the discourse level.
3. For Chinese students, the concept of creativity appears often; this concept did not appear in the American TESOL MA students' responses.
Two Chinese students, LY and BB, focus on creativity, imagination, feelings, and similar emotive ideas when imagining the purposes of reading in their classrooms. BB does mention multiple interpretations of a text in the passage below, and we see BB mention a connection to critical thinking, although the method is not explicated. The Chinese students' answers based in creativity and emotion are reminiscent of research into Chinese educational writing and Chinese teacher feedback where sincerity and feeling are valued as much as objectivity and critical analysis (Newkirk, 1997). Thus, emotive or creative emphases in Chinese students' imagined reading instruction may be no surprise because these emphases were greatly valued by former teachers, but Western teacher educators need to be aware of how deeply this feedback style may influence the reading instruction and preparation of teachers who will need to differentiate, not blur, the values of Chinese literacy instruction and Western literacy and critical thinking.
For example, Chinese student LY's answer below is noble and encouraging, not wishing to turn off students to education. However, the ways in which one can teach creativity, or what creativity may be, remain unclear. LY writes:
I agree with [Hull and Rose's] opinion, I think if reading or writing are just for academic purpose, students might lost their creativity and imaginary which is more powerful to their development. Even though academic ability is needed in college education and aids students to acquire more knowledge and skills, but the final purpose of reading and writing is more than that.
LY's point is a good one, situating motivation and lifelong learning over humdrum academics, but as an instructor, I am not sure that LY is absorbing new ideas related to critical thinking and reading. American students had a higher-degree of specific questions or critical goals peppered throughout their responses. Below, Chinese BB offers a response involving two staples of American composition theory—the construction of knowledge and multiple interpretation, which become termed "creativity thinking." BB states:
The unconventional interpretation in [Hull and Rose's] Wooden Shack interested me most. Based on people's experience, knowledge and background, they may have different interpretations. A good poem, as one of my literature classes teacher said, should evoke different audiences' feelings. Most of the poems have more than just one interpretation. Students can learn from each other by sharing their interpretations, Allowing different interpretations may also helps students with their creative thinking. Looking at a matter in various aspects may enhance their critical thinking, too.
Interestingly, BB separates "creative thinking" from "critical thinking," although BB doesn't define either. Clearly, though, through their responses, both of these Chinese graduate students see creativity as different than critical thinking. Both responses share a statement about emotive purposes of reading first, with forms of criticalness creeping in later. The differences and instructional forms they may take, though, remain blurry. What is most noteworthy, I believe, is the problem of blurry definitions of critical thinking, but also the Chinese students' mindset toward motivation and creativity, which was of lesser degree in the L1 American students.
MHJ, an American TESOL student, when discussing the Hull and Rose article "Wooden Shack," doesn't move toward multiple interpretations of a text or link learning to emotive or motivational premises. Instead, MHJ moves toward diagnosis of student problems, something that the Chinese students did not do.
This issue may be compounded with less exposure to academic texts, a smaller repertoire of academic vocabulary, and fewer academic reading strategies. For students with these compounding issues, reading and ultimately writing become much more difficult tasks in a college composition class. To make matters worse, these students may not even know why they are, or that they are missing the mark (how was Robert to know that wooden shacks were symbols of poverty, instead of places to hang one's laundry, and this would never have been revealed had it not been for his individual conference with the teacher); if their starting point of understanding is askew, every point thereafter is likely to be askew (i.e. written work based on the readings). 
All of these struggles have a clear connection in the L2 student; L2 students come with a different perspective and a different lens with which to view our world, much like Robert in Wooden Shack. They also come with a more limited scope of academic experience. These issues' connections lie in the results: ESL students will struggle more with college-level reading and writing activities.
Whereas the Chinese TESOL students discuss the beauty of multiple interpretation and creativity, address interior motivation, or offer a general prescription and philosophy for reading instruction, American MHJ focuses on diagnosing the reason for student misreadings. For Chinese students, the murky concept of "creativity" seems to override any strong moves toward diagnosis of imagined student problems, and Chinese students didn't incorporate or summarize our articles' reasons students make mistakes. This lack of attention to or prediction of imagined student problems by Chinese students was a marked difference from the American students.
We see these differences play out in varying approaches to teaching the same text. The Hull and Rose article included a poem about a wooden shack that generated their original case study. BB, a Chinese student, writes of her own imagined instruction with the poem that
Guided reading questions will be handed to different groups (questions would be like: what is the author writing, who is he writing to, why he want to write this article?
Based on discussion, students may also need to prepare for role play (this depends on the content of the reading). After all the activities done, have a whole class discussion about the previous activities and the reading; Help students brain storm from the reading and activities for writing
Chinese BB has nailed down the basics of rhetorical analysis—genre, audience, and purpose, but mentions neither student struggles nor cognitive dissonance—although time to "brainstorm" could include cognitive dissonance; we don't know. While Chinese BB has an instructional sequence for a small-to-large group discussion, BB imagines no trouble or struggle with reading. Below, American MHJ has a slightly different set of questions that go beyond comprehension and text-based concerns for the same poem. MHJ doesn't include questions on genre, audience, and authorial intent; instead, MHJ includes reflective questions addressing students' struggle and ends with a meta-level reflective question. MHJ offers her imagined lesson plan:
1. What was the most interesting idea in this passage to you? Why?

2. What idea/s or section/s were confusing to you? Why?

After writing, students break into groups of 3-4. One at a time, students read their written responses to the questions, then listen while the other group members respond to the first student with their own interpretations.

Students will then have another 3 – 4 minutes to process the group discussion by answering the following question in another freewrite.

*What idea do you feel you understand better or understand differently after your group discussion? Why?
Similar to MHJ, AP, an L1 Literature and Language student, focuses on rhetorical issues, prediction, then discourse-based cultural issues (Gee's being-doing) for an imagined teaching of My Freshman Year by Rebekah Nathan. AP writes
Why is Rebekah Nathan writing? What is her purpose?
Who is Nathan's audience? How do you know?
Reread the first paragraph of chapter one, can you predict what the rest of the chapter is about?
What purpose does the title of the book's first chapter, "Welcome to 'AnyU,'" serve? Why might Nathan have chosen to use this title?
Define ethnography, anthropology, and discourse.
While Chinese BB included questions of audience and purpose in her imagined plan, AP's final questions place students in an interpretive position and acknowledge the discourse of American education—the disciplinary perspectives of anthropology will color the ideas in the reading. To some extent, AP uses prediction in the third and fourth questions to help identify readers' struggles, with identification of struggles and cognitive dissonance appearing more in American students than in Chinese students. Although these student responses are hard to group, we see a slowly developing pattern in which cognitive dissonance, discourse-level concerns, and reflection on interpretive struggles appear more often in L1 American students.
4. Reconciling Chinese students' use of the terms creativity and critical thinking with an American student's use of the same terms.
TH, an L1 Literature and Language student, does comment on creativity through multiple interpretations, much as two Chinese students did. However, TH makes a move toward being critical of teachers who encourage multiple interpretations without introducing students to the rules of interpretation. TH states that
An important aspect of my education and of my decision to teach was the way some of my early teachers approached differing interpretations. Most notably, I remember a high school teacher saying that he enjoyed having his students find new interpretations of texts because it enlightened him, exercised their minds and their interpretive abilities. He loved it when his students went outside the conventional and exercised their minds, and sometimes, best of all, they taught him something new.
This is not to say that there are no 'wrong' answers: there are. However, unless an answer is so far off the intention of the text, and provided the student can actually back up the idea with textual evidence and logical reasoning.
For the Chinese students who earlier mentioned creativity or their former education, creativity was defined as multiple interpretations of a text. However, Chinese students offered no critical commentary toward their former teachers or mentioned "wrong" interpretations, whereas American TH does. TH mentions creativity through multiple interpretations, but creativity must be based in "textual evidence and logical reasoning," which suggests a framework for critical thinking necessary to think "creatively" that was absent in the Chinese students' explanation of creativity or the act of interpretation in reading instruction.
Conclusions
One frame for aggregating these results stems from Carter and Long (1991), who suggest the following breakdown for reading models:
Cultural model: reading as a window into culture and accumulated wisdom

Language model: development of language skills in classroom

Personal growth model: growth results from a reader's experience not just in accumulated wisdom, but pleasure in learning.
Using Carter and Long's models, I would suggest that L2 Chinese TESOL students' commentary or imagined reading instruction often focused on the personal growth model—in particular, this explains the Chinese students' emphasis on creativity and multiple interpretation without the supplementary features of academic interpretation that make it appear objective (TH's claim and evidence, for example). When the Chinese students spoke of the language model, they often focused on vocabulary and comprehension, eschewing or only mentioning without details synthesis and other higher-order concerns we had discussed in class and that are defined by Grabe as instrumental to reading (and that were mentioned more often by the American students). One consistent form of critical thinking Chinese students mentioned was multiple interpretations of a single text, which may suggest a greater comfort with literary interpretation and less comfort with dialogic, argumentative response or synthesis of texts that dominate American university composition courses. The focus on the personal growth model may also explain why the Chinese students mentioned more often a reading pedagogy based in creativity defined by motivation, life-long love of learning, and non-academic reasons for reading in academic environments. These are, after all, the stuff of personal growth.
Chinese students' definitions and examples of critical thinking, less elaborate than those of the American students, typically did not attempt to diagnose or predict student reading problems to the degree of American students, nor did Chinese students' invented reading questions engage cognitive dissonance or ideological discourses as greatly. These patterns, too, could be explained through Chinese students' emphasis on personal growth, which is mainly an individual, subjective phenomenon, and their lessened emphasis on the more objective cultural model and language model, models in which constructing knowledge (cultural or rhetorical) and the meta-process of how knowledge is constructed are at a premium, but also models representing knowledge of American culture, sociolinguistics, and academics that these young Chinese graduate students haven't had lengthy immersion in themselves. It is hard to distill exact reasons for these differences in imagined reading instruction, but reasons likely include these L2 students' own experiences in their native or English language education, all students' cultural preferences for certain critical-rhetorical modes, the influence of all students' initial TESOL courses that were concurrent with my own course, or L2 students' lesser familiarity with the critical moves of American universities.
Differences could also be attributable to specific, commonly used tools, such as vocabulary journals, a staple of TESOL classrooms. Imagining common tools for reading instruction may send new teachers' focus to these tools' conventional uses, which may shorten, not extend, their imagined reading instruction. Also, in mixed program seminars (TESOL and non-TESOL students), each body of students is likely imagining themselves as their future student. This insight comes from not only the Chinese students' preference for ESL teaching tools and concerns, but from the L1 American TESOL graduate students, whose responses acknowledge L2 issues more often than the American Literature and Language graduate students, but whose critical fluency in imagined reading instruction was higher than the Chinese students. The American TESOL students' familiarity with TESOL can be attributed to their initial TESOL training, but there fluency discussing critical reading, cognitive dissonance, and related concepts likely stems from their years as a student in U.S. high schools and universities.
I will conclude by saying that I use Carter and Long's models to help group the results in a meaningful, clear manner; however, reducing the American and Chinese students' responses to these models can clearly over-simplify the complex answers of each student in the study. Clearly the Chinese students in this study, as with the American students, have a great deal of ownership of language, educational culture, and academic know-how, and its forms and value do not fit neatly into any one model or context. As Canagarajah (1999) stipulates "if one values the strategies and styles of learning the students themselves bring to SLA in order to acquire the language efficiently in terms of their own communicative needs, he or she cannot impose on the students the authority of native speaker teachers or native Englishes" (p. 90). The students' location on the continuum is valuable and a matter of difference, not deficit. The implication, then, is that teacher educators have the challenge of creating teacher education strategies based in difference, not deficit, for novice teachers. The "difference, not deficit" mantra is shaped by the results of studies on university-level Chinese students in Western classrooms (Holmes, 2004), but I'd suggest it applies to mixed L1-L2 teacher preparation too. I'd also suggest that this small sample size does not provide definitive answers, but rather opens up a space for productive questions in either further research or scaffolding student experiences in methods courses.
I also believe that my study points out the need to have novice teachers practice organically creating teaching materials, as opposed to simply having students depend upon instruction manuals and a textbook's discussion questions. My request–to have students imagine reading instruction–is one strategy to help more seasoned instructors pinpoint which elements of reading are being absorbed by novice teachers and which require more support. This is especially true when teaching taxonomies of critical reading. Requesting imagined reading instruction of my students certainly helped me pinpoint strengths and weaknesses and was the genesis of this article as well. Pairing native and non-native speakers is an additional strategy to balance student experience in diverse language classrooms (Massou and Llurda, 2008).
Future teachers will develop as not only reading teachers, but as readers themselves when they become aware of the many critical reading choices to consider and instructionally deliver. Having future teachers imagine reading instruction can help teacher educators identify points of emphasis and de-emphasis to support novice teachers' continued movement across their personal and professional language continuums. Teacher educators should help these talented young professionals "demonstrate to their students what is possible to do with a second language and their appreciation for that language and its culture" (Moussu and Llurda, 2008, p. 323).
References
Canagarajah, A. S. (1999). Interrogating the "native speaker fallacy": Non-linguistic roots, non-pedagogical results. In G. Braine (Ed.), Non-native educators in English language teaching. Mahwah, NJ: Lawrence Erlbaum. 77-92.
Carter R. and Long, M. (1991). Teaching literature. Essex: Longman.
Chan, H.M. and Yan, Hektor K.T. (2008). Is there a geography of thought for east-west differences? Why or why not? In M. Mason (Ed.), Critical Thinking and Learning. London: Wiley-Blackwell, 44-64.
Connor, U. (2008). Mapping multidimensional aspects of research. In U. Connor, E. Nagelhout, and W.V. Rozycki (Eds.), Contrastive rhetoric: Reaching to intercultural rhetoric. Amsterdam, Philadelphia: John Benjamins, 299-315.
Gee, J.P. (1989). Literacy, discourse, and linguistics: An introduction. Journal of Education, 171.1, 5-17.
Goodman, K.S. (1967). Reading: A psycholinguistic guessing game. Journal of the Reading Specialist, 6, 126-135.
Grabe, W. (2009). Reading in a second language: Moving from theory to practice. Cambridge: Cambridge University Press.
Higgins, C. (2003). 'Ownership' of English in the Outer Circle: An alternative to the NS-NNS dichotomy. TESOL Quarterly 37.4, 615-644.
Holmes, P. (2004). Negotiating differences in learning and intercultural communication: Ethnic Chinese students in a New Zealand university. Business and Professional Communication Quarterly, 67.3, 294-307.
Hyons, S. (2002). Genre and ESL reading: A classroom study. In A. Johns (Ed.), Genre in the Classroom: Multiple Perspectives. New York and London: Routledge, 121-144.
Massou, L. and Llurda, E. (2008). Non-native English-speaking English language teachers: History and research. Language Teaching 41.3, 315-348.
Markel, M. (2010). Technical communication. Boston, New York: Bedford/St. Martin's.
Newkirk, T. (1997). The performance of self in student writing. Portsmouth, N.H.: Heinemann.
Norton, B. (1997). Language, identity, and the Ownership of English. TESOL Quarterly 31.3, 409-429.
Orlando, V., D. Caverly, L. Sweetham and R. Flippo. (2003). Text demands in colleges: An investigation." In E.J. Paulson, M.E. Laine, S.A. Biggs, and T.A. Bullock (Eds.), College Reading Research and Practice: Articles from the Journal of College Literacy and Learning. Newark, DE: International Reading Association, 118-25.
Prater, K. (2009). Reading comprehension and English language learners. In S.E. Israel and G.G. Duffy (Eds.), Handbook of Research on Reading Comprehension. New York and London: Routledge, 607-621.
Sullivan, P. (2010). What can we learn about 'college-level' writing from basic writing students? The importance of reading." In P. Sullivan, H. Tinberg, and S. Blau (Eds.), What is "College-Level" Writing? Volume 2. Urbana, IL: NCTE, 2010. 233-53.
Sullivan, P. (2014). A new writing classroom: Listening, motivation, and habits of mind. Boulder: University of Colorado Press.
In 2012, Hmong American Partnership began an ambitious, multiyear effort to improve its English as a Second Language Program.  This article describes the strategic decisions and results of this effort.
On a fall day in 2013, the intersection of Western and University Avenues in Saint Paul hums and rumbles with activity.  Cars and trucks stream by, minivans full of children pull into shopping centers, and hungry patrons pound the sidewalks in search of the perfect bowl of pho (noodle soup).  Every ten minutes, the 16 bus glides to a stop at Western Avenue, and a crowd that reflects the diversity of the city emerges from within.  Some of them are arriving home and some of them are arriving to work.  Some of them are adult refugees arriving to classes at the Hmong American Partnership (HAP) English School.  The students are ready for their first day at the newly reopened program.  The road takes us from where we have been to where we want to go.  This is the road to improvement.
Founded in 1990, the English School at HAP provides ESL, numeracy, digital literacy, and job skills classes to mostly newly-arrived refugees. The English School is just one program among many services that HAP provides to Hmong and other refugee communities.  Programs include Education and Training (including Adult Basic Education), Economic and Community Development, Employment Services, Health and Wellness, and Children and Family Services.  This article will center on the ESL classes for adults at the Western and University location in St. Paul.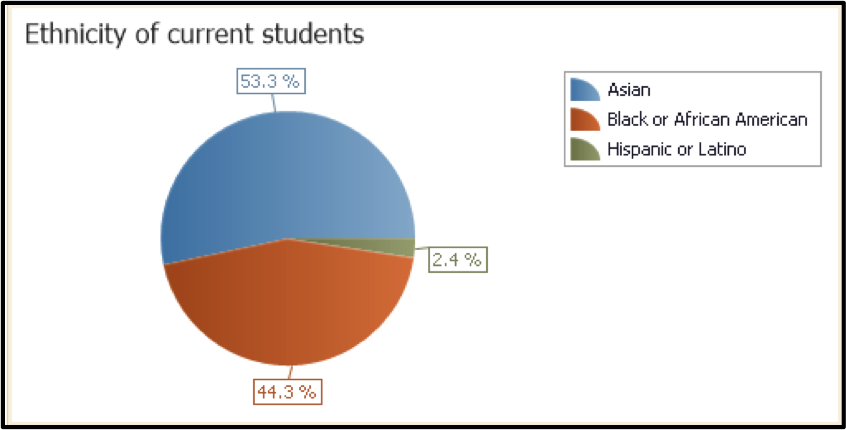 Though the English School was originally started to help Hmong students, the current enrollment of HAP English School closely reflects the diversity of the immigrant groups residing in the area.  The program currently hosts one hundred twenty-five students, whose ethnicities are identified in Figure 1.
Over half of the ABE students are Asian (53.3%), and most of them are Karen, Karenni, and Bhutanese.  Another large segment of students is African (44.3%), most of whom are Somali and Oromo.  A small number of Latinos attend classes (2.4%). The student population is overwhelmingly refugee in background.
Fall of 2012- The Reckoning
In 2011, after several years of economic recession, changing governmental grants, and falling donations, HAP, like many nonprofits, faced many budget issues as an organization. In an attempt to save the budget, cuts were made in several areas of programming.  One item that was cut was the school van, which provided transportation to dozens of ESL students every day.  Staff made every effort to transition students to public transportation or schools closer to their homes according to the students' preferences, but many students chose to leave the school and enroll elsewhere. Figure 2 shows that HAP hit a low in contact hours in 2012. This contributed to a budget deficit for the following program year.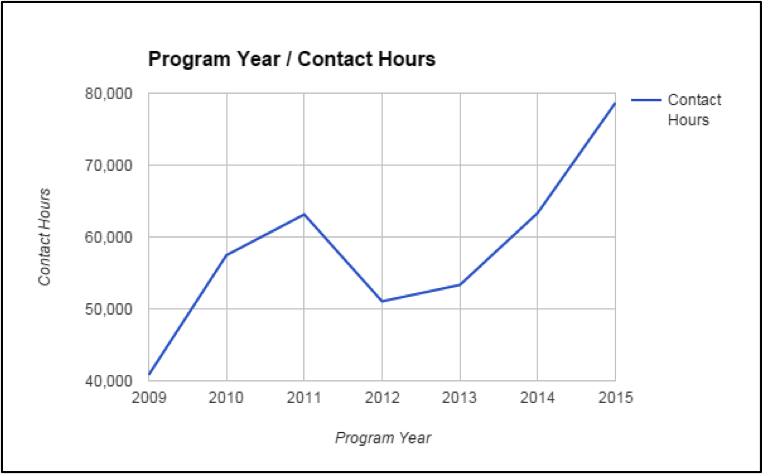 Falling contact hours and stagnant enrollment were not the only problems facing HAP English School in 2011-2012.  The school had also failed to meet any National Reporting Service (NRS) target goals since 2009, when it succeeded in achieving only one goal (NRS is an outcome-based reporting system for federally funded adult education programs administered in Minnesota and other states).  Every year, the state issues goals for Adult Basic Education (ABE) programs.  The goals call for a certain percentage of students in each ABE level to move on to the next ABE level within one program year.  For example, in 2011 the target goal for Beginning ESL Literacy was a 54% advancement rate to the next level within one program year, which HAP English School failed to achieve.  Programs that fail to meet the goals for several years in a row are considered in need of improvement.  This forced the education team to take a look at how to address the needs of the program, and specifically its students, in order to improve.
The staff identified a number of issues which prevented the school from being fully successful.  These issues were: difficult scheduling, high staff turnover, a lack of professional development opportunities, lack of cohesive curricula, lack of focus (doing too many things in a disorganized way), and a generally chaotic school environment (students dropping in and out of the program rapidly).  The staff brainstormed a set of six changes to address the issues.  Each will be described in more detail below.
Change #1- Scheduling
Up until 2012, the class schedule did not take into full consideration the needs of the students.  The schedule also used the available space inefficiently.  
Many HAP students are Minnesota Family Investment Program (MFIP) clients who are required to attend ESL classes 20 hours a week in order to receive benefits from Ramsey County and the state. With the old schedule, students attended classes in the morning from 8:00 AM to 12:00 or 1:00 PM to 5:00. During the four hour blocks, teachers broke the day up into English instruction, math instruction, and computer classes.
Most of the students in HAP English School's program are parents of school-aged children.  This creates a difficulty in getting to school at 8:00 AM when their children might need to catch a school bus in the morning or staying until 5:00 PM when their children arrive home from school much earlier than that.  The schedule was inconvenient for students, and they often left for programs that were more in line with their daily schedules. Research also indicates that students make higher gains when they are able to attend a "higher percentage of class time", not the total number of hours (Wrigley, 2003, p.3), so we wanted to remove any barriers to consistent attendance.  As such, in late 2012 HAP English School created a new schedule to consolidate the day to more closely match the school day for children (the new schedule went into effect in March of 2013). The new schedule consists of two tracks that overlap in the morning and afternoon and make the most effective use of space available.
Another benefit of the new schedule is that it accommodates working students and students that are not part of the MFIP program.  If students wish to enroll only in the two-hour ESL block, they can do that under the new schedule.  Previously, they had been required to enroll in the entire four-hour session.  Four hours of school every day is hard for a working parent, but two hours is often manageable.  
The new schedule also allows the program to use the available space more efficiently.  Instead of leaving rooms vacant for large chunks of the day, every room was utilized at almost every time.   Additionally, the new schedule allowed the students to attend "job club" (a class for MFIP clients) on-site, rather than at a different site, as had previously been done.  In October of 2013, HAP English School moved into a different office building across the street from the previous building.  The implementation of the schedule in a new space was seamless.  
Change #2- Staffing and Professional Development Opportunities
In addition to addressing student needs, the new schedule made the teaching positions more attractive to teachers who wanted full-time positions. Since 2010, HAP English school had had only 1 full-time teaching position. The rest of the teachers worked part- time:  either 25 hours a week during the day (4 hours of instructional time and 1 hour of prep per day Monday through Friday) or 15 hours a week in the evening program (3 hours of instructional time and 1 hour of prep per day Monday through Thursday). The limited number of work hours available resulted in frequent staff turnover, with some teachers staying as little as three months before moving on to other teaching positions that offered full-time hours and benefits.
The new schedule meant that a single teacher could teach both the Track A and Track B English and math classes for their level between 9:00 AM and 3:00 PM. With the addition of 2 hours of prep time, this fit nicely into an 8-hour workday and HAP consolidated several part-time positions into 3 full-time positions with benefits. Initially, there was still one part-time position in the evening program, but that has now been replaced by all volunteer instructors and a full-time coordinator.
Change #3- Curricula
Prior to 2013, HAP English School lacked a formal, cohesive set of curricula for the ESL classes.  The topics for each class were left to the discretion of each individual instructor.  In addition, high staff turnover contributed to a lack of progression from topic to topic, and the classes had a very disjointed feel.  There was no formal investigation into what topics the students found valuable, and the quality of instruction varied widely from classroom to classroom.
To build a more cohesive curriculum centered on student needs and interests, we knew that we needed to hear from the students.  During the 2013-2014 program year, students met with interpreters every six weeks to give feedback about the previous unit, and staff used that information to make changes and additions and the staff decided that the school curriculum would follow eight thematic units over the course of the calendar year, each lasting six weeks.  The units are as follows: Community, Health, Housing, School and Family, Shopping, Work, Food, and Transportation, with corresponding numeracy units.  Every class level follows the same progression through the units; this allows for joining together in field trips and speakers.  The digital literacy and job club courses also take inspiration from the current thematic unit, tying all of the programming together and binding all of the students together on the same topic.  This decision was made to streamline the student experience at the school, so as to reduce confusion and build community amongst the students and staff.  It also provided the ability to combine classes in the event of an unexpected absence of a staff member.  Consequently, at any time, the students study the same topic, but at different levels.  
The staff was able to develop the streamlined curricula because of an intentional investment on the part of Hmong American Partnership to give staff more time for planning.  Staff was given two planning days after each six-week unit.  Staff members used this time to meet, collaborate, research, and write new curricula.  
Change #4- Creating a Focus on Recent-Arrival Students with Interrupted Formal Education
Until the transition in March 2013, HAP English school had either two or three classes in the morning and two or three in the afternoon, which were constantly re-leveled depending on the number of students enrolled at a given time.  This created a sense of chaos among students and staff. Often, these classes were broken into mixed CASAS levels 0-1 – Pre-Beginning and Low Beginning ELL, 2-3 – High Beginning and Low Intermediate ELL, and 4-5 – High Intermediate and Advanced ELL (CASAS is the Comprehensive Adult Student Assessment System, a competency-based assessment that tests life skills).  Occasionally, classes were broken into level 0, level 1-2, and level 3+. Students in levels 4 and 5 were at high enough levels that they consistently left the program so quickly it was difficult to keep a paid instructor to teach the class.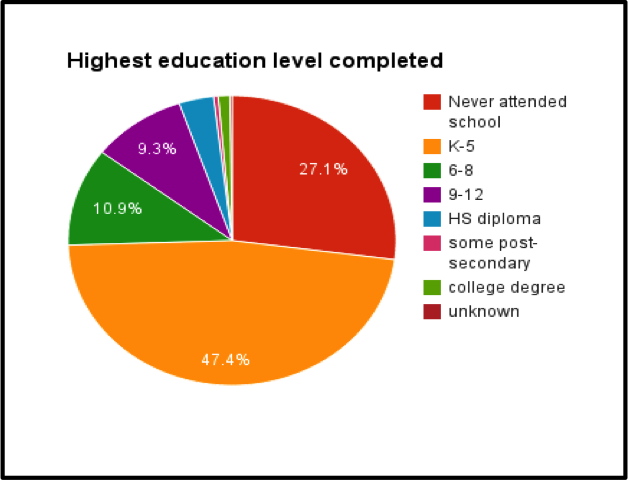 More than a quarter of HAP's students have never attended school, and almost half have less than a 5th grade education (Figure 3). Recognizing that 75% of our students had limited or interrupted formal education and fell between CASAS levels 0 and 4, staff decided to focus on these levels and keep class leveling consistent as level 0, 1-2, and 3-4. Level 0 (or pre-literate students) seemed to do best when in their own designated class, so this was made a priority. Instruction was also tailored to focus on methods that catered to the needs of students at these levels such as those referenced in Condelli and Wrigley's What Works Study, "bringing the outside in, varied practice and interaction strategy, emphasis on oral communication" (2006, p. 127). Students who reach level 5 are referred to another program that offers more for students at more advanced levels.
Change #5 Semi-managed enrollment
During this time, HAP English School also moved towards a more intentional system of enrollment, called semi-managed enrollment.  Prior to 2013, students were allowed to join classes whenever they wanted to (something that continues to happen in many ABE programs throughout the state).  With semi-managed enrollment, the program lets students begin on Mondays only, with a restriction placed on the sixth week of each unit, during which no new students can enter the class (the sixth week of the unit is when staff conduct assessments).  In the curriculum redesign, the staff created a plan situating the start of new lessons on Monday, so the instructors introduce new material to all of the students, both new and returning.  Semi-managed enrollment reduced the chaos and stress for teachers and students associated with new students coming into the classrooms on random days.  
Change #6- Bringing Back Limited Transportation
Staff identified the 2011 elimination of transportation as having a detrimental effect on student attendance and hours.  The ESL staff successfully advocated for HAP to bring back the school van on a limited basis.  Prior to the 2011 decision, the van had been available to all students, no matter where they lived, creating a chaotic van route that often picked up students who lived within walking distance of the school.  During the reimplementation of the van, a radius around the school was designated as "walkable" and students within this radius would not be offered transportation. Next, transportation was consolidated into "hubs" or "stops" as much as possible so that several students could be picked up from a single location as opposed to individual home pick-ups. Finally, students who had previously left the school and were not currently enrolled elsewhere were given the choice to re-enroll and use the van to transport them again, if there was space available on the van. These various efforts have succeeded in transitioning the school from being dependent on transportation to having a mix of students who ride the van and transport themselves. Less than ⅓ of students now use the school's transportation. Attendance is now taken on the van to gauge how consistently students are actually riding it.  Those not using the van and/or attending classes fewer than 3 days a week are asked to give their spot to new enrollees who are on a waiting list.
Results- Two Years In
Two years in, HAP English School has had some promising results. First and foremost, enrollment has increased dramatically and the number of students has begun to remain consistent throughout the year. Prior to the programmatic changes, the school experienced a drastic drop in enrollment every year during the summer months (as shown in Figure 4).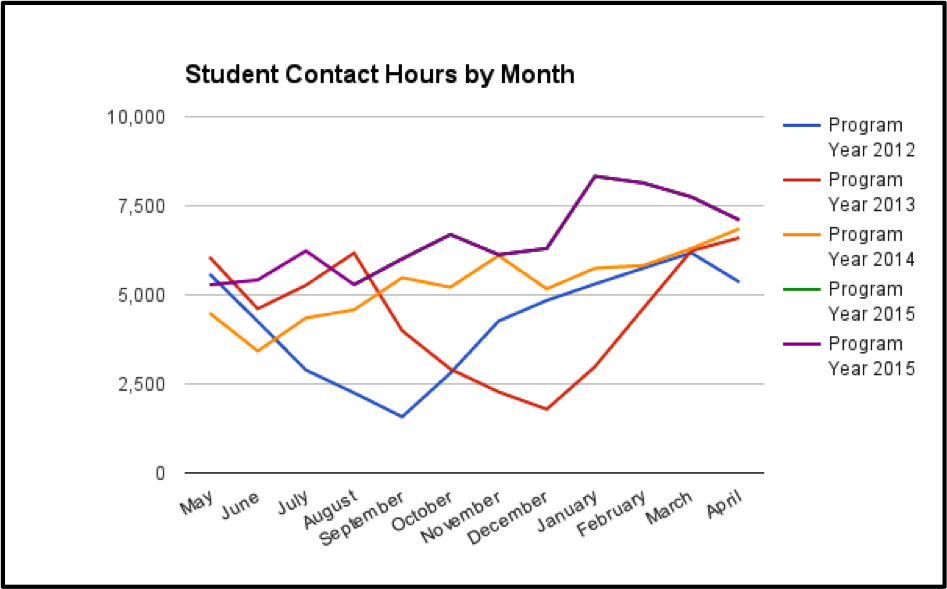 The consistent numbers throughout the year have led to implementation of wait lists during the winter months in order to keep class sizes at a reasonable number due to space and the desire to keep classes small for lower level students. Contact hours have increased drastically from 53,348 in 2013 to 63,335 in 2014 and 78,663 in 2015 (for earlier years refer to Figure 1).
Student level gains were such that HAP met four of six NRS (National Reporting Service) goals in 2014, as opposed to zero in 2013. However, in late 2014 the federal government put new rules in place requiring students to attend classes for 40 hours before being post-tested, which may have led to the drop in percentage in that program year. This increased the number of students who left before being post-tested, and consequently, the program met only one of six goals in 2015.  As HAP English School begins to adapt to the new federal guidelines, the program will see how this affects its  ability to meet the NRS goals in the long term.
The staff turnover has improved as well. Only one teacher, a part-time staff member, left during this two-year period, and one of the full-time ESL teachers transitioned into that position. Offering more full-time positions with benefits led to greater staff satisfaction and lowered staff turnover.  This is turn led to more stability among the ESL classes and perhaps greater levels of student retention.
Next Steps
Now that HAP has achieved some stability the staff has identified two next-step goals.  One goal is to incorporate more Trauma-Informed Care policies into our practices.  Because the vast majority of our student population share a refugee background, many of our students have a history of trauma.  They have seen brutal acts of war and their homes and villages destroyed.  Although they are trying to build new lives for themselves in Minnesota, they often bring their trauma into the classroom with them.  We want to implement practices that help the students relax, stay calm, and stay focused on the task at hand – learning.  
The other goal will be to align our curricula to the College and Career Readiness Standards (CCRS) for Adult Education.  The CCRS provide a guideline for preparing adult students for success in reading, writing, and mathematics.  Aligning our curricula to the CCRS will help us transition our students to the workforce as well as higher levels of education.
References
Condelli, L. & Wrigley, H. (2006). Instruction, language and literacy: What Works study for adult ESL literacy students. In van de Craats, Kurvers & Young-Scholten (Eds.), Low-Educated Second Language and Literacy Acquisition symposium proceedings (pp 111-134). LOT: The Netherlands.
Wrigley, H. (2003). A conversation with FOB…What works for adult ESL students. Focus on Basics 6(C). Retrieved November 15, 2015 from  http://www.ncsall.net/index.html@id=189.html
Resources
More on Adults with Limited or Interrupted Formal Education
http://atlasabe.org/professional/adult-esl
http://www.ncsall.net/index.html@id=771&pid=189.html
http://www.leslla.org/files/resources/CompleteproceedingsLESLLA2005.pdf
More on CASAS Levels:  https://www.casas.org/docs/pagecontents/eslsld.pdf?sfvrsn=4?Status=Master
More on Trauma Informed Care: http://www.traumainformedcareproject.org/
More on NRS Levels: http://www.mnabe.org/program-management/accountability-nrs