You likely noticed that this Fall 2018 Issue of the MinneTESOL Journal has been posted in a newly redesigned website. We have worked over the past few months to update the journal's look and navigation. We have also made changes to the infrastructure of the website making it easier to bring new issues to you. The work deepened our appreciation for the efforts of past Senior Editors Kimberly Johnson and Anne Dahlman, whose vision for the MinneTESOL Journal as a high quality and dynamic online practitioner journal set a high bar for our work. We hope that you will feel at home in this new space as you did in past years.
The issue includes two articles that focus on reading materials for language learners in K12 contexts. Aaron Mermelstein reviews literature describing representation of gender in children's literature. Mermelstein emphasizes the point that representation can have a deep impact on the identity of language learners in the classroom. Meur describes a study on the use of retells and memory recalls to explore English learners' comprehension when working in graphic novels.
In support of practitioners working with adult English language learners who may have had exposure to traumatic events, we include an article by Rachel Johnson. Johnson shares research reporting on evidence-based strategies that target attention and memory networks, interventions that can have a significant impact on brain mechanisms for language learning and therefore can help mitigate the effects of trauma on learning.
We also include an article by Heather Camp that makes the case for incorporating off-campus learning experiences into international students' second language instruction at the college level. Camp describes the impact of acculturation and authentic language use on language proficiency development and shares an example from her own work in classrooms.
Finally, we include two articles that describe institutions central to development and ongoing support of ESL teachers in the state of Minnesota. Patsy Egan and Betsy Parrish present the work of the ATLAS at Hamline University, describing how preparing ESL teachers is central to their work providing Adult Basic Education professional development. Elaine Tarone's article traces the development of programming and historical context for current ESL teaching and learning programs at the University of Minnesota. In this important piece, Tarone ensures that the history of TESOL in our state will not be forgotten.
One final note; this issue also marks a transition in our technical editing. Darren LaScotte worked together with Jen Vanek on posting this issue and the transition of the journal to the new website. He will take on the role of Technical Editor going forward. Jen Vanek will remain engaged with the journal as Senior Editor (one role is enough!). We are grateful to have Darren onboard and look forward to working with him on issues to come.
This paper discusses how gender roles are portrayed in children's literature, the potential impact of these portraits, and how teachers can better use children's books as a resource in the classroom.
Children are shaped into who they are as adults starting when they are very young. Children adopt certain roles and behaviors as part of their socialization process (Tsao, 2008). They begin to create their own identities and one element that influences this identity is the literature that children read or what is read to them (Allen, Allen, & Sigler, 1993). Children's literature has been generally defined as anything that children read (Nodelman, 2008), but this is too narrow. In today's world, it also needs to include works intended for children, young people, and second language learners. Children's literature is said to provide characters and events that learners can identify with and through which they can evaluate their own actions, beliefs, and emotions (Mendoza & Reese, 2001), and is now being commonly used in ESL/EFL classrooms (Lazar, 1993). Culturally and linguistically diverse learners can be introduced to cultural knowledge and universal themes that are present in the English speaking societies (Department of Education, Newfoundland and Labrador, 2009) because it can give a voice to underrepresented groups and stimulate cross-cultural appreciation (Smallwood, 1998). Thus, children's literature can have an enormous impact on children and language learners throughout the world, especially in the areas of culture and gender roles.
Gender roles are an important part of culture (Gazda, 2015; Singh, 1998). However, they often differ from culture to culture and it is important for children and students to understand that these differences exist and not to merely believe stereotypes. Trepanier-Street and Romatowski (1999) found that it was possible to influence children's gender attitudes through children's literature and related activities. Tsao (2008) notes that picture books also have an influence on gender identities. Books that convey gender bias, or sexism, depictions may have damaging effects on both boys and girls. For example, stereotypical representations of occupations along gender lines may encourage girls to select more traditional female areas of employment. This may lead young women into situations in which they are subordinate. It is hoped that the discussion of such a controversial issue can stimulate teachers to rethink what and how they should teach in the 21st century classroom (Kuo, 2005).
How Gender is Portrayed in Children's Literature
Gender bias is present in the content, language, and illustrations of many children's books (Brower, 2016; Heinsz, 2013; Kittelberger, 2002; Trepanier-Street & Romatowski, 1999). Gender-roles portrayed in children's picture books influence their audiences, but the magnitude and generalization of this influence and its impact on behavior are not completely understood (Tsao, 2008). Gender bias may be seen in the extent to which a gender is represented as the main character in children's books and how that gender is depicted (Singh, 1998; Brower, 2016). Weitzman, Eifler, Hokada, and Ross (1972) were among the first researchers to note a greater emphasis on male characters in children's literature, although more current studies (i.e. Turner-Bowker, 1996) have discovered similar findings. Ernst (1995) researched the titles of books written for children to determine whether or not boys or girls names were more frequently included in the titles. His findings were that boy's names appeared about twice as often as girl's names. He also found that books that had a gender neutral name, or a girl's name, were actually books about boys.
Singh (1998) noted that not only are girls portrayed less often than boys in children's books, but that both genders are frequently presented in stereotypical terms. According to Ernst (1995), girls are usually portrayed as sweet, naive, conforming, and dependent. In contrast, male characters are usually aggressive, physically strong, possess a sense of adventure, and are able to function in complete independence. Similarly, Temple (1993) found that boys tend to have roles as fighters, adventurers, and rescuers, while girls tended to have more passive roles as caretakers, mothers, princesses that need rescuing, and characters that support the male figure. Rudman (1995) discusses how female characters in children's novels may start out as active, aggressive, or headstrong, but soon relinquish their independence, or are tamed, by a male character or situation that occurs in their lives. In general, male characters do not do this. Rudman (1995) and Kramer (2001) also found that the female characters were the "nurturers" and often depicted as mothers, nurses, and kitchen helpers. Turner-Bowker (1996) found that the most commonly used female descriptors in children's books were beautiful, frightened, and worthless. By comparison, she also found the most commonly used male descriptors were big, horrible, and fierce. Further, she found that females were significantly less frequently found in pictures. Kortenhaus and Demarest (1993) found that males are typically portrayed as competent and achievement-oriented, but females are limited in what they can do, and are less competent in their ability to accomplish things.
More recent studies (e.g. Gazda, 2015; Heinsz, 2013; Lowther, 2014; Ly Kok & Findlay, 2006) report similar results, indicating that perhaps very little has been changed over the years or that change is taking place rather slowly. Tsao (2008) also adds that male dominance can be found in books in which the characters are animals, and that even the types of animals used to represent characters also vary according to gender: mice are most often used to represent female characters and bears are most often used to represent male characters.
Unfortunately, it does seem like very little is changing or changing very slowly. In a recent study conducted by McGrabe, Fairchild, Grauerholz, Pescosolido, and Tope (2011), they came to the following conclusion:
One thing that surprised us is that females' representations did not consistently improve from 1900 to 2000; in the mid part of the century it was actually more unequal. Books became more male-dominated. (p. 197)
Their study was based upon almost 6,000 books published from 1900 to 2000, and came to the following conclusions:
Males are central characters in 57 percent of children's books published, while only 31 percent have female central characters.

No more than 33 percent of children's books published in any given year contain central characters that are adult women or female animals, but adult men and male animals appear in up to 100 percent of books.

Male animals are central characters in more than 23 percent of books per year, while female animals are in only 7.5 percent.

On average, 36.5 percent of books in each year studied include a male in the title, compared to 17.5 percent that include a female.

Although books published in the 1990s came close to parity for human characters (with a ratio of 0.9:1 for child characters; 1.2:1 for adult characters), a significant disparity of nearly 2 to 1 remains for male animal characters versus female.
Suggestions for the ESL/EFL classroom
Teachers can make a difference in how children's literature is used as a resource in the classroom. Rudman (1995) believes it is important for teachers to first recognize and articulate their own attitudes towards gender. Teachers can more extensively evaluate the goals they have for their students and the goals of their program or school. While some may argue that teachers must create lesson plans that directly combat gender bias, it may be more prudent to discuss specific gender issues as they arise or more indirectly incorporate them into lesson plans. The important condition that should be established in the classroom is the awareness of gender issues by both the teacher and the students. Perhaps the best method of incorporating children's literature and gender issues into ESL/EFL classrooms is through critical thinking activities. By integrating critical thinking into daily classroom activities, teachers can assist students in understanding how texts are constructed (Bainbridge, Heydon, & Malicky, 2009; Gazda, 2015). Teachers can also use scaffolding activities, like graphic organizers, to guide and assist students through these activities.
Children's books can be used as catalysts for discussions (Gazda, 2015; McGowan, McGowan & Wheeler, 1994; Lowther, 2014), writing activities, and individual or group projects. It is important for teachers to support children's group discussions by posing thought-provoking questions and facilitating student exchanges (Singh, 1998). During discussions with children, teachers can validate both feminine and masculine voices, and listen to dissenting individual opinions (Trites, 1997). Lenski (2008), states that it is important to understand that texts offer a unique view of the world. Culturally and linguistically diverse learners could be asked to compare and contrast their part of the world with the world in the book or the place in the world where the story was created. Students could also be asked to compare the physical and psychological characteristics of the male and female characters, which are often stereotyped. There are almost endless possibilities for teachers who have a greater understanding of higher level thinking and critical thinking skills.
Conclusion
Children's literature is a widely available cultural and learning resource. It has the power to influence a child's identity by making inferences about gender, and gender is perhaps the most basic perspective through which children see and experience the world and their places in it (Taylor, 2003). Books intended for children, and used by ESL/EFL teachers, reflect societal attitudes and maintain discrimination in societies (Rudman, 1995). Unfortunately, as Short (2001) points out, teaching may resemble a political agenda. Kuo (2005) also states that there are no politically innocent books for students and that a classroom is always laden with different values and perspectives introduced by teachers, students, and the texts. Therefore, teachers can take actions to ensure that the learning environment is less gender bias.
Teachers can select books in which the characters have distinct personalities regardless of their genders. Teachers can try to make a conscious effort to select books for students that reflect fairness and inspire both genders. There are also books that offer realistic and engaging stories that address issues of gender and abilities. Over the past decades, increased female representation in titles, central roles, and pictures appears to indicate that more and more authors of children's books are aware of and sensitive to women's changing roles (Tsao, 2008). And, although there is now research suggesting very little changes are taking place (McGrabe, et al., 2011), it's important for children to be exposed to books that can break stereotypes. However, perhaps the most important thing teachers can do is teach children critical thinking skills. Through the development of critical thinking skills, children can develop their own independent thoughts, a greater understanding of societal issues, and become more engaged and responsible citizens in the future.
References
Allen, A., Allen, D., & Sigler, G. (1993). Changes in sex role stereotyping in Caldecott Medal Award picture books 1938-1988. Journal of Research in Childhood Education, 7, 67-73.
Bainbridge, J., Heydon, R., & Malicky, G. (2009). Constructing meaning: balancing elementary language arts (4th ed.). Toronto: Nelson Thomson Learning.
Brower, A. (2016). Gender Roles and Gender Stereotypes in Four Newbery Award Winning Books. Unpublished master's thesis, The University of Southern Mississippi, Hattisburg, MS.
Department of Education, Newfoundland and Labrador (2009). Using children's literature with ESL students. Retrieved on June 1st, 2018 from https://www.ed.gov.nl.ca/edu/k12/curriculum/guides/esl/literature_esl.pdf
Ernst, S.B. (1995). Gender issues in books for children and young adults. In S. Lehr (Ed.), Battling dragons: Issues and controversy in children's literature (pp. 66-78). Portsmouth, NH: Heinemann.
Gazda, A. (2015). Once Upon A Time: Exposing Sexism in Children's Literature. Unpublished master's thesis, The College at Brockport: State University of New York, Brockport, NY.
Heinsz, J. (2013). Contemporary gender roles in children's literature. Norman Rockwell Museum. Retrieved on June 1st, 2018 from https://www.nrm.org/2013/04/contemporary-gender-roles-in-childrens-literature-by-joshua-heinsz
Kittelberger, L. M. (2002). Gender bias: changes in portrayal of women in children's literature from 1955-1960 to 1995-2000. Unpublished master's thesis, Pennsylvania State University, University Park, PA.
Kortenhaus, C.M., & Demarest, J. (1993). Gender role stereotyping in children's literature: An update. Sex Roles, 28(3), 219-232.
Kramer, M.A. (2001). Sex-role stereotyping in children's literature. Unpublished master's thesis, Pennsylvania State University, University Park, PA.
Kuo, J. (2005). Teaching ESL/EFL students to recognize gender bias in children's literature. The Internet TESL Journal, Vol. XI, No. 11. Retrieved July 11, 2011, from http://iteslj.org/Articles/Kuo-GenderBias.html
Lazar, G. (1993). Literature and Language Teaching: A guide for teachers and trainers. New York, NY: Cambridge University Press.
Lenski, S. (2008). Teaching from a critical Literacy perspective and encouraging social action. In S. Lenski & J. Lewis (Eds.), Reading success for struggling adolescent learners. New York: The Guilford Press.
Lowther, T. (2014). Children's books still promote gender stereotypes. The New Republic. Retrieved on June 1st, 2018 from https://newrepublic.com/article/116943/childrens-books-still-promote-gender-stereotypes
Ly Kok, J., & Findlay, B. (2006). An exploration of sex-role stereotyping in Australian award winning children's picture books. The Australian Library Journal, 5(3), 248–261.
Mendoza, J., & Reese, D. (2001). Examining multicultural picture books for the early childhood classroom: Possibilities and pitfalls. Early Childhood Research & Practice, 3(2), 1-38.
McCabe, J., Fairchild, E., Grauerholz, L., Pescosolido, B., & Tope, D. (2011). Gender in twentieth-century children's books: Patterns of disparity in titles and central characters. Gender & Society, 25 (2), 197.
McGowan, M., McGowan, T., & Wheeler, P. (1994). Appreciating diversity through children's literature: Teaching activities for the primary grades. Englewood, CO: Teachers Ideas.
Nodelman, P. (2008).The hidden adult: Defining children's literature. The John Hopkins University Press. Baltimore: MD.
Rudman, M. (1995). Children's literature: An issues approach (3rd edition). New York: Longman.
Short, K.G. (2001). Why Do Educators Need a Political Agenda on Gender. In S. Lehr (Ed.), Beauty, Brains, and Brawn: The Construction of Gender in Children's Literature. Portsmouth, NH: Heinemann.
Singh, M. (1998, November). Gender issues in children's literature. ERIC, Identifier: ED424591. Retrieved July 11, 2011, from http://www.indiana.edu/~reading/ieo/digests/d135.html
Smallwood, B.A. (1998). Using multicultural children's literature in adult ESL classes. National Clearinghouse for ESL Literacy Education Washington DC. ERIC Digest.
Taylor, F. (2003). Content analysis and gender stereotypes in children's books. Teaching Sociology, 31(3), 300-311.
Temple, C. (1993). What if 'Beauty' had been ugly? Reading against the grain of gender bias in children's books. Language Arts, 70 (2), 89-93.
Trepanier-Street, M.L., & Romatowski, J.A. (1999). The influence of children's literature on gender role perceptions: A reexamination. Early Childhood Education Journal, 26(3), 155-159.
Trites, R.S. (1997). Waking sleeping beauty: Feminist voices in children's novels. Iowa City: University of Iowa.
Tsao, Y. (2008). Gender issues in young children's literature. Reading Improvement. Fall Issue.
Turner-Bowker, D.M. (1996). Gender stereotyped descriptors in children's picture books: Does "Curious Jane" exist in the literature? Sex Roles, 35(7-8), 461-487.
Weitzman, L.J., Eifler, D., Hokada, E. & Ross, C. (1972). Sex-role socialization in picture books for preschool children. American Journal of Sociology, 77, 1125–1149.
In order to find potential tools, scaffolds, and differentiation to be employed by English Language (EL) and content teachers alike, a small qualitative study was conducted that found that English learners (ELs) displayed better reading comprehension and increased memory retention of the chapter events when reading the graphic novel versions of a text in comparison to the traditional book format.
Key words: language learners, ELL, graphic novels, comics, reading, reading comprehension, memory recall
Using Graphic Novels to Increase Comprehension and Recall
As an English Language teacher, I work with English learners (ELs) not only by helping them with listening, speaking, reading, and writing, but also by providing tools and scaffolds to help them successfully navigate the English language in their mainstream classes. Sadly, ELs can face more challenges in the classroom than their native speaking peers, including, but not limited to, skill transfer from the learner's first language L1 to the target language (L2); the unique nature of student's L1 (e.g. is there a different alphabet? Is the language a spoken language only?); interrupted schooling; and the possibility that school is the only place these learners are hearing and using their L2 (Ford, 2005). My personal belief in the power of visuals in the form of comic books and graphic novels led me to study graphic novels as a potential tool for EL reading success in elementary education.
The purpose of my study was to explore how the use of graphic novels in an EL classroom could increase reading comprehension and memory recall. I sought to find answers to the following questions:
How can graphic novels affect the proficiency of reading comprehension, as shown by increased performance on the task of retelling, for middle school ELs in comparison with a text only novel?

In what ways can the memory recall of a chapter's events be affected by the use of a graphic novel adaptation in contrast with the traditional text format?
The purpose of this article is to provide a brief summary of the major findings that emerged from my research. The article will begin by discussing the usefulness of visual aids for reading comprehension and memory recall. Next, it will introduce graphic novels, and their potential for serving as visual aids in the classroom. Finally, my study and findings, followed by their implications, will be discussed.
Terms
There is a lot of confusion regarding the true difference between the terms comic and graphic novel. Will Eisner originally defined comics as simply "sequential art" (1985). Scott McCloud later defined them as a "collection of pictures and words arranged side-by-side in a sequential story format" (McCloud, 1993). The term graphic novel maintains this sequential art aspect, but differs in that instead of being serialized, they are often published as original trade paperbacks that tell a single story from beginning to end, more similar to a traditional novel (Arnold, 2003). A casual search will show there are graphic novels for just about every subject or literary genre with equally thought-provoking themes as those present in traditional novels, but with the added scaffold of visuals. It is this visual scaffold aspect that allows both graphic novels and comics the potential to provide support for struggling readers while still working through the same difficult themes and complicated stories that exist in the text-only format. It is when we look through the lens of the visual scaffold that is provided by both comic books and graphic novels in education that the difference between them becomes negligible. To avoid confusion in this article, the term "graphic novel" will be used as a catchall to describe both comic books and graphic novels, as it is their shared visual scaffolding aspect I am focusing on, and not whether they are serialized (comics) or whole works (graphic novels). The graphic novel used in this study was published as a whole work in sequential story format.
Visual Aids and Reading Comprehension
Visuals have long been hailed as useful aids in assisting students in their reading comprehension (e.g., Levie & Lentz, 1982; Levin, Anglin, & Carney, 1987). Luckily for EL educators, visuals are ever-present within the context of graphic novels, which may aid reading comprehension. Any student confusion that could arise regarding the comprehension of the plot, characters, or setting may have a more concrete representation in the accompanying visual than appears in the graphic novel format of the story. A graphic novel's ability to display the relationship between words and visual images simultaneously allows readers an easier path to imagine what they just read, a fundamental key to facilitating comprehension (Eisner, 1998). In fact, this path seems to naturally assist students with the use of a key reading strategy, visualization, or forming mental pictures in students' minds, which helps students to "…find they are living the story as they read" and therefore increase their enjoyment and understanding (Roe & Smith, 2005, p. 333).
Additional research suggests that pictures presented alongside text facilitates comprehension by reducing the cognitive load of dense text or more sophisticated concepts (Burke, 2012; Mayer 1994, 2014; Metros & Woolsey 2006; Schnotz, 2002). A recent study of native English-speaking university students, for example, found that incorporating visuals into a lesson on how blood circulates through the heart resulted in a better understanding than text alone (Butcher, 2006). In addition, the usefulness of visuals has been found effective for adult ESL learners (Liu, 2004). The results of Liu's study showed that low-level adult EL students given a high-level text with added visuals scored significantly higher on a series of comprehension recall protocols immediately administered than those given the high-level text only.
Paivio's (1991) dual coding theory, which discusses the process our brain undergoes during reading, sheds light on how graphic novels may facilitate reading comprehension. Paivio argues that all learners learn to read or write using two separate language systems of cognition. The first is the verbal system, which is the information garnered from words, sequence, speech, and writing. The second system is the imagery system, consisting of non-verbal information, such as images and visualizations. Paivio (1991) explains that students are making connections between these two different systems simultaneously while they read, and it is these connections between the two different systems that allow for better understanding and recall. Essentially, information is stored both verbally and non-verbally, as words and images, and in this format one can recall information to a greater degree. Graphic novels, it seems, have a unique format that includes both of the language systems of cognition in one reading experience; they are student reading materials with visual scaffolds already designed into them.
Visual Aids and Reading Recall
Paivio (1991) further argues that the visual portion of the system of the dual coding is even more important when it comes to memory recall. An early study that seems to support the connection between visuals and memory recall was conducted by Omaggio (1979), which measured comprehension among Native English speakers reading several different texts with and without visuals in both the L1 of English and the L2 of French. He found that while the visuals had no effect on reading comprehension in the English L1, they did have a positive effect on reading comprehension and recall in the French L2 reading (Omaggio, 1979).
In another study, two different groups of participants were given readings, with one group using a text only excerpt, and a second group using a text with added visuals (Waddill & McDaniel, 1992). Upon completion of the reading of the excerpts, participants were simply asked to write a much as they could recall on the subject. It was found that those from the group with the added visual support were able to recall a greater amount of information than those without (Waddill & McDaniel, 1992).
It is worth noting that visuals are not a panacea for comprehension; a study conducted by Daniel Bruski (2011) found that a group of beginning-level adult language learners, some first language non-literate and some first language literate, produced non-universal understandings and inaccurate descriptions of what was occurring in the visual when presented with images of speech bubbles, arrows, and symbolic signs. Context and cultural background were shown to play a major role in differing interpretations of images, noting that misinterpretations of meaning that may occur with visuals in the same manner it may with text.
Graphic Novels: A Visual Scaffold
Visuals can sometimes better illustrate a concept. This is the reason that manuals contain images alongside written instruction, and why companies use logos to brand themselves: visuals are not affected as easily by language barriers (McCloud, 1993). Visuals are more concrete. So, when applying this to a classroom, the simplified visual nature of comic books may provide a scaffold by allowing the reader to focus their attention on important text aspects as well as eliminate potentially confusing aspects.
The Study
This qualitative classroom study used retells and memory recall assessments to determine how graphic novels versus traditional novels might support comprehension and memory of texts.
Setting and participants
The school setting of this qualitative action research study was a grade five through eight environmental, science, technology, engineering and math (E-STEM) public middle school. The fifth grade class in which this research was conducted consisted of seven students, five boys and two girls, all of whom participated in the study. All participants had been in the United States for a minimum of two years, were labeled as Limited English Proficient (LEP), and had received regular prior formal schooling. Their language levels ranged from 2.8-3.9 according to the World Class Instructional Design and Assessment (WIDA) scale used for assessing English Language levels in Minnesotan K-12 schools, indicating they were low-intermediate students, and received sheltered English instruction from an English as a Second Language (ESL) instructor, also the author of this study. The sheltered classes provide language support while simultaneously meeting mainstream content standards.
Data collection
Instruments
I used student-produced written retells to show comprehension of the text, and multiple choice questions to measure recall.
The process of retelling requires students to consider the information they read, and summarize what they understand; it also includes higher order thinking skills including the processing of schema, the ability to process and filter textual information, the ability to sequence events, the ability to determine the relative importance of events, the ability to later recall this important information, the ability to organize this information in an understandable and meaningful way, and the ability to draw conclusions about the relationships that may exist within ideas in the text itself (Fisher & Frey, 2011; Klingner, 2004; Shaw, 2005). With the variety of required skills needed to produce a retell, it has been argued that retells are a powerful way to measure reading comprehension or to check for understanding (Shaw, 2005).
Retell preparation
To begin the process, I modeled how to complete the graphic organizers to help the students capture the essential information needed for a retell.
After modeling, the graphic organizers were practiced with a traditional novel. A chapter of the young adult, science-fiction novel City of Ember was read aloud to the whole group at the end of each class period for the first eight chapters. This text was chosen not only because the lexile levels for both the traditional and graphic novel fell within the reading level range of the participants, but also because the graphic novel uses a great deal of the same text and quotations from the traditional novel. Using these beginning chapters as practice for the graphic organizers and the written retells, gradual release was used through first modeling the act of completing the organizer, and then slowly shifting this responsibility onto the participants (Pearson & Gallagher, 1983).
After this practice with the traditional novel, the graphic organizers were practiced with a graphic novel of the same City of Ember text. This was also done at the end of each period for three consecutive days. The same graphic organizers were used to help participants complete written retells for each of these graphic novel chapters daily. This gradual release assured participants could complete the organizers and retells independently for the study.
Data collection
Upon reaching Chapter 11, participant retells began to be used for data collection in the study. Participants began the process of using the end of the class period to independently read, fill out their graphic organizers, and compose their written retells from these organizers. They created a new retell for each chapter read on each consecutive day. The use of the traditional novel and the graphic novel alternated for the purpose of comparison. Only the data collected from the independently-produced student written retells for Chapters 11-18 were formally scored, and their results were used as data in this study.
In addition to completing written retells of chapter events, participants were given a short three to four multiple-choice question quiz after a 24-hour period to gauge recall from the previous day's chapter. The assessment contained information specific to the last chapter read, and each assessment was similar in format, regardless of the text medium (traditional or graphic novel) that it was used to assess.
Retells were collected during the final 15 minutes of each class period for approximately six school weeks.
Data analysis
The retell data was analyzed using participants' final written retells. These retells were assessed using a six-category instructor-created retell-scoring rubric (Table 1) focused solely on student delivery of information related to their comprehension of the story holistically. The rubric emphasized construction of meaning rather than anything sentential or sub-sentential such as construction of clauses, spelling, or punctuation, thereby eliminating possible loss of points due to language transfer errors. The rubric categories were used to assess retell of the chapter's key events, sequence of events, problem, resolution, characters and setting. Scores ranged from zero to three for each category, resulting in 18 points total. Scores resulting from a traditional chapter and from a graphic novel chapter were compared.
Table 1. Recall Rubric
| | | | | | |
| --- | --- | --- | --- | --- | --- |
| Idea Unit | Verbal Prompts Used |  0 | 1 | 2 | 3 |
| Key idea of chapter's event | What important events took place during this chapter? | Wholly inaccurate or not included | Does not recall many key ideas or inaccurately expresses events | Accurately expresses some key, although incomplete, events. | Accurately expresses all key events in the chapter to completeness. |
| Sequence of events | How does this chapter begin? What was the order of the events? | Wholly inaccurate or not included | States some events in order, but with some inaccuracies. | States many events in order, but with some inaccuracies | Accurately states events in correct order. |
| Problem | What was one important problem in this chapter? | Wholly inaccurate or not included | Includes chapter non-specific, vague, or unrelated problem. | Chapter's problem description is accurate but vague or with some inaccuracies. | Accurately states chapter's problem. |
| Resolution | How does the chapter end? Is a problem solved? | Wholly inaccurate or not included | States chapter non-specific or unrelated resolution. | Chapter's resolution description is accurate but vague or with some inaccuracies. | Accurately states chapter's resolution. |
| Characters | Who were the important or main characters in this chapter? | Wholly inaccurate or not included | States chapter non-specific or unrelated character descriptions or includes unimportant characters. | Chapter's character description is accurate but vague or with some inaccuracies. | Accurately states chapter's main characters. |
| Setting | Where and when does this chapter take place? | Wholly inaccurate or not included | States chapter non-specific or unrelated chapter setting. | Chapter's setting is accurate but vague or with some inaccuracies. | Accurately states chapter's setting. |
The data from the multiple choice memory recall assessments was assessed using the standard percentage basis. For example, three of four correct was assessed at 75%. The scores were totaled and given a percentage point for ease of scoring, as well as averaged to create a student personal average on the four traditional novel chapters as well as student personal average on the graphic novel chapters.
Findings
The results of this study found that when students read the graphic novel chapter, they displayed increased scores in both reading comprehension and in memory recall assessments.
Reading comprehension
When the total rubric score of the four written retells for the traditional novel were averaged, and compared to the average of the total scores of the four written retells for the graphic novel, all seven student participants' averages increased with the use of the graphic novel version in place of the traditional novel. The averaged increase in score when using the graphic novel was an increase of 2.64 points of the rubric's 18 total points. The maximum increase in average score was 4.25 and minimum increase in average score was an increase of .5. Figure 1 displays shows this comparison.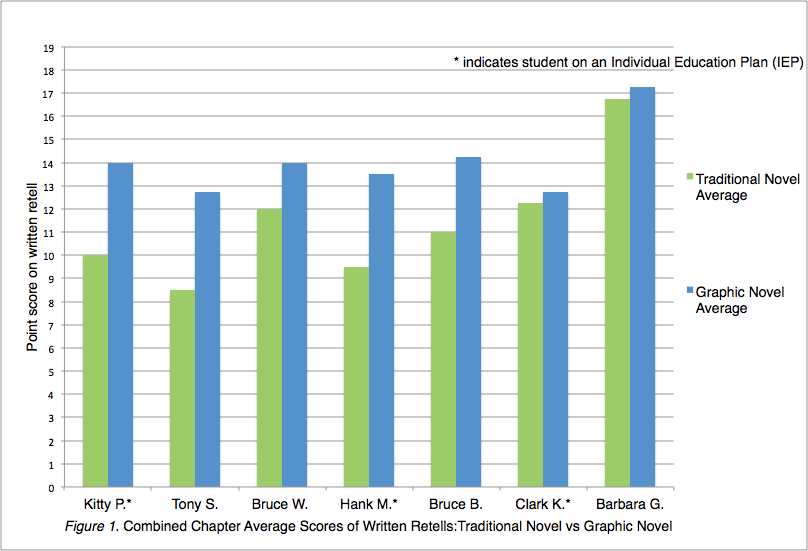 Memory recall
The average percentage score on memory recall assessments increased when students had read graphic novel chapters with seven of the seven participants, with an average higher score of 16.8% on the chapters read in the graphic novel format. Figure 2 shows this comparison.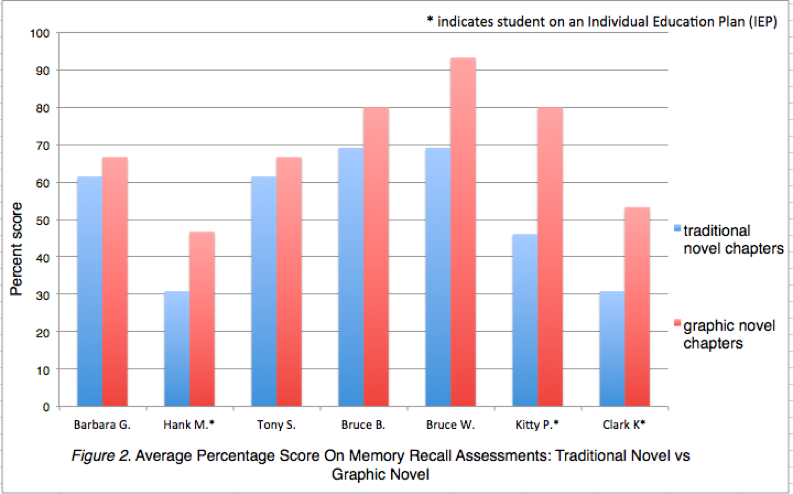 The largest percentage score increase for a student participant was a 33.9% increase from 46.1% on the traditional novel memory recall assessment, to 80% on the graphic novel memory recall assessment.
Discussion
Research on visuals (Butcher, 2006; Omaggio, 1979; Waddill & McDaniel, 1992) as well as this study suggest the importance of visuals for language learners as they progress towards the language levels of their native speaking peers. ELs in this study likewise seemed to be able to better reproduce the main plot elements of a story while retaining comprehension after reading graphic novels. Furthermore, this study suggests ELs will even remember the previous day's reading better when using the graphic novel format, allowing them to better maintain their understanding as they progress throughout the story. These results seem to produce similar findings to those attained by Lui, Butcher, Waddill and McDaniel, and Omaggio: participants consistently show increased comprehension and can recall texts more accurately when they are provided scaffolding in the form of visuals.
While these findings apply only to the limited number of participants in this study, their promise warrants additional research of the topic on a larger scale and with ELs of other age groups and language levels. Additionally, one could explore the possible benefits of graphic novels with other student populations who benefit from reading scaffolding, including those with Individual Education Plans (IEPs) and learning disabilities.
Activities with Visual Literacy
All classroom teachers could begin integrating the use of comic books and graphic novels into the classroom by identifying the goal for the lesson, and determining if graphic novels could be used as alternate or companion readers. If the goal is to have students identify character development, for example, or to identify the conflict and other plot elements of a story, it may be of no consequence whether students do so by reading the traditional versus the graphic version of the novel.
Another implementation for graphic novels is simply to use them in the same manner as leveled readers by creating reading groups based upon needs. An EL classroom can contain very diverse needs when it comes to text studies, which at one point had me splitting our class into three different groups including one group reading a Pearson ESL Leveled Frankenstein reader, a small group reading a graphic novel adaptation of Frankenstein, and a final small group reading the traditional novel. The group reading the graphic novel adaptation was actually reading a more difficult text than the leveled reader group, but they had the built-in scaffolds of pictures to give them the visual support they still needed to access the higher level text. All of the groups were then able to come back together and participate in the same discussions, activities, and check-ins despite the vast differences in their reading abilities.
Graphic novels could be used as an initial at-level replacement for the traditional novel version for below-level reading groups, they could be pre-taught or used for front-loading before attempting a traditional text that may be above a reader's level with visual scaffolds removed, or they could be used as a supplement to the traditional novel.
The graphic format can be used for student-produced work as well, as it is a perfect format for presenting concepts like sequencing, dialogue, predicting, and summarizing. If students are struggling to write a good summary, educators could allow students to create a visual summary of the events of a chapter using blank comic panels that students fill in. Students will still be required to show they understand the sequence of events through the use of sequential panels, and can show whether they grasped the setting and important chapter events through their visual summary. If teachers want to incorporate writing into the summary, they may require students to produce dialogue by requiring a set amount of speech balloons, or scaffold their writing by adding cloze passages and sentence starters in the panels for students to complete.
Conclusion
ELs are often required to perform difficult tasks that require native-like levels of comprehension. Content teachers need a varied set of tools and strategies to help ELs develop their language levels and experience greater success. This initial, albeit limited, study suggests that the use of graphic novels as one of these tools can help language learners improve achievement in reading comprehension and memory retention. As ELs use these tools to reach the level of reading comprehension of their native speaking peers, they may be more willing and confident to retell, participate in class readings, and take risks in their learning. While the use of visuals has always been a hallmark of good language teaching, this study shines a light on the potential of the often-overlooked format of graphic novels for increasing reading comprehension and memory retention among ELs.
Links to Resources
If you are interested in learning more about the medium of graphic novels, I highly recommend Scott McCloud's work on the topic, "Understanding Comics." The text delves into the graphic novel as an art form, and serves to really remove the stigma that comic books are just for children. http://scottmccloud.com/
The links below can provide with you additional information regarding using graphic novels in your classroom, including additional resources and lessons for teachers, comic book and graphic novel listings, and more.
The American Library Association's yearly graphic novel reading list: http://www.ala.org/alsc/publications-resources/book-lists/graphicnovels2018
Reading with pictures includes research, content, and best practices for integrating comics into curriculum: http://www.readingwithpictures.org/
Getgraphic.org gives up-to-date news in the graphic novel world as well as ideas for how to use graphic novels as a tool for literacy: https://www.buffalolib.org/content/get-graphic
The Comic Book Legal Defense Fund has library and educator tools for using graphic novels: http://cbldf.org/using-graphic-novels/
Readingrockets has classroom ideas and booklists for graphic novels in the classroom: http://www.readingrockets.org/article/graphic-novels-kids-classroom-ideas-booklists-and-more
References
Arnold, A.D. (2003). The graphic novel silver anniversary. Time Online Edition. Retrieved from http://content.time.com/time/arts/article/0,8599,547796,00.html
Bruski, D. (2012). Graphic device interpretation by low-literate adult ELLs: Do they get the picture? MinneTESOL/WITESOL Journal, 29, 7-29.
Burke, B.P. (2012). Using comic books and graphic novels to improve and facilitate community college students' literacy development. Retrieved from ProQuest Dissertations and Theses Global. (UMI No. 3546922)
Butcher, K.R. (2006). Learning from text with diagrams: Promoting mental model development and inference generation. Journal of Educational Psychology, 98(1), 182-197.
Eisner, W. (1985). Comics and sequential art. Paramus, NJ: Poorhouse Press.
Ford, K. (2005, July). Fostering literacy development in English Language Learners. Color in Colorado. Article retrieved from http://www.colorincolorado.org/article/fostering-literacy-development-english-language-learners
Frey, N., & Fisher, D. (2004). Using graphic novels, anime, and the internet in an urban high school. English Journal, 93,19-25. 
Frey, N., & Fisher, D. (2011). The formative Assessment Action Plan. Alexandria, VA: ASCD.
Klingner, J.K. (2004). Assessing reading comprehension. Assessment for Effective Intervention, 29(4), 59–70.
Levie, W.H., & Lentz, R. (1982). Effects of text illustrations: A review of research. Educational Communication and Technology, 30(4), 195-233.
Levin, J.R., Anglin, G.J., & Carney, R.N. (1987). On empirically validating functions of pictures in prose. In D.M. Willows, & H.A. Houghton (Eds.), The psychology of illustration, volume 1. New York: Springer-Verlag. (pp. 51-85).
Liu, J. (2004). Effects of comic strips on L2 learners' reading comprehension. TESOL  Quarterly, 38(2), 225-243.
Mayer, R.E. (1994). Visual aids to knowledge construction: Building mental representations from pictures and words. Advances in Psychology, 108, 125-138.
Mayer, R. (Ed.). (2014). The Cambridge Handbook of Multimedia Learning (Cambridge Handbooks in Psychology). Cambridge: Cambridge University Press.
McCloud, S. (1993). Understanding comics: The invisible art. New York: Paradox Press.
Metros, S.E., & Woolsey, K. (2006). Visual literacy: An institutional imperative. EDUCAUSE Review, 41(3), 80-81.
Omaggio, A.C. (1979). Pictures and second language comprehension: Do they help? Foreign Language Annals, 12, 107–116.
Paivio, A. (1991). Dual coding theory: Retrospect and current status. Canadian Journal of Psychology, 45(3), 255-287.
Pearson, P.D., & Gallagher, M.C. (1983). The instruction of reading comprehension. Contemporary Educational Psychology, 8, 317-344.
Roe, B.D., Smith, S.H., & Burns, P.C. (2005). Teaching reading in today's elementary schools (9th ed.). Boston: Houghton Mifflin.
Schnotz, W. (2002). Towards an integrated view of learning from text and visual displays. Educational Psychology Review, 14, 101-120.
Shaw, D. (2005). Retelling strategies to improve comprehension: Effective hands-on strategies for fiction and nonfiction that help students remember and understand what they read. New York: Scholastic.
Snowball, C. (2005) Teenage reluctant readers and graphic novels. Young Adult Library Services, 3(4), 43-45.
Waddill, P.J., & McDaniel, M.A. (1992). Pictorial enhancement of text memory: Limitations imposed by picture type and comprehension skill. Memory & Cognition 20, 472-482.
Exposure to potentially traumatic events, which can have a significant impact on brain mechanisms for language learning, is high in adult ELL classrooms. Strategies targeting attention and memory networks presented here may mitigate those effects.
Key words: trauma, adult English language learners, language acquisition, cognitive function, attention, mindfulness
Trauma and Its Prevalence in the Adult Classroom
Discussions of traumatic exposure and their impacts on the classroom have become increasingly common in education circles in recent years, befitting its serious impact on subsequent quality of life and its prevalence in society. In the United States, up to 90% of adults report having experienced at least one potentially traumatic event (PTE) in their lifetime (Kessler, Sonnega, Bromet, Hughes, & Nelson, 1995; Kilpatrick et al, 2013). Furthermore, the majority of people who experience one PTE tend to experience additional PTEs (Kessler et al, 1995; Kilpatrick et al, 2013). An international study representing individuals from 24 countries found that over 70% of respondents experienced at least one PTE, and 30.5% had experienced four or more (Benjet et al, 2015). PTEs include childhood neglect; sexual, physical or emotional abuse; natural disasters; interpersonal violence; and generational or historical traumas.
There is considerable individual variability in response to PTEs. Although most people experience relatively positive outcomes with relatively limited dysfunction, such as resilience and recovery, others experience negative outcomes and dysfunction, such as diagnosable Posttraumatic Stress Disorder (PTSD) (Bonanno, 2004; Norris, Tracy, & Galea, 2009). Certain types of trauma, particularly sexual violence, are more likely to lead to negative quality of life, including diagnosable PTSD (Kessler et al, 1995).
The current international prevalence rate of PTSD is roughly 1.1%; however, prevalence rates vary widely in different populations (Yehuda et al, 2015). For instance, a systematic review of studies estimated 10% of refugees have PTSD (Fazel, Wheeler, & Danesh, 2005). Notably, 62% of a particular population of Cambodian refugees (586 surveyed) in California were found to have PTSD (Marshall, Schell, Elliott, Berthold, & Chun, 2005). Determining true prevalence can be complicated by underreporting of trauma or limited English language skills and lack of appropriate interpreters (Kirmayer et al, 2011; Yehuda et al, 2015).
In the adult ESL classroom, it can be assumed that many or all students have experienced at least one PTE in their lifetime either prior to arrival in a new country, post arrival, or both (Hollifield, Warner, Krakow, & Westermeyer, 2018). Most will have survived more. Being in the classroom shows at least some level of resilience. This, however, does not indicate that trauma has not impacted students' day to day functionality and language acquisition (Emdad, Söndergaard, & Theorell, 2005; Söndergaard & Theorell, 2004). In this paper, I explore how exposure to trauma can impact the brain, affecting classroom behaviors and performance, particularly language acquisition ability, and review some strategies to mitigate the effects of trauma and enhance language learning in adult ESL students.
Trauma's Impact on the Learning Brain
Few studies have explored the impact of PTSD and traumatic exposure on language learning. Results from two studies with a refugee population acquiring Swedish as a second language after resettlement provide initial evidence for impairment. Söndergaard and Theorell (2004) found as PTSD symptom severity increases, there is a corresponding decrease in the rate of language acquisition in their adult refugee students. Further, trauma duration and severity has been shown to correspond with learning difficulties (Emdad et al, 2005). Though few to no such studies have been conducted with adult ESL students who have experienced trauma, similar patterns of impairment are likely. These learning patterns may be a result of the effect traumatic stress can have on two key factors for second language acquisition, namely attention and memory.
As teachers are well aware, students' concentration in the classroom is critical for learning. The Noticing Hypothesis describes how this process works for language acquisition (Schmidt, 1990, 2010). Students do not automatically acquire input; rather, they must first notice it, or consciously register it, in order for it to be acquired. This requires capacity to focus and sustain attention. Unfortunately, traumatic stress can have a negative impact on brain networks that monitor and enforce attention control, such as the salience network, which allows humans to determine what stimuli to focus on; the default mode network, which helps with self-regulation; and the central executive network, which is critical for controlling thoughts, emotions and behaviors (Yehuda et al, 2015).
Memory is also required for learning to guide the storage of new material and its subsequent retrieval including both declarative and procedural forms of memory, which related to facts and events, and how to do tasks, respectively (Morgan-Short, Faretta-Stutenberg, Brill-Schuetz, Carpenter, & Wong, 2014). The negative impact from traumatic stress can limit language acquisition, particularly in terms of storing and retrieving new information, including vocabulary and grammar (Perry, 2006). When storing and retrieving information are negatively affected, students may have a difficult time remembering the day's lessons and subsequently applying what was learned.
Classroom Behaviors after Trauma
The impact of traumatic stress and PTSD extends beyond learning capabilities in most studied populations. Biological evidence demonstrates that individuals with PTSD can display a dynamic shifting between hyperarousal, or a heightened arousal response tending towards anxiety and hypoarousal, or a heighted settling down response. Hyperarousal may result in displays of fear, anger, and guilt, while hypoarousal may result in lack of portrayed emotion (flat affect) or numbing (Yehuda et al, 2015). These arousal patterns are seen in relation to the autonomic nervous system, which allows the body to respond to potential threats and relax after threat is gone (Williamson, Porges, Lamb, & Porges, 2014).
Instead of staying within the limits of a healthy autonomic nervous system or within patterns of healthy arousal and settle, individuals exposed to trauma may be well outside normal range, with an increased sympathetic system response, leading to high anxiety, panic, exaggerated startle reflexes, restlessness, digestive problems, sleeplessness, and rage. Conversely, individuals exposed to trauma can also get stuck below the normal healthy range of the autonomic nervous system, with an increased parasympathetic response, resulting in depression, exhaustion, disconnection, and inability to express emotions (Sherin & Nemeroff, 2011; Williamson et al, 2014; Yehuda et al, 2015).
There is little research on how these biological patterns impact behaviors within the adult classroom. Perry (2006) synthesizes the biological impacts of shifting between hyperarousal and hypoarousal with behaviors commonly seen in the adult classroom. He explains that when hyperaroused, students might jump at noises or seem unable to focus on the teacher. There could be outbursts of crying or laughter at inappropriate times. Students may seem emotionless, or overly emotional when hypoaroused. They may refuse to work with other students or teachers. To complicate the picture, these behaviors may change from day to day (Perry, 2006). It's important to recognize that these behaviors may be protective strategies stemming from fight-or-flight system activation (Perry, 2006). When behaviors become disruptive to student learning, however, there are some interventions that may be helpful.
What can teachers do to mitigate the effects?
Evidence-based research on interventions to improve learning and emotional regulation in adult ESL classrooms after trauma is limited to date. Fortunately, there has been substantive work on improving cognition and learning following Traumatic Brain Injury (TBI), particularly with memory (Kennedy & Coelho, 2005) and attention (Mckay, Moore, & Sohlberg et al, 2003). Below I present several strategies from that field that could benefit adult ESL learners whose attentional networks are impacted by trauma. Additionally, to mitigate the emotional-behavioral impacts, I present some simple mindfulness exercises, which have shown strong positive outcomes in K-12 classrooms with and without non-native speakers of English in emotional regulation (Napoli, Krech, & Holley, 2005; Zenner, Herrnleben-Kurz, & Walach, 2014), and in connection with psychological therapy with traumatized adult refugee and immigrant populations (Hinton, Pich, Hofmann, & Otto, 2013).
Attention tasks
The goal of attention tasks is to regain control over the attentional brain networks that want to respond too quickly, or may not be willing to respond when asked. These tasks have shown transferability of improved attention in more natural settings, such as classroom instruction, which may result in improved language acquisition by training attentional focus to return to healthy levels (Mckay, Moore, Sohlberg, et al, 2003).
Selective Attention Task: Read a story with a target word (or a list of letters with a target letter). Every time the target is read, students complete some action (raising a hand, tapping the table, writing a number, etc.). As students show improved attention, this task can be made more difficult by asking comprehension questions from the story at the end. This adds an element of shifting attention between a specific stimuli and gist meaning, something that can be very difficult due to hyperarousal after trauma (Mckay, Moore, Sohlberg, et al, 2003).

Alternating Attention Task: Have students sort decks of cards (or any type of flashcard with at least two elements) by number or color. Change the rules every so often. This requires students to sustain focus on a particular rule, then shift their focus to a new rule, enhancing voluntary control of where attention is directed (Mckay, Moore, Sohlberg, et al, 2003).
Memory strategies and tasks
Following trauma, students may have difficulties encoding new material from working memory to long term storage. In terms of improving memory, all of these systems may be functioning correctly, albeit slowly, due to the damaged networks (Morgan-Short et al, 2014; Perry, 2006). The strategies below have shown to help patients with TBI in storing information more effectively and maintaining it for future use (Kennedy & Coelho, 2005).
Teacher strategies: Wait longer after giving instructions to allow extra time for processing information along the network. Give instructions both orally and visually when appropriate to allow for review (Kennedy & Coelho, 2005).

Errorless learning: When brain networks have sustained damage, guessing an answer can lead to encoding inaccurate information. Errorless learning involves repeated rehearsal with answers provided before inaccurate guessing can occur, particularly when introducing a new topic (Sohlberg, Ehlhardt, & Kennedy, 2005). An example could be naming a word and its meaning before asking a student to guess. This has shown to result in improved long term retrieval in patients with memory problems, and ultimately improved learning (Baddeley & Wilson, 1994; Sohlberg, Ehlhardt, & Kennedy, 2005).

Spaced retrieval task: Read a story and immediately ask a comprehension question. Tell the class you'll ask the same question later, and progressively space it out. This task is a little trickier, in that it requires both attention and memory to be working well synchronously (Sohlberg et al, 2005).
Mindfulness
Techniques presented below (Hinton et al, 2013) could benefit students, by promoting emotional balance and healthy release of potential stress by focusing on awareness of the present (Kabat-Zinn, 2005). At times, classroom material, interpersonal experiences at school, or other events may result in a flashback of distressing events or memories, or a hyperaroused state. The mindfulness strategies presented below may help to settle the autonomic nervous system to a healthier level. These specific strategies have been carefully selected to avoid the risk of exacerbating this distress response by avoiding imagery techniques that may intensify the response to a triggering event (Creswell, 2017).
Breathing (Creswell, 2017): An excellent way to start and end the day, can be done sitting or standing. Place a hand on the stomach and take five refreshing breaths, counting to three on each inhale and exhale.

Stretching (Creswell, 2017): Reach for the sky with one hand, while keeping the other palm facing the floor, grounded. Slowly switch arms, being careful to avoid pain.

Tense/relax (Creswell, 2017): Tighten and release various muscle groups. For example, tighten all of the muscles in your arms, hold for five seconds, and release. Repeat as needed.

5-4-3-2-1 (Creswell, 2017): Have a student describe five things they see in the room, four things they feel with their skin, three things they can hear, two things they can smell, and one good thing about themselves. This is very helpful in terms of settling down and returning to the present moment after an emotional episode.
Overall, it is important to note that though many students in the adult ESL classroom will have survived significant trauma, they have already demonstrated high levels of resilience by resettling, entering school, seeking (and finding) jobs, and caring for their family and friends. Many have developed successful strategies for their lives that are culturally encouraged and helpful. Some have not had that opportunity.
The strategies presented here could help mitigate the effects of trauma on learning, and may enhance learning for less traumatized students as well by increasing attentional, memory, and emotional resources. However, these strategies are not presented as a substitute for treatment from qualified mental health professionals. Finally, the mindfulness techniques presented here may also be useful for teachers of trauma-exposed learners to protect against the risk of secondary traumatic stress, compassion fatigue, and professional burnout, which can occur when continually being exposed to and absorbing students' distress (Newell & MacNeil, 2010).
Concluding remarks
Trauma affects the learning brain. Attention, memory, the autonomic nervous system, and other parts of the body all show signs of this type of suffering. Generally, the result in the adult ESL classroom is slower, lower-level language acquisition. Students may get stuck, frustrated, or vanish. Though best practices are still being identified, teacher-led tasks aimed at increasing attention, enhancing memory and developing strategies to improve emotional regulation may assist in aiding students who are experiencing difficulties in the classroom due to traumatic exposure.
References
Baddeley, A., & Wilson, B.A. (1994). When implicit learning fails: Amnesia and the problem of error elimination. Neuropsychologia, 32(1), 53–68. https://doi.org/10.1016/0028-3932(94)90068-X
Benjet, C., Bromet, E., Karam, E.G., Kessler, R.C., McLaughlin, K.A., Ruscio, A.M., Koenen, K.C. (2015). The epidemiology of traumatic event exposure worldwide: results from the World Mental Health Survey Consortium. Psychological Medicine, 1–17. https://doi.org/10.1017/S0033291715001981
Bonanno, G.A. (2004). Loss, trauma, and human resilience: Have we underestimated the human capacity to thrive after extremely adverse events? American Psychologist, 59(1), 20–28. https://doi.org/10.1037/0003-066X.59.1.20
Creswell, J.D. (2017). Mindfulness interventions. Annual Review of Psychology, 68(1), 491–516. https://doi.org/10.1146/annurev-psych-042716-051139
Emdad, R., Söndergaard, H.P., & Theorell, T. (2005). Learning problems, impaired short-term memory, and general intelligence in relation to severity and duration of disease in posttraumatic stress disorder patients. Stress, Trauma, and Crisis, 8(1), 25–43. https://doi.org/10.1080/15434610590913612
Fazel, M., Wheeler, J., & Danesh, J. (2005). Prevalence of serious mental disorder in 7000 refugees resettled in western countries: A systematic review. Lancet, 365(9467), 1309–1314. https://doi.org/10.1016/S0140-6736(05)61027-6
Hinton, D.E., Pich, V., Hofmann, S.G., & Otto, M.W. (2013). Acceptance and mindfulness techniques as applied to refugee and ethnic minority populations with PTSD: Examples from "Culturally Adapted CBT." Cognitive and Behavioral Practice, 20(1), 33–46. https://doi.org/10.1016/j.cbpra.2011.09.001
Hollifield, M., Warner, T., Krakow, B., & Westermeyer, J. (2018). Mental health effects of stress over the life span of refugees. Journal of Clinical Medicine, 7(2), 25. https://doi.org/10.3390/jcm7020025
Kabat-Zinn, J. (2005). Coming to our senses: Healing ourselves and the world through mindfulness. London: Piatkus.
Kennedy, M.R.T., & Coelho, C. (2005). Self-regulation after traumatic brain injury: A framework for intervention of memory and problem solving. Seminars in Speech and Language, 26(4), 242–255. https://doi.org/10.1055/s-2005-922103
Kessler, R.C., Sonnega, A., Bromet, E., Hughes, M., & Nelson, C.B. (1995). Posttraumatic stress disorder in the national comorbidity survey. Archives of General Psychiatry, 52, 1048–1060.
Kilpatrick, D.G., Resnick, H.S., Milanak, M.E., Miller, M.W., Keyes, K.M., & Friedman, M.J. (2013). National estimates of exposure to traumatic events and PTSD prevalence using DSM-IV and DSM-5 criteria. Journal of Traumatic Stress, 26, 537–547. https://doi.org/10.1002/jts.
Kirmayer, L.J., Narasiah, L., Munoz, M., Rashid, M., Ryder, A.G., Guzder, J., Pottie, K. (2011). Common mental health problems in immigrants and refugees: General approach in primary care. CMAJ : Canadian Medical Association Journal = Journal de l'Association Medicale Canadienne, 183(12), E959-67. https://doi.org/10.1503/cmaj.090292
Marshall, G.N., Schell, T.L., Elliott, M.N., Berthold, S.M., & Chun, C.A. (2005). Mental health of Cambodian refugees 2 decades after resettlement in the United States. JAMA, 294(5), 571–579. https://doi.org/10.1001/jama.294.5.571
Morgan-Short, K., Faretta-Stutenberg, M., Brill-Schuetz, K.A., Carpenter, H., & Wong, P.C.M. (2014). Declarative and procedural memory as individual differences in second language acquisition. Bilingualism, 17(1), 56–72. https://doi.org/10.1017/S1366728912000715
Napoli, M., Krech, P.R., & Holley, L.C. (2005). Mindfulness training for elementary school students: The attention academy. Journal of Applied School Psychology, 21(1), 10.1300/J008v21n01\_05. https://doi.org/10.1300/J370v21n01_05
Newell, J.M., & MacNeil, G.A. (2010). Professional burnout, vicarious trauma, secondary traumatic stress, and compassion fatigue: A review of theoretical terms, risk factors, and preventive methods for clinicians and researchers. Best Practice in Mental Health, 6(2), 57–68.
Norris, F.H., Tracy, M., & Galea, S. (2009). Looking for resilience: Understanding the longitudinal trajectories of responses to stress. Social Science and Medicine, 68(12), 2190–2198. https://doi.org/10.1016/j.socscimed.2009.03.043
Perry, B.D. (2006). Fear and learning: Trauma-related factors in the adult education process. New Directions for Adult and Continuing Education, 110(Summer), 21–27. https://doi.org/10.1002/ace.215
Schmidt, R. (1990). The role of consciousness in second language learning. Applied Linguistics, 11(2), 129–158.
Schmidt, R. (2010). Attention, awareness, and individual differences in language learning. Proceedings of CLaSIC 2010, 4, 721–737.
Sherin, J.E., & Nemeroff, C.B. (2011). Post-traumatic stress disorder: The neurobiological impact of psychological trauma. Dialogues in Clinical Neuroscience, 13(3), 263–278.
Sohlberg, M.M., Avery, J., Kennedy, M., Ylvisaker, M., Coelho, C., Turkstra, L., & Yorkston, K. (2003). Practice guidelines for direct attention training. Journal of Medical Speech-Language Pathology, 11(3), xix–xxxix. https://doi.org/10.1037/t00741-000.
Sohlberg, M.M., Ehlhardt, L., & Kennedy, M. (2005). Instructional techniques in cognitive rehabilitation: A preliminary report. Seminars in Speech and Language, 26(4), 268–279. https://doi.org/10.1055/s-2005-922105
Söndergaard, H.P., & Theorell, T. (2004). Language acquisition in relation to cumulative posttraumatic stress disorder: Symptom load over time in a sample of resettled refugees. Psychotherapy and Psychosomatics, 73, 320–323.
Williamson, J.B., Porges, E.C., Lamb, D.G., & Porges, S.W. (2014). Maladaptive autonomic regulation in PTSD accelerates physiological aging. Frontiers in Psychology, 5(OCT), 1–12. https://doi.org/10.3389/fpsyg.2014.01571
Yehuda, R., Hoge, C.W., McFarlane, A.C., Vermetten, E., Lanius, R.A., Nievergelt, C. M., Hyman, S.E. (2015). Post-traumatic stress disorder. Nature Reviews Disease Primers, (October), 15057. https://doi.org/10.1038/nrdp.2015.57
Zenner, C., Herrnleben-Kurz, S., & Walach, H. (2014). Mindfulness-based interventions in schools: A systematic review and meta-analysis. Frontiers in Psychology, 5(JUN), 1–20. https://doi.org/10.3389/fpsyg.2014.00603
Additionally recommended resources:
SAMHSA on Trauma-Informed Care: www.samhsa.gov; free download available
The National Child Traumatic Stress Network: nctsn.org/sites/default/files/asssets/pdfs/secondary_traumatic_tress.pdf
This article makes the case for incorporating off-campus learning experiences into international students' second language instruction at the college level.
Key words: international students, college, community, authentic language 
Walmart. Sometimes the mall, but mostly Walmart. That is where I most often run into the international students who enroll in my college writing classes. One time, I picked up two grocery-laden students at the Walmart bus stop and gave them a lift to their apartment. Another time, I chatted with a student working at Walmart as he manned the self-checkout aisles. Once I even ran into a student at 5:00 a.m. while I was picking up a pre-dawn box of doughnuts.
I recognize the appeal of Walmart for international students. The store is easy to access by public transportation, stays open 24 hours a day, and offers the lowest prices in town. Yet, I worry about these Walmart trips. Specifically, I am concerned that they may constitute students' singular contact with my admittedly small but nonetheless interesting college town.
For a variety of reasons, international students may not venture far into the community. Many spend the majority of their time on or near the college campus. This is a loss for both the community and the students. Communities miss out on the diversity that the university's international population can provide; conversely, students are unable to secure rich opportunities for learning that are practically at their doorsteps. Language teachers can help remedy this situation. Recognizing the benefits of off-campus interactions for our students, we can design learning experiences that engage students with the community, exploring new ways to promote students' language development.
In this article, I make a case for incorporating off-campus activities into second language instruction at the college level. I begin by describing the benefits of facilitating off-campus learning experiences for international students. I then detail one off-campus excursion that I led, funded by a MinneTESOL mini-grant. I conclude by highlighting some areas to consider when designing an off-campus experience for students. My aim is to encourage other English language teachers to consider how they might utilize their community to support student learning.
Benefits of (Ad)venturing into the Community
Getting outside the classroom and into the community takes some work. Thus, teachers need to understand from the outset the potential gains from the investment. Benefits of off-campus learning experiences include support for acculturation, opportunities for authentic language use, and avenues for aligning teaching with how the brain learns.
Acculturation
The term "acculturation" has been used to describe the process of "cultural and psychological change" that happens to people and groups when cultures interact (Berry, 2005). This change is bi-directional, impacting the various cultures and people involved in an intercultural exchange. Such change is not always easy. Individuals may experience "acculturative stress" during acculturation, particularly when faced with "problems resulting from intercultural contact that cannot be dealt with easily or quickly" (Berry, 2006, p. 294). Acculturation and acculturative stress are often cited in discussions of immigrant and refugee experiences; more recently, these terms have increasingly been applied to the experiences of international students as well (Akhtar, 2015; Jung et al., 2007; Kashima & Loh, 2006; Pan et. al., 2008; Ra & Trusty, 2007; Smith & Khawaja, 2011).
Acculturative stress can affect international students due to the range of challenges they face at the university, including language barriers, cultural differences, incidents of racism, new academic demands, and feelings of loneliness. When confronted with these challenges, international students may experience physical symptoms such as "fatigue, headaches, increases in blood pressure, and gastrointestinal problems" as well as psychological problems like "isolation, helplessness, hopelessness, sadness, feelings of loss, anger, disappointment, and a sense of inferiority" (Mori as cited in Smith & Khawaja, 2011, p. 706).
Alleviating acculturative stress is an important task for universities that recruit and enroll international students. This task is shared by intensive English program staff and faculty as well as the university's counseling services, among others. Robust networks of social support are key; having strong, supportive relationships at home and in the host country has repeatedly been shown to lift some of the burden associated with intercultural adjustment.
Glass and Westmont (2014) have argued that increasing international students' sense of belonging on college campuses facilitates a healthy acculturation process as well. They use the term "belongingness" to refer to students' sense of rootedness in the campus community. Their research suggests that a sense of belongingness "exert[s] a direct positive effect on academic success and cross-cultural interaction" (p. 115). Thus, promoting belongingness appears to be a worthy goal for those of us who work with international students.
Beyond helping students feel that they belong on campus, we might also try to help them feel at home in the wider community. Bonds to the community may have ameliorative effects of their own; indeed, Burke and Mahmood (2018) have identified a number of characteristics correlated with decreased acculturative stress among international students, one of them being community involvement. Additionally, feeling grounded in the community may increase students' identification with the college campus and vice versa. This hypothesis is supported by Glass and Westmont's (2014) finding that participation in community service is associated with international students' sense of belonging on their college campus. These studies suggest that community activity positively affects acculturation and should motivate us to consider how to bring learning into the community.
Authentic Language Use
Getting students into the community can also present students with authentic language experiences. Contemporary approaches to second language teaching emphasize the benefit of using authentic texts and tasks in the language learning classroom. Language teachers reason that students will be better prepared and more motivated if their instruction is comprised of authentic materials and situations. While there is some debate about what constitutes "authentic" materials, whether they can be successfully adapted, and how much they genuinely motivate students, authenticity remains a goal for language teachers. (See Gilmore, 2007 for a comprehensive review of research on authenticity in second-language instruction.) The hope is that authentic input better approximates and therefore better equips students for future communicative interactions.
Out-of-class experiences present authentic learning environments in which students can experience everyday language in action. Listening, speaking, reading, and writing tasks can be designed that involve the people, texts, and situations found on-site, enabling students to take advantage of the resources for language learning within the community. Hyland (2003) notes that this can be a productive instructional approach, observing that "collecting input data from trips to museums, cinemas, or relevant sites" allows teachers to "[use] the target discourse community or wider community as a resource for learning" (p. 117). Connecting students with these resources can launch them into the intellectual and socio-emotional work of real-world language use.
Research on how the Brain Learns
Finally, community-based experiences can allow teachers to use strategies that account for how the brain learns. In his excellent guide to using research on the brain to improve teaching, Sousa (2011) describes factors that impact students' interest in learning and retention of knowledge. Two factors he describes are particularly prominent in out-of-class experiences: novelty and multisensory input. According to Sousa, the brain is a novelty-seeking machine, constantly on the lookout for new stimuli to capture its attention. To be responsive to this characteristic, Sousa suggests, teachers should use variety in their teaching. Changing the learning site is one variation that can spark the brain's attention. Getting students out of the classroom and into novel learning environments is a smart way to take advantage of the brain's endless quest for something new.
Another brain-centric strategy is to utilize multisensory input in one's teaching. Sousa argues that students today are "acclimated to a multisensory environment" (p. 38) and, therefore, benefit from instruction that taps into multiple senses. He argues that students' learning is more robust when it requires "sensory-rich integration" of verbal and visual information and includes "kinesthetic and tactile" components (pp. 100-101). Out-of-class activities can provide this multisensory input. Through taking advantage of the range of stimuli in off-campus environments, language teachers can capture learner interest and promote more resilient learning.
On Gourmet Cupcakes and Juice Elixirs
In spring semester 2018, I sought to take advantage of the benefits of out-of-class learning through venturing outside the classroom with my international students. I was teaching Integrated Reading and Writing, an advanced-level course for international students enrolled in my university's Intensive English Program. I wanted to enrich the course by providing my class with novelty and variety; an engaging, authentic language experience; and contact with the broader community. Thus, I began brainstorming some possible out-of-class sites that we would visit in conjunction with a unit from the course. I settled on two locally-owned businesses situated in downtown Mankato. WYSIWYG ("What You See is What You Get") Juice Company had opened its doors in 2016; a year later, Bluebird Cakery, a gourmet cupcake and cake store had followed. Their proximity to each other, accessible location, and local roots made them appealing options. I reached out to the store owners to gauge their interest in hosting modestly-compensated on-site lectures for my international students. The co-owner of WYSIWYG and manager of Bluebird both indicated that they were willing to do so. And with that, the community collaboration began.
Out-of-Class Content
As I planned our visit prior to the semester, I discovered a food and globalization unit in our course textbook. The potential connection to our class field trip was a good one. I realized that WYSIWYG Juice Company and Bluebird Cakery both participated in distinct food trends occurring in the United States. These trends would make interesting fodder for class discussion and could be part of a broader discussion of culinary developments around the world. Food trends, then, would be the focus of the lectures.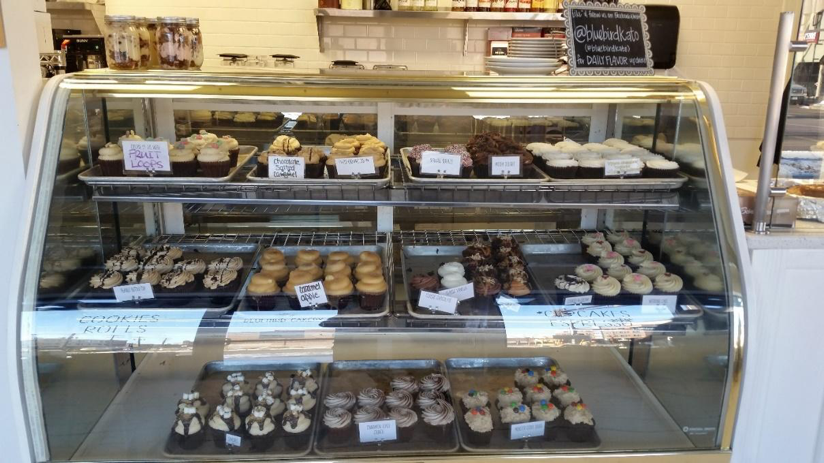 To this end, WYSIWYG Juice Company and Bluebird Cakery were given the following questions to prepare for their presentations:
Give us a little history on your business.

What is the central menu item at your store and why this item—what was the motivation behind it?

What is the overarching "food philosophy" on which your store is built?

What is the process of acquiring, storing, and using ingredients at your store? Any challenges associated with this?

How does your menu reflect food trends in the US? Can you generalize about what's "popular" now in US cooking/eating habits and discuss how you are part of that movement?
In-Class Connections
Meanwhile, in the classroom, we discussed other international food trends. We watched a video clip on the US fast food market in China. We also read a blog reviewing two Turkish restaurants, a reading on globalization's impact on food preparation in Italy, and a magazine article on "tiny food" YouTube videos trending in Japan.
Additionally, students were introduced to the major writing assignment for the unit. The assignment placed students in a hypothetical rhetorical situation with a specific audience, purpose and genre. It maintained the food orientation of the unit, as illustrated here by an excerpt from the prompt:
You are a food columnist for a newsletter for international students. Each week, you try new foods and then use the column to make recommendations to your readers about foods they should or should not try. Your column helps international students learn about new foods that they might see in the United States.
Write a column in which you review a U.S. snack food that you have recently tried for the first time. This might be a product that you purchase at a grocery or convenience store or sample at the locations we visit for our class field trip.
This assignment requires hands-on research. As a food reviewer, you must actually sample the food you are reviewing and take detailed notes on your experience.
In class, we practiced the evaluating process that the assignment required. As a group, we made a list of characteristics that college students might value when selecting a snack food. Areas such as health, cost, accessibility, variety, flavor, and convenience were discussed. Students were then each assigned a snack cracker and asked to evaluate the cracker on each characteristic. Afterward, they shared their evaluations with the class. This experience alerted students to potential areas to consider when sampling WYSIWYG or Bluebird products, or other snack foods they might select for the assignment.
Venturing Out
On a brisk January morning, our class bundled up and headed downtown for our back-to-back food lectures. We would first visit WYSIWYG Juice Company and then Bluebird Cakery. Students were prepared to take notes during each lecture and to sample products in preparation for the unit writing assignment.
Both lectures paralleled each other in content, beginning with a focus on the businesses' entrepreneurial stories. The WYSIWYG owner described launching a health-focused business partnership after she and her co-owner both lost their young husbands to cancer. This experience motivated them to become proponents and providers of health within their community. The manager of Bluebird Cakery described the Kickstarter campaign that got Bluebird Cakery off the ground in Faribault, Minnesota. The success of that venture opened the door to expanding to Mankato.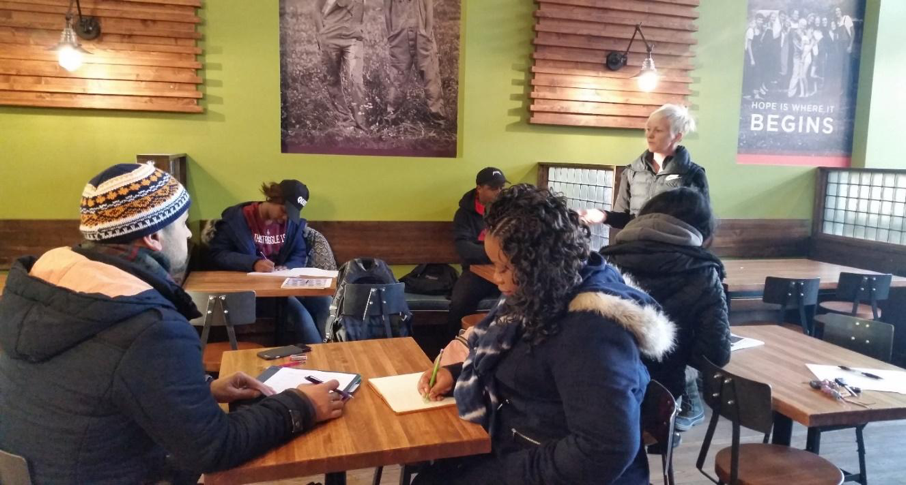 Within each lecture, the food itself received special attention. The lectures focused on ingredients, sourcing, inspiration for menu items, and ideas for future products. At WYSIWYG, we were invited to the food preparation area, where we saw a giant juicer devouring vegetables.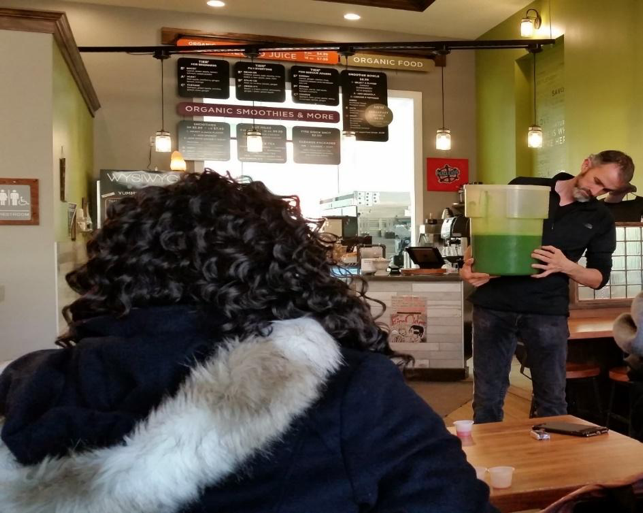 At both sites, food sampling was a key component. At our first stop, students sampled juices made from beets, carrots, spinach, kale, green apple, cucumber, celery, and ginger; they then undermined this health boost at our next stop by sampling Australian-style cupcakes swirled with buttercream frosting, including customer-favorite Wedding Cake and sweet-and-savory Salted Caramel. The lecturers explained the influences, motivation behind, and popularity of these products. Meanwhile, students took lecture and product evaluation notes. Each student was also encouraged to pose one question to the lecturer at the conclusion of the presentations.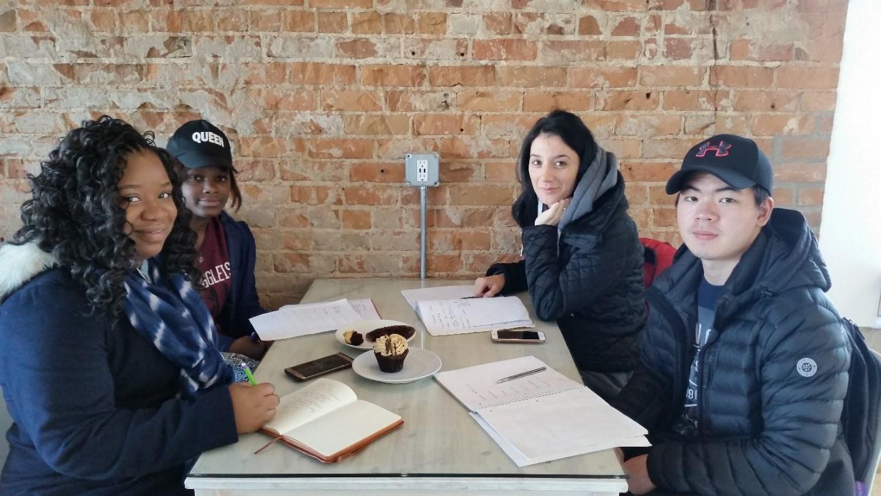 Back in Class
In the days following the visit, class time was used to learn about the structural features of an evaluation. Lecture content was integrated into these lessons to maximize the benefit of the out-of-class experience. For example, when we discussed how to write an introduction, content from the WYSIWYG Juice Company was used. The class applied this content to practice using a quotation or story as an opening.
To practice the quotation approach, students were supplied with the following quotations, excerpted from the owner's lecture:
"I like to juice for the nutritional home run it gives me."
"We like the opportunity to show our customers that healthy food can taste great and be filling."
"Pesticides, insecticides, herbicides, and toxins—those take a toll on your health."
"What we're proud about is the freshness."
"I just mowed the yard with my mouth."
"There's no better multi-vitamin than fruits and vegetables from the Earth."
Students were then shown how to use a quotation to capture reader interest and introduce a topic. Finally, they selected a quotation from the list and practiced this introduction approach themselves.
To practice the story-telling approach, students crafted the WYSIWYG owner's experience into an introduction. First, they were given a list of facts drawn from the WYSIWYG lecture to remind them of the story that the owner shared.
Possible Story Components
Business partners meeting each other
Both had husbands who were diagnosed with cancer before the age of 40, 10 years apart
Both used juicing to help with husband's health
Both had 3 kids around same age
Began to have conversations around health
Both owners' husbands lived longer than expected—6.5 years and 3.5 years. The latter was projected to live 2.5 months when first diagnosed.
This experience led them to start a juice bar
Students then practiced retelling the owners' story as an introduction for a WYSIWG review. To show students the variety of introduction approaches that could be used when writing about the same topic, the class also practiced using questions, personal stories, and current issues or controversies as a beginning for a WYSIWYG Juice Company review. I gathered examples of each approach from student work and posted them on our course management system to supply students with a side-by-side comparison.
In general, then, I tried to coordinate out-of-class content with in-class activities. I aligned the focus of out-of-class lectures with unit themes. I also created lessons that utilized field trip content, and I provided opportunities for students to use this content in their writing. In this way, I tried to make the experience cohere with and support other language learning instruction occurring in the classroom.
Project Outcomes
To what extent did this community excursion achieve its goals, particularly with respect to acculturation, authentic language use, and brain-friendly learning? Reflecting on this question has allowed me to identify successes and recognize changes I would make when undertaking similar projects in the future.
Acculturation
On its own, a project like this one is unlikely to have a profound impact on students' acculturation. Rather, class trips function as one of many small inputs that collectively support students' complex and ongoing acculturative process. Like other experiences that support acculturation, this trip involved elements of challenge. The idea of leaving the classroom and venturing into the community appeared to evoke modest trepidation in some students. Students were noticeably quiet while visiting both locations and hesitant to pose questions following the lectures. This response reminds me to anticipate feelings of uncertainty in response to out-of-class excursions and to acknowledge and validate these emotions. To alleviate these feelings in the future, I would spend more class time outlining the protocol for the visit, including assisting students in drafting good post-lecture questions. During the visit, I would then facilitate Q&A, assisting students in asserting themselves rather than relying on them to have the confidence to do so. Steps like these may diminish some of the nervousness surrounding the acculturative experience.
Authentic Language Use
I was pleased with the authentic language that the lectures provided to students. However, I quickly realized that exposure to authentic language is not enough: students need help making this language their own. Perhaps the most successful strategy I used to promote students' use of authentic language was copying lecture content and integrating it into lesson plans. My decision to incorporate content from the WYSIWYG lecture into writing lessons, for instance, was likely the factor that led over half of the students in the course to write WYSIWYG Juice Company reviews while none chose to write about Bluebird Cakery. The takeaway for me is that exposure to authentic language needs to be supplemented with instructional support that makes the language accessible and malleable to students.
Brain-Friendly Learning Strategies
Without a doubt the class trip was characterized by instructional novelty and engagement of multiple senses. These traits made the trip memorable and engaging. Still, just as with authentic language use, the novelty and sensory input only benefited learning insofar as it was paired with meaningful, in-class instruction that built on the vivid out-of-class content. In general, then, I learned that unique out-of-class activities usefully sparks interest and attention while complementary in-class instruction harnesses that attentiveness to promote engaged language learning.
Considerations Before You Go
Overall, venturing outside the classroom was a pleasure to design and a positive experience. That's not to say that it was easy. On that note, I conclude with a list of considerations that may help other language teachers take the leap.
Expense: Will there be any expenses associated with the experience? What offices on campus or professional grants might be able to supply the funds?
Permissions: Is clearance needed in advance? For example, does the university require students to sign a liability waiver? Is permission needed from the international student programs office on campus?
Travel: How will students get to the site? What transportation options are available?
Community Partners: Who might be involved? How might members of the community contribute to students' language learning?
Time: When will the experience take place? What planning is needed to ensure that students can attend?
Curriculum: How will the experience fit within the broader curriculum? What connections can be drawn to course material? How can additional learning be derived from the experience once students are back in the classroom?
References
Akhtar, M. (2015). Acculturative stress among international students in context of socio-demographic variables and coping styles. Current Psychology, 34(4), 803-815.
Berry, J.W. (2005). Acculturation: Living successfully in two cultures. International Journal of Intercultural Relations, 29, 697-612.
Berry, J.W. (2006). Acculturative stress. In P.T. Wong & L.C. Wong (Eds.), Handbook of Multicultural Perspectives on Stress and Coping (287-298). Boston, MA: Springer.
Gilmore, A. (2007). Authentic materials and authenticity in foreign-language learning. Language Teaching, 40, 97-118.
Glass, C.R., & Westmont, C.M. (2014). Comparative effects of belongingness on the academic success and cross-cultural interactions of domestic and international students. International Journal of Intercultural Relations, 38, 106-119.
Hyland, K. (2003). Second language writing. New York, NY: Cambridge University Press.
Jung, E., Hecht, M.L., & Wadsworth, B.C. (2007). The role of identity in international students' psychological well-being in the United States: A model of depression level, identity gaps, discrimination, and acculturation. International Journal of Intercultural Relations, 31(5), 605-624.
Kashima, E.S., & Loh, E. (2006). "International students' acculturation: Effects of international, conational, and local ties and need for closure. International Journal of Intercultural Relations, 30(4), 471-485.
Mahmood, H., & Burke, M.G. (2018). Analysis of acculturative stress and sociocultural adaptation among international students at a non-metropolitan university. Journal of International Students, 8(1), 284-307.
Mori, S. (2000). Addressing the mental health concerns of international students. Journal of Counseling and Development, 78, 137-144.
Pan, J.Y., Wong, D.F.K., Chan, C.L.W., & Joubert, L. (2008). Meaning of life as a protective factor of positive affect in acculturation: A resilience framework and a cross-cultural comparison. International Journal of Intercultural Relations, 32(6), 505-514.
Ra, Y.A., & Trusty, J. (2017). Impact of social support and coping on acculturation and acculturative stress of East Asian international students. Journal of Multicultural Counseling and Development, 45, 276-291.
Smith, R.A., & Khawaja, N.G. (2011). A review of the acculturation experiences of international students. International Journal of Intercultural Relations, 35(6), 699-713.
Sousa, D. (2011). How the brain learns. Thousand Oaks, CA: Corwin.
For the past decade, ATLAS, housed at Hamline University, has been offering innovative professional development for adult basic educators across Minnesota. ESL education has been at the center of these efforts since the beginning! ATLAS cultivates new leaders as they work to improve the lives of adult immigrant and refugee learners in our communities.
Minnesota is enriched by immigrants and refugees from around the world, and English language acquisition is critical to navigate their new communities. Much focus is given to the language needs of children in K-12 settings, and neighboring this system to assist the adults in families is Adult Basic Education (ABE). ABE supports adults in gaining the skills they need for family-sustaining work, postsecondary opportunities, and full participation in their communities1. In ABE, we teach language, literacy, math, academic content, digital literacy, as well as employability and career-specific skills.
Minnesota ABE programs exist in every corner of Minnesota, hundreds of sites statewide. How do the teachers working within them gain the knowledge and skills they need for the classroom and keep abreast of new trends and requirements for their work? This is where ATLAS comes in! ATLAS, the ABE Teaching & Learning Advancement System, provides professional development to Minnesota's adult education workforce. It is part of the MN ABE Support Network. Housed at Hamline University in St. Paul and solely funded by the Minnesota Department of Education, ATLAS has been fostering the growth of adult educators for over 10 years. In this article, we share a brief history of our work and the principles undergirding our efforts, and we showcase some of the projects specifically geared to adult ESL educators.
It All Started with ESL Experts
MN ABE has a long history of supporting adult ESL teachers. In fact, the original ATLAS grant was written in 2007 by Betsy Parrish, ESL Professor at Hamline University, and Kim Johnson, also an ESL specialist! Kim became the first ATLAS Director, and Betsy served as Senior ATLAS Advisor. Soon after, an administrator was hired to assist with finances, communications, and event logistics. As ATLAS initiatives and responsibilities grew, so did its staff. For example, ATLAS added a Literacy Coordinator when a national reading initiative (StAR) came to Minnesota ABE. In 2013, current Director Patsy Egan (another ESL person!) took the reins, and an Events Manager also joined the team. In the last five years, ATLAS has added positions for English Language Arts and Numeracy Coordinators, and several consultants assist with various projects yearly in areas such as adult career pathways, ESL, and standards implementation.
In Fall 2017, ATLAS celebrated 10 years of providing professional development (PD) opportunities for adult basic education teachers, including ESL teachers, throughout Minnesota. At the same time, the National Coalition for Literacy honored ATLAS with the National Literacy Leadership Award, citing its high quality, evidence-based professional development and ability to produce national leaders. "They intentionally cultivate teacher leadership," said Silja Kallenbach of World Education at an awards ceremony in Washington DC, in October, 2017. In her remarks, Silja recognized the national impact of ATLAS's Transition Integration Framework (TIF), which defines the academic, career, and employability skills essential for adult learners to successfully transition to postsecondary education, career training, the workplace, and deeper community involvement.
The figure (Figure 1) below represents visually how ATLAS serves adult ESL professionals statewide. At the center of this work are adult immigrant and refugee learners. Surrounding them is a delivery model for adult basic education that integrates English language and content, teaching language and skills related to employability, academic content, and careers. To support the work of adult ESL teachers, ATLAS provides professional development through various means: creating and sharing resources, delivering study circles, and hosting an annual Language & Literacy Institute. All of this work creates the conditions for leaders to emerge. Minnesota ABE practitioners are asked to facilitate workshops and study circles, to design and share resources, write articles for the statewide ABE newsletter, and to serve on our advisory teams. Our relationship with Hamline University's ESL faculty continuously introduces ATLAS to relevant research, ESL graduate students, and many opportunities to collaborate.
Professional Development Models: Best Practices
Research has shown that ongoing professional development (PD) is far more beneficial than the one-shot workshop (Guskey, 2000). When professional learning is job-embedded, focused, and takes place over time with guided, meaningful collaboration among colleagues, teacher change and growth can truly take hold (Burt, Peyton, & Schaetzel, 2008; Desimone, 2009; Smith, 2010). These are principles that have always guided ATLAS's professional development efforts. ATLAS does provide numerous conferences and one-time workshops and webinars that meet the needs of ABE practitioners around the state. Such one-shot PD experiences are important for quickly receiving pertinent information on topics such as state and federal accountability requirements and to promote interest in more involved PD. However, from the beginning of ATLAS, we have placed more of our energies and efforts on longer-term PD initiatives that foster greater impact on teaching and learning.
A few examples of job-embedded, extended PD efforts include cohorts on evidence-based reading instruction, standards implementation, adult career pathway development, career-focused contextualized teaching, and numeracy. Online Communities of Practice (using platforms such as Wiggio and now Schoology) provide networking and resource sharing among teachers of math, around standards implementation, and for those working in one-room schoolhouse contexts. Study circles are offered on employability skills (TIF), low-literacy adult ESL, integrating language and numeracy, and teaching pronunciation with adult English learners. All of these experiences – cohorts, communities of practice, and study circles – allow for the kind of professional learning that research shows leads to greater teacher development and higher student achievement (Darling-Hammond, Hyler and Gardner, 2017; Smith; 2016).
Central to all of ATLAS's PD efforts is careful, consistent evaluation of participant outcomes. ATLAS PD providers have engaged in in-depth research and analysis of the results of two of their ESL study circles, highlighted in these publications:
Echelberger, A., McCurdy, M., & Parrish, B. (2018) Using a study circle model to improve teacher confidence and proficiency in delivering pronunciation instruction in the classroom. CATESOL Journal 30(1), 213-230.
Vinogradov, P. (2012). "You just get a deeper understanding of things by talking:" Study circles for teachers of ESL emergent readers. Journal of Research and Practice for Adult Literacy, Secondary, and Basic Education (1), 34-48.
Meeting Challenges with Innovation
A number of driving forces in the field of ABE nationally have sparked two remarkable shifts in recent years for adult ESL: an increased rigor of instruction and the promotion of instructional approaches that integrate language and content. Upping the rigor in adult ESL instruction has largely been driven by new legislation in the field. When the Workforce Innovation and Opportunity Act (WIOA) became federal law in 2014, it brought with it a strong emphasis on careers and employment, as well as new compliance requirements around standards-based education. These two facts have shifted adult ESL from its traditional role of 'life-skills' and 'survival English' teaching for new immigrants and refugees to preparing non-native speakers of English for high school equivalency, postsecondary options, and family-sustaining careers. While life-skills will continue to play an important role in adult ESL teaching, our work has expanded in recent years to connect with the larger array of services adult basic education offers.
Integrating language and content instruction is nothing new to K-12 EL teachers, but it is somewhat new to adult education settings. Historically, ESL has been silo-ed from other offerings in adult education such as math, GED preparation, and career pathways. But with WIOA and standards-based education, we are seeing a major shift toward including more substantive content in English language classes. The College and Career Readiness Standards (US Department of Education, 2013) have been adopted in Minnesota ABE, as well as the Transitions Integration Framework (TIF), which outlines employability skills, and the Northstar Digital Literacy Standards. These three sets of standards define what is taught in adult basic education in Minnesota2. Adult ESL teachers are no longer 'just language' teachers (if they ever were!); they are now responsible for helping their students meet all three sets of standards, as well as traditional language development.
Minnesota ABE has embraced these new priorities around increased rigor and integrating language and content, and ATLAS has responded in kind with new professional development opportunities. Of top priority has been the 'de-silo-ing' of ESL teachers, and bringing language teachers together with GED and career pathways teachers. A few examples include:
Language & Literacy Institute

(January), a large two-day conference for ALL adult basic education practitioners who touch reading, writing, and language instruction. Previously, this event was only for adult ESL teachers.

Language & Literacy Advisory Team (LLATé)

, a group of teachers, administrators, and state leaders who meet quarterly to plan for reading, writing, and language professional development.

Integrating Language & Numeracy Study Circle

, a professional learning circle that helps language teachers integrate math content into their classrooms while assisting math teachers in better serving their non-native speakers.

College & Career Readiness Standards Implementation Cohort,

a year-long, job-embedded initiative that works toward standards alignment in programs and instruction. While many states train their ESL teachers separately, Minnesota has chosen to de-silo ESL and basic skills instructors, having them collaborate in teams on this complex work.

Contextualized Career-focused Basic Skills Instruction (CCI)

, a six-month cohort that assists teachers in creating lessons and units for a specific career pathway that integrates academic skills (language, literacy, math) together with employability skills.

Adult Career Pathways (ACP) Course Design

, a six-month cohort that assists teachers and curriculum writers in developing or strengthening adult career pathways courses in their programs.
All of the above efforts work to de-silo adult ESL teachers and bring them into the fold of ABE, and in doing so, we raise the expectations and opportunities for adult immigrants and refugees to thrive in Minnesota. At ATLAS, we also recognize that sometimes ESL teachers need specific support around language development and immigrant resettlement. To this end, we continue to have offerings such as the following:
Looking Ahead
Looking back over the last 10 years of ATLAS, the field has changed immensely! Since it began, ATLAS has taken on more and more complex initiatives to keep ABE practitioners in Minnesota abreast of national trends, relevant research, and new requirements that affect their work. Many of the models developed by Minnesota's ABE practitioners for ATLAS have had a national reach. ATLAS looks forward to cultivating continued collaborative leadership in the years ahead, addressing the needs of all adult learners in our state and beyond, and supporting the needs of practitioners in an ever-changing adult education landscape through innovative professional development practices.
References
Burt, M., Peyton, J.K., & Schaetzel, K. (2008). Working with adult English language learners with limited literacy: Research, practice, and professional development.  Washington, DC: the Center for Applied Linguistics. Retrieved from http://www.cal.org/adultesl/resources/briefs/working-with-adult-english-language-learners-with-limited-literacy.php
Darling-Hammond, L., Hyler, M.E., & Gardner, M. (2017). Effective teacher professional development. Palo Alto, CA: Learning Policy Institute.
Desimone, L.M. (2009). Improving impact studies of teachers' professional development: Toward better conceptualizations and measures. Educational Researcher, 38(3), 181-199.
Guskey, T.R. (2000). Evaluating professional development. Thousand Oaks, CA: Corwin.
Smith, C. (2016). The role of professional development in bridging research and practice in adult literacy and basic education. Journal of Research and Practice for Adult Literacy, Secondary, and Basic Education, 5(3), 40-43.
Smith, C. (2010). The great dilemma of improving teacher quality in adult learning and literacy. Adult Basic Education and Literacy, 4(2), 67. Retrieved from http://scholarworks.umass.edu/cie_faculty_pubs/36
---
Notes
To learn more about ABE in Minnesota, see this

2017 Impact Report.

To learn more about MN ABE standards, see this webpage:

http://atlasabe.org/resources/content-standards
Minnesota's first university ESL program seeded programs throughout the state, building a web of caring human relationships that can help bridge linguistic and cultural differences. Dr. Elaine Tarone shares a description of how the program developed, and how, though moving through several institutional homes at the university, the program remained committed to sustaining that web.  
A version of this paper, written by the recipient of MinneTESOL's 2017 Harold B. Allen Award, was presented at the University of Minnesota on September 17, 2018, as part of the celebration of the ESL Program's 50th anniversary.  Readers interested in more detail on the history reported here can find it in Clements and Atterberry (2018), an online timeline with links to many archival documents.
In 1861, when the University of Minnesota was founded as a land grant institution, its mission focused exclusively on the practical needs of Minnesota residents, who spoke English as the language of government and education. There was no international vision; the U's mission was intensely local. However, in 1945 after WWII, J. William Fulbright introduced a bill in the United States Congress that called for the use of surplus war property for an international purpose: "to bring a little more knowledge, a little more reason, and a little more compassion into world affairs and thereby to increase the chance that nations will learn at last to live in peace and friendship" (Fulbright, 2018).
U.S. colleges and universities began seriously recruiting 'foreign students' for this purpose. Such students, already highly educated in their own countries, and fluent in at least one language other than English, aimed to earn graduate and undergraduate degrees in the U.S., but were not necessarily fluent in English. Many required highly professional instruction in what came to be known as English as a second language, so the US government allocated resources to develop high quality ESL instruction in universities across the country.  
As the number of 'foreign students' increased at the University of Minnesota during the 1950's and 1960's no regular course of ESL was provided to enable them to pursue high level academic work. Prof. Harold B. Allen, a linguist in the English Department and the first president of TESOL, was fully committed to this work; he sometimes taught noncredit ESL classes with a strong linguistic focus. He even brought in faculty from other departments to join him teaching occasional short-term intensive English language and cultural orientation programs, as when, for example, visiting faculty from Seoul National University came to the campus in 1956-7.  
In 1968, Prof. Allen was instrumental in appointing Dr. Betty Wallace Robinett as Director of a new English as a Second Language (ESL) Program. The program had a 3-part mission: 1) to teach English to foreign students, 2) to prepare teachers of ESL, and 3) to do research on the learning and teaching of ESL.  The teaching of English was carried out through two "Intensified" ESL programs: a noncredit English Program for International Students (EPIS) during the academic year, and a noncredit Summer Intensive English Language and Orientation Program (SIELOP). Though U.S. students were awarded credit for completing beginning levels of foreign language, international students were not awarded credit for completion of even the most advanced ESL courses, since (given the underlying assumptions detailed above) ESL was considered 'remedial'.  An MA program prepared ESL teachers to teach such students in college-level programs, and both faculty and graduate students conducted research projects on the learning and teaching of ESL.
Dr. Robinett was asked where she wanted to locate this tripartite ESL Program. Canestorp (2011) points out that there is considerable variation among U.S. universities in where ESL programs should be administratively placed. Some contention may be due to the misperception mentioned earlier that ESL instruction is 'remedial' rather than academic (Canestorp, 2011). At a land grant university, ESL program placement may also be contested due to the assumed scope of the land grant's educational mission (local rather than global), the identity of the target student population (state residents rather than international citizens), and the language skills of that population (monolingual English rather than multilingual).  Whatever the debate in 1968, at the University of Minnesota, the ESL Program was housed in the Linguistics Department in the College of Liberal Arts.
As a program director regularly meeting with Chairs and Directors with the CLA dean, Betty Robinett instilled very high standards for both ESL teaching and professional preparation for teachers. But in 1979 she went on leave from the department to become Associate Vice President of the University, a position she held until her retirement.  Elaine Tarone (author) had just been hired to be the next in a series of tenure-track assistant professors with primary responsibility in the MA ESL program (for a list of these, see endnote 3). Upon arrival, she learned of the Director's departure and was asked by Bruce Downing, chair of the Linguistics Department, to informally1 oversee all operations of the ESL Program, both the intensive English programs and the MA. Because she was untenured, she declined at first, and the chair assumed these duties; however, after a year she agreed. In 1980, the Minnesota English Center was formed, with Mark Landa as MEC director2, to house noncredit ESL classes for international students.
The Minnesota English Center
The MEC offered classes in the four skills (speaking, listening, reading and writing) and grammar (a 'fifth skill'), for students testing in at four different proficiency levels. EPIS (academic year) courses and SIELOP (summer) courses were well articulated and students could move up to higher level classes in the different 'skills' in a highly individualized and seamless manner. An ethos of student-centered, highly individualized instruction aimed to meet students' assessed communicative needs. Although Tarone periodically suggested that MEC courses be offered for credit (in parallel with all other foreign language courses at the U), MEC courses continued to be considered "remedial" noncredit courses.
In 1978, Mark Landa taught the first ESL course for international graduate TAs (ITAs) at the University.  On June 6, 1983, a front-page story in the Star Tribune featured UMN students (two of whose parents were Minnesota legislators) saying they couldn't understand their foreign TAs; the Minnesota legislature passed a funded requirement that ITAs improve their 'foreign accents'.  The ITA program was large enough by 1984 to need a coordinator, Jan Smith. With dedicated funding from the state, the ITA program grew to offer individualized training to all ITAs on campus. In 1995, Central Administration's Office of Human Resources absorbed the program into its new Center for Teaching and Learning.  
Other English courses for international students began to be introduced in a decentralized fashion outside the MEC as well: special sections of Freshman writing for international students in CLA, business English courses for international students in the Carlson School of Management; a summer course for international lawyers in the Law School.  In 1989, General College approved a program for immigrant students called Commanding English (CE), originally directed by Susan Bosher and later by Robin Murie.
The M.A. in ESL
Betty Robinett's high standards for teacher preparation had a lasting impact on the MA ESL program.  From the beginning, the M.A. program required a semester each of introduction to linguistics, phonetics, research (initially on contrastive analysis but later second-language acquisition), ESL teaching methods, two semesters of English grammar, and two years of foreign language study. Students also had to write three research-based Plan B qualifying papers and pass a comprehensive oral exam, all within the span of two years. (Later required were a supervised and video recorded semester-long teaching practicum situated in the MEC, and a language assessment class.)
The MEC and the MA ESL were closely related.  MEC instructors regularly mentored MA Practicum students in their classes in partnership with graduate faculty officially teaching Practicum.  MA students who passed Practicum could be hired as MEC TAs, and upon graduation many were hired as MEC teachers, in a tight, supportive community with a shared investment in research-based pedagogical excellence. MA students often did the research for their Plan B qualifying papers in the MEC, gathering data from students there and proposing improvements to MEC pedagogy based on the outcomes of their research.
Over the decades, a succession of assistant professors3, some tenure-track and some not, were hired to teach graduate courses in the MA ESL program; supervise student teaching, research and writing of Plan B papers; and evaluate final oral exams. The quality of this work is evidenced by the fact that many graduates of the MA ESL program went on to publish their research in refereed journals or books. By 2006, at least 20 books and well over 170 scholarly papers had been published, many in top-ranked national journals4, by graduates of the MA ESL program.  A partial list of these publications is available from the author upon request.   
Graduate faculty in the M.A. program were able to guide MA students so effectively in their academic work because they themselves presented and published influential research in national venues. In consequence, the MA ESL program was for many years rated as among the top ten such programs in the nation.  Graduates secured positions as leaders and teachers throughout the University of Minnesota, and in higher education throughout the state and the nation. MA ESL graduates also competed successfully for teaching and teacher training positions in such federal programs as Fulbright and the English Language Fellows (ELF) Program5.  
Where to House the ESL Program?
Though the quality of the ESL Program (both the courses for international students and the teacher preparation degree programs) was maintained, the '90's saw unfortunate changes in its institutional placement. In 1992, the Dean of the College of Liberal Arts abruptly closed Linguistics, the parent department of the ESL Program, and moved ESL into a newly formed Institute of Linguistics and Asian and Slavic Languages and Literatures (ILASLL). For 7 years, the ESL Program continued to function well there, but in 1999, the Asian languages program in ILASLL became an independent department. The remaining programs became the Institute of Linguistics, ESL and Slavic Languages and Literatures (ILES), a unit that institutionalized a growing separation between linguistics faculty and TESL faculty: At about this time, Klaeber Court was demolished, and ILES moved to Nolte Center. In 2003, as a result of advocacy by Lynne Ackerberg, MEC Director, the University approved a new Undergraduate Minor and Certificate in ESL as part of teacher preparation.
It is fair to say that, particularly after the ESL Program's home department, Linguistics, was closed, and the Program's 'departmental home' became less and less conventional, most Deans of the College of Liberal Arts (CLA) increasingly questioned its very existence in the College, citing budgetary constraints. CLA's ambivalence may have been related to a more general questioning of the place of all the languages offered in CLA (Spanish, French, German). Whatever the reason, beginning in the 2000's, CLA deans began the process of closing all ESL programs housed in the College of Liberal Arts – first the MEC, and then the ESL MA.
Late in the spring of 2004, the CLA Dean abruptly ordered the closure of the MEC. Six faculty and three administrators were laid off, and 19 noncredit ESL courses per semester were closed. International students could no longer be issued I-20 visas for English-only study at the MEC.  However, because at the time of the Dean's sudden announcement, some international students had already been issued I-20s for English-only study in the 2004 intensive summer ESL program, and some were already in transit, CLA was forced to reopen the MEC's noncredit courses just for that summer.  Because all but two teaching staff had already been laid off, MA ESL grad students taught those courses. By the beginning of Fall semester 2004, there was no longer any intensive noncredit ESL program at the University of Minnesota. Ironically, in 2004, the same year the MEC was closed, the University of Minnesota was ranked 21st in the nation in number of enrolled international students (Maupin, 2005).
In Fall 2004, 6 credit ESL classes (developed and proposed in haste during the summer of 2004) were offered by Lynne Ackerberg and Eric Nelson in ILES for matriculated students who had TOEFL scores below 213: advanced and academic classes in English grammar, pronunciation, reading and composition skills and oral skills. In 2005, these courses were transferred to the College of Continuing Education (CCE) (Canestorp 2011: 21), with Lynne Ackerberg as coordinator in both ILES and CCE between 2004-2007 effectively keeping English for international students alive in the gap between MEC and MELP.
The loss of the MEC as an intensive English program for non-matriculated students had an immediate negative effect on the University of Minnesota's ability to recruit international students. International recruiters during the 2004-2005 year reported that the U lost desirable international students who needed an intensive English program. So two years after the MEC closed, in summer 2007, a new intensive English program, called the Minnesota English Language Program (MELP), was established in the College of Continuing Education (CCE). Mike Anderson was appointed Director in Fall 2007. Like the MEC, MELP offered a full intensive noncredit English language program (four proficiency levels, 5 'skills') for non-matriculated students and issued I-20 visas to international students for English-only study at the U.  MELP also offered the 6 credit ESL courses described above to matriculated students at the university.
Even though it was now housed in a different college (CCE), MELP assumed the role of providing graduate students in the MA ESL program with high quality practice teaching experiences, and hiring them as TAs. In July 2009, CLA deans moved the MA ESL and undergraduate ESL minor out of ILES, loosely affiliating them as the Program in Second Language Studies with the Department of Writing Studies. At that point, Tarone assumed the full-time Directorship of the Center for Advanced Research on Language Acquisition (CARLA); Professor Cohen began a 5-year process of phased retirement; and Professor Lazaraton became Director of Graduate Studies of the MA ESL program.
Soon after, in October 2011, the Dean of CLA completed the process, abruptly closing admissions to the MA ESL program.  Alumni and friends, both in the University of Minnesota and in MinneTESOL, protested. During the next two years, no new students were admitted, existing MA ESL students worked on completing degree requirements, and a grievance filed by Professor Tarone was considered and rejected by CLA faculty committees. Negotiations to recreate the MA ESL in the College of Education and Human Development began, and in February 2013, an agreement was reached with faculty to recreate it in the Department of Curriculum & Instruction (C&I), along with the undergraduate ESL minor and certificate program. Even as students in the discontinued MA ESL program finished their degrees, new students were admitted to the MA in ESL for Higher Ed as a track in an existing M.A. in Second Languages and Cultures (SLC), with Professors Martha Bigelow and Kendall King as members of its graduate faculty. Later renamed the MA in TESOL (Teaching English to Speakers of Other Languages), the graduate program retains its close relationship with MELP in CCE. For example, MELP's Director, Mike Anderson, teaches the MA TESOL Program's Practicum course. Both the MA in TESOL and the undergraduate ESL minor and certificate programs have found faculty and student support in their new collegiate and departmental home.
Coda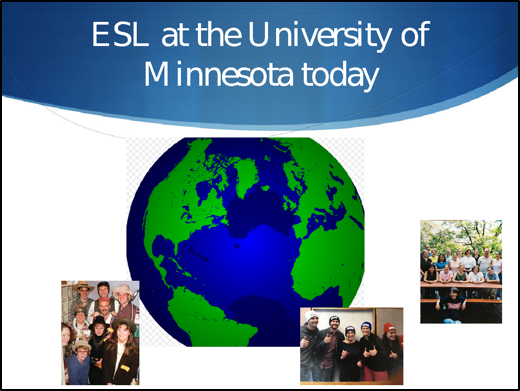 It is striking that something very important has happened at the University of Minnesota over the last fifty years (1968-2018) in spite of continuous change in formal administrative structures – founded in uncertainty about where to locate these ESL programs. That uncertainty is unsurprising given University infrastructure originally created for a monolingual, monocultural world.  Something important happened when, at an informal level, a web of human relationships was created, endured and grew, a web in which there has been a shared commitment to the highest levels of quality of applied research and instruction in higher education. People whose careers began in the U's ESL Program are now positioned as administrators and teachers throughout the University, across many units in many colleges. Now extending to colleges and universities throughout the state and nation, this web of human relationships still holds, united by what Lynne Ackerberg calls a "culture of appreciation" (Canestorp 2011: 20). This appreciation often transcends official academic roles as people pursue a commitment to a mission shared among teachers and teacher educators and researchers alike. That mission is to improve our understanding and practice of the learning and teaching of English, as a world language that can help bridge linguistic and cultural differences, in order to enable and improve world-wide access to knowledge and mutual understanding.  
References
Canestorp, F. (2011). The growth of an emerging field: A history of ESL program development at the University of Minnesota. MA ESL, Plan B Paper, University of Minnesota. Available in the Digital Conservancy of the University of Minnesota:  https://conservancy.umn.edu/handle/11299/164434
Clements, K., & Atterberry, D. (2018). Welcoming the world for more than 50 years: History of ESL at the University of Minnesota. Accessed 9-20-2018 at: https://cdn.knightlab.com/libs/timeline3/latest/embed/index.html?source=1unoMvwpomMfrslqPE3JK1YowOQo9txUn8ZlMQFYCy6k&font=Default&lang=en&initial_zoom=2&height=650
Fulbright (2018). http://www.fulbright.org.nz/about/  (Accessed September 2018).
Maupin, B. (2005). English as a Second Language programming for University of Minnesota international students: Present and future. MA ESL, Double Plan B Paper, University of Minnesota. Available in the Digital Conservancy of the University of Minnesota: https://conservancy.umn.edu/handle/11299/164638
Tarone, E. (2016). Minnesota's multilingualism and English learner education: A historical perspective.  MinneTESOL Journal, 32(2). http://minnetesoljournal.org/fall-2016/minnesotas-multilingualism-and-english-learner-education-a-historical-perspective
Notes
---
After she left, no one was ever given Robinett's position entitling her to participate in regular meetings of Chairs and Directors with the dean of CLA. In retrospect, that was a mistake, since it meant deans and chairs knew very little about what the program did.

The Directors of the Minnesota English Center (MEC) were Mark Landa (1980-1995), Lynne Ackerberg (1995-2002) and Bill Hellriegel (2002-2004).  Prior to his MEC Directorship, Landa directed the English Program for International Students (EPIS) (1975-1980); Betty Robinett personally directed EPIS before that, 1968-1975.

A succession of professors was given primary responsibility for graduate coursework and requirements for the M.A. in ESL, 1968-2011: B. W. Robinett, Amy Sheldon, Ralph Nash, Jean Peterson, Dennis Godfrey, Elaine Tarone, George Yule, Andrew Cohen, Bill Johnston, Anne Lazaraton, Mike Anderson, Doug Margolis.  Some but not all were appointed as tenure-track; only some tenure-track professors were granted tenure.

In addition, it was a group of MA ESL students who founded MinneTESOL as a professional association (Tarone, 2016), and MA ESL graduates who founded the

MinneTESOL Journal

, often serving as editors as well.

MA ESL graduates have secured positions ranging from dean to teacher to researcher in a range of contexts in higher education:

Within the University of Minnesota

In CLA: Writing Studies, Writing Center, Language Center, Spanish, Italian, Speech-Language-Hearing

In CEHD: C&I ESL minor, NCEO, OLPD, College English Transitions, Family Social Science


In other Minnesota colleges and universities

MNSCU Faculty Development, Hamline University, Luther Seminary, UMN Morris, Minneapolis College, Century College, St Paul College, N. Hennepin Community College


In universities & institutions outside Minnesota:

Georgetown University, Teachers College Columbia University, Michigan State, University of Georgia, Texas A&M, UNC Wilmington, UC San Diego, University of Wisconsin (Madison, Eau Claire, River Falls, Oshkosh), Portland State, Cal State Monterey Bay, Massachusetts International Academy, Nagoya University, Dokkyo University, Tsuda University, Hosei University, Educational Testing Service, Szeged University Hungary, Hope Academy of Biskek in Kyrgystan