Michelle Benegas & Suzanne Gilchrist McCurdy
Welcome to MinneTESOL Journal volume 38, issue 1! We are happy to share a collection of articles that highlight the ingenuity of English language practitioner-scholars from a variety of contexts.
Jeanne Beck and Sebnem Kurt describe a teacher's journey of creating and implementing a new unit for a middle school English learner and technology curriculum in "Project-Based Language Learning with 3D Printers: Integrating Technology, Language Form/Function, and Assessment into a Middle School CAD Unit." Beck and Kurt share their perspectives and takeaways from the project as well as easily accessible materials for implementing such a project in readers' own classroom.
In another report straight from the classroom, Ami Christensen and Kaishan Kong share an innovative project borne from COVID restrictions at their university in "Flipgrid Classroom Conversations: International Virtual Pen Pal Exchange." The authors detail their process and their learners' experiences using Flipgrid as a tool to gain and share cultural knowledge and experiences while engaging in authentic language tasks.
Crossing boundaries in "Does Translanguaging Work in Adult ESL?" Alayna Klco argues that pedagogical translation, a translanguaging approach developed for K-12 classrooms, can be adapted for use in adult education. Klco delineates pedagogical translation and the work of Project TRANSLATE and describes modifications that may be used in the adult education context.
Please read, enjoy, and share the research and practice ideas in this issue of MinneTESOL Journal! Stay connected to our MinneTESOL Journal community by following the journal on Facebook and on Twitter (@MnTESOLjournal).
Jeanne Beck & Sebnem Kurt
Meaningfully integrating project-based learning, language learning, and technology into the classroom provides 21st century skills for the real world. This article describes how one middle school teacher integrated project-based learning, technology, form/function instruction, and formative assessment into a 3D printing unit.
Keywords: 3D printing, Project-based learning, assessment, Project-based language learning, middle school, curriculum design, technology
Introduction
Project-Based Learning (PBL) is a student-centered approach to teaching and learning that can seamlessly blend language learning and technology integration (Beckett & Slater, 2020). With foundations in Dewey's experiential learning philosophy (1916) and Kilpatrick's project method (1918), PBL has become a powerful movement in education, benefiting classrooms through student engagement, collaboration, critical thinking, and problem solving, among other positive effects (Buck Institute for Education, 2022). Infusing PBL with language learning, sometimes referred to as Project-Based Language Learning (PBLL), this approach has paved the way for meaningful second and foreign language learning, documented through research, in countries all around the world (Beckett et al., 2020). Combining relevant apps and web-based tools, PB(L)L projects can powerfully shape learning experiences to bring about authentic learning for students (Alharthi et al., 2021).
Beckett and Slater, well-known PBL/PBLL scholars, argue that projects can engage students in deeper learning with and through technology for learning language, content, and other relevant skills (Beckett & Slater, 2017). They have also correctly stated that PBL with intentional technology integration, language form/function instruction, and assessment has also been limited in the PBL research (Beckett & Slater, 2020; Beck et al., 2021). To help fill this gap, this paper describes a 3D printing PB(L)L unit designed for both native and non-native English speaking middle school students in a technology course at a rural school, which was implemented from 2017-2019. It is hoped that this paper not only highlights the potential that creative technology-infused projects can have on learning, but also inspires other teachers to write about the amazing work that they are doing or have done in their classrooms. 
Literature Review
3D Printing for Authentic Learning
3D printing has come onto the education scene within the last two decades as a high-tech tool for providing engaging STEM (science, technology, engineering, and math) projects, real world skills, teamwork, experimentation, and problem-solving skills (Lacey, 2010). Intrinsically linked with PBL, multiple affordances of 3D printing in educational contexts have been documented through exciting projects including: a project where kindergarten and first graders designed new playground equipment using 3D printing in the USA (Wendt & Wendt, 2015), an interdisciplinary 3D printing program with middle school students in South Korea (Shim & Lee, 2019), and in facilitating a junior/senior high school service-learning project where students 3D printed hands and arms for amputees through E-NABLE (Enabling the Future, 2022; Suchow, 2016). These exemplary studies show that 3D printing PBL is possible at all grade levels and can integrate meaningful content for students.
In addition to 3D printing PBL research involving students, several 3D printing-related studies have involved pre- and in-service teachers. In a survey of teachers concerning their interest in learning about augmented reality (AR), virtual reality (VR), and 3D printing, Trust et al. (2021) found that most of the teachers, who were enrolled in a MOOC (Massive Open Online Course), described wanting to learn how to use and troubleshoot the devices and fit these tools within their teaching pedagogy. Less than one quarter of the teachers, however, indicated interest in how to integrate these devices within their curriculum (Trust et al., 2021). Mixed results concerning 3D printing curricular integration were similarly found with middle school history teachers (Maloy et al., 2017). Teachers found it difficult to integrate 3D printing into their curriculum, and both teachers and students initially found it difficult to use the Computer-Aided Design (CAD) program Tinkercad. After implementing 3D printing projects in their classes, however, their students found the projects fulfilling and some teachers found value in the projects and in altering the "teacher-as-expert/student-as-novice relationship" (Maloy et al., 2017, p. 244). 
In terms of pre-service studies, Novak and Wisdom (2018) highlight a 3D printing project for elementary pre-service teachers in science education where the projects significantly reduced the teachers' anxiety about teaching science and improved their science interest and perceived competency in K-3 science standards. Moreover, Verner and Merksamer (2015) present a program in which they used the create-design-implement-operate (CDIO) approach to teach pre-service technology teachers and other science and engineering majors about teaching design and manufacturing. These studies with pre-service teachers suggest that future in-service teachers may enter schools with more 3D printing readiness.
3D Printing PBLL for Second and Foreign Language Learning
While less research has been done on 3D printing PBLL in second and foreign language contexts, researchers at the college level have demonstrated its effectiveness. 3D printing PBLL can be seen in a course for international second language graduate students in Japan (Roy, 2017), in an introductory college German class in the USA (Emm & Hawkins, 2020), and in a 3rd year college Russian course in the USA (Enkin et al., 2021). In a research study surrounding a 3D printing course at a 7th-12th grade summer STEM camp, some participants hailed from Italy and the American participants were of diverse ethnic backgrounds, suggesting that language learners might have been involved in the study (Kwon, 2017). Since L1s were not collected, however, second/foreign language learning implications for language learners were not explored. Similar to how the first author (Beck) had only presented on 3D printing in her middle school English language (EL) and technology classroom at conferences and within professional learning communities (i.e., Beck, 2018, 2019), it is very possible that innovative 3D printing work is being done in language classrooms, however, this information is not reaching research communities.
Integrating 3D Printing into the Middle School EL and Technology Curriculum
With the many benefits espoused by PBL research, the first author's goal was to bring these learning experiences to her classroom. As a half time EL/half time technology teacher at a rural Missouri middle school from 2017-2019, she had the unique opportunity to design the school's new technology curriculum and develop content for the EL classes. The middle school, a Title I school with approximately 10% ELs, had recently gone 1:1 with Chromebooks and was aiming to expand their students' 21st century skills. Equipped with a new 3D printer, the teacher was encouraged by administrators to create 3D printing projects for the diverse student body. Designing a CAD and 3D printing unit with both nonnative ELs and native English speaking students in mind, the unit introduced activities that taught or reinforced language learning and were formatively assessed in creative ways.
3D Printing Unit Overview
The 3D printing unit was designed as a two-week unit for the middle school technology course. Created as a service-learning unit, the unit began with the goal of making 3D printed objects to help others. The first part of the unit introduced relevant vocabulary and the real world applications of 3D printers, as well as provided a refresher on the metric system. To aid in CAD design, TinkerCAD was used in the classroom, including its tutorials as well as guided CAD design practice activities structured by the teacher. At the same time, a survey was sent to teachers and school staff in the district to ask what classroom materials or objects they could use for their classrooms or workspaces that could be 3D printed. Through the Google Form, staff members would select an object they could use for their classroom (e.g., pencil holder, name plate, Post-It Note holder, magnet, keychain), it's shape (e.g., rectangular, oval, hexagonal), color, and if they would like any specific text or images on their object. 
Constraining the project to include requests from teachers/staff members was born out of necessity. In the first iteration of this project no such restrictions were made, which resulted in a few projects that were not quite useful or were unprintable (at least, with the teacher's level of 3D printing knowledge). Given the amount of time it takes to print a 3D object and how much students want to see their design printed, implementing a student-created Google form in the second iteration of the project onward that narrowed the scope of what students could design proved to be a win-win. While this may seem limiting, students still had many design choices to make as a team. For instance, a teacher might request a blue hexagonal-shaped pencil holder with their name and school logo on it; for this, students would need to decide what dimensions to make the pencil holder, how thick or thin to make the base or the walls of the pencil holder, which font to make the text, where to effectively place the text and school logo, which school logo to use, whether to embed the text/logo so that it looked etched into the surface or have it protrude out, and if there were any value-added design elements the group wanted to add (e.g., adding patterns or borders to the edges of the object).
During the second week, the survey results from the school staff were analyzed and teams of 2-3 were created and drew a conceptual design of what they would be making, spending several days working on the design together. At the end of the two weeks, the 3D designs were submitted to the teacher and the focus shifted to writing a short reflection paper about the project. The reflection writing activity was completed in Google Drawings, where a screenshot of the completed CAD design could be embedded. The reflections and completed 3D prints were placed on display in the middle school trophy cabinets before being given to the school staff members who requested them. In total, this unit was delivered 16 times by the teacher over the course of the two years at the middle school building.
Integrating Form/Function and Assessment
Integrating academic English and the language of technology was important in designing the PBL unit. Specific instruction on language form and function has been described as lacking in PBL research, which can be seen as a missed opportunity for learners (Beckett & Slater, 2020). While it might seem incompatible with a PBL activity at first glance, intentionally integrating form and function can be done in multiple parts of the unit in less intrusive ways through activities that introduce students to vocabulary and grammar (form) and what can be done with language (function), e.g., requesting information, describing processes, or drawing conclusions.
While designing the 3D printing unit, focus was placed on introducing and practicing the new vocabulary and concepts related to 3D printing in both speaking and writing. New words and phrases including filament, CAD program, and SVG image would need to be introduced, modeled and practiced. Moreover, EL students can particularly need additional support with prepositional phrases and direction-related words, for example, telling a classmate when designing a keychain to, "Put the text on top of the rectangular shape" or "Cut a hole out of the rectangle using a cylindrical shape."
To practice CAD and 3D printer-related language, the teacher developed a 3D printing hyperdoc, an interactive worksheet with links to different websites and videos related to 3D printing. By reading the text, looking at images, and watching short videos online, new words and concepts were introduced and reinforced organically. The hyperdoc activity was modeled by the teacher and completed with a shoulder partner, in which ELs and non-ELs could be grouped together to support each other while completing the activity. As such, the hyperdoc was a simple yet useful formative assessment in the early stages of the unit.
New concepts were also reinforced with a short video on 3D printers that used the same new language and other worksheets. Before watching the video, students were asked to pay attention to specific parts of the video, and then had time to think-pair-share after the video before discussing the answers as a whole class. Additionally, a worksheet on measuring in centimeters and millimeters (Super Teacher Worksheets, 2022) was adopted for practicing the metric system, helping reinforce mathematical principles useful in CAD. The worksheet, the only physical paper used in the entire 9-week course, helped students review centimeter and millimeter measurement by using rulers and measuring objects in the classroom.
Within the 3D design process itself, language form and function were reinforced through focus on the designs that teams were tasked with making as well as the survey that they sent to the teachers. As survey responses were of varying degrees of specificity and clarity, they needed to be read, comprehended, and interpreted so that the staff member's wishes were honored. Moreover, many of the staff members requested objects with text on them, such as the staff member's name or famous teacher quotes. While English errors are a part of learning for both native and non-native speakers, it was important that any errors be corrected before printing as reprinting a 3D print would cost multiple hours and waste materials.
The 3D prints themselves were assessed by the teacher in terms of the object's printability, feasibility of being printed in a timely and resource-friendly manner, and the extent to which students honored the requests of the teachers/staff who requested the print. The rubric categories were: theme (whether the students took the request seriously and created a purposeful object), color scheme (whether students used only 1-3 colors and only the filament colors that were currently available), size (limited to 8cm in height, 2-3mm thickness to reduce print time), detail (adding text, textures, images, etc.), and teamwork. Issues such as text floating in space were accounted for in the "theme" category as these errors, which were routinely checked for during the project-making process, would result in 3D printing errors.
Finally, reflective writing is an important aspect of project work, as the writer can be led to personal discovery and deeper meaning (Rocha, 2006). To integrate technology into the writing process and increase its accessibility, the teacher created a graphic organizer in Google Drawings with four quadrants with questions to answer, plus a space to add a screenshot of the 3D design. The rubric evaluated the amount of information shared, the quality of information shared, and minimal English errors. Displaying the reflection writing next to the 3D prints in the trophy case at school provided students, staff, and visitors a glimpse into the design process.
As a result, these reflections and 3D prints not only provided an assessment for technology-infused PB(L)L (Chen & Hirsch, 2020), but showed evidence of acquisition of technology-related vocabulary and concepts. The prints and write-ups also aided the teams in practicing how to discuss the design process with the 3D print recipients. As a teacher, seeing the students give the printed object to the recipient and explain how they designed it was the most rewarding part of the experience, and the staff and students seemed to enjoy it a lot too.
Conclusion
Authentic technology-infused PB(L)L units can meaningfully combine language, content, and 21st century skills, which can be measured consistently through formative assessment. After running the unit several times, by popular demand, the teacher expanded to create a specific 3D printing PBL unit for English learners who had taken the technology course and wanted to improve their skills further, as well as a before school mini-3D printing course for students who could not enroll in the technology course due to scheduling conflicts. Combined with community coverage from the local newspaper and school awards given for best in 3D design, these units had a great impact on the school, shining a light on the affordances of technology and exciting innovations and careers in STEM.
References
Alharthi, A., Beck, J., Bordbarjavidi, F., Gale, J., Garib, A., Guskaroska, A., Kurt, S., Lestari, F., & Zawadzki, Z. (2021). Effective applications and web-based tools for increasing student engagement in project-based language learning. MIDTESOL Journal, 4. https://midtesol.org/wp-content/uploads/2021/12/5-Effective-Apps-and-Web-based-Tools-for-PBLL-V2.pdf 
Beck, J. (2018, Sept.). 3D Printing and designing in the ESL classroom [conference presentation]. MIDTESOL 2018, Kansas City, MO, USA.
Beck, J. (2019, Mar.). Embedding STEM in the ESL classroom through 3D design and printing in Tinkercad [conference presentation]. TESOL International Convention, Atlanta, GA, USA.
Beck, J., Beckett, G. H., Bordbarjavidi, F., Garib, A., Guskaroska, A., Sollier, N., Yang, J. & Zawadzki, Z. (2021, Aug.). Maximizing technology use in project based learning: Looking back and moving forward [conference presentation]. EUROCALL 2021. 
Beckett, G. H., & Slater, T. (2017, Mar.). A synthesis of project-based language learning: Research-based teaching ideas [conference presentation]. TESOL International Convention, Seattle, WA, USA.
Beckett, G. H., & Slater, T. (Eds.) (2020). Global perspectives on project-based language learning, teaching, and assessment: Key approaches, technology tools, and frameworks. Routledge.
Beckett, G. H., Beck, J., Chen, M., & Guhin, J. (2020, Oct.). Empowerment with project-based language teaching and research [conference presentation]. TESOL Arabia 2020, Online. 
Buck Institute for Education. (2022). PBL Works. https://www.pblworks.org/ 
Chen, M., & Hirsch, R. (2020). A research-based framework for assessing technology-infused PBLL. In G. H. Beckett & T. Slater (Eds.), Global perspectives on project-based language learning, teaching, and assessment: Key approaches, technology tools, and frameworks (pp. 224-243). Routledge. 
Dewey, J. (1916). Democracy and education. Project Gutenberg. https://www.gutenberg.org/files/852/852-h/852-h.htm 
Emm, A., & Hawkins, D. (2020). From bauhaus to makerspace: Meaning design and computer-aided design in introductory German. Die Unterrichtspraxis/Teaching German, 53(2), 138-150. https://doi.org/10.1111/tger.12133 
Enabling the Future. (2022). E-NABLE. http://enablingthefuture.org/ 
Enkin, E., Tytarenko, O., & Kirschling, E. (2021). Integrating and assessing the use of "Makespace" in a Russian cultural studies course: Utilizing immersive virtual reality and 3D printing for Project-Based Learning. CALICO Journal, 38(1), 103-127. https://doi.org/10.1558/cj.40926 
Kilpatrick, W. H. (1918) The project method: The use of the purposeful act in the education process. Teachers College Record, 19(4), 319-335.
Kwon, H. (2017). Effects of 3D printing and design software on students' overall performance. Journal of STEM Education, 18(4), 37-42. 
Lacey, G. (2010). 3D printing brings designs to life. Tech Directions, 70(2), 17-19.
Maloy, R., Trust, T., Kommers, S., Malinowski, A., & LaRoche, I. (2017). 3D modeling and printing in history/social studies classrooms: Initial lessons and insights. Contemporary Issues in Technology and Teacher Education, 17(2), 229-249.
Novak, E., & Wisdom, S. (2018). Effects of 3D printing project-based learning on preservice elementary teachers' science attitudes, science content knowledge, and anxiety about teaching science. Journal of Science Education and Technology, 27, 412-432. https://doi.org/10.1007/s10956-018-9733-5 
Rocha, A. G. (2006). The reflective essay. In S. L. Pasqarelli (Ed.), Teaching writing genres across the curriculum (pp. 91-103). Information Age Publishing. 
Roy, D. (2017). Developing a Project-Based CALL environment with technical communication in an exploratory 3D printing context. International Journal of Computer-Assisted Language Learning and Teaching, 7(2), 75-101. https://doi.org/10.4018/IJCALLT.2017040105 
Shim, H. Y., & Lee, H. E. (2019). Multi-converging educational program for design with the usage of 3D printer: Targeted for middle school students. Archives of Design Research, 32(1), 75-87. https://doi.org/10.15187/adr.2019.02.32.1.75 
Suchow, R. (2016). 3D printing & service learning: Social manufacturing as a vehicle for developing social awareness. Journal of Catholic Education, 20(1), 292-300.
Super teacher worksheets. (2022). Metric measurement worksheets: cm and mm. https://www.superteacherworksheets.com/measure-cm-mm.html 
Trust, T., Woodruff, N., Checrallah, M., & Whalen, J. (2021). Educators' interests, prior knowledge and questions regarding augmented reality, virtual reality and 3D printing and modeling. TechTrends, 65(4), 548-561.
Verner, I., & Merksamer, A. (2015). Digital design and 3D printing in technology teacher education. Procedia CIRP, 36, 182-186. https://doi.org/10.1016/j.procir.2015.08.041 
Wendt, S., & Wendt, J. (2015) Printing the playground: Early childhood students design a piece of playground equipment using 3-D printing technology. Science and Children, 52(5), 43-47.
Ami Christensen & Kaishan Kong
Using Flipgrid to facilitate an international virtual pen pal exchange provides learners with opportunities to gain and share cultural knowledge and experiences while engaging in authentic language tasks.
Keywords: Virtual exchange, pen pal, COVID-19, Flipgrid, cross-cultural communication, ELL
How can we connect students outside of the classroom? Pen pal exchange is not a new concept to language teachers and learners. This communicative exchange between learners reflects the essential role of interaction (Long, 1987) and sociocultural aspects (Donato, 1989; Lantolf, 1994) in learning. The development of technology in the 21st century has transformed communication between pen pals from handwritten letters to virtual exchange. International virtual pen pal exchange (IVPPE) allows learners to practice a language with native speakers, share authentic cultural experiences, and explore diverse cultural perspectives (O'Dowd, 2020; O'Rourke, 2007). This paper shares a collaborative virtual pen pal exchange project that engaged two cohorts of university students in intercultural communication on 12 topics via Flipgrid. We describe the project design, share our experiences and student feedback, and offer guidance to language educators with similar pedagogical interests.
Due to the disruption of in-person learning caused by COVID-19, the need for digital tools, such as virtual exchange, became more salient (Guillén et al., 2020). An IVPPE creates a community of learning. Thoughtfully-designed community learning has potential contributions toward students' increased success, retention, and satisfaction (Greenfield et al., 2013). Adopting intercultural partners enables students in different countries to communicate beyond borders and to develop a feeling of social connectedness in remote settings (Bolliger & Inan, 2012; Garrison & Arbaugh, 2007). IVPPE has been adopted and researched in a wide range of teaching contexts. For instance, Catalano and Barriga (2021) examined their own experiences as teacher educators in the United States and Colombia, respectively, as they planned and facilitated a WhatsApp pen pal exchange meant to develop their teacher candidates' intercultural competence. In an English as a Foreign Language (EFL) setting, Torres Beltrán and Santana Alarcón (2021) investigated 16 elementary school students' writing skills development through a pen pal telecollaboration exchange. In Klimova's (2021) study, the author shared the practice of integrating an IVPPE into online delivery in the Russian language program at the University of Pittsburgh. These studies highlighted that effective virtual exchange between students and their native-speaker partners pushed the learners and teachers out of their comfort zones and nurtured engagement in linguistic, intercultural, and technological learning experiences. Further, the exchanges compelled students to challenge their assumptions and reflect on their own identity and culture. Informed and inspired by the existing scholarship, we were dedicated to creating an interactive, impactful, and intercultural pen pal exchange for our students.
In our context as a university language department, we serve international students who are normally immersed in English language learning on our campus in the Midwestern United States. However, as a result of COVID-19, with some students confined to their home countries and some limited to activity within their dormitories, we began to provide programming virtually. It became clear that our first-year international students were facing a more complex level of uncertainty related to a new culture and different learning styles than those in the past due to COVID restrictions. It was important to offer them high-impact yet low-risk activities to support their transition. We felt the need to identify tools and (re)design lesson plans to foster community and engage students across countries and cultures (TESOL International Organization, 2022, The 6 principles section, no. 4). We created an IVPPE using Flipgrid to encourage "students' active learning and integrative learning" in both language and culture (Lomicka, 2020, p. 307).
What is Flipgrid?
Flipgrid is an online video discussion platform that allows teachers to create a "grid" to invite students to upload short video responses to "topics" (i.e., prompts in audio, video, or text form) and reply to other students' responses. Green and Green (2018) argue that Flipgrid supports discussion-based pedagogy and contributes to students' critical thinking, minority students' engagement in class, and the classroom culture. Stoszkowski (2018) examined how Flipgrid supported students' social learning by discussing seven strengths of this app, namely (1) easy access, (2) convenience to record beyond the classroom, (3) encouraging participation, (4) video-based appeal, (5) more efficient formative feedback, (6) tracking engagement, and (7) compatibility with other platforms. Flipgrid has been increasingly adopted by language instructors over the past five years. When in-person learning was disrupted by COVID-19, Flipgrid became even more instrumental in facilitating engagement in virtual settings (Lomicka, 2020).
How did we use Flipgrid to engage students in cross-cultural communication?
What is described here was a collaborative project between two courses at our university. The first course, taught by the first author (Christensen), was part of the Intensive English Program (IEP) and was composed entirely of international students from mainland China. The course focused on developing learning strategies and study skills as well as connecting to the campus and community. The second course, taught by the second author (Kong), was an introduction to Chinese culture called Foreign Culture and Civilization (FLG). While most of the students in FLG were from the United States, there were also a few international students enrolled. Since the IEP students were devoted to improving their English proficiency, and the instructional language in the FLG course was English, the IVPPE was conducted in English.
We intended this collaboration to create an opportunity for both cohorts to meet a peer from another culture and share intercultural experiences on given topics. In addition to cultivating intercultural understanding and empathy, the IEP students also received opportunities to practice the target language, English. Students from each course were randomly assigned several partners and kept the same partners throughout the semester. Students in the FLG course initiated weekly Flipgrid conversations by sharing what they learned from course materials and asking their peers questions. IEP students responded to FLG students' posts and, as the course progressed, asked their own questions to their FLG partners (see Figure 1). There was no limit to how many responses or comment videos students could post. FLG students wrote weekly reflections and a final reflective paper on the exchange. While this practice was mainly formative, IEP students were required to write a reflection about their experiences twice during their course. Many students also opted to discuss it in other reflections when they could choose their topics. The criteria for this reflective writing focused on the depth of self-reflection, clarity of message, and staying on-topic. During the semester, both cohorts participated in 12 discussion topics (see Table 1).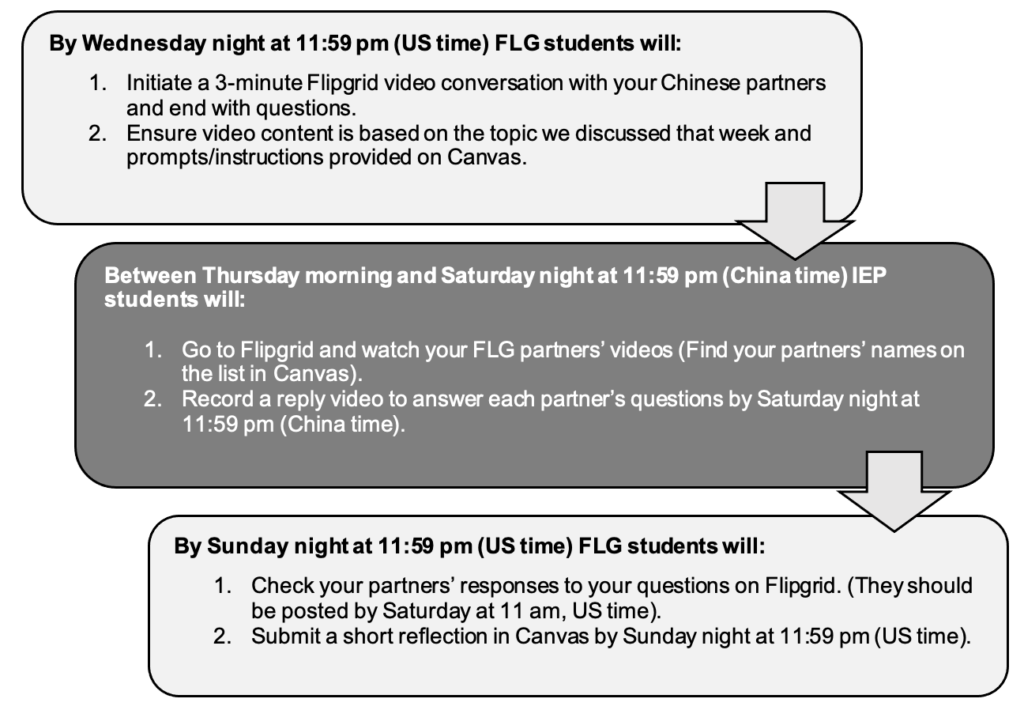 What did the students say about virtual conversations?
At the beginning of the semester, IEP students confirmed that the pandemic was limiting their experiences: "because of the COVID, I can't go outside to feel the American environment. So, I still know very little about America" (Jane, IEP student). Prior to the IVPPE, IEP students expressed an interest in learning more about U.S. culture: "I want to know more about the extracurricular life activities of American students and some traditional customs or habits. This will allow me to understand them better, have more common topics with them" (Harlan, IEP student). Some IEP students also saw an opportunity to improve their language abilities: "I want to improve my pronunciation and vocabulary from this experience. It is a good chance to improve my English and we can talk about different things each week. I can learn many new words" (Tony, IEP student). Students also mentioned wanting to know more about Americans' impressions of Chinese culture: "I hope to learn about the differences between American and Chinese culture, and how young people in the United States view Chinese culture" (Kai, IEP student). The interaction with U.S. students that the IEP students hoped for in their initial comments came to be realized as the semester progressed.
Although many of the subjects that students wanted to know more about were covered over the 12 weeks of our project (see Table 1), the topic about the Chinese education system prompted the longest average response from IEP students (see Figure 2). Since education was a very immediate and relatable issue for university students, students in both courses were especially curious and engaged in conversations on this topic: "For me, college life is just studying and entertainment, but I know that many American students need to do part-time jobs to pay for their tuition. They seem to attach great importance to getting an education because of their hard work" (Jane, IEP student). The second most popular topic was about Chinese cultural values. While students discussed differences between cultural values, many also expressed surprise at similarities: "When talking about values, most of my partners, like me, put filial piety first. This surprised me. I originally thought that most Americans regarded independence as very important and did not pay much attention to family; the reality is the opposite" (Harlan, IEP student).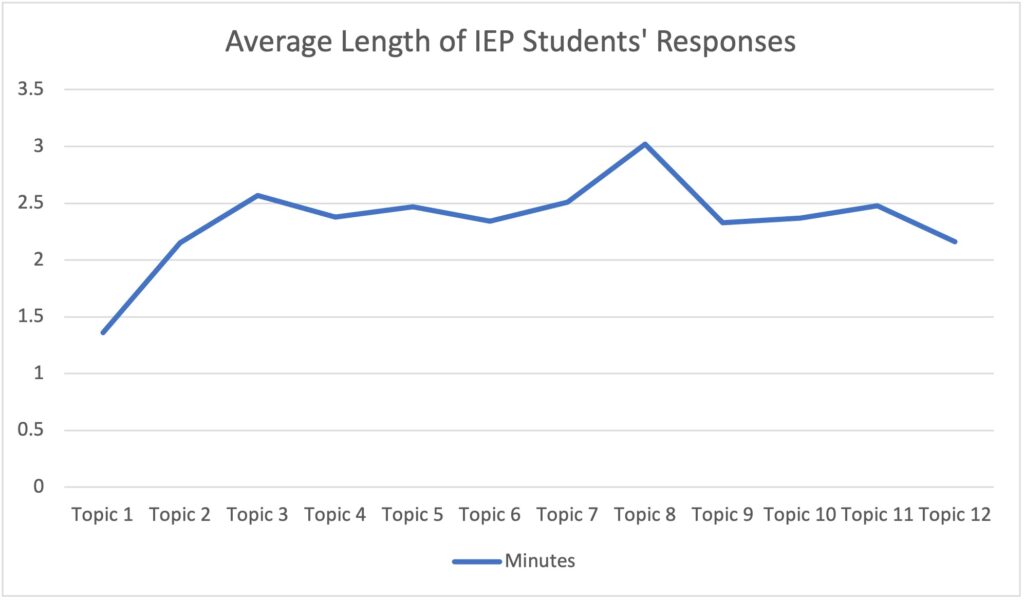 By the middle of the course, the IEP students expressed a desire to continue speaking with their partners: "After chatting with them, I wanted to learn more about Americans . . . I like to watch the videos from my American partners who takes Chinese culture class. They share with me what they learned in class and some of their cultures, and I enjoy answering their questions and sharing some of my cultures with them" (Irene, IEP student). They also recognized linguistic benefits to the conversations: "One thing going well is that my listening is better than before" (Tony, IEP student).
Reflecting on the semester of exchanges between their partners, all IEP students reported that it was a positive experience for them. They mentioned how the conversations improved their listening and speaking abilities in English. "Last semester, I could not communicate a lot with my American friends because my English listening is very poor. Now, although I often get stuck on some complex words, I can have simple conversations with my American friends" (Johnny, IEP student). Students also shared additional benefits of their semester-long video conversations with FLG partners. "[This] was an invaluable opportunity to interact directly with peers in the United States . . . I have learned a lot from the American students. I believe such communication can play a great role in eliminating the barriers between cultures" (Lee, IEP student). In addition, several IEP students commented on how they appreciated their partners' growing understanding of Chinese culture. "They have expressed a lot of their understanding of Chinese culture to me, and they have also shown me their love for Chinese culture" (Harlan, IEP student). 
The IEP students valued the exchange a great deal, as evidenced by their comments above. However, their contribution to the success of the FLG students' positive experience should not be overlooked. All the FLG students applauded their IEP partners' support in not only broadening their cultural knowledge, but also in building a more ethnorelative view of other cultures. Some of the repeated themes in the FLG cohort's reflections included: first-hand experiences and knowledge about China, building international friendships, challenging their stereotypes, and growing interest in visiting China. Many students also used specific examples to support their reflections. Mike (FLG student) wrote the following reflection after a unit on gaokao, China's National College Entrance Examination:
Watching the videos [in class] on …[China's] education system and learning about Gaokao was interesting but I was happy to hear about their personal experience from the exam for them to tell me how it was so I could understand better. Or the stereotype that all Chinese students do is just study constantly, where that may be the situation for some it isn't for all of them. My pen pal partners opened my eyes about that as well explaining to me their own personal hobbies and what they like to do with their friends. 
Dana (FLG student) also appreciated the first-hand knowledge gained from her pen pals. She shared, "I enjoyed getting a better insight on current day China as well as how it relates to my own generation being that my partners are the same age. It was fun getting real life examples and stories on what has happened in their own life, and I cannot wait to visit China one day."
What are the benefits of having an international virtual pen pal?
It was apparent that using Flipgrid for this IVPPE provided abundant opportunities for the IEP students to extend language practice beyond the classroom. With a total of 565 responses, 17,861 views of videos, 1,340 comments, and 967.2 hours of engagement, there is no doubt that this project provided all students with far more opportunities for interaction than traditional face-to-face classes could provide. The IEP students were devoted to authentic intercultural communication (O'Dowd, 2020) during which they comprehended, manipulated, and produced language (Zhang & Luo, 2018). In other words, this IVPPE was able to "create conditions for language learning" (TESOL International Organization, 2022, The 6 principles section, no. 2) and public speaking in a low-risk and less stressful environment. Although Stoszkowski (2018) mentioned that one of the potential barriers to using Flipgrid is students' concern about saying the right thing or showing their best work, we noticed that the feature of Flipgrid that allows students to record unlimited times until they are satisfied counteracted that concern. IEP students were able to share their best practice in the uploaded video, and this gradually enhanced their confidence. For English language students enrolled in online courses or studying in a place with few opportunities to speak English, utilizing Flipgrid for an IVPPE provides students with authentic language tasks and exposes them to language diversity.
An additional benefit of Flipgrid is that it automatically tracks the total number of responses, views, comments, and engagement on a topic. Data can be easily downloaded, and instructors can invite students to join using links or QR codes. Instructors can easily add a co-lead (partner instructor) who can edit groups/topics and approve responses and comments. These "tracking engagement" and "more efficient formative feedback" (Stoszkowski, 2018) features of Flipgrid made it easy for us to "monitor and assess student language development" (TESOL International Organization, 2022, The 6 principles section, no. 5). The two instructors in this project communicated on a regular basis to exchange observations of students' participation, which was a contributing factor to the effectiveness of this project.
Additionally, this project allowed the IEP students to gain cultural knowledge through their peers, who were also learning from them. The feeling that they were not only learners but also experts in some areas helped them feel engaged within a cross-cultural community. At the beginning of the project, many IEP students shared their desires to learn more about U.S. culture, such as holiday celebrations and extracurricular life activities. By the end of the project, they cited many specific examples in their reflective writing to show their learning. Some noted that their views of U.S. culture became more complex and nuanced, evidence of challenging their assumptions (Guillén et al., 2020). They also felt the pride and joy of knowing their cross-cultural partners' appreciation of Chinese culture. Similar results were discovered in Jin's (2018) study about reflection on one's own identity and culture through cross-cultural virtual exchange. This mutual learning opportunity was impactful and valuable, especially during difficult times when the pandemic and tension in the U.S.-China relationship caused increased anxiety and uncertainty.
What should I think about before starting an IVPPE?
In this paper, we described a collaborative project to connect two cohorts in an IVPPE using Flipgrid. Throughout the semester, both cohorts initiated and replied to videos on 12 topics. The statistics recorded in Flipgrid and students' reflections presented linguistic and cultural benefits of virtual exchange. We had a positive experience using IVPPE, and it is our hope that this research-informed project will be adopted by colleagues with similar interests.
For those considering starting an IVPPE with Flipgrid, we offer the following reminders. First, participating in a virtual pen pal project is an engaging way to connect students from diverse classrooms and let them learn from each other. Speaking in front of a class as an individual can be intimidating, especially for shy students or English language learners. Recording a video allows students to think through what they want to say and present their thoughts and ideas without the added pressure of a live audience. English language learners also benefit from viewing videos multiple times to practice listening skills.
Second, to make virtual pen pal exchange effective, it is important for instructors to be thoughtful in creating relatable topics for students and facilitating an online community that allows the students and the instructor "to bond, develop a sense of trust, feel comfortable sharing information," and to maintain "a sense of connectedness" (Lomicka, 2020, p. 306). It is worth mentioning that one of the drawbacks to using Flipgrid is that it is set up for students to access using Microsoft or Google accounts. If students do not have these accounts, an instructor must generate individual usernames and share them with students. It is important for instructors to provide the students with clear instructions on how to access and respond to topics. Instructors may also want to suggest minimum lengths for videos, especially for the first few exchanges. An additional challenge associated with this virtual pen pal project was the need for instructors to check and make sure students completed their videos. This was relatively easy to do using the search feature in Flipgrid.
Finally, we encourage instructors from any course to utilize Flipgrid intentionally and thoughtfully as a tool to increase engagement and connect their students with a wider community. Using Flipgrid to facilitate an international pen pal exchange provides learners with opportunities to gain and share cultural knowledge and experiences while participating in authentic language tasks.
References
Bolliger, D. U., & Inan, F. A. (2012). Development and validation of the online student connectedness survey (OSCS). International Review of Research in Open and Distance Learning, 13(3), 41-65. https://doi.org/10.19173/irrodl.v13i3.1171 
Catalano, T., & Muñoz Barriga, A. (2021). Shaping the teaching and learning of intercultural communication through virtual mobility. Intercultural Communication Education, 4(1), 75-89. https://doi.org/10.29140/ice.v4n1.443 
Donato, R. (1989). Beyond group: A psycholinguistic rationale for collective activity in second language learning. Dissertation Abstracts International, 49(12), 3701-A. 
Garrison, D. R., & Arbaugh, J. B. (2007). Researching the community of inquiry framework: Review, issues, and future directions. The Internet and Higher Learning, 10(3), 157-172. https://doi.org/10.1016/j.iheduc.2007.04.001 
Green, T., & Green, J. (2018). Flipgrid: Adding voice and video to online discussions. TechTrends, 62(1), 128-130. https://doi.org/10.1007/s11528-017-0241-x 
Greenfield, G. M., Keup, J. R., & Gardner, J. N. (2013). New student orientation: Developing and sustaining successful first-year programs. Jossey-Bass.
Guillén, G., Sawin, T., & Avineri, N. (2020). Zooming out of the crisis: Language and human collaboration. Foreign Language Annals, 53(2), 320-328. https://doi.org/10.1111/flan.12459  
Jin, L. (2018). Digital affordances on WeChat: Learning Chinese as a second language. Computer Assisted Language Learning, 31(1-2), 27-52. https://doi.org/10.1080/09588221.2017.1376687 
Klimova, O. (2021). From blended learning to emergency remote and online teaching: Successes, challenges, and prospects of a Russian language program before and during the pandemic. Russian Language Journal, 71(2), 73-85. https://scholarsarchive.byu.edu/rlj/vol71/iss2/5  
Lantolf, J. P. (1994). Sociocultural theory and second language learning: Introduction to the special issue. The Modern Language Journal, 78(4), 418-420. https://doi.org/10.1111/j.1540-4781.1994.tb02058.x 
Lomicka, L. (2020). Creating and sustaining virtual language communities. Foreign Language Annals, 53(2), 306-313. https://doi.org/10.1111/flan.12456 
Long, M. H. (1987). The experimental classroom. Annals of the American Academy of Political and Social Science, 490, 97-109. 
O'Dowd, R. (2020). A transnational model of virtual exchange for global citizenship education. Language Teaching, 53(4), 477-490. https://doi.org/10.1017/S0261444819000077 
O'Rourke, B. (2007). Models of telecollaboration 1: eTandem. In R. O'Dowd (Ed.), Online intercultural exchange (pp. 41–61). Multilingual Matters.
Stoszkowski, J. (2018). Using Flipgrid to develop social learning. Compass: Journal of Learning and Teaching, 11(2). https://doi.org/10.21100/compass.v11i2.786 
TESOL International Organization. (2022). The 6 principles for exemplary teaching of English learners. https://www.tesol.org/the-6-principles 
Torres Beltrán, J. A., & Santana Alarcón, J. L. (2021). Developing young learners' EFL writing skills through a pen pal telecollaboration exchange during the COVID-19 Pandemic in two rural institutions in Boyacá. Universidad Pedagógica y Tecnológica de Colombia, Tunja. http://repositorio.uptc.edu.co/handle/001/3814 
Zhang, Y., & Luo, S. (2018). Teachers' beliefs and practices of task-based language teaching in Chinese as a second language classrooms. Chinese Journal of Applied Linguistics, 41(3). 264-287. https://doi.org/10.1515/cjal-2018-0022 
Alayna Klco
Translanguaging pedagogy has largely focused on K-12 learners in content classrooms. However, collaborative translation is one translanguaging literacy practice that is well-suited for adult English as a Second Language (ESL) learners with thoughtful adaptations based on text choice, course objectives, and learner characteristics.
Keywords: Adult Education, Higher Education, SLIFE, Translanguaging, Language Teaching, Multilingualism
Translanguaging has emerged as an increasingly popular framework in English language learner education (García & Li Wei, 2014; Lin & He, 2017). At its strongest variation, translanguaging as an ideology describes a unitary languaging system and calls for learning environments that enable multilingual learners to use their entire linguistic repertoire (García & Li Wei, 2014). To achieve this, several pedagogical interventions such as collaborative dialogue, multilingual writing and word walls, translation, and multilingual listening/visual resources have been suggested for incorporating translanguaging into the classroom (García & Li Wei, 2014). Thus far, translanguaging has been studied most extensively in K-12 content classrooms. However, the benefits of translanguaging are not limited to this setting, and research suggests that adult learners can also benefit substantially from a translanguaging approach (Turnbull, 2019).
Translation is one of the suggested pedagogies for incorporating translanguaging in the classroom. In an effort to shed light on how this translanguaging strategy can be adapted for adult education contexts, this paper will focus specifically on pedagogical translation and the work of Project TRANSLATE (Teaching Reading And New Strategic Language Approaches to Emergent bilinguals, see Figure 1). All data from Project TRANSLATE described in the adaptations below is based on observations and findings from ongoing research conducted in a middle grade classroom in the Midwest. This work has been completed by a team of researchers that includes the author, who has also been an English as a Second Language (ESL) educator for adult language learners for five years.

Project TRANSLATE uses collaborative translation between the target language and students' home languages as a literacy intervention. To date, this translanguaging pedagogy has been used only in K-12 content-based settings. However, with some adaptation, the TRANSLATE protocol is rich for use in adult English language learning classrooms.
Translanguaging – One Word, Two Meanings
As an ideology, translanguaging views language as a unitary meaning-making system (García & Li Wei, 2014). Translanguaging intentionally enables multilingual speakers to leverage their entire linguistic and multi-modal repertoires in communication with and about people, objects, places, and spaces (García & Kleifgen, 2019). The goals of translanguaging are to deepen students' understanding of texts, generate more diverse texts, develop students' confidence, and foster metalinguistic awareness. García et al. (2021) situate translanguaging as part of asset-based pedagogy and firmly reject the abyssal thinking that places mainstream white English at the top of the language hierarchy. Translanguaging in the classroom is therefore a matter of both educational efficacy and social justice equity (Shohamy, 2011).
As a pedagogy, translanguaging suggests that teachers should leverage students' full linguistic repertoires when teaching a new language (David et al., 2019) and that multilingual practices should be regularly implemented in the classroom (García et al., 2021). Lin & He (2017) put it even more clearly: "Translanguaging can function as both pedagogical scaffolding strategies and opportunities to negotiate and affirm students' identities and build teacher-student rapport" (p. 237). However, while many teachers may share a belief in the benefits of students using their full linguistic repertoires, the reality of how that is expressed in the classroom varies greatly.
Oaxaca, Mexico
Some teachers used translanguaging as a scaffold (for example, providing instructions in students' first language [L1]) whereas others explicitly rewarded the use of translanguaging (for example, in narrative projects) when asked to integrate translanguaging into assessments. 
Studied by Schissel et al., 2021
Basque Country, Spain
University-level content teachers fell into one of three categories based on their use of the target language in the classroom:
virtual position (target language only)

maximal position (as much target language as possible with some flexibility)

optimal position (judicious use of students' L1 to enhance learning). 
Teachers' use of translanguaging was typically reflected in their materials, though not necessarily in their assessments. 
Studied by Doiz and Lasagbaster, 2017
Project TRANSLATE
Project TRANSLATE is a collaborative translation strategy for literacy development that uses pedagogical translation as a social practice in which multilingual students' daily translanguaging practices are mirrored in a classroom setting (David et al. 2019). The TRANSLATE protocol is situated within a guided reading framework (Fountas & Pinnell, 1996), and pedagogical translations are designed to leverage multilingual students' skills to improve strategic reading, translation, and engagement. This, in turn, develops their English language proficiency as well. The TRANSLATE protocol as detailed by David et al. (2019) is grounded in social practice theory and consists of seven primary steps (see Figure 2).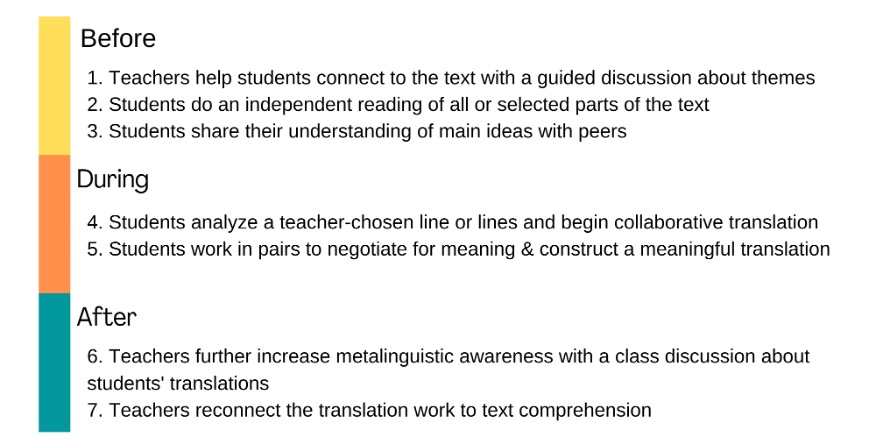 Adapting Pedagogical Translation Across Contexts
What's different between K-12 and adult ESL when it comes to pedagogical translation?
To date, the TRANSLATE protocol has been exclusively studied in K-12 classrooms. To bring this translanguaging practice to adult ESL education requires several adaptations. Adult ESL education and K-12 content classrooms use fundamentally different input texts in addition to having different course objectives and learner characteristics. 
Different Standards, Different Texts
K-12 objectives for English language learners are typically bound to WIDA standards or other federally or state-mandated standards (Gottlieb, 2016). While teachers may have considerable freedom in their lesson planning, there is some consistency in standards across schools, districts, and states. There may be more variation for adult English learners. English curriculum taught as part of an Adult Basic Education program may be connected to a variety of federal standards such as the National Reporting Service Educational Functioning Levels, English Language Proficiency Standards, College and Career Readiness Standards, or may follow state-specific standards (Gonzalves, 2021). On the other hand, adults learning in an intensive English program that is affiliated with a specific school or institution may adhere to standards established by that program. Finally, English language programs established through non-profit organizations or other community education settings may have little to no formal standards process (Entigar, 2017). Adults in each of these learning environments are likely to have different goals and reasons for learning English – job acquisition, preparing for higher education, or survival English for newcomers to name a few. Using TRANSLATE with adult learners starts with a text that is relevant and engaging for their unique needs.
Adaptations: A good text for collaborative translation is relevant to students, tied to learning objectives, and not directly translatable. In an adult education context, relevancy is driven by the goals of the students. For example, if learners are highly job-focused, consider using authentic materials from a work report or dialogue between colleagues. However, fact-based writing tends to be more directly translatable and leaves fewer opportunities for meaning negotiation, so materials with work-related vocabulary as well as some figurative language and complex structures are ideal. On the other hand, if you are working with adults who are learning English in anticipation of shortly entering an English-speaking college or university, a rich text could address a theme central to existing course materials (including anything from civics to signing a lease!), cultural adaptation, or students' future studies.
Content Class vs. ESL
Many K-12 English language learners are acquiring English in tandem with grade-specific content matter. Translanguaging in the classroom fosters critical opportunities for multilingual students to express their full content knowledge, regardless of English proficiency. In contrast, adult learners are more likely to be in an ESL class where acquisition of the target language is the primary objective, though this language learning is still often embedded in thematic, content-driven units. In these classes, the structure of adult ESL classes in many ways more closely resembles a K-12 foreign language classroom. This raises the question of how much translanguaging should be used in the classroom. 
In a classroom where English learning is the primary objective, strong translanguaging is no less of an effective resource when applied strategically (Turnbull, 2019). In a study of Japanese young adults learning English as a Foreign Language (EFL) at a national university, Turnbull found that strong translanguaging, with strategic boundaries, enabled the intentional acquisition of specific linguistic features. Students in the strong translanguaging group produced richer student discussions and consistently higher scores for academic and creative writing than those in the weak translanguaging group where students were required to conduct research only in the target language. Strong translanguaging environments also produced richer student discussions, even when the final writing was produced in English (Turnbull, 2019). This study suggests that translanguaging pedagogies such as collaborative translation have significant potential in ESL and EFL classrooms.
Adaptations: As in K-12 classrooms, enabling the use of students' full linguistic repertoires is key in adult English classes, but ESL classes strongly prioritize language learning in addition to thematic content. To emphasize linguistic connections in the TRANSLATE protocol, teachers can prompt discussion about specific language features, such as negation syntax or object placement, when comparing students' home languages and the target language in addition to negotiating meaning. If teaching in an online learning environment, collaborative translation could take place using editable documents where students can write and compare translations. Then, meaning negotiation could occur either synchronously through a video call or asynchronously by leaving comments. 
Similarly, instructors can ask students to highlight targeted language features in their home language (e.g., modal verbs) and English to identify and analyze notably similar or different structures between languages. In both in-person and online environments, classes with adults whose English course is also their primary source of target language input should place increased emphasis on reconnecting students with the text while using the target language.
Shifting from K-12 to Adult Education
The demographics of adult English learners may vary dramatically in a single program or even within a classroom. Some adult learners may come in with primarily oral proficiency, emergent literacy in their home language, or interrupted education (Pettitt et al., 2021). As a result, while K-12 schools frequently emphasize literacy-based instruction and learning, that is not necessarily effective for all adult English learners (Pettitt et al., 2021). Instead, adult learners with emergent literacy may perform better when instruction is based heavily on oral proficiency and gradually incorporates print literacy (Tammelin-Laine & Martin, 2014). Teaching that builds on learner strengths and the funds of knowledge that all students bring to the classroom also helps develop a learner-centered education environment (Parrish, 2019).
Adaptations: If working with adult learners with emergent literacy, additional modifications to the TRANSLATE protocol will be necessary. For example, the selected text and target sentences for translation must be available in an oral format. Written translations are valuable for meaning negotiation because they afford opportunities to visually compare translation syntax and consider orthographic patterns as part of meaning negotiation. However, an adapted process could rely on teacher collaboration or technology to create the translation record. For example, in our ongoing study, one teacher used a student dictation approach with Nepali-speaking students who were uncomfortable writing in their home language. To complete the translation and translanguage in oral and written modes, students read a text in English, created a translation based on Google Translate and their knowledge of Nepali, and their teacher wrote their verbal, Nepali, translations on paper phonetically using the English script. 
Video technology similarly creates a translation record that allows students to review and compare their recorded translations as many times as necessary while implicitly increasing students' technology literacy in the process (Vega-Carrero et al., 2017). Going forward, speech-to-text technology may also provide a scaffold for language learners with emerging print literacy. Additional scaffolding could be used for students with emerging literacy in their home language by reading the text aloud and conducting the entire activity orally. These adaptations can be used as intermediary steps to written translation if print literacy is a core objective. 
The Takeaway
Facilitating translanguaging pedagogy is a key step to supporting equitable cultural and linguistic development for multilingual learners (García & Kleifgen, 2019; García & Li Wei, 2014; Shohamy, 2011). One strategy to try is pedagogical translation, which helps learners develop strong literacy practices and can be well suited for adult learners as well as K-12 contexts. You know your students best, so consider carefully what will be a meaningful text that meets their interests and your curricular objectives. Then, look for opportunities to negotiate meaning and highlight key language differences to spark metalinguistic conversations as students build multilingual connections in this dynamic classroom pedagogy. 
Additional Reading:
References
David, S., Pacheco, M., & Jiménez, M. (2019). Designing translingual pedagogies: Exploring pedagogical translation through a classroom teaching experiment. Cognition and Instruction, 37(2), 252-275. https://doi.org/10.1080/07370008.2019.1580283 
Doiz, A., & Lasagbaster, D. (2016). Teachers' beliefs about translanguaging practices. In C. M. Mazak & K. S. Carroll (Eds.), Translanguaging in higher education: Beyond monolingual ideologies (pp. 157-176). Multilingual Matters. https://doi.org/10.21832/9781783096657-011 
Entigar, K. E. (2017). The limits of pedagogy: Diaculturalist pedagogy as paradigm shift in the education of adult immigrants. Pedagogy, Culture & Society, 25(3), 347-356. https://doi.org/10.1080/14681366.2016.1263678 
Fountas, I. C., & Pinnell, G. S. (1996). Guided reading: Good first teaching for all children. Heinemann Press.
García, O., Flores, N., Seltzer, K., Li Wei, Otheguy, R., & Rosa, J. (2021). Rejecting abyssal thinking in the language and education of racialized bilinguals: A manifesto. Critical Inquiry in Language Studies, 18(3), 203-228. https://doi.org/10.1080/15427587.2021.1935957 
García, O., & Li Wei. (2014). Translanguaging: Language, bilingualism, and education. Palgrave Macmillan.
García, O., & Kleifgen, J. A. (2019). Translanguaging and literacies. Reading Research Quarterly, 55(4), 553-571. https://doi.org/10.1002/rrq.286 
Gonzalves, L. (2021). A system of erasure: State and federal education policies surrounding adult L2 learners with emergent literacy in california. In D. S. Warriner (Ed.), Refugee education across the lifespan (pp. 271-288). Springer.
Gottlieb, M. (2016). Assessing English language learners: Bridges to educational equity (2nd ed.). Corwin.
Lin, A. M. Y., & He, P. (2017). Translanguaging as dynamic activity flows in CLIL classrooms. Journal of Language, Identity & Education, 16(4), 228-244. https://doi.org/10.1080/15348458.2017.1328283 
Parrish, B. (2019). Teaching adult English language learners: A practical introduction (2nd ed.). Cambridge University Press.
Pettitt, N., Gonzalves, L., Tarone, E., & Wall, T. (2021). Adult L2 writers with emergent literacy: Writing development and pedagogical considerations. Journal of Second Language Writing, 51 (Supplement 2021), 1-5. https://doi.org/10.1016/j.jslw.2021.100800 
Schissel, J. L., De Korne, H., & López-Gopar, M. (2021). Grappling with translanguaging for teaching and assessment in culturally and linguistically diverse contexts: Teacher perspectives from Oaxaca, Mexico. International Journal of Bilingual Education and Bilingualism, 24(3), 340-356. https://doi.org/10.1080/13670050.2018.1463965 
Shohamy, E. (2011). Assessing multilingual competencies: Adopting construct valid assessment policies. The Modern Language Journal, 95(3), 418-429. https://doi.org/10.1111/j.1540-4781.2011.01210.x 
Tammelin-Laine, T. & Martin, M. (2014). The simultaneous development of receptive skills in an orthographically transparent second language. Writing Systems Research, 7(1), 39-57. https://doi.org/10.1080/17586801.2014.943148 
Turnbull, B. (2019). Translanguaging in the planning of academic and creative writing: A case of adult Japanese EFL learners. Bilingual Research Journal, 42(2), 232-251. https://doi.org/10.1080/15235882.2019.1589603 
Vega-Carrero, S., Pulido, M., & Ruiz-Gallego, N. E. (2017). Teaching English as a second language at a university in Colombia that uses virtual environments: A case study. Revista Electrónica Educare, 21(3), 1-21. https://doi.org/10.15359/ree.21-3.9 
We are thrilled to celebrate MinneTESOL Journal's 40th anniversary with the publication of volume 37, issue 2. This excellent collection of articles highlights the latest innovation in the field of English language teaching and learning. 
We welcome our first youth author, Sumia Sabrie, senior at Mankato East High School and PSEO student at South Central College. In her article, "The Academic Struggles of Somali Families," she addresses the public schools' historical lack of cultural and linguistic responsiveness to Somali families and how hiring teachers of color and cultural mediators have helped bridge the divide. Also focused on areas for improvement in the K-12 context, Michelle Benegas, Trish Morita-Mullaney, Jenna Cushing-Leubner, Amy Stolpestad, and Michelle Greene share findings from a tri-state study that examined the experiences of ESL teachers at the beginning of the COVID-19 pandemic. "Systemic Infrastructure for Multilingual Success: ESL Teacher Responses to Emergency Remote Teaching and Learning at the Onset of the COVID-19 Pandemic" also shares recommendations for systemic infrastructure for multilingual success in K-12 schools. From the college sector, in "10 Years of a Lab School: Preparing MA-TESOL Students to Teach Adult Learners," Susan Olmstead-Wang, Josephine Prado, and Susan Spezzini reflect on the impact of the Community English Program at the University of Alabama-Birmingham and offer strategies for ongoing improvement. 
In "Perceptions of Multilingualism in the Classroom," Sophie Breen examines the perceptions that teachers, administrators and students have about multilingualism in the K-12 classroom. Also focusing on the linguistic assets that K-12 learners bring to the classroom, Dayna Hillcrest makes a compelling case to change the monoglossic ideology in schools where it is prevalent by encouraging multiple language use in the classroom in "The Academic Benefits of Translanguaging." Also committed to excellence in English language (EL) education, WIDA's content-driven language learning framework has provided needed structure for EL instruction. Lynn Shafer Willner, Fernanda Marinho Kray, and Margo Gottlieb provide a comprehensive overview of the WIDA standards in "What's the Same and What's Been Updated in the 2020 Edition of the WIDA English Language Development Standards Framework?"
Please read, enjoy, and share the research and practice ideas in this issue of MinneTESOL Journal! We look forward to 40 more years of learning together. Stay connected to our MinneTESOL Journal community by following the journal on Facebook and on Twitter (@MnTESOLjournal).
Public schools' lack of cultural and linguistic responsiveness to Somali families is leading many of them to change schools, move to charter schools, relocate to a different area of the United States, or return to Somalia. To mitigate this growing problem, schools have been using cultural mediators to help create a bridge of communication and hiring teachers of color for a better representation of diversity in schools.
Keywords: Somali culture, education, academic barriers
When I was in middle school, I had a hard time getting to know my classmates, especially my Somali peers. The average person might attribute this to my quiet demeanor; however, the real reason had nothing to do with being introverted. In fact, I was very isolated because I was often the only non-White student in my classes. Occasionally, other Somali-American students would appear, but then many of them would soon transfer to a different school or even move back to Somalia in some cases. This made it difficult for me to form relationships with them before they left. Ultimately, being the only Somali-American in the school affected my engagement in learning.
My experience of cultural and linguistic isolation in schools is the reality for many Somali students in U.S. public schools (Koch, 2007). Schools often do not address Somali students' isolation, nor do they actively support their language and culture (Birman et al., 2001, as cited in Koch, 2007). Due to reasons such as these, many Somali parents move their children to different schools in hopes of finding the right fit. The constant relocation of Somali families could be one of the reasons it is difficult for Somali youth to complete their high school education. In Minnesota, 34% of Somali-Americans aged 25-64 do not have a high school diploma, compared to only 3% of the White population in Minnesota (Johnson, 2018). When Somali students come to a U.S. public school after emigrating from Somalia, they need relevant education that does not conflict with their language, culture, and religion. As a Somali-American high school student myself, I would like to share my perspectives on why many Somali families are not content with their children's education and how public schools can better support their students' educational journey.
Somali parents' expectations and motivations for their children's education
To fully understand Somali students' struggle for quality education, it is important to understand why Somali families have resettled in the U.S., Canada, and Europe. Obtaining a quality education in Somalia itself has been very difficult in the aftermath of the Somali Civil War. Nonetheless, before the start of the war, most Somalis lived in rural areas and adhered to the teachings of Islam. The society was mainly democratic and there were various clans that made up the country's population. Both men and women had roles in the community that had equal importance. However, the civil war affected daily life in many aspects, including Somali public education. For the promise of safety and opportunity, many families emigrated from Somalia and looked for better lives free of conflict (Putman & Noor, 1993, as cited in Koch, 2007, p. 2). Furthermore, in the 1980s (pre-civil war), Islamic religious schools were the only type of schooling available to the public in Mogadishu (Iftin & Alexander, 2018). The civil war continues today and has lowered the opportunities for education available to the Somali public. Of course, it is important to note that many refugees do manage to obtain excellent educations in some private schools in Somalia, as well as in surrounding countries such as Kenya, Ethiopia, and Djibouti.
Along with these historical reasons, until immigration to the U.S., Somali parents are also used to schools in Somalia and neighboring countries reflecting their culture, including Islamic holidays, studies, and values, along with academic subjects. Because most Somalis share a similar culture and religion, numerous Somali families are surprised by the Christian-centered community dynamic in their new homes. In my experience, school culture in the U.S. unconsciously adopts Christian values, customs, and holidays. The new ideas and different curriculum in these American and European areas make Somali parents feel hesitant and unqualified to get involved with their children's education. In order to maintain their cultural identity, Somali families move to areas with a high Somali population and, if all else fails, relocate to Somalia or to the Middle East.
Choices of Somali families
The results of cultural assimilation
Non-Somali people often criticize and discriminate against Somalis due to factors such as their culture, religion, language, and race (Koch, 2007). Thus, in an attempt to fit in, some Somalis try to use Black culture and hip-hop as a source of comfort (Bigelow, 2008). It is apparent that Somalis are working hard to adapt to their social surroundings and are putting in numerous efforts to build relationships with their peers.
However, in the process of cultural assimilation, Somalis can lose a part of their cultural identity as well. Moreover, this aspect of coping can be seen in a negative light by the public. They, along with their Black classmates, experience discrimination within the schooling system due to assumptions made about their race, culture, ethnicity, and immigration status. These students feel that they have fewer opportunities to gain jobs and attend college due to the blatant prejudice that exists (Bigelow, 2008). Ignorant assumptions are a major shadow over their academic achievements and progress (Maira & Soep, 2013). The false ideas created about Somalis are then reflected onto the entire Somali population. In turn, it should be noted that Somalis have also found ways to use Black culture in a positive light. While Somali parents still disapprove, Somali youth draw on Black vernacular and music as ways to build their identities (Maira & Soep, 2013). Through this process, Somalis are better able to express themselves linguistically and can communicate with their teachers and peers on another level (Maira & Soep, 2013). Therefore, Somalis can learn more about the English language by looking toward Black culture and becoming confident in their linguistic skills. They use aspects of this culture to bring a sense of belonging, advocate for their future through verbal speech, relieve stress by listening to Black music, and make friends within the Black community.
Charter schools
Undoubtedly, Somalis have the power to make a variety of decisions to overcome any obstacles that might form in their path. If moving away and adopting local culture does not allow Somali children to overcome their educational hardships, many Somali parents transfer their students from public schools to charter schools. From what I have witnessed, public schools tend to make Somali students feel restricted in their cultural and religious practices, and the traditional system makes it hard for Somali parents to advocate for their child's education. Without a firm grasp on English, Somali families struggle to communicate what kind of support their child needs academically. Even though public schools have more college preparation and educational resources, I do not believe that public schools have the proper cultural and linguistic support to meet the needs of Somali students. On the other hand, I have found that charter schools are more creative and unconventional in their school structure. Somali families feel a greater sense of community and feel that they can practice their culture more freely. In fact, when deciding what educational institution to send their children to, "one out of three Somali families choose Charter" (Johnson, 2018, p. 20). In addition, there are charter school groups that are trying to help minority students get into the best colleges despite their difficult circumstances. Factors such as parents with limited English, financial aid, and graduation rates are addressed by these charter school teams. List of colleges are created for each student based on compatibility (Blume, 2019). With these support programs put into place, Somali students feel more comfortable after leaving their charter schools and heading toward college.
Efforts by public schools
Much like charter schools, public schools have also developed methods to help Somali students feel welcome in their buildings. To accommodate a wide variety of immigrant students, there have been many different classroom models made to support English learners. There are pull-out classes, English learning periods, co-teaching, and many more strategies being implemented in the hope of furthering English development among students. However, students have often noted feeling a negative stigma when being separated from their classmates in pull-out instruction (Johnson, 2018). Moreover, the purpose of English Language Learner (ELL) classrooms is not properly communicated to families and makes most Somali parents feel that their child will not be served well by such programs. There is often a language barrier between Somali families and schools that creates a sense of distrust and unease when trying to share resources for Somali youth. For the purpose of increasing inclusion, some schools are trying to use more of the Somali language as a resource to make students feel more connected to academic content. Research tells us that bilingual immersion aids in retaining grammar and vocabulary in both languages (Johnson, 2018). Along with that, Somali students find it important to be able to read and write in their native language since it further connects them to their cultural identity. The use of books and other forms of literature can help promote native language development along with English proficiency (Johnson, 2018). In Somalia, most students learn how to speak Arabic along with their other subjects. Arabic is the foundation for the Islamic holy text, the Qur'an, and is also used as an international common language for Somalis. The teachings of this language along with Somali promotes bilingual education and helps students attach a personal connection to their studies (A. Sabrie, personal communication, November 11, 2020). However, public schools usually do not have the funding they need nor knowledge about how they can properly adapt their classrooms to create these vital connections for Somali students.
Innovative school initiatives
As mentioned earlier, U.S. public schools have noticed that their practices for teaching Somali students through ELL classroom models have been less effective than they had hoped. School administrators have also begun to feel how ill-equipped they are to serve Somali students and teachers since they speak different languages, adhere to different religions, and have a different culture from each other. Their differences can cause misunderstanding and frustration for both parties. In an attempt to find mutual ground, schools are trying to hire more people of color as teachers and trying to encourage minority students to become teachers (Thomas, 2016). The gap between Somali students and their teachers must be lessened through the connection and understanding of language and culture. Somali students find it comforting to be able to converse with their teachers in their native language and feel reassured that their teachers understand the aspects of their cultural norms (Koch, 2007). Teachers need to use the tools of language and culture to help their students feel like they have an important place in the learning environment.
There are many promising examples of schools narrowing the gap between staff and Somalis students in South Central Minnesota. In particular, the ISD 77 school district has made great progress regarding their strong connection with Somali students and their families. School staff have provided support to families by connecting them to resources, such as school supplies and study materials. As of now, schools in the ISD 77 district are coming up with different approaches on how they can increase the representation of people of color in the teaching field. In fact, ISD 77 schools are reaching out to minority students as young as thirteen years old to teach them more about the requirements for becoming a teacher. This developed pathway supports students of color to achieve their dreams of being a teacher in the future. Moreover, there is also a program called "Grow Your Own" that helps pay for the education of students of color through district funds so that they can hope to become a future teacher (A. Sabrie, personal communication, November 11, 2020). All of this effort toward building up diversity will create a brighter future for generations to come. The current level of representation in the teacher population leaves room for unconscious bias toward students of color. Once this bias has been eradicated, the public school system will be a safe haven for all its diverse students (Johnson, 2018).
Following these efforts to support greater Somali student academic achievement, U.S. public school educators and administrators are currently trying to learn about Somali history and culture in order to better understand their students. For a deeper connection, schools can work with leaders in the Somali community to help distribute resources to Somali families. There is a greater importance being placed on learning about Somali trauma from the civil war and how Somali (and the Somali people's) culture has been the foundation of overcoming their problems. The training of culturally-sensitive guidance counselors can be used to help students overcome the wounds of their past. Also, hiring cultural brokers and liaisons can help facilitate a bridge of communication between teachers and Somali parents (Birman et al., 2001, as cited in Koch, 2007).
Conclusion
In conclusion, the growing issue of U.S. public schools' lack of knowledge about Somali culture has made Somali families look towards a plethora of alternative options. For Somalis, the most important aspect of education is culturally relevant pedagogy. The current broken connection between teachers and Somali parents has generated frustration and confusion that leads to students leaving public schools for another choice. It has been found that Somali families would rather move to another area, attend a charter school, or even relocate back to Somalia in order to protect their cultural and linguistic identity (Thomas, 2016). In response, schools have begun to shift from pull-out ELL classroom models and are instead putting a focus on utilizing Somali culture and language as part of the curriculum. The hiring of more minority teachers will continue to grow the teacher workforce into one that is understanding and able to connect with Somali youth. These trends are especially important for both school districts and Somalis alike. School staff can look to these emerging solutions as examples of how they can further develop their own schools. On top of that, these ideas can be adapted for other minority groups that are also seeking a more appropriate education. Somali parents can also look at the recommendations of members of the Somali community and advise each other on culturally relevant education choices. As they learn of the new steps put into place by schools, Somali families might decide that working with the school administrators is the best option in the end. I hope that by listening to the voices of Somali-American parents as well as students like myself, school districts will be able to work with Somali families to keep Somali students in their schools through new programs and specialized staff.
References
Bigelow, M. (2008). Somali adolescents' negotiation of religious and racial bias in and out of school. Theory Into Practice, 47(1), 27-34. https://doi.org/10.1080/00405840701764706 
Blume, H. (2019). Getting into college is hard. A degree? Harder: Charter-school group creates list to match minority students and schools for best fit. Los Angeles Times. Accessed 3 November, 2021 at https://enewspaper.latimes.com/infinity/article_share.aspx?guid=6615a8aa-77f8-4092-8641-9315ca87369b 
Iftin, A. N., & Alexander, M. (2018). Call me American: A memoir. Vintage.
Johnson, A. (2018). Somali student achievement in Minnesota: A report on the largest East   African community in Minnesota. Minnesota Education Equity Partnership and Augsburg University. Accessed 3 November 2021 at https://mneep.org/resource/somali-student-achievement-in-minnesota-2018/ 
Koch, J. M. (2007). How schools can best support Somali students and their families. International Journal of Multicultural Education, 9(1). https://doi.org/10.18251/ijme.v9i1.8 
Maira, S., & Soep, E. (2013). Youthscapes: The popular, the national, the global. University of Pennsylvania Press.
Thomas, P. (2016). Norwegian-Somali parents who send their children to schools in Somalia. Cogent Education, 3(1). https://doi.org/10.1080/2331186x.2016.1229520
The purpose of this study is to examine how elements of systemic infrastructure for multilingual success (SIMS) contributed to English as a Second Language (ESL) teachers' ability to engage in language instruction during emergency remote teaching and learning (ERTL) in the initial months of the COVID-19 pandemic when schools were transitioning to distance learning. Focused on the Great Lakes region, we utilized surveys and interviews to learn about the roles and responsibilities of ESL teachers during this critical transition. Findings illuminate the generative effects of existing SIMS such as collaboration and co-teaching, ESL leadership, and technology as well as the negative approaches to school infrastructure such as combined teacher/coordinator roles and at-will educator employment. Implications for systemic school reform for multilingual learner equity are discussed.
Keywords: English learners, COVID-19, Instruction, service, infrastructure, multilingual, remote
In 1981, the Castañeda v. Pickard case established a three-part framework to evaluate the efficacy of school district English as a Second Language (ESL) service programs. Thirty years later, the expectations specified in that case have been put to the ultimate test: a global pandemic. With almost five million students categorized as English Learners nation-wide (Mitchell, 2020) and an education system experiencing strain like never before, this article will illuminate how well our schools were able to adhere to the stipulations of Castañeda v. Pickard during emergency remote teaching and learning (ERTL).
The focus of the present study is on systemic infrastructure for multilingual success (SIMS) in the Great Lakes Region of the U.S., including Minnesota, Wisconsin, and Indiana. While these states have similar profiles when it comes to immigrant and refugee populations (U.S. Department of Education, n.d.), they have vastly different structures and policies in place when it comes to ESL education. Given these conditions, the research question guiding this analysis is: Which elements of SIMS afforded the least disrupted language learning experience during ERTL?
At the time of data collection, Minnesota had the most robust SIMS of the three states with the most comprehensive multilingual learner (MLL) legislation in the nation—The Minnesota Learning English for Academic Proficiency and Success [LEAPS] Act, 2014—rigorous teacher licensing requirements consisting of a stand-alone license of approximately 30 credit hours and mostly at the graduate level (M. Sandler, personal communication, September 2, 2021), and one of the largest state ESL teacher professional organizations in the nation, MinneTESOL (an affiliate of TESOL International Association). In addition, one of the researchers conducting this study, Michelle Benegas, is the principal investigator on a National Professional Development grant from the U.S. Department of Education called The English Learners in the Mainstream (ELM) Project. The ELM Project has prepared over 400 licensed ESL teachers across the state to serve as teacher leaders who provide professional development and coach their general education colleagues on promising practices for MLLs. In partnership with public districts, public charters, and private schools in urban, suburban, and rural communities, the ELM Project has increased the collective preparation of general educators across the state to better serve MLLs as well as the capacity of ESL teachers to serve as site-based instructional leaders. This manuscript will focus on data collected from Minnesota participants of the larger study to highlight how a state with strong SIMS carried out the expectations of historic supreme court cases and the Minnesota state LEAPS Act (2014).
Terminology
The term "ESL teacher" is used throughout this article, as this reflects Minnesota state licensure requirements. While the state continues to use the term "English learner" or "EL" to refer to students acquiring English, we have opted to refer to these students as "multilingual learners" or "MLLs" to validate and celebrate the assets they bring to the classroom. "Instruction" refers to language and/or literacy support that facilitates access to academic content. "Service" refers to any non-instructional support that facilitates daily living or access to instruction.
Literature review and background
Building SIMS
U.S. MLL education policy is sparse and sporadically adhered to. However, one doesn't need to look far to find an alternative. U.S. special education policy, for example, garners bipartisan support, statutorily limits teacher caseloads, specifies student contact hours as well as service models, and requires a legally binding contract that is required to be re-evaluated annually. McGill (2000) highlights the ways in which ESL programs are positioned as subordinate in school curriculum and draws parallels to the ways in which immigrants are marginalized in society. Additionally, there is research to support the claim that such marginalization of MLLs also manifests as marginalization of ESL teachers (Arkoudis, 2006; Davison, 2006; McClure & Cahnmann-Taylor, 2010). Nation-wide, the trend has been for ESL teachers to be positioned as reading specialists, classroom assistants, and interventionists (Harper et al., 2008). 
Given the impact of systemic racism on MLLs and the resulting diminished perception of ESL teachers, building effective school infrastructure is a significant challenge (Spillane et al., 2011). School infrastructure refers to "the resources that support school leaders and teachers in providing high-quality instruction" (Hopkins et al., 2015). Developed by the researcher for this investigation, the heuristic guiding analysis in this article is SIMS. The elements of SIMS are the following:
Informed

: ESL teachers have robust preparation; general education teachers and support staff have continuous professional development on promising practices for MLLs; and MLL leaders have ESL teacher credentials in addition to years of experience in the classroom.

Proactive

: Support systems are in place

prior

to a schooling disruption.

Collaborative

: Responsibility for MLLs' success is shared across district/school sectors (social work, information technology, nurse, nutrition services, general education teachers, ESL teachers, etc.).

Distributed

: Decision-making and leadership for MLLs are shared by a variety of professionals with MLL expertise.

Responsive

: Support systems for MLLs are based on a continuous cycle of improvement and staff are provided ongoing professional development to respond to changing needs.
Building adequate and appropriate SIMS is particularly challenging in communities with rapidly changing student populations. Minnesota has more refugees per capita than any other state (Shaw, 2018), most of whom have been relocated in the last thirty years. This rapid demographic shift necessitated strong enough SIMS to withstand strain on the education system to avert a negative impact on MLLs during ERTL.
ERTL and the COVID-19 pandemic
ERTL is the response to a disruption in the predominant educational model. This disruption could be the result of political, economic, social, or environmental instability (Davies & Bentrovato, 2011; Milman, 2020). ERTL is distinct from typical online teaching and learning, in which school infrastructure is designed for a virtual format ahead of time and not during a time of crisis (Affouneh et al., 2020; Hodges et al., 2020; Milman, 2020).
​​In the case of the COVID-19 pandemic, in the months of March, April, May, and June of 2020, teachers and other school leaders were called to make significant, abrupt changes as they transitioned to distance learning. During this time, the role and responsibilities of ESL teachers varied widely. Depending on the existing infrastructure in place to support MLLs, ESL teachers adapted and, in some cases, were unable to adequately attend to instruction as their attention was directed toward service-related tasks in order to ensure that their students had adequate shelter, food, healthcare, technology, and access to WiFi. This study sought to highlight how ESL teachers assumed, negotiated, and resisted instruction and service-related tasks during ERTL (Morita-Mullaney & Stalling, 2018).
Methodology
This two-phase case study draws from data collected via 405 completed surveys and 60 semi-structured interviews of ESL teachers conducted between the months of April and June, 2020. The hallmark of case study research is the bounded unit of analysis, otherwise known as the case. Hamel et al. (1993) assert that the goal of case study research is the reconstruction and analysis of a case from a sociological perspective. Similarly, Johnson and Christensen (2008) maintain that case study research is "research that provides a detailed account and analysis of one or more cases" (p. 406). In case study research, the case is determined based on the question(s) that the researcher seeks to answer. Yin (2014) explains that a case is a unit of analysis, which may be an individual, an event or entity. Stake (2006) furthers that each case can be a "bounded system" in that it is made up of interrelated components or characteristics that have identifiable boundaries. Data were analysed for evidence of SIMS in place prior to the start of the pandemic in order to evaluate which SIMS are effective in providing MLLs with uninterrupted language learning and which infrastructural approaches are ineffective. For the purpose of this study, we narrow in on the state of Minnesota drawn from a larger scale study (Cushing-Leubner et al., 2021; Morita-Mullaney et al., 2021).
Participants
Study participants were recruited according to readily available teacher contact information in each state. In Indiana and Minnesota, surveys were distributed to the membership of each state's TESOL affiliate. TESOL International is the predominant professional organization in the field of ESL. As such, MinneTESOL (Minnesota) and INTESOL (Indiana) facilitated the distribution of surveys to practicing K-12 ESL teachers in public district, public charter, and private schools in Minnesota and Indiana. Minnesota also utilized The ELM Project listserv to distribute surveys. In the state of Wisconsin, schools with ESL programs were identified using the Department of Public Instruction list of school districts and teachers, and participants were solicited using the emails listed on their school websites. Participants were novice and experienced ESL teachers.
Data collection: Surveys
A survey was divided into three sections: teacher and school demographic information, ESL teacher instruction provided before and during ERTL, and ESL teacher services provided before and during ERTL. The multiple choice survey was created using Qualtrics and shared via hyperlink. At the end of the survey, participants were given the opportunity to volunteer to participate in a follow-up interview. Data were disaggregated by state to examine patterns across these demographically similar contexts. While this study starts with an overview of the three states, its main focus is on the state of Minnesota, where SIMS looks different compared to other Midwest states studied (Indiana and Wisconsin). Of the 405 ESL teachers that responded, 47% were Minnesota teachers.
Data collection: Interviews
The semi-structured interviews were conducted via Zoom and WebEx. Data were transcribed using Zoom and WebEx as well. Interview questions were focused on the categories of instruction and service. Items related to instruction focused on frequency, methods of delivery, and content of instruction. In the area of service, items pertained to ways in which ESL teachers served ELs in non-instructional ways. Participants also reported the percentage of time that they spent working on instruction compared to the percentage of time that they spent working on service prior to and during ERTL. Finally, they were asked to consider how they may have been positioned to carry out these instructional and service roles. Of the 60 follow-up interviews that were conducted, Minnesota ESL teachers represented 45% of the total number of participants.
Data analysis
Data were coded and analysed using NVivo software. We utilized thematic coding to examine how ESL teachers assumed, negotiated and resisted particular instruction and service-related tasks during ERTL. Teachers who assumed tasks did what they were asked to do. Teachers who negotiated tasks voiced their opinions and found a middle ground. Teachers who resisted tasks refused to engage in tasks based on principle or bandwidth. The heuristic guiding this article is the five elements of SIMS which are: 1) informed, 2) proactive, 3) collaborative, 4) distributed, and 5) responsive.
Findings: Effective SIMS
This investigation demonstrated that quality MLL programming is not dependent on the number of MLLs served, rather the infrastructure that is in place. Through coding and analysis of the data, three themes emerged as features of systems that are aligned with the five elements of SIMS. SIMS functions with: 1) expert professionals in a distributed leadership model; 2) collaboration and co-teaching; and 3) technology support in place. While this study didn't seek to find infrastructural elements that impeded ESL teachers' ability to provide uninterrupted language instruction during ERTL, two emerged. They are presented below as examples of ineffective infrastructure for multilingual learners.
Expert professionals in a distributed leadership model
This finding attends to the first and fourth elements of SIMS: informed and distributed. These systems are informed by experts in the field and leadership responsibilities are shared amongst colleagues. In the case of K-12 schooling, leadership responsibilities can be taken up by the building principal, assistant principal, district level ESL coordinator, multicultural liaison, teacher, and other staff. When schools had this element of SIMS in place, ESL teachers were also more apt to be able to carry out instruction during ERTL. One teacher participant reported:
Our ELL coordinator was very instrumental. We had weekly check ins with her… She has the ear of the curriculum and instruction people at the district… so if issues came up, she could bring them up at the district level too. 
Reflecting on school-level leadership structures, another teacher shared:
Oh my principal is the most supportive principal I've ever had. I, which is why I'm never leaving… I also had weekly check-ins with my coach to help me work through any issues. 
Finally, this participant expresses that she works on a high functioning collaborative leadership team when she says:
I feel like I'm very fortunate. I have a support staff. If I reach out to an assistant principal and say, 'This needs to happen', it will get done… We've been able to get tons of help. And everybody is definitely, at least in my building, in my experience, 100% there to make sure that the [MLLs] are getting what they need.
The above selections from participant interviews illustrate how a distributed leadership model can offer a web of support to be accessed when needed, relieving the ESL teacher from the pressure they may feel to be the be-all and end-all for MLLs in their classes.
Collaboration and co-teaching
The third element of SIMS is that they are collaborative. In schools with a collaborative approach to service and instruction, ESL teachers reported little disruption to their language instruction at the onset of ERTL. One element of SIMS that presented itself repeatedly in the data is a collaboration and co-teaching model. One teacher reported: 
We meet non-stop. I feel like we're texting and talking in PLC all the time… So the five of us kind of just work together to make sure that we're hitting different areas where we're focusing with different students. 
Whereas some co-teaching models fall short when it comes to collaboration and co-planning, this team is cohesive and connected. When the responsibilities are spread out over a team of teachers, they are more successful in meeting the needs of all learners. Teacher relationships like those described above develop over time. One participant shared:
I've been a teacher for a long time. I've been a co-teacher for a long time. And it's one of those times where all of a sudden… all the things fall in place. The guy I co-teach with, he and I taught [together] for seven years and it was like, "Oh my God we're doing it, we're doing like, what you read about."
This participant refers to the rationale beyond collaboration and co-teaching as an element of SIMS—to reinforce the MLL language learning experience so that it is continuous, uninterrupted, and impermeable to factors outside of the classroom.
Technology support in place
The second element of SIMS is that they are proactive. Technology and technology support facilitated learning environments where ESL teachers were able to carry out uninterrupted language instruction. The proactive aspects of technology that were reported to improve ERTL are:
a learning management system (LMS) in place prior to the start of the pandemic;

one-to-one devices for all students;

a non-instructional technology department that can assist with hardware as well as WiFi;

and teachers and students who have a high level of digital literacy. 
A critical component to a smooth transition to distance learning was an LMS in place prior to the transition to ERTL. While many secondary students were already skilled LMS users, few elementary schools had them in place in March of 2020. Dedicated technology support was also critical to ensuring teachers had the bandwidth to provide instruction to MLLs during this time. Many teacher participants in this study reported sacrificing hours of instructional time in lieu of student tech support. One teacher shared how this infrastructure allowed her to do her job when students needed her the most. She shares:
When we've needed technical support, our administration is on top of it to make sure that things are delivered in a timely manner and following up to make sure that it doesn't go into the black hole of service tickets.
Schools with technology support infrastructure in place allowed MLLs to engage in more uninterrupted instructional time.
By far, the most challenging aspect of technology during ERTL was the lack of reliable WiFi. The pandemic revealed how many families were without connectivity and the support that these families needed so that their children could participate in school was significant. Whereas some teacher participants were struggling to negotiate with the local cable company on the weekends, another remarked:
We had a cultural liaison that would literally go to the apartment complex and help these kids get it hooked up because, if after multiple calls and multiple times, the kids just were not able to get it hooked up for whatever reason, he finally just went to the house and hooked it up.
The COVID-19 pandemic demonstrated that access to technology is a basic need, not a privilege. When students have this basic need met, their academic experience is less likely to be impacted during a time of crisis.
Findings: Ineffective infrastructure for MLLs
While the aim of this article is on SIMS that improved ESL teachers' ability to focus on instruction during ERTL, there were also examples of approaches to school infrastructure that bore out negatively when it came to ESL teachers' instructional bandwidth. The data show two structural aspects that negatively impacted the continuous language learning experience for MLLs during ERTL. It is significant that data from both of these findings were present exclusively amongst ESL teachers in charter schools.
Dual teacher – MLL coordinator role
Data revealed that a number of ESL teacher participants in charter schools are asked to wear multiple hats—they may serve instructional as well as administrative roles, without adequate time built into the day or provisions in place to prevent disruptions to MLL language instruction. In the case of ERTL, schools with pre-existing limited capacity to support MLLs that assigned one person to multiple roles, such as school-wide MLL coordinator and ESL teacher, experienced impeded possibility for collaborative and distributive SIMS. MLLs benefit from teams of professionals who are committed to their best interests. In the absence of a professional team, dual role professionals will defer to administrative tasks and sacrifice instruction. Educators in these roles reported that they were often unable to provide direct instruction to MLLs during ERTL due to time constraints. Sometimes these roles were assumed and sometimes they were ascribed. Highlighting the complexity and demand of the position, one teacher/coordinator shared her duties in addition to teaching:
I also serve as the EL coordinator, which has some coaching. I'm also our school district assessment coordinator and migrant liaison… I'm the first point of contact for a lot of our immigrant families and so I help students access internet, access housing, access food.
Throughout the interview transcripts, professionals in these dual roles referred to themselves as "therapist," "mother," and "social worker"—roles that they didn't feel prepared to carry out. They witnessed students struggle as a result of the limited school support and often took that on as a personal failure. One teacher/coordinator reflected on their instructional delivery being reduced to sporadic homework help:
It was just… horrible. I didn't hear from three of my level ones [WIDA Proficiency Levels], the entire time… They would pull up their assignment, and I would just come up with something on the fly…It was just absolutely horrible—not proud of anything I did.
In many cases, dedicated language instruction goals were eliminated entirely from MLLs' schedules and ESL teachers were relegated to attend exclusively to general education goals. Perhaps the most poignant comment from a teacher/coordinator was:
So I honestly did not do very much instruction… And I think that our whole distance learning process was very inequitable, especially towards our language learners. 
Study participants were cognizant of the ways in which MLLs were being provided a sub-par learning experience but it was out of their locus of control.
At-will educator employment
In the state of Minnesota, the vast majority of teachers in charter schools have at-will teaching contracts, which means that they can be dismissed at any time without advance notice and are without access to tenure or union representation (Eischens, 2021; Resilient Educator Editorial Team, 2021). Participants in this study illustrated the strain that they experience due to these conditions. Feeling frustrated and unappreciated, one teacher/coordinator shared: 
And nobody else really even understands, so they just kind of treat us like a hot potato.
Certainly, this falls in stark contrast to the second and third elements of SIMS, which are that they are proactive and collaborative. In line with previous findings, another participant reported being misunderstood by their colleagues and indentured to general education support:
I just positioned myself as, "All right, let's get all of you across the finish line in your other classes. Let's not focus on this one [EL class]." And I think I was forced into that position by other staff members, just because they were not going to accommodate or modify anything.
The perception of being misunderstood escalated in one case to an ESL teacher feeling threatened by general education colleagues. This teacher remarked:
There are teachers in the building that when I try to remind them there's an [individual language plan] and the students are entitled to accommodations that I get screamed at and cussed at in front of students. So yes, it's pretty regular that I have to do that. And pretty regular that kids won't get service because that's not what I want to risk my career over today, you know?
Not only did this participant feel threatened by her colleagues in the classroom, she also felt that their employment could be compromised if they advocated for MLLs.
It was apparent in the data from teachers at charter schools that they often made instructional decisions cognizant of the unprotected nature of their teaching positions. As teachers without union support or the possibility of tenure, they are at-will and can be terminated at any time. In the vast data set collected for this study across three states, there is just one example of a charter school teacher resisting an instructional decision and there are no examples of a charter school teacher resisting a service-related task. This degree of tension has the potential to result in high teacher turnover, which limits the collective expertise of a teaching faculty, thus hindering the first element of SIMS, which is that educators are informed.
Conclusion
In cases where SIMS was ineffective, language instruction was de-emphasized as MLLs, already struggling and marginalized, found themselves unable to meet their most immediate needs—shelter, food, and healthcare. During this time, ESL teachers worked tirelessly to support their students in any way that they were needed. They delivered food, arranged for home WiFi for families, accompanied students to the hospital when they were sick, and one even spearheaded a fundraiser that collected $10,000 to support MLL families who were in jeopardy of losing their homes. This is important work. This is critical work. ESL teachers should not be in the position to choose whether to offer support needed for survival or to provide language instruction. When schools have SIMS in place such as distributed leadership, technology support, and a model for teacher collaboration, teachers are able to fully dedicate themselves to what they have been prepared to do—provide MLLs with the linguistic tools they need to thrive in school.
Access to grade-level content is a right in U.S. schools. Supreme Court rulings on Lau v. Nichols (1974) and Castañeda v. Pickard (1981) established that schools must provide students identified as English learners with language support. Areas for future research include application of the SIMS heuristic to research in different school settings to better understand the relationship between infrastructure, teacher practice, and MLL experience/outcomes and reveal additional SIMS that contribute to uninterrupted language learning for MLLs. Additionally, further examination of the unequal access to MLL language instruction in charter vs. public schools revealed in this investigation is needed to better understand how state and federal policies may inadvertently allow for loopholes that sacrifice student learning. 
ERTL illuminated and exacerbated some equity gaps that we can learn from moving forward. The COVID-19 pandemic was not the first wide-scale crisis that has impacted schooling and it will not be the last. Findings will have significance for (1) district and school-level strategic design for MLL school-wide support and (2) federal and state policies about SIMS that adhere to existing federal law by protecting the roles of ESL teachers and the rights of MLLs. MLLs deserve to have safe, healthy lives and the support needed to succeed in content-area classrooms. We can achieve this by building systemic infrastructure strong enough to withstand the next crisis without the education of MLLs being a casualty.
References
Affouneh, S., Salha, S., & Khlaif, Z.N. (2020). Designing quality e-learning environments for emergency remote teaching in coronavirus crisis. Interdisciplinary Journal of Virtual Learning in Medical Sciences, 11(2), 135-137. https://doi.org/10.30476/IJVLMS.2020.86120.1033 
Arkoudis, S. (2006). Negotiating the rough ground between ESL and mainstream teachers. International Journal of Bilingual Education and Bilingualism, 9(4), 415-433. https://doi.org/10.2167/beb337.0 
Castañeda v. Pickard, 648 F.2d 989. (1981).
Cushing-Leubner, J., Morita-Mullaney, T., Greene, M. C. S., Stolpestad, A., & Benegas, M. (2021). The (im)possibilities of equitable education of multilingual emergent bilinguals in remote teaching: a survey of English language teachers in the Great Lakes region. Planning and Changing Journal, 50(3/4), 139-164. Retrievable from: https://education.illinoisstate.edu/downloads/planning/Cushing_PandC_50.3-4.pdf 
Davies, L., & Bentrovato, D. (2011). Understanding education's role in fragility: Synthesis of four situational analyses of education and fragility in Afghanistan, Bosnia and Herzegovina, Cambodia, Liberia. UNESCO. http://education4resilience.iiep.unesco.org/en/node/957 
Davison, C. (2006). Collaboration between ESL and content teachers: How do we know when we are doing it right? International Journal of Bilingual Education and Bilingualism, 9(4), 454-475. https://doi.org/10.2167/beb339.0 
Eischens, R. (2021, June 11). Two Minnesota charter schools vote to unionize. Minnesota Reformer. Accessed 23 November 2021 at https://minnesotareformer.com/briefs/two-minnesota-charter-schools-vote-to-unionize/ 
Johnson, R., & Christensen, L. (2014). Educational research: Quantitative, qualitative, and mixed approaches. Sage Publications.
Hamel, J., DuFour, S., & Fortin, D. (1993). Case study methods. Sage Publications. 
Harper, C. A., de Jong, E. J., & Platt, E. J. (2008). Marginalizing English as a second language teacher expertise: The exclusionary consequence of No Child Left Behind. Language Policy, 7(3), 267-284. https://doi.org/10.1007/s10993-008-9102-y 
Hodges, C., Moore, S., Lockee, B., Trust, T., & Bond, A. (2020, March 27). The difference between emergency remote teaching and online learning. Educause Review. Accessed 23 November 2021 at https://er.educause.edu/articles/2020/3/the-difference-between-emergency-remote-teaching-and-online-learning 
Hopkins, M., Lowenhaupt, R., & Sweet, T. M. (2015). Organizing English learner instruction in new immigrant destinations: District infrastructure and subject-specific school practice. American Educational Research Journal, 52(3), 408-439. https://doi.org/10.3102/0002831215584780 
Lau v. Nichols, 414 U.S. 563. (1974).
McClure, G., & Cahnmann-Taylor, M. (2010). Pushing back against push-in: ESOL teacher resistance and the complexities of coteaching. TESOL Journal, 1(1), 101-129. https://doi.org/10.5054/tj.2010.214883 
McGill, S. (Ed.). (2000). Language and marginality. Intellect Books
Milman, N. (2020, March 30). This is emergency remote teaching, not just online teaching. Education Week. Accessed 23 November 2021 at https://www.edweek.org/leadership/opinion-
this-is-emergency-remote-teaching-not-just-online-teaching/2020/03 
Milman, N.B. (2020, March 25). Pandemic pedagogy. Phi Delta Kappan. Accessed 23 November 2021 at https://kappanonline.org/pandemic-pedagogy-covid-19-online-milman/ 
Mitchell, C. (2021, February 18). The nation's English-learner population has surged: 3 things to know. Education Week. Accessed 23 November 2021 at https://www.edweek.org/leadership/the-nations-english-learner-population-has-surged-3-things-to-know/2020/02 
Morita-Mullaney, T., Greene, M. C. S., Cushing-Leubner, J., Benegas, M., & Stolpestad, A. (2021). COVID-19 and pandemic teaching: Emergency remote teaching and learning and English learner teachers. Indiana TESOL Journal, 18(1), 25-50. https://doi.org/10.18060/25273 
Morita-Mullaney, T., & Stallings, L. (2018). Serving Indiana's emergent bilingual immigrant (EBI) youth: A collective case study of EBI teacher educators. The Teacher Educator, 53(3), 293-312. https://doi.org/10.1080/08878730.2018.1462422 
Resilient Educator Editorial Team. (2021, April 12). Pros and cons of teaching at a charter school. Resilient Educator. Accessed 23 November 2021 at https://resilienteducator.com/teaching-careers/pros-and-cons-of-teaching-at-a-charter-school/ 
Shaw, B. (2018, January 13). Minnesota has the most refugees per capita in the U.S. Will that continue? Pioneer Press. Accessed 23 November 2021 at https://www.twincities.com/2018/01/13/the-not-so-welcome-mat-minnesota-winces-at-refugee-cutbacks/ 
Spillane, J. P., Parise, L. M., & Sherer, J. Z. (2011). Organizational routines as coupling mechanisms: Policy, school administration, and the technical core. American Educational Research Journal, 48(3), 586–619. https://doi.org/10.3102/0002831210385102 
Stake, R. (2006). Multiple case study analysis. The Guilford Press.
The Minnesota Learning English for Academic Proficiency and Success (LEAPS) Act, Chapter 272 § H.F.No. 2397. (2014). Accessed 23 November 2021 at https://www.revisor.mn.gov/laws/2014/0/Session+Law/Chapter/272/ 
U.S. Department of Education. (n.d.). Our nation's English learners: What are the characteristics? Accessed 23 November 2021 at https://www2.ed.gov/datastory/el-characteristics/index.html#four 
Yin, R. (2014). Case study research: Design and methods (5th ed.). Sage.
The Community English Program at the University of Alabama at Birmingham provides free English classes to adult learners from the international community. Housed in the School of Education for the past decade, this program serves as a "lab" school with a standards-based language curriculum taught by MA-TESOL students. By reflecting on how this lab school developed, we identify strategies for ongoing improvement.
Keywords: adult learners, lab school, standards-based curriculum, strategies, ongoing improvement, international community, free English classes
Ten years ago, budget cuts and institutional restructuring threatened to eliminate English conversation classes, a free service provided for over two decades by the International House at the University of Alabama at Birmingham (UAB). We, as English as a Second Language (ESL) faculty in the School of Education (SOE), were shocked at this pending loss and immediately sought a solution. The SOE secured these English classes and housed them in the Education Building. We restructured these classes with the dual purpose of meeting the language learning needs of international adults from the university community and greater metropolitan area and of meeting the language teaching needs of graduate students from the adult track of a new ESL master's degree. 
Perceiving a need, preserving a service
By responding quickly to a perceived need, we, along with our SOE administrators, saved the English conversation classes. The ensuing Community English Program (CEP) has served as a laboratory school for two stakeholder groups: (1) students in the master's in Teaching English to Speakers of Other Languages (MA-TESOL) who become skilled in their chosen career by teaching English to adult learners, and (2) adult learners from over 50 countries who receive free, high-quality English language classes. These CEP learners represent diverse nationalities, languages, educational backgrounds, age, socioeconomic status, and motivation. They have included UAB employees such as medical researchers and visiting professors as well as employees' spouses, parents, and other family members. For example, we vividly remember a retired chemistry professor and his wife from Syria who, though visiting their son—a UAB professor, were unable to return home due to an escalating war. CEP learners from the greater metropolitan area exemplify greater diversity such as a group of technology specialists from Colombia who were employed at an international bank's regional headquarters. Young adults have also participated in CEP classes. We fondly remember the many au pairs from Europe, Brazil, Colombia, and Japan, as well as an Afghan woman who, with limited formal schooling, wanted to learn to read. Our CEP learners also include restaurant employees, construction workers, landscapers, and day laborers; among all these learners are recent arrivals and those who have lived in the United States for decades.
Now, at the 10-year anniversary of our lab school, we reflect on how the dual-purposed CEP supports both international adult English learners and MA-TESOL students learning to be teachers. From among criteria for successful language program administration (Stoller, 1997; TESOL, 2002), we have identified several strategies that have supported this dual purpose and offer insights for their application. These strategies include recognizing changes as they emerge, connecting needs of various stakeholders, linking practice to educational standards, innovating adjustments when faced by unusual circumstances, and planning strategically for the future.
Recognizing changes, developing opportunities in the learning landscape
UAB began offering TESOL methods courses in 1999. This led to an ESL certification program that included K-12 clinicals for teaching English learners. In 2005, some of our potential applicants wanted a path for learning to teach ESL to adult learners. To meet their need, we piloted an "adult option" in an existing master's degree. For their adult clinicals, these graduate students taught weekly classes at UAB's International House, the Literacy Council of Central Alabama, community colleges, ethnic centers, and/or faith-based entities (DeRocher et al., 2015). To determine their placements, we considered career goals and available settings (Spezzini et al., 2016). For instance, if graduate students wanted to prepare for teaching academic English, we would arrange their final clinical at UAB's English Language Institute.
In 2011, two pivotal events opened new opportunities in this learning landscape. In March 2011, we received state approval to launch a master's degree in ESL. This degree's third track, called MA-TESOL, was for teaching ESL to adult learners and, as such, needed to align courses with clinicals in adult settings (Spezzini & Olmstead-Wang, 2013). In June 2011, we learned that the International House was charged with discontinuing its English conversation classes. To save these classes, both as a valuable campus legacy and as a clinical venue for teaching adults, we provided a new home for these classes. Literally overnight, we moved the English conversation classes to the SOE with summer classes starting the next day, as planned, but in a different place.
Linking and connecting needs of various stakeholders
A decade ago, we had the foresight to save UAB's English conversation classes. Though not knowing what the future might bring, we imagined these classes as evolving into a more extensive effort in concert with Standards for Adult Education ESL Programs (TESOL, 2002) and Standards for ESL/EFL Teachers of Adult Learners (TESOL, 2008). Now named CEP, this evolving initiative has more thoroughly incorporated the learning needs of an existing constituency and served as a laboratory school to prepare future ESL teachers (Spezzini et al., 2015). Redesigning programs and clinical experiences: Bridging theory to practice. Paper presented at 49th annual International TESOL Convention. Toronto, ON, Canada). Our goal has always been to provide quality language classes to international adults from UAB's greater community in a venue where MA-TESOL students could gain quality teaching experience, hone their teaching skills, expand their repertoires of teaching techniques, and benefit from regular, sequenced, professional feedback from SOE mentors.
During these past 10 years, our MA-TESOL students have taught CEP classes weekly, starting in their first semester and ending in their fifth and final semester. We pair MA-TESOL students who have no previous teaching experience as co-teachers with other MA-TESOL students who have experience teaching CEP classes. The MA-TESOL students with previous experience in teaching ESL to adults often skip this co-teacher phase and immediately start teaching their own CEP class. Our expectation is for all MA-TESOL students to have taught at least four different levels of CEP classes before graduating.
After establishing the CEP in the SOE, we converted loosely structured conversation classes into tightly structured classes where adult learners could develop all language modalities, thus more closely meeting the standards of adult ESL programs (TESOL, 2002, 2008). Honoring the premise that language is a social tool, the CEP promotes Communicative Language Teaching (CLT) (Richards & Rodgers, 2014) as its overarching approach towards language teaching and learning. To that end, CEP teachers are expected to use authentic materials and to develop learner-centered activities that build meaning. For language learning goals, they aim to develop multiple competencies such as grammatical competence, sociolinguistic competence, strategic competence, and discourse competence (Canale & Swain, 1980). Through this CLT approach, our CEP teachers also implement Task-Based Language Teaching (Richards & Rodgers, 2014) by focusing on real-world situations. The theories, methods, and techniques used by these CEP teachers for teaching classes are formally linked with the MA-TESOL program through projects and other activities assigned in their second language acquisition and methods courses.
CEP's development also included iterative steps for blending two cultures of learning—the culture of community language learners and the culture of novice English teachers. We established sequences for placing MA-TESOL students as CEP teachers, developed rubrics to professionalize the training of these CEP teachers, and then upgraded these rubrics to better assess teacher progress. Now, by the CEP's 10th anniversary, we have an articulated mission statement, flexible class schedules, multiple locations to meet learner needs, and a teacher-learner ratio of about 1 to 6. We also have access to SOE facilities and resources, clear and confidential communication among stakeholders, and an enhanced record keeping system to track English learners' progress through integrated levels.
Linking education standards and practice, scaffolding to meet demands of best practices
The CEP curriculum has evolved over time. Our most recent curriculum team, which was convened in Summer 2020, consisted of SOE faculty and MA-TESOL students. With the goal of updating our earlier CEP curriculum, this 2020 team based the newly emerging curriculum on the English Language Proficiency Standards for Adult Education (U.S. Department of Education, 2016). This curriculum team adapted language learning outcomes for each level, provided sample assessments to meet a variety of standards, and prepared learning rubrics to determine whether language learners had mastered sufficient skills for moving to the next of CEP's five levels. After several iterations, inclusive of cyclical reflection and feedback, the current CEP curriculum reached full implementation in Fall 2021.
For implementing CEP's current curriculum, MA-TESOL students design weekly lessons on articulated standards and on learner interests, levels, and needs. In their role as CEP teachers, they start each semester by aligning language goals with two or three learning outcomes at the corresponding language level (Prado et al., 2020). On the first day of each semester, all CEP teachers conduct a needs assessment questionnaire and identify content that interests their respective learners. They design their lessons with authentic materials and appropriate technology for engaging these adult learners in interactive learning techniques to develop all four language domains. They align content with learning outcomes so that their CEP class becomes a learning community with a "destination" for the semester (Prado et al., 2020).
By means of evidence-based standards, regular assessment ensures that programs meet benchmarks and conform to best practices. With goals of improving the teaching practice of MA-TESOL students and of supporting language learners, we—as faculty mentors—scaffold the teaching experience for all CEP teachers, but especially for novice teachers and those who are new to the program. Each semester, CEP teachers participate in an orientation session, a mid-semester check-in, and a final wrap-up meeting. These meetings are touch points for questions and concerns. During these meetings and, as needed, throughout the semester, these teachers receive guidance on topics ranging from recommended co-teaching practices (Cook & Friend, 1995; Dormer, 2012) to CEP administrative tasks. Co-teachers share in writing weekly lesson plans and in receiving feedback. In addition, the CEP coordinator observes teachers and provides feedback on the observed teaching episodes.
Language proficiency standards (U.S. Department of Education, 2016) have guided CEP teachers in providing essential scaffolding and other support for CEP learners who, as adults, need language skills for many different environments. Our new CEP curriculum meets Standards for Instruction (U.S. Department of Education, 2016) and, as such, includes instructional activities that adhere to principles of adult language learning and approaches for learners from diverse educational and cultural backgrounds. Activities encourage participatory learning and the acquisition of communication skills through interactive group tasks.
The CEP also meets the standard related to learner recruitment, intake, and orientation (U.S. Department of Education, 2016). Intake procedures accurately assess learner levels, needs, and goals. The CEP also meets standards of retention and transition, assessment and learner gains, support services, and professional development. Because the CEP is a lab school, the standard on teaching evaluation is one of its major cornerstones. However, also because it is a lab school, the CEP's organizational structure does not directly relate to the standard on employment conditions. Nonetheless, to prepare MA-TESOL students for real-world contexts following graduation, we attempt to replicate an employment setting as closely as possible, especially regarding work ethic and performance expectations.
Innovating in emerging circumstances, planning strategically for future contingencies
Flexibility and adaptability are necessary skills for dealing with new circumstances. As ESL faculty, we were flexible in 2011 when inheriting the English conversation classes and converting them into the CEP. We were again flexible in 2019 when incorporating graduate students from the SOE's new Educational Specialist (EdS) degree in TESOL. As a post-MA degree, the EdS-TESOL attracts experienced ESL professionals, who, as such, bring well-honed teaching skills. By further adapting our existing CEP structure, we included a lead teacher role and incorporated these EdS-TESOL students as lead teachers. By doing so, we provided these TESOL professionals with a coaching experience through which they could demonstrate a competency required in their advanced degree program. As EdS-TESOL students, these professionals provide weekly coaching to novice CEP teachers. This is yet another example of how the CEP's flexibility and adaptability have benefitted multiple stakeholders of the past, present, and future.
CEP exhibited a different type of flexibility when adapting to the challenges and disruptive factors stemming from the COVID-19 pandemic. Across the world, this pandemic required an immediate transition from face-to-face (F2F) environments to virtual environments. For the CEP classes, this adaptation involved three stakeholder groups: the SOE's ESL faculty, the CEP teachers (i.e., MA-TESOL and EdS-TESOL students), and the adult language learners. At UAB, all three groups were relatively new to the online teaching and learning of languages. Fortunately, we—the ESL faculty—had begun transitioning our graduate courses to online in 2019. Based on these experiences, we shared our new skills acquired from creating fully online graduate courses with CEP teachers as they transitioned to teaching English online.
When UAB's campus closed F2F teaching, we needed to strengthen our graduate students' knowledge and skills in the online teaching of language. Garrison et al.'s (2000) seminal theory, Community of Inquiry (COI), led CEP to reimagine an online learning community with overlapping COI facets: social presence, cognitive presence, and teaching presence (Prado et al., 2020). According to Garrison et al. (2000), building a social presence consists of both the teacher and the learners authentically interacting and presenting multiple facets of themselves. Likewise, cognitive presence is based on critical thinking but also depends on building meaning through authentic, consistent interactions. The teaching presence is two-fold. As the course designer and learning organizer, the teacher is responsible for presenting an engaging, authentic learning experience. The second component, course facilitation, is shared with learners. In building COI as a community for reciprocal teaching and learning, both the teacher and the learners discuss, question, and problem-solve.
To contextualize COI (Garrison et al., 2000) for language teaching, we integrated principles from second language acquisition. For teaching English learners online, Li (2013) recommends that teachers maintain comprehensible input, relate student learning to the real world, promote social interaction, and facilitate a welcoming learning environment, all of which broadly overlap with COI. These concepts guided our CEP discussions in summer 2020 when MA-TESOL students earned their clinical credit by locating resources for online language teaching and helping design an online curriculum for the CEP classes (Prado et al., 2020). These efforts culminated in an online handbook for CEP teachers, available on our CEP website at https://www.uab.edu/education/esl/community-english-classes.
In adherence with UAB mandates, we and the CEP will continue adapting to new challenges for a safe reopening of F2F classes while maintaining strong links to standards, technology improvement, and record-keeping software. Moreover, after we return to physical classrooms, the CEP will continue to provide online classes to language learners who request the convenience and safety of virtual instruction. Having surfaced from a pandemic-induced opportunity, these online classes are now included among the CEP's regular class offerings.
Reflecting back, looking ahead
During the past decade, we responded to challenges facing our CEP lab school with flexibility, adaptability, and a forward-looking perspective. At strategic historic moments, we transitioned English conversation classes into the CEP, welcomed EdS-TESOL students to serve as lead CEP teachers, and converted classes to online instruction. Originally based on Standards for Adult Education Programs (TESOL, 2002) and on Standards for ESL/EFL Teachers of Adults (TESOL, 2008) and with a curriculum aligned to English Language Proficiency Standards for Adult Education (U.S. Department of Education, 2016), the CEP now also aligns with The 6 Principles for Exemplary Teaching of English Learners: Adult Education and Workplace Development (Hellman et al., 2019). Together, these standards and principles provide benchmarks for assessing CEP strengths and overcoming challenges. Guided by these benchmarks, the CEP will continue meeting the dual purpose of (1) providing clinical placements for MA-TESOL students to teach adult learners and (2) offering free, high quality English classes to international members of the extended UAB community.
Upon reaching our lab school's 10-year milestone, we have identified key strategies of language program administration (Stoller, 1997; TESOL, 2002) used to make transitions, initiate improvements, and build for the future. These strategies include identifying opportunities, pivoting directions, reorganizing program components, linking the needs of constituencies to best practices and learning standards, and converting challenges into innovations. By continuing to use these same strategies and adjusting as needed, we look ahead to ushering the CEP into its second decade.
Acknowledgement
We thank Dr. Julia S. Austin for her contribution to the CEP and for her help with this article.
References
Canale, M., & Swain, M. (1980). Theoretically bases of communicative approaches for language teaching and testing. Applied Linguistics, 1(1), 1-47. https://doi.org/10.1093/applin/I.1.1 
Cook, L., & Friend, M. (1995). Co-teaching: Guidelines for creating effective practices. Focus on Exceptional Children, 28(3), 1-16. https://doi.org/10.17161/foec.v28i3.6852 
DeRocher, L., Spezzini, S., & Prado, J. (2015, March). Adult learners in community-based ESL classes: Keep 'em comin'. Paper presented at 49th annual International TESOL Convention, Toronto, ON, Canada. 
Dormer, J. E. (2012). Shared competence: Native and nonnative English speaking teachers' collaboration that benefits all. In A. Honigsfeld, & M. G. Dove (Eds.), Co-teaching and other collaborative practices in the EFL/ESL classroom (pp. 241-250). Information Age Publishing.
Garrison, D. R., Anderson, T., & Archer, W. (2000). Critical inquiry in a text-based environment: Computer conferencing in higher education. The Internet and Higher Education, 2(2-3), 87-105. https://doi.org/10.1016/S1096-7516(00)00016-6 
Hellman, A. B., Wilbur, A., & Harris, A. (2019). The 6 principles for exemplary teaching of English learners: Adult education and workplace development. TESOL Press.
Li, N. (2013). Seeking best practices and meeting the needs of the English language learners: Using second language theories and integrating technology in teaching. Journal of International Education Research, 9(3), 217-222. https://doi.org/10.19030/jier.v9i3.7878 
Prado, J., Spezzini, S., Harrison, M., Fraser Thompson, S., Ponder, J., & Merritt, P. (2020, June). Teacher educator and preservice teacher construct virtual internship through online writing class for post-secondary English learners. In R.E. Ferdig, E. Baumgartner, R. Hartshorne, R.Kaplan-Rakowski, & C. Mouza. (Eds.), Teaching, technology, and teacher education during the COVID-19 pandemic: Stories from the field (pp. 323-327). Association for the Advancement of Computing in Education (AACE). https://www.learntechlib.org/p/216903 
Richards, J. C., & Rodgers, T. S. (2014). Approaches and methods in language teaching (3rd ed.). Cambridge University Press.
Spezzini, S., & Olmstead-Wang, S. (2013, November). Developing a new track within an existing ESL master's program. Paper presented at the annual SETESOL conference. Myrtle Beach, SC. 
Spezzini, S., Prado, J., & DeRocher, L. (2016, April). Collaborative initiative by three institutions: Preparing ELLs for community college. Paper presented at the 50th annual International TESOL Convention. Baltimore, MD. 
Spezzini, S., Seay, S., & Prado, J. (2015, March). Redesigning programs and clinical experiences: Bridging theory to practice. Paper presented at 49th annual International TESOL Convention. Toronto, ON, Canada.
Stoller, F. L. (1997). The catalyst for change and innovation. In M. A. Christison, & F. L. Stoller (Eds.), A handbook for language program administrators (pp. 33-48). Alta Book Center Publishers.
TESOL. (2002). Standards for adult education ESL programs. TESOL Press.
TESOL. (2008). Standards for ESL/EFL teachers of adults. TESOL Press.
U.S. Department of Education. (2016). English language proficiency standards for adult education. Office of Career, Technical and Adult Education. Retrievable from: http://lincs.ed.gov/publications/pdf/elp-standards-adult-ed.pdf
This literature review examines the perceptions teachers, administrators, and students have about multilingualism in the classroom in a variety of settings ranging from mainstream classrooms to dual language programs.
Keywords: English learners, education, perception, home language
Introduction
Classrooms in the U.S. are becoming increasingly more diverse both racially and linguistically. In 2015, the country had nearly 5 million English language learners (ELLs), which makes up about 9.5% of the nation's school population (Bialik et al., 2018). While linguists view all languages as equally important, sociolinguists also study the concept of linguistic inequality, or the idea that particular languages hold more power than others (Wardhaugh & Fuller, 2015, p. 50). Classrooms in the U.S. demonstrate the power that English holds. 
In our globalizing world, the benefits of bilingualism are apparent, yet our school system tells students that English is the language of the classroom while home languages do not belong. While the U.S. has no official language, there has been a push for exclusively English use in the classroom both historically and today. According to Wiley and García, "the ideology of English Only education as a principal tool of Americanization has had considerable influence on shaping school language policies, both in terms of the use of immigrant languages in schools and the emphases placed on foreign language education" (2016, p. 51). Using English as a "tool of Americanization" has put an emphasis on the assimilation of immigrants and multilingual learners when it is clear that we live in an era when multilingualism is beneficial.
For this literature review, I will focus on the perceptions of multilingualism in the classroom. I will explore studies that demonstrate mainstream teachers' perceptions of multilingualism. I will also look at students' perceptions of language use in three settings: the mainstream classroom, the English as a Second Language (ESL) classroom, and dual language programs.
Review of the literature
When students feel that their home language is valued in the classroom, it can lead to a positive impact on students' self-esteem, support their second language acquisition, and have positive impacts in terms of identity (Wiley & Bougie, 2007). Negative perceptions of home languages can also have an effect. In one study, Fuller found that Mexican American children living in rural southern Illinois were often hesitant to speak in their native indigenous languages from Mexico because they "were sometimes teased for their association with these languages" (Wardhaugh & Fuller, 2015, p. 84). Each of the following studies demonstrate the perceptions of multilingualism in the classroom. The classroom programs vary, reflecting the diverse classroom environments that students in the U.S. experience.
In a study at a Texas high school, Spanish-speaking immigrant students' perceptions of their ESL classroom were compared to those of their mainstream classes. Researcher Curtin (2005) interviewed students, teachers, and administrators, and conducted classroom observations. Students reported feeling supported in their ESL classes, while feeling ignored in their mainstream classes. One factor that played a role in these feelings was the teachers' perception of multilingualism. In ESL classes, students often worked through problems together in Spanish. However, in the mainstream classes, students were discouraged from using Spanish and were often separated if they did. Discussions with these teachers revealed that they felt it was "their responsibility to help ESL students 'transition' to English and that they did not encourage asking for assistance in Spanish from a classmate in class" (Curtin, 2005, p. 22). This study reveals the perception mainstream teachers had of students' home languages as separate from their education.
Curtin's observations of negative perceptions of home languages from mainstream teachers is similar to that which Rizzuto noted in her 2017 study at a school in the Northeast where over half of the students spoke Spanish at home. Through interviews and classroom observations, Rizzuto  found that mainstream teachers had negative perceptions of ELLs. Teachers noted they were concerned about students' use of Spanish in the classroom. Most teachers enforced English-only rules in the classroom and did not allow bilingual students to support ELLs in Spanish. Interestingly, when asked about their beliefs on Spanish in the classroom, teachers "indicated a high level of agreement with the prompts that measured openness to bilingual instruction and allowing students to use their language in school" (Rizzuto, 2017, p. 194). However, ultimately teachers' negative perceptions of ELLs led to a monolingual classroom environment in which students were not supported and unable to meet learning objectives.
While the previous two studies discussed negative perceptions of multilingualism in mainstream classrooms, the following three studies demonstrate the positive perceptions of multilingualism in dual language programs. Studies of dual language approaches demonstrate higher levels of acceptance of the home language. De la Riva, a researcher at Hamline University, interviewed newcomer students at a dual language immersion middle school and those on the English-only track in order to compare their perceptions of membership according to the perception of Spanish in the school, academic participation, and peer acceptance. In interviews with students, de la Riva (2015) asked about the desirability of speaking Spanish and answers varied depending on students' program and their language proficiency. Newcomers in the English-only track felt that they had to learn English before gaining full membership into the community and without it they felt they were "not even like a legitimate peripheral participant of the community" (de la Riva, 2015, p. 50). In the dual language immersion program, students also felt language acquisition was important in order to feel fully accepted; however, in this program the language was Spanish. The article concluded that students in the English-only track who were only proficient in Spanish felt excluded while those who were bilingual felt a sense of belonging.
Lindholm-Leary (2016) also conducted a study in a dual language setting, which demonstrated the support for bilingualism students felt in this environment. This school had both a Mandarin-English and a Spanish-English dual immersion program. Students were asked to create an advertisement for bilingualism, indicating that students had learned the benefits of bilingualism. Students' answers ranged from cognitive benefits, to professional and academic success, to being able to connect with family. It is clear that this dual immersion program not only taught bilingualism, but promoted it as beneficial for students. Lindholm-Leary found that ELLs were successful in these programs, stating that ELLs who were reclassified as English proficient had "the highest ratings of bilingualism provided by teachers and themselves, and they are even more confident of their bilingualism than their peers who continue to be ELLs" (Lindholm-Leary, 2016, p. 65). The study demonstrates the effects of bilingualism being promoted as beneficial. Students held positive perceptions of both English and Spanish/Mandarin, allowing ELLs to thrive.
Another study that emphasizes the effects of promoting bilingualism was conducted by Butvilofsky and Gumina (2020). They researched students' perceptions of their bilingualism at a school that emphasized bicultural and bilingual education in Arizona. Mexicayotl Academy is a charter school for students in K-8 and located on the U.S.-Mexico border in Nogales, Arizona. The bilingual school focused on the importance of bilingualism both in terms of language and culture. Students expressed positive perceptions of their bilingualism, noting that it led to "high self-esteem, pride, and higher status" (Butvilofsky & Gumina, 2020, p. 203). Butvilofsky and Gumina concluded that students valued their bilingualism and viewed both languages as essential in their identity.
In summary, the first two studies demonstrate that in many mainstream classrooms, multilingual students are being pushed to operate only in English, which often reflects teachers' perceptions of ELLs as deficient in language. The final three studies demonstrate the positive perceptions of multilingualism that are present in dual language programs and the effects they can have on students. Students in these studies expressed higher levels of language proficiency and positive perceptions of multilingualism.
Recommendations for teachers of ELLs
The studies above indicate classroom strategies that teachers can practice to support ELLs and encourage multilingualism. According to student interviews conducted by Curtin (2005), Lindholm-Leary (2016), and Butvilofsky and Gumina (2020), students felt more supported in classes in which teachers allowed the use of home languages. Teachers can better support emergent bilingual students by offering a space in which all languages are accepted and valued. This can be practiced through displaying posters, artwork, signs, and so on that show multilingualism as well as using texts and materials that include multilingual speakers.
Another area teachers can support ELLs is through educating colleagues about the importance of multilingualism and promoting it as a "resource rather than as a deficit" (Rizzuto, 2017, p.195). Rizzuto's study shows the negative effects teachers with negative perceptions of multilingualism can have on ELLs' education. As teachers, it is important that we advocate for our students through teaching the positive benefits of multilingualism.
Finally, the literature suggests the success of dual language immersion programs in not only supporting language development, but also in promoting positive perceptions of multilingualism. While working at a mainstream school, some practices can be adopted from these programs. For example, encouraging multilingual students to take language classes in their first language. This demonstrates to students the value of being multilingual.
Conclusion
The literature shows that mainstream teachers often have negative perceptions of languages other than English being spoken in the classroom. They often have English-only approaches and rarely incorporate home languages into their curriculum. In Curtin's (2005) study, students noted that this lack of support for their home language was a reason they did not feel successful in mainstream classrooms. On the other hand, the literature shows that in bilingual classrooms, there were often positive perceptions of languages other than English and teachers emphasized the importance of bilingualism. 
While there is ample research about effective teaching strategies for multilingual learners, there is very limited research about students' perceptions of their home language. An area for further research is what factors lead to students' perceptions of their home language.
References
Bialik, K., Scheller, A., & Walker, K. (2018). 6 Facts about English language learners in U.S. public schools. Pew Research Center. Accessed 16 November 2021 at www.pewresearch.org/fact-tank/2018/10/25/6-facts-about-english-language-learners-in-u-s-public-schools/
Butvilofsky, S. A., & Gumina, D. (2020). The possibilities of bilingualism: Perceptions of bilingual learners in Arizona. Bilingual Research Journal, 43(2), 196-211. https://doi.org/10.1080/15235882.2020.1781295 
Rizzuto, K. C. (2017). Teachers' perceptions of ELL students: Do their attitudes shape their instruction? The Teacher Educator, 52(3), 182-202. https://doi.org/10.1080/08878730.2017.1296912
Curtin, E. (2005). Teaching practices for ESL students. Multicultural Education, 12(3), 22-27. 
de la Riva, J. L. (2015). Newcomer perceptions of identity and school membership: Program comparisons between English only and dual language immersion tracks [unpublished master's qualifying paper]. School of Education, Hamline University, St. Paul, MN.
Lindholm-Leary, K. (2016). Students' perceptions of bilingualism in Spanish and Mandarin dual language programs. International Multilingual Research Journal, 10(1), 59-70. https://doi.org/10.1080/19313152.2016.1118671 
Wardhaugh, R., & Fuller, J. M. (2015). An introduction to sociolinguistics (7th ed.). John Wiley & Sons.
Wiley, T. G., & García, O. (2016). Language policy and planning in language education: Legacies, consequences, and possibilities. The Modern Language Journal, 100(S1), 48-63. https://doi.org/10.1111/modl.12303   
Wright, S. C., & Bougie, É. (2007). Intergroup contact and minority-language education: Reducing language-based discrimination and its negative impact. Journal of Language and Social Psychology, 26(2), 157-181. https://doi.org/10.1177/0261927X07300078
The following work builds an argument for translanguaging by looking at two key academic benefits for supporting translanguaging use in the classroom. Firstly, translanguaging helped multilingual learners comprehend and communicate about subject area content and, secondly, it improved their English proficiency by enabling them to make connections between their home language(s) and English. The purpose of this writing is to make a compelling case for allowing and encouraging multiple language use in the classroom and to change monoglossic ideology in schools where it is prevalent.
Keywords: teacher education, multilingual learners, translanguaging, ESL strategies, emergent bilinguals
The development of the guiding question
Throughout history, teachers in U.S. America have employed a monolinguistic approach to developing a student's English proficiency. I am an emergent bilingual teacher who believed that the best strategy to help students become more proficient in general American English (GAE) was to limit their home language use in the classroom and to provide a full immersion into the target language. After an introduction to a process called translanguaging, I realized that when I speak Spanish or German (my 2nd and 3rd languages, respectively), I draw from what I know in English, my 1st language, to help me comprehend or communicate in that other language. The prohibition of that practice would make it virtually impossible for me to communicate in Spanish or German. This realization led to several discussions with peers and an extant literature review on translanguaging which convinced me that multilingual students also use their entire language repertoire to make sense of their lives, including their classroom.
The question which guided this review, What are some ways translanguaging can be academically beneficial for students?, revealed two main academic benefits of translanguaging in the classroom. Firstly, translanguaging helped students to improve comprehension of subject area content. Secondly, translanguaging enabled students to draw parallels between their home language(s) and English. Translanguaging helped to expand their comprehension and understanding of language features, thus improving their language proficiency. This literature review was important because translanguaging was found to be a successful academic tool leveraged by teachers to help emergent bilinguals increase academic performance and improve GAE proficiency.
Definitions of terms
The following technical terms are used throughout this literature review and are defined to aid in its comprehension.
General American English (GAE)
General American English is the variety of English that is encountered in reading, writing, television, educational contexts, and commerce (Washington & Seidenberg, 2021). Standard English, academic language, or English are other terms used when referring to the language variety of GAE.
Monoglossic ideology
Monoglossic ideology refers to an individual, group, segment of society, school, or an organization's belief that languages should be kept separate from one another in their use in the classroom. Researchers Wardhaugh and Fuller (2015) define monoglossic ideology as "the idea that languages are distinct entities and should be kept strictly separate in their use" (Wardhaugh & Fuller, 2015 p. 411).
Translanguaging
Translanguaging refers to a persons' use of their entire language repertoire in the act of discourse. The repertoire includes all elements of language, such as varieties, registers, and styles (Wardhaugh & Fuller, 2015). Researcher García (2013) described translanguaging as the use of two or more language varieties in a flexible way—not separated—to make sense of their lives (García, 2013).
Improving students' comprehension of subject area content
Improving multilingual learners' comprehension of general education content was the first academic benefit revealed when exploring the research question: What are some ways translanguaging can be academically beneficial for students? Researchers Washington and Seidenberg (2021) stated in an article that academic content is challenging for students under the best of circumstances and adds a layer of complexity when that content is being delivered in a language other than the student's home language or language variety. The research below postulated that natural and intentional translanguaging practices in the classroom enabled students to comprehend and engage with content more fully.
Natural use of translanguaging in the general education classroom
Researchers Daniel and Pacheco (2016) conducted a study of four multilingual students to observe how they naturally use their linguistic resources to make sense of the content area classrooms. One of the questions they asked to guide their study was "how do multilingual students use [languages other than English] LOTEs to support meaning making?" (Daniel & Pacheco, 2016, p. 654). Their study revealed that multilingual students use several strategies drawing from all the languages that a student knows. For example, one student would write down notes in her native language and then translate it into GAE. Another student would ask for peer assistance in their native language when they were struggling with content. At other times during the observation, researchers Daniel and Pacheco (2016) found that students co-constructed and negotiate meaning by sharing language knowledge with each other. The concluding thoughts of the study emphasized that, "teachers must begin to implement translanguaging pedagogies that encourage the development of the full range of the students' linguistic resources" (Daniel & Pacheco, 2016, p. 661). The observations showed that even when translanguaging activities were not embedded into the lesson, multilingual students naturally used their entire language repertoire fluidly to make meaning of the content.
Intentional use of translanguaging in the general education classroom
An example of intentional translanguaging in the classroom was provided in a guide called Translanguaging: A CUNY-NYSIEB Guide for Educators (Celic et al., 2013). The program was implemented in eight New York schools by teachers who received professional development to use the strategies as outlined in the guide. Researcher García (2013, p. 2) stated in the first section of the guide that by using pedagogical translanguaging strategies, teachers were able to provide both rigorous content and academic language support simultaneously. In their work, Celic et al. (2013) found that these strategies helped emergent bilinguals achieve Common Core State Standards (CCSS). The guide itemized the CCSS alongside each strategy to ensure that the activity or strategy would meet the standard expectation. Examples of authentic student work were included in the guide itself as evidence of strategy and activity successes as it aligned to different standards. One student example showed how emergent bilinguals wrote and used science vocabulary and target language features to describe the solar system after only a few months following their arrival into the country (Celic et al., 2013, p. 47). This evidence was just one of many samples in the guide highlighting that emergent bilinguals were able to access rigorous content and meet CCSS through translanguaging.
In support of the CUNY-NYSIEB guide's claim of effectiveness, Menken and Sánchez (2019) interviewed participants of the program created by Celic et al. (2013). This qualitative research found that students who participated in classrooms that used translanguaging strategies were more engaged in the lesson and participated more. Teachers also reported that when they provided students with translanguaging activities and incorporated home language use in their instruction, students had more access to the content being taught (Menken & Sánchez, 2019). By using intentional translanguaging strategies, teachers were equipped to help students utilize their entire linguistic repertoire to better understand complex concepts taught in core classes.
Translanguaging activities and strategies improve GAE proficiency
The second academic benefit for translanguaging found in the review was the improvement students amassed in their GAE proficiency. While exploring the guiding question, What are some ways translanguaging can be academically beneficial for students?, it was found that researchers agreed that translanguaging activities and pedagogical strategies enhanced students' GAE proficiency. 
Activities that improve GAE proficiency
Bilingual students' English proficiency improved when teachers intentionally provided activities that encouraged translanguaging. Researchers found that by using translanguaging activities, students developed language skills in English by connecting knowledge about language features and vocabulary in their LOTEs to those of the target language (Celic et al., 2013; Guzman-Orth et al., 2019). Researchers Menken and Sánchez (2019) confirmed these claims stating that by using translanguaging pedagogy in a strategic and flexible manner, teachers enabled students to access content and build on GAE language skills. The students' discoveries of similarities and differences between languages was facilitated by the translanguaging activities provided by the teachers.
Translanguaging activities provide practice of language skills to create automaticity between students' home knowledge and that of the target language. Researcher García (2013) wrote that, "Just as a Major League baseball pitcher develops his expert pitching form through practice, language users must develop their forms through practice" (García, 2013, p. 2). She stated that translanguaging provided students with the opportunity to practice GAE language forms and features alongside and with the support of the home language leading to the eventual appropriate use of GAE language forms (García, 2013, p. 3). Translanguaging activities provided by the teacher helped emergent bilinguals make connections between languages and improved their English proficiency.
Strategies that improve GAE proficiency
Two notable programs which provide teachers with specific translanguaging strategies discovered in this literature review were the Teaching Reading and New Strategic Language Approaches to English (TRANSLATE) and the Language Ambassador (LA) Program.
The translanguaging instruction strategy TRANSLATE was found to be effective in helping students deepen their reading comprehension by shifting students' ability from word-level to a more comprehensive understanding at the sentence-level (Jiménez et al., 2015a, 2015b). TRANSLATE encouraged students to talk aloud while reading text which Jiménez et al. found to make language and content more salient to students. This strategy allowed students to show their thinking with a partner or small group while they unpacked text. This helped students understand complex text and enabled them to use each other as resources to draw connections between their home language(s) and GAE, thus improving their proficiency in English.
A second strategy found effective for improving GAE proficiency involved training teachers to lead discursive based activities. The LA Program was implemented in a bilingual school. In her study, Martin-Beltrán (2014) examined the relationship between translanguaging activities in the classroom and students' GAE proficiency. She found that through the LA activities, students had an opportunity to use their language dexterity to talk about language function, express their understanding, and co-construct a language product (such as a piece of writing) (Martin-Beltrán, 2014). The findings from her study confirmed that the students engaged in cognitively advanced levels to unpack sophisticated literature and grapple with complex linguistic features (Martin-Beltrán, 2014). This equipped students to make direct connections between language features in their own language(s) and English.
Conclusion
In conclusion, the literature review examined the guiding question: What are some ways translanguaging can be beneficial for academic success? As stated in the introduction, this review builds an argument by looking at two key academic benefits for supporting translanguaging in the classroom. Firstly, translanguaging better positioned students for academic success, and, secondly, students improved their GAE proficiency. Teachers need to be aware of and respect students' home language(s) as tools for success in their communities and in school (Fillmore & Snow, 2000). Understanding that emergent bilinguals come with their own personal language repertoire was key for these teachers as they strived to help students access rigorous content, improve GAE proficiency, and achieve academic success. The literature confirmed that students already used translanguaging in their daily lives and this ability could and should be leveraged to maximize student learning by providing activities and using strategies that encouraged translanguaging.
Shifting monoglossic ideology in schools
This literature review by itself is insufficient for changing monoglossic ideology in schools and classrooms. For policy and practice change, administrators and staff need professional development. Researchers (Menken & Sánchez, 2019) found that through professional development, attitudes about translanguaging shifted and its use increased in the classroom. In addition, professional development led to policy, pedagogical, and practice shift from a monoglossic approach to a more cross-cultural and translanguaging approach both in the classroom and school-wide (Menken & Sánchez, 2019). Although this shift required a tremendous amount of effort, the benefits for students whose home language is other than GAE is essential for their academic success and GAE proficiency.
Author's final thoughts
Beyond the guiding question of What are some ways translanguaging can be beneficial for academic success? were broader concepts to be explored. Topics including the student's social emotional wellbeing of using their home language in school, personal identity to language and culture, and the inherent inequalities associated with a dominant language such as GAE left me with many unanswered questions. Evident to me was that the relationship between translanguaging, the school, and the student is complex. Each one of these topics was beyond the scope of what this literature review could explore, however, each was equally important to students whose home language was other than GAE.
References
Celic, C., Seltzer, K., Garicía, O., & Ascenzi-Moreno, L. (2013). Translanguaging: A CUNY-NYSIEB guide for educators (2nd ed.). The Graduate Center at The City University of New York. Retrievable from https://www.cuny-nysieb.org/wp-content/uploads/2016/04/Translanguaging-Guide-March-2013.pdf 
Daniel, S. M., & Pacheco, M. B. (2016). Translanguaging practices and perspectives of four multilingual teens. Journal of Adolescent & Adult Literacy, 59(6), 653-663. https://doi.org/10.1002/jaal.500 
Fillmore, L. W., & Snow, C. E. (2000). What teachers need to know about language. Center for Applied Linguistics.
García, O. (2013). Theorizing translanguaging for educators. In C. Celic, K. Seltzer, & L. Ascenzi-Moreno (Eds.), Translanguaging: A CUNY-NYSIEB guide for educators (2nd ed.) (pp. 1-6). The Graduate Center at The City University of New York
Guzman-Orth, D., Lopez, A. A., & Tolentino, F. (2019). Exploring the use of a dual language assessment task to assess young English learners. Language Assessment Quarterly, 16(4-5), 447-463. https://doi.org/10.1080/15434303.2019.1674314 
Jiménez, R. T., David, S., Fagan, K., Risko, V. J., Pacheco, M., Pray, L., & Gonzales, M. (2015a). Using translation to drive conceptual development for students becoming literate in english as an additional language. Research in the Teaching of English, 49(3), 248-271.
Jiménez, R.,T., David, S., Pacheco, M., Risko, V. J., Pray, L., Fagan, K., & Gonzales, M. (2015b). Supporting teachers of english learners by leveraging students' linguistic strengths. The Reading Teacher, 68(6), 406-412. https://doi.org/10.1002/trtr.1289 
Martin-Beltrán, M. (2014). "What do you want to say?": How adolescents use translanguaging to expand learning opportunities. International Multilingual Research Journal, 8(3), 208-230. https://doi.org/10.1080/19313152.2014.914372 
Menken, K., & Sánchez, M. T. (2019). Translanguaging in English-only schools: From pedagogy to stance in the disruption of monolingual policies and practices. TESOL Quarterly, 53(3), 741-767. https://doi.org/10.1002/tesq.513 
Wardhaugh, R., & Fuller, J. M. (2015). An introduction to sociolinguistics (7th ed.). Wiley.
Washington, J., & Seidenberg, M. (2021). Teaching reading to African American children: When home and school language differs. American Educator, 45(2), 26-33. Retrievable from https://www.aft.org/ae/summer2021/washington_seidenberg